ThruNite TC12 V2 Flashlight
The TC12 V2 is the latest compact rechargeable EDC torch from ThruNite. Featuring Six light modes, a max brightness of 1100 lumens and an IPX-8 waterproof rating.
A lightweight flashlight ideal for emergency services, security, hunting, camping and other outdoor activities.
Highlights
Latest CREE XP-L V6 LED

Micro USB charging port

Six modes including Firefly and Turbo
1100 Lumen emergency Strobe mode
Mode memory function
Very compact and lightweight

ThruNite 3400mAh 18650 battery inc.

Comes with holster and spares
Pros and Cons
+
Weighs just 133g or 4.5oz (with battery), throws a very long beam, great build quality.
–
Potentially less durable than the previous TC12 model during impact and drop tests.
Where to Buy?
Price updated – 24th of April 2017 at 10:00 GMT
*Product prices and availability are accurate as of the date/time indicated and are subject to change.
The ThruNite TC12 V2 is the perfect EDC flashlight to pair with a Power Bank on hiking trips.
ThruNite TC12 V2 – Full Review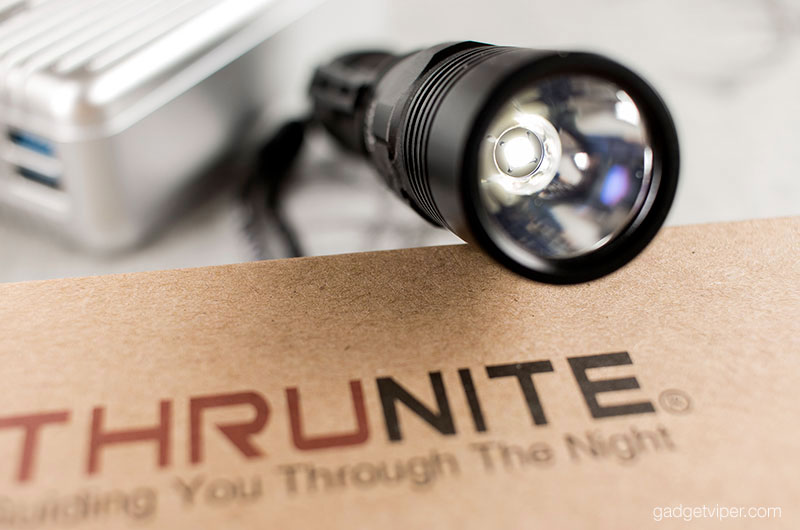 The TC12 V2 flashlight comes inside a sturdy box along with a really good quality holster, a lanyard, charging cable, lots of spares, and a 3400mAh capacity Thrunite 18650 battery. The torch measures 140mm long (5.5 inches) and 25.4mm (an inch) in diameter. It's made from an aircraft grade aluminum which is machined to a very high standard. The diamond-knurled surfaces, heat dissipation grooves, and milled faces are flawless.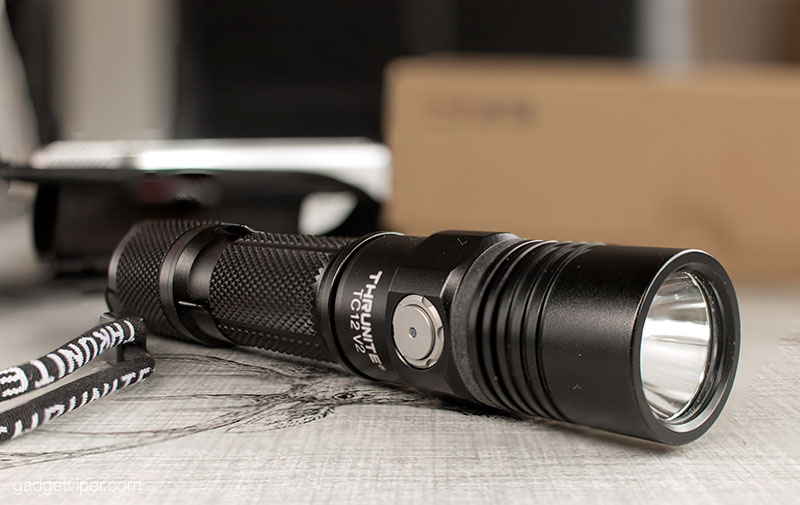 There are two control buttons on the TC12-V2. On the rear is a tail switch to power the torch on and off. This is well designed with a formed end for the lanyard to attach, it also allows the torch to tail stand on flat surfaces.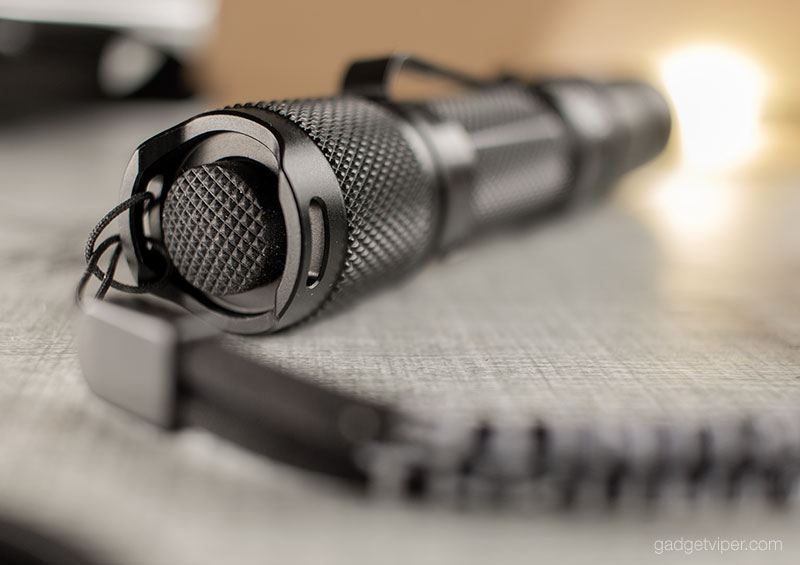 The other button is well positioned on the side of the torch in just the right place for the thumb control. This button toggles through the light modes or activates the strobe when held for one second.
On the other side is a micro USB port protected by a waterproof rubber cover.  This fits well and has been tested to IPX-8 rating which is good to a depth of two metres (assuming you've closed it properly).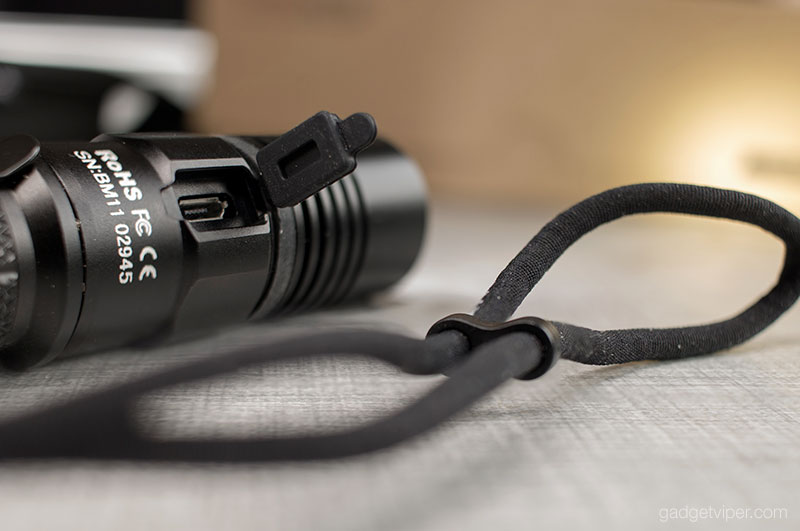 ThurNite provide two replacement covers for the USB port as well as spare o-rings. I assume in very cold conditions or when exposed to seawater the rubber might perish over time.
I haven't seen any sign of this on the ThruNite Headtorch I've been using, although I'm yet to expose it to a winter hike or a coastal trip.
Recharging the TC12-V2
Once you connect the USB charging cable to the TC12-V2 you'll notice a flashing purple light on the side switch. This means the battery is not charging. You actually have press the tail switch to place the torch into charge mode. When the light turns red, it's charging correctly and it will turn blue when it's complete.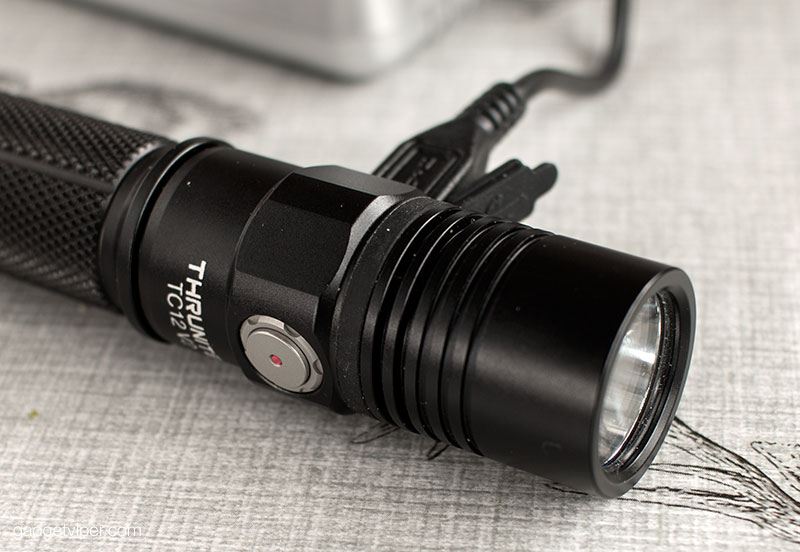 The battery that comes with the ThruNite TC12-V2 is of a decent quality. It's a 18650 cell with a total of 3400mAh and a maximum output of 3.6V. It took 2.5 hours to charge the battery to 70% and a further 2 hours to fully charge. (4.5 in total)
Light Modes and Performance
The TC12 V2 puts out 1100 lumens on its brightest modes (Turbo and Strobe). The beam is produced by the XP-L V6 Cree LED with a smooth reflector. The throw is long with a fairly tight spot that spills out nicely. (see demo of beam)
| | | | | | |
| --- | --- | --- | --- | --- | --- |
| 3 Lumens     (49 days) | 21 Lumens   (2.5 days) | 200 Lumens (8h 45m) | 472 Lumens (3h 20m) | 1100 Lumens (2h 10m) | 1100 Lumens (3h 35m) |
The Thrunite TC12 V2 does a very impressive job of maintaining brightness in turbo mode. There will, of course, be a gradual decline once the battery starts to deplete, but it holds well until then.
Other Specs
Peak beam intensity: 14399cd.
Max beam distance: 240m.
Waterproof to IPX-8 Standard (2 meters).
Impact resistant: 1 meters.
Working Temperature: -40℃-80℃.
ThruNite ITC (intelligent temperature control)
Reversed polarity protection system prevents damage to the light.
Ultra-clear tempered glass lens with anti reflective coating.
Memory function to set any mode (except Strobe) for immediate use.
Verdict
The ThruNite TC12 V2 is definitely one of the best compact flashlights I've had my hands on. The build quality is as good as you could hope for. The holster is well made and the included Thrunite 18650 battery performs exceptionally well.
The inbuilt USB recharge feature is super handy especially if you're on a long trip. With the TC12 V2 torch, a spare 18650 battery and a portable power bank, you'll never have to worry about running out or light.
Price updated – 24th of April 2017 at 10:00 GMT
*Product prices and availability are accurate as of the date/time indicated and are subject to change.
I hope you found the review useful, if you did please leave a comment or share it socially – Thanks!