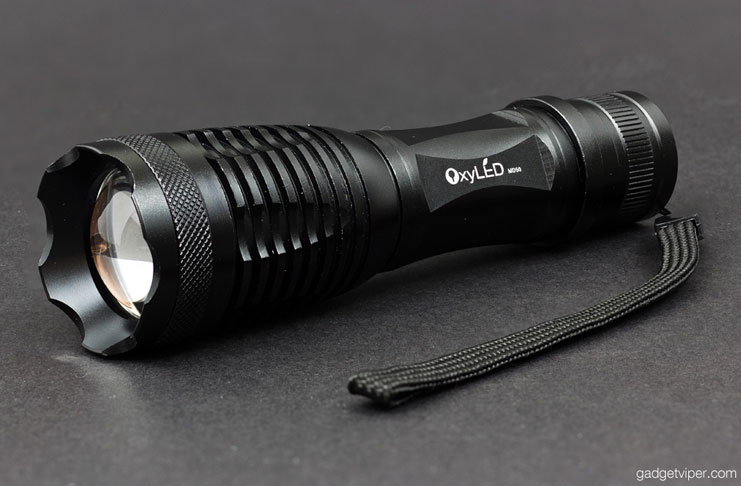 OxyLED MD50 flashlight
An affordable 500 Lumen Cree T6 torch with a rechargeable battery, 3 brightness levels, strobe and SOS settings.
The OxyLED MD50 flashlight features a zoomable focus beam and an IPX-6 water resistant rating.

Contents
MD50 flashlight
18650mAh rechargeable battery
Battery sleeve
AAA battery holder
Charger and mains adapter
Manual and warranty card
OxyLED MD50 Flashlight

Amazon.com
lowest price: $39.99 $19.99
Price information last updated on 10/12/2015 16:30 GMT
As a keen outdoorsman I'm absolutely itching to get out for a sneaky wild camp and take this MD50 flashlight with me. Although I've thoroughly tested this torch from the comfort of my home over the last couple of weeks, I feel it deserves a field test – Any excuse for a trip to the woods.
While I patiently wait (torch in hand) for an opportunity to escape the rate race, here's my review of the OxyLED MD50 flashlight.
2
Design and build quality.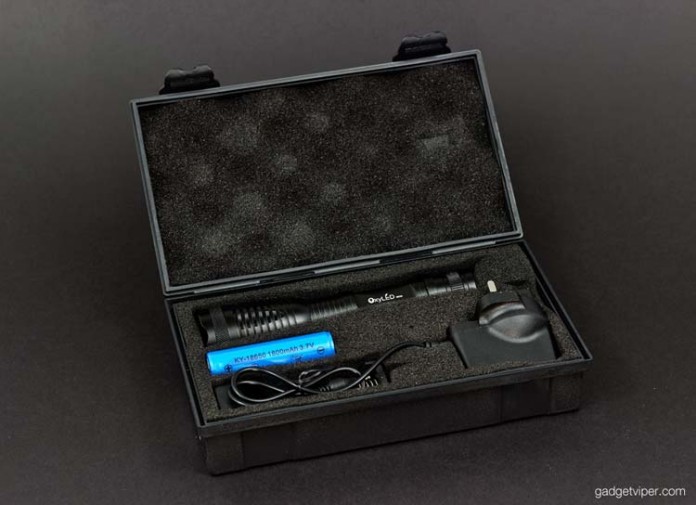 The MD50 comes in a protective case with padded foam inserts to organise the accessories inside. These include a mains adapter, the 18650mAh rechargeable battery with a fitting sleeve, and an optional AAA battery holder. The case isn't particularly high quality, it's made of relatively thin moulded plastic but it does the job well and it's lightweight enough to pack on a trip.
The MD50 is built with durable aluminium alloy with a type 3 hard anodised finish. The fins and knurled edges are clean and burr free throughout the body of the torch.
The machining quality is as good as I've seen on torches 4 times the cost of this one and I'm amazed how an item like this can be manufactured and sold at it's price range.
The lens on the MD50 is recessed back from the crown and features an anti-abrasive, toughened and non-reflective coating. The square shaped Cree LED T6-L2 emitter seems nicely centred. The glass appears very clear and well retained inside the threaded head.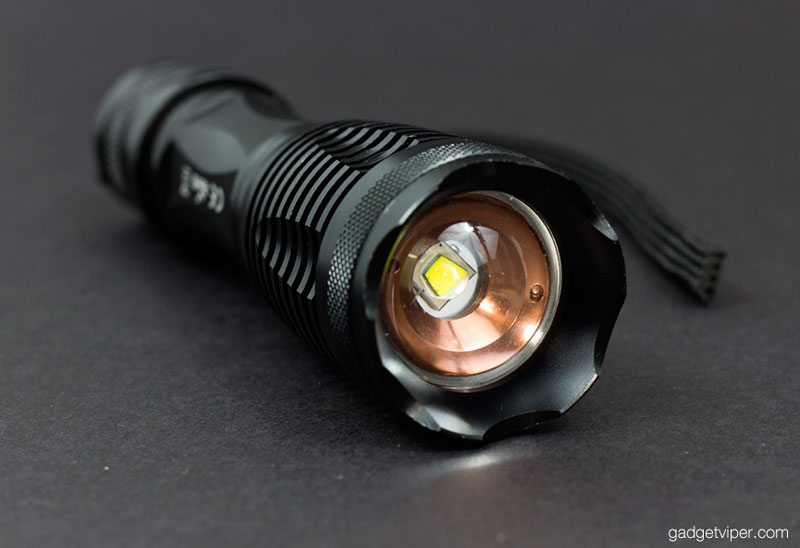 The power / mode cycle button is on the rear of the torch. It's bright green and slightly luminous – extremely handy if you misplace the torch in a dark environment. I'm sure even a dim secondary light source would illuminate the button like a glow stick.
The MD50 flashlight comes fitted with a lanyard, but unfortunately there is no clip or mounting bracket on it's side.  This may be a deciding factor for anyone intending attach the torch to a firearm, but for me, it makes no odds. I always keep my torch in a side pocket and have never been a fan of belt clips.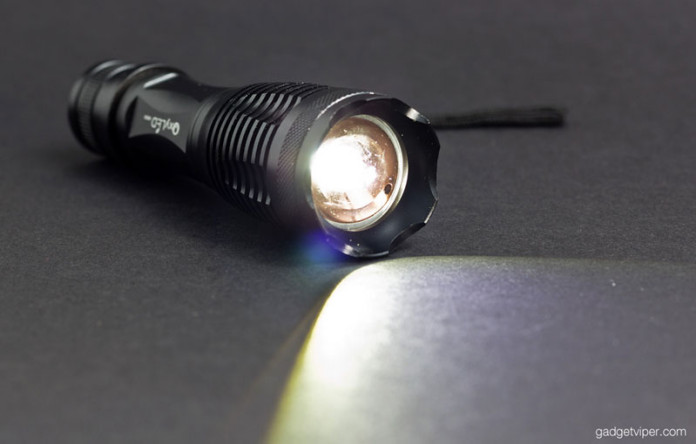 Features
Cree LED T6-L2 with 50000 hours lifespan
Zoomable beam
3 brightness levels (500, 250, 50 Lumen's)
Strobe and S.OS modes
IPX-6 Waterproof rating (heavy rain)
Shock resistant
Specifications
Length – 135mm – 150mm (when zoomed)
Head Diameter – 38mm
Barrel Diameter – 30mm
Weight – 180grams (with battery)
Batteries – KY-18650 1800mAh 3.7V Li-ion rechargeable battery or three AAA batteries
Light modes
The light modes on the MD50 flashlight are cycled by lightly pressing the power button. The highest beam is extremely bright and is definitely 500 lumen's or thereabouts. It's probably not wise to over use this setting as it will half the battery life when compared to the mid beam of 250 Lumens.  As with most flashlights the MD50 also has strobe and S.O.S modes for defence or emergencies.
Zoomable beam
The spread of the beam can be easily adjusted with a finger and thumb on the head of the torch. The tension on the adjustment is consistent throughout its range of motion. Although there is no way of locking the zoom in place, the resistance is enough to keep it's position.
Battery
The effectiveness of a flashlight is largely dependant on the battery inside. The 18650 that comes with the MD50 is an adequate rechargeable battery.  It's certainly not high-end, if it were, then this torch would be at least twice the price. For general use however, the included battery would suit most.  I personally think it's worth buying an additional battery. It's always wise to have more than one and this would give you a chance choose a premium grade rechargeable battery with a far better efficiency.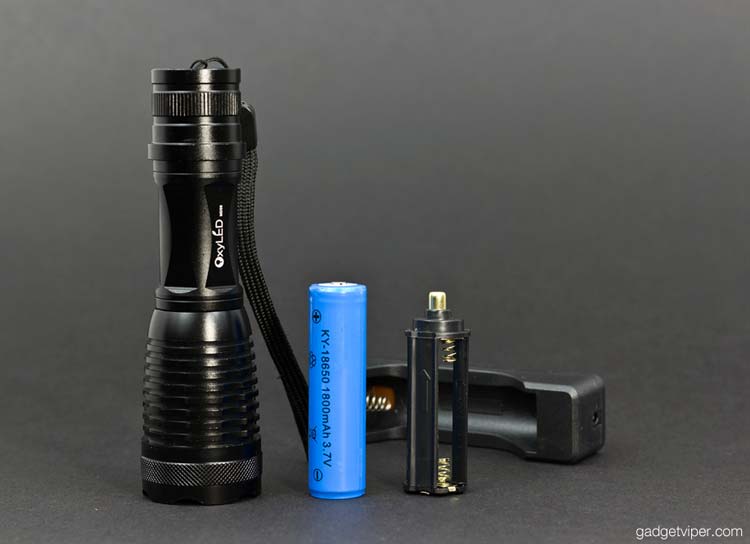 The 18650 battery fits inside the MD50 flashlight with a plastic tube around it. Should you wish to extend the capacity of your torch, you could buy and fit 26650 batteries without using the sleeve.
Charger
The mains adapter and charging unit is not too bad at recharging the included 18650 battery. The plug has a small light that will glow red during charging and green when complete. It puts out 500mA so it should fully charge within 3-4 hours.  If you were to treat yourself to some higher end batteries this charging time would likely double. As the charger is small, it has the benefit of being light and will also be safe and unlikely to overheat.
OxyLED MD50 flashlight  – Verdict
The OxyLED MD50 flashlight is exceptionally good value for money even as a singular unit. Considering you also get a carry case, rechargeable battery, mains adapter and an optional AAA battery cage it's an absolute steal.
On my next outdoor adventure I will update this review with my own shots of the torch in action with both the tight and wide beams.
For now here's an image of the beam from the manufacturer.  I can't say for sure if the brightness has been 'tweaked' a little in that shot or not, but I'll do my best make mine as accurate as possible.
OxyLED MD50 Flashlight

Amazon.com
lowest price: $39.99 $19.99
Price information last updated on 10/12/2015 16:30 GMT
If you found this review useful please leave a comment or share it socially – Thanks!