PURIDEA i2 Bluetooth bike speaker
A multi-functional Bluetooth bike speaker and high capacity power bank. Featuring a bright LED torch, integrated USB charging cable, hands-free calling and SIRI controls.
The PURIDEA i2 comes with an adjustable handlebar bracket to securely mount the device. It can be quickly removed and refitted when needed.
+
Loud clear speaker, big battery life, bright LED, can charge 2 devices, highly versatile
–
Integrated cable is a little fiddly,  length of mount screw is excessive, not sure of IP water-resistant rating
Features
Bluetooth speaker (10 Hours playback)
8000mAh Power Bank (3 phone charges)
Integrated USB charging cable
Bright LED torch / flashlight
Hands Free calls + Siri connection
Quick release bike mount
PURIDEA i2 Bluetooth speaker – Buy Online
Amazon.com
price: £39.99 $29.99*
Price updated on the 4th of May 2016 at 11.30 GMT
*Product prices and availability are accurate as of the date/time indicated and are subject to change.
I'd like to apologies to anyone who's already watched the YouTube video at the top of this review. Yes, my legs really are that white and yes I really do dance that badly.  You may also have noticed I used my boy's scooter rather than a bike.  I know the PURIDEA i2 is designed to be a Bluetooth bike speaker, but mine has two flat tyres. It's also buried behind a shed full of junk and I'm far too lazy to dig it out. With that out of the way, let's get on with the review.
2
PURIDEA i2 Bluetooth bike speaker – Design and Build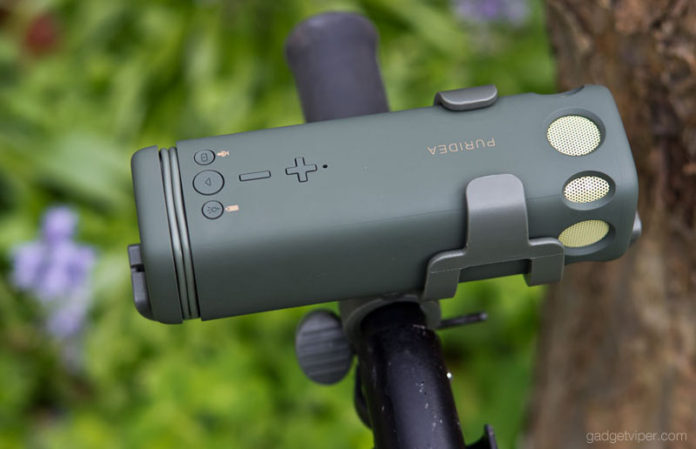 The PURIDEA i2 has a flattened tube design that measures 5 x 5cm by 15cm long. All sides and edges are well rounded and extremely well fitting. The matte surface is a pleasure to hold and the housing feels robust.
All the control buttons are well positioned on the top and the speaker faces the rear.  In front of the buttons, there is an undercut in the housing with an integrated micro USB cable coiled around it.
There are a micro USB input, output and an audio-in port on the front of the device. During the testing phase I was surprised to see there was no weather protection for these openings. As it's designed as a Bluetooth bike speaker, I'd consider that to be a vital element and I was gearing up to make a big song and dance about it.
As it turns out, there is a cover…  It's just not that obvious (to me anyway) and in my defence, there's no mention of it in the user guide. If you take a look at the image below, you can see it's actually retained on the bike bracket.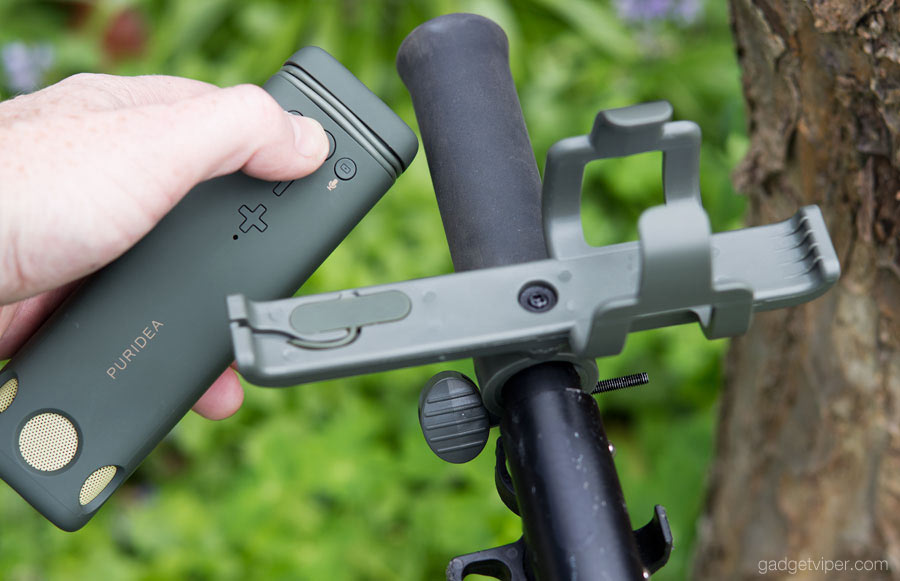 There are a couple of minor things I could nitpick with regards to the design. Firstly, the integrated USB cable has to take a tight 90 degree turn to clip inside the speaker housing. I'm a little concerned that over time this could put unnecessary stress on the cable. Secondly, the tightening screw that clamps the bike bracket onto the handlebar is way longer than it needs to be. You could lose an inch off the end and it would still be plenty long enough – that's what she said… 
3
PURIDEA i2 Bluetooth bike speaker – Features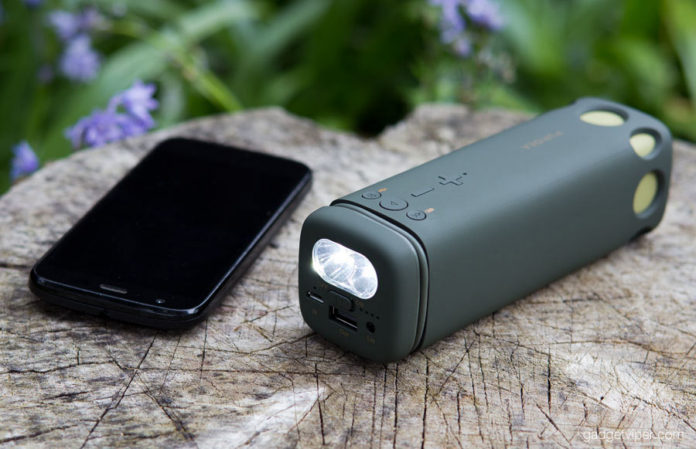 Features
The PURIDEA i2 has all the standard features you would expect from a regular Bluetooth speaker.  It pairs quickly and appears to keep a reliable connection to at least 10 metres unobstructed.
Specifications
Size, Weight- 15 x 5 x 5 cm / 328g
Bluetooth, range – 4.0 / 10m
Input – 2A 5V /Output – 1A/2A 5V
Playback time – 10 hours
Charge Time – 6 Hours
It does a very impressive job when used as a hands-free device. Holding down the microphone button for a couple of seconds it will open Siri, Google or Cortana. You can then use voice commands to control your phone, eg. 'Call Home'  The microphone is not particularly loud or pin sharp, but as long as you are close enough to the device, it works well.
I'm unsure of how many lumens the twin LED's put out, but it's a decent amount.  Perfect for using as the front light on your bike or as a handheld flashlight.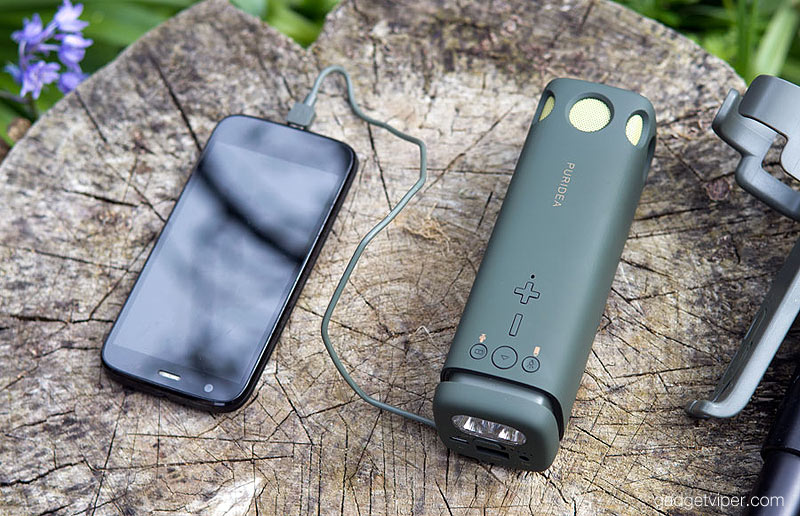 Possibly my favourite feature has to be the portable charging capacity of the i2. Having 8000mAh of spare power is great. It's enough to fully recharge most phones about 3 times. The integrated cable is micro USB which should be fine for most non-apple devices. There's also a standard USB port on the front should you wish to charge an iPhone with a lightning cable. Next to the front USB port is a small battery status indicator which displays the remaining charge in increments of 25%.
4
PURIDEA i2 Bluetooth bike speaker – Sound Quality
For what it is and for its price, the audio is good. There is plenty of volumes, considering it's size and it does a great job of remaining distortion when turned all the way up. The highs and lows are definitely present. For a Bluetooth speaker with a single 40mm driver it performs very well indeed.
The PURIDEA i2 is a highly versatile portable device with a ton of great features. The bright LED torch and high capacity power bank set the i2 apart from most other Bluetooth bike speakers.
The mounting bracket is well designed and easy to use. Many other Bluetooth bike speakers have a simple elasticated strap that wraps around the handlebar. This one is far more suited to housing a device that can be also used as a front light.
It would be nice to get clarification on how water resistant the PURIDEA i2 is in terms of its IP rating.  I'll ask the manufacturer and update this review if I get a response.
I hope you found this review useful, if so, please share it socially – Thanks!
PURIDEA i2 Bluetooth speaker – Buy Online
Amazon.com
price: £39.99 $29.99*
Price updated on the 4th of May 2016 at 11.30 GMT
*Product prices and availability are accurate as of the date/time indicated and are subject to change.