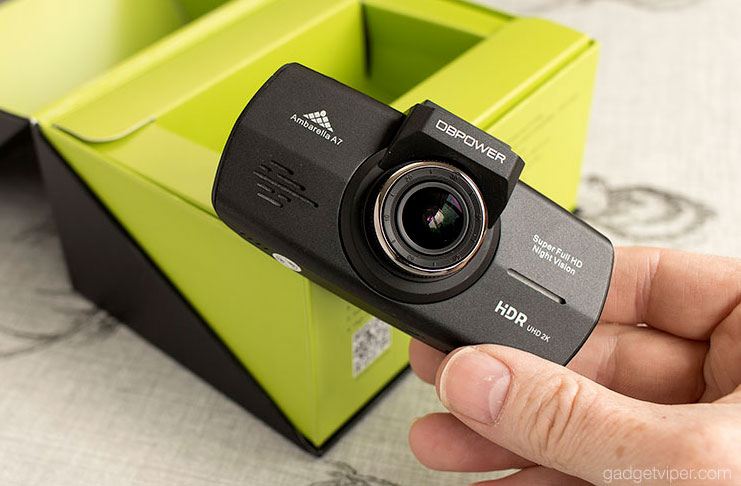 A7L50 DBPOWER Dash Cam
A low-cost car dashboard camera packed full of features including a G-Sensor, 150° wide angle lens, and a max resolution of 2560×1080.
The A7L50 DBPOWER dash cam has a seamless looped recording function for a hassle free use.
Highlights
2K FHD recording resolution with HDR
150° super wide angle lenses.
Night Vision with F2.0 Six-Glass lenses
Accident Auto Detection (G-Sensor)
Snapshot with 16mp camera stills
Event protection and playback button
Pros and Cons
+
Great value for money, good picture quality, microphone works well, supports 64gb SD card.
–
Reliability over time yet to be tested, user manual is a little vague.
Where to Buy?
Price updated – 20th of March 2017 at 19:30 GMT
*Product prices and availability are accurate as of the date/time indicated and are subject to change.
An easy to use affordable dash cam with an impressively clear and high resolution video quality.
USE DISCOUNT CODE
JYYB6XEY
FOR A FURTHER 20% OFF UNTIL THE 28TH OF MARCH.
DBPOWER A7L50 Dash Cam – Full Review
I was pleasantly surprised to see the DBPOWER dash cam well presented in a retail box. Considering its budget price, I was expecting no-thrills generic packaging, typical of products sold exclusively online.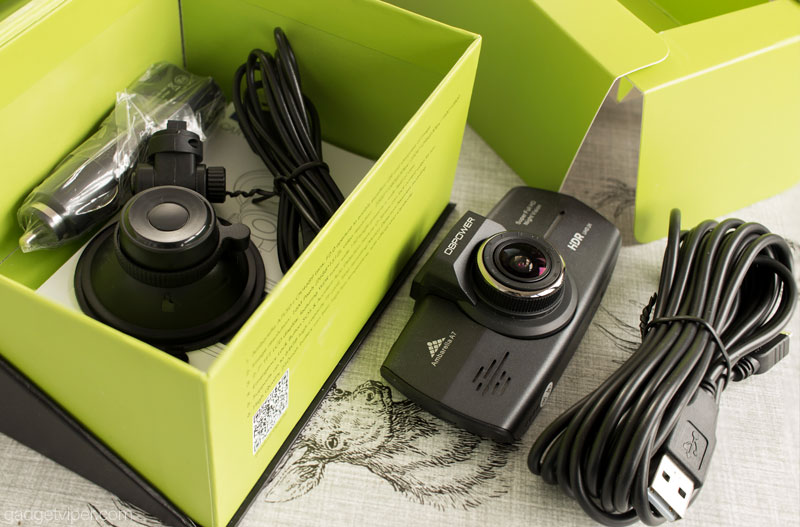 Along with the dash cam, the accessories include a mounting bracket, a long power cable, USB charging cable, a 12V car charger plug, a user guide and an installation manual.
The user guide is in multiple languages and fairly thick, however, the actual content is a little lackluster and not particularly well translated.
Fortunately, the product and its interface are simple enough to navigate. I actually found the menu structure on this dash cam pretty self-explanatory (there's a demo below).
Before taking a look at the Dash cam, I'd firstly like to praise the design of the mount and charging cable. The suction on the cup is fantastic and it features a tightening screw to lock it securely in place. You can also slide out the dash cam without the need to remove the mount. This is handy if you intend to take it out while you're away from the vehicle.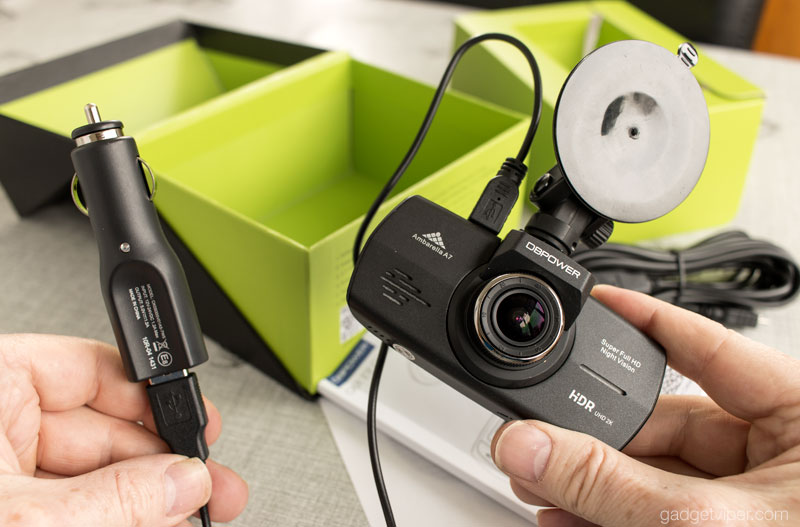 I've reviewed other dashboard cameras that have the power lead hard wired to the charging plug. I do not understand why they'd choose to do that. Fortunately the DBPOWER dash cam has a regular USB cable that connects to the cigarette lighter unit. This means you could use an alternative in-car charger with more than one output or even a portable phone charger to power the unit.
I've actually got a hybrid or both called the NOMAD roadtrip which comes in really handy if you intend to use this dash cam with the parking monitor and motion detector.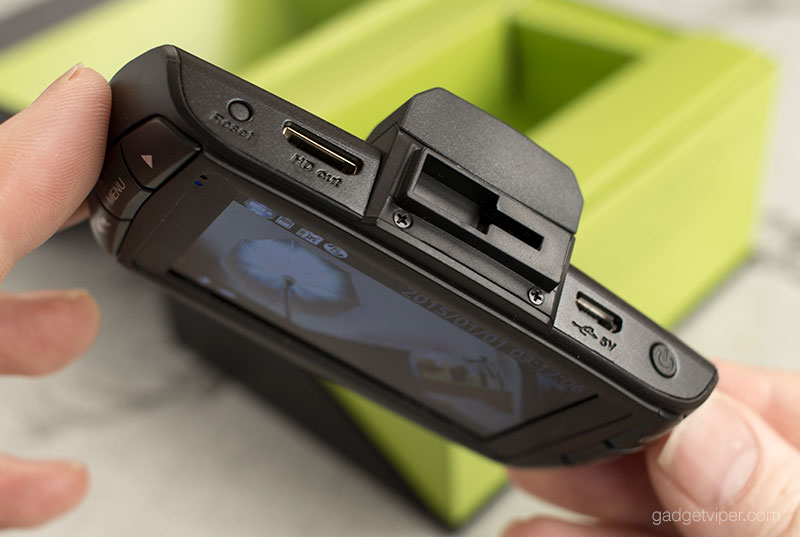 The A7L50 DBPOWER dash cam measures 100 x 45 x 28mm including the lens. On the top of the unit is a power on button, micro USB input, and a mini HDMI output port. There's also a small reset button which thankfully, I haven't had any reason to use. All the main control are conveniently positioned around the 2.7″widescreen LCD display on the rear of the dash cam.
Before using the device you'll need to install a MicroSD card. The A7L50 supports cards up to 64gb, just make sure it's a fast one if you intend to record on the highest resolution.
Menus and Settings
Once the card's in, you can begin choosing your preferred settings. I've made a short demo video of the menu system to give you an idea the options that are available.
As you can see from the video above there are lots to choose from. I won't explain each and every one of them for the sake of keeping this review to a manageable length. The main features include a motion detector and parking monitor. Both would require an additional power source to be operational for long periods of time as the 250mAh internal battery won't last long on its own.
This is pretty common for most dash cams and thanks to the removable USB cable, it's easy enough to use an external power bank if you require this functionality.
The parking monitor works with the G-Sensor which I found fairly sensitive. If you're parked on a busy road with passing lorries you might need to reduce the sensitivity in the settings.
Here's a short video demonstrating how to access the recorded footage directly on the dash cam. As you can see it's fairly easy to use and the playback quality from the LCD is good.
Record Quality
Below is a short demo of the video quality during the day and night. Make sure you've chosen the highest quality on the YouTube settings (1440p). If you pause the daytime footage it's easy to read the registration plates of passing vehicles.
I think the night time footage is also pretty impressive for such an affordable dash cam as is the microphone quality. The DBPOWER A7L50 has an aperture of just 2.0 and uses dynamic range adjustment to automatically balance the brightness.
Verdict
I've been very impressed with this product especially considering its budget price. Only time will tell if it continues to function as well as it has for the last two weeks. I'll be sure to update the review if I experience any problems. In the meantime, it's worth noting that it does come with a one year warranty and a 'no questions asked' full refund policy. So, If you're looking for a low-cost dashboard camera I highly recommend you check it out.
Price updated – 20th of March 2017 at 19:30 GMT
*Product prices and availability are accurate as of the date/time indicated and are subject to change.
If you found this review useful, please leave a comment below or share it socially – Thanks!
USE DISCOUNT CODE
JYYB6XEY
FOR A FURTHER 20% OFF UNTIL THE 28TH OF MARCH.