The expectation of quality has a genuine effect on your perception and enjoyment of a particular product.  Whilst there are a few obvious elements that control your expectations such as branding, build quality, packaging, advertisements and product endorsements,  another more interesting element is the price.
It would seem crazy to most people to consider that an audio product could sound better or a TV picture would appear sharper solely based on the price you paid for it, however, studies have shown that this is actually the case.
Audio cabling is the perfect example of this effect.  Believe it or not there are certain speaker cables that cost well over £1000.00 per metre.  A good quality speaker cable with good connections will indeed help to retain as much of the original sound signal as possible. However the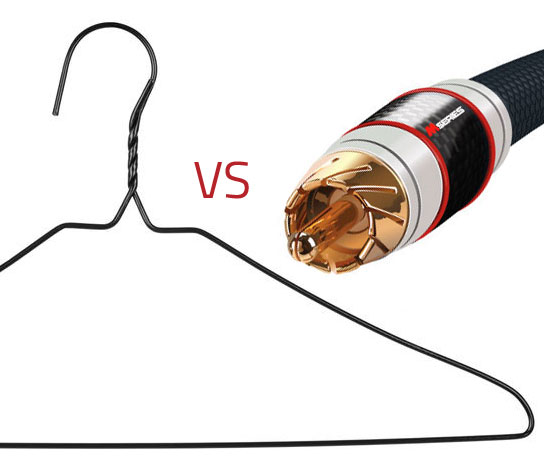 actual difference between the output from a wire costing £5 per metre and £500 is so inconsequential that no human ear could tell the difference in a blind test. In fact, a group of audiophiles performed a blind test on an expensive cable vs a coat hanger and the coat hanger came out on top.
It may seem obvious to assume that these people are mugs for blowing so much money on a length of wire, but the cost itself has a genuine and measurable effect on the perception of the sound quality inside our brains.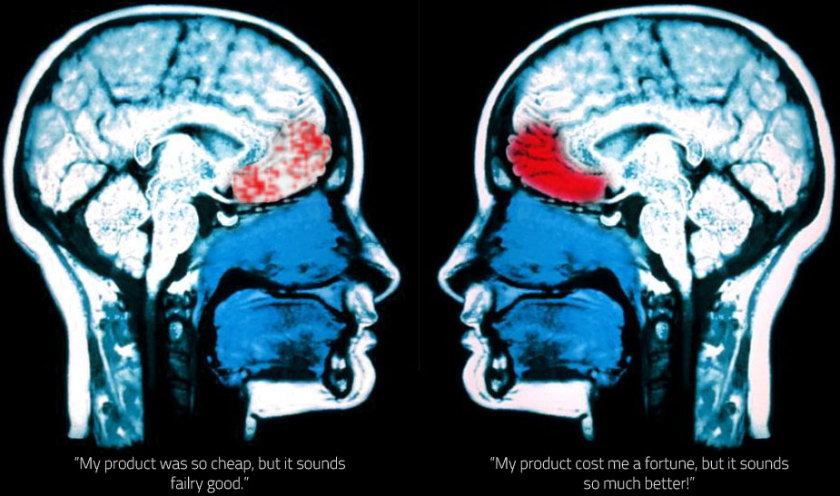 Tests were carried using an MRI machine where individuals were given an expensive glass of wine and a cheap glass (they were, in fact, the exact same wine) They all agreed that they preferred the taste of the expensive wine. The brain scans also showed an increase in activity on the pre-frontal cortex to prove there was a measurable difference.  This study proves that if a person truly wants to fully appreciate a glass of wine, they simply have to spend more on the bottle.
The same rule also applies to tech products and might actually be a reason to forgive high-end companies such as Bang and Olufsen, Bose, Bowers & Wilkins and of course Apple for keeping their prices inflated way above the actual cost for R&D, production, packaging and marketing.
If they were to say "Hey, you know what guys…………. Let's do the consumer a favour and sell our new amazing product for half the cost of the previous model, even though it's a better version"  Our expectation of quality would be diminished by the low price tag and our pre-frontal cortex would be less active causing a dampening of our senses.  As a result, we'd have a less pleasurable experience than we would, had we paid twice the price.
A while ago I found an amazing deal on a wall mounted TV bracket and wrote about it in the best buys section.  The Bracket was over 10 times less than the more expensive alternative, yet had over 25% more weight capacity.  So why on earth would anyone consider buying the more expensive option?  The answer is simple, the expectation of quality on a bracket costing only £7.00 as opposed to £100.00 is so low that consumers have less faith in the product despite the fact it has far more weight capacity.
I'm not sure that once you are consciously aware of the expectation of quality, based on the price paid if it will somehow break its placebo effect.  I have a feeling the effect is squarely lodged in our sub-conscious if not there are many more factors other than just the price to help ignite the old grey matter.  I personally like to take a second to sniff the box and savour that "New Tech Freshness" once I get inside the packaging of my latest gadget or device.  I wonder if tech companies purposely make the packaging smell all techy and fresh to stimulate an additional sense during the unboxing? Or maybe I'm totally alone on the whole "sniff the box" thing?
If you enjoyed this article please share it with others by clicking the social buttons to the right.