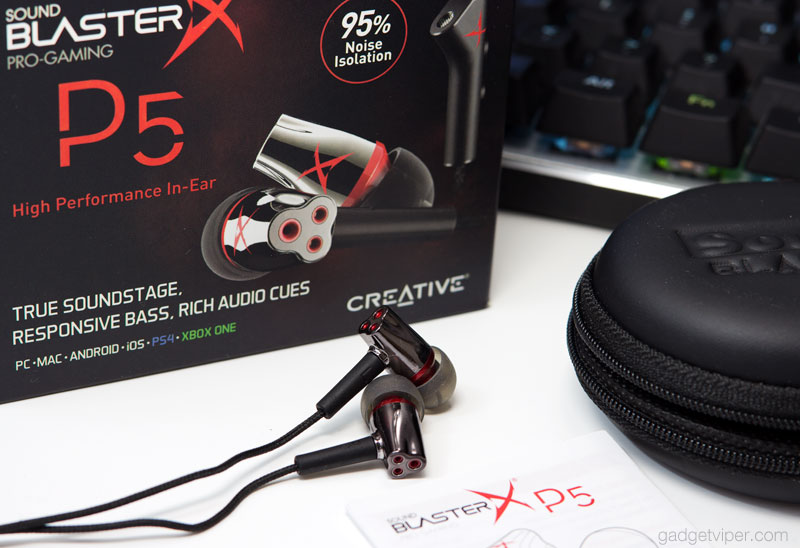 Intro
Before I start the review of the Sound BlasterX P5, I simply have to make mention of the box these earphones come in. Whoever Creative use to design their packaging needs a serious pat on the back.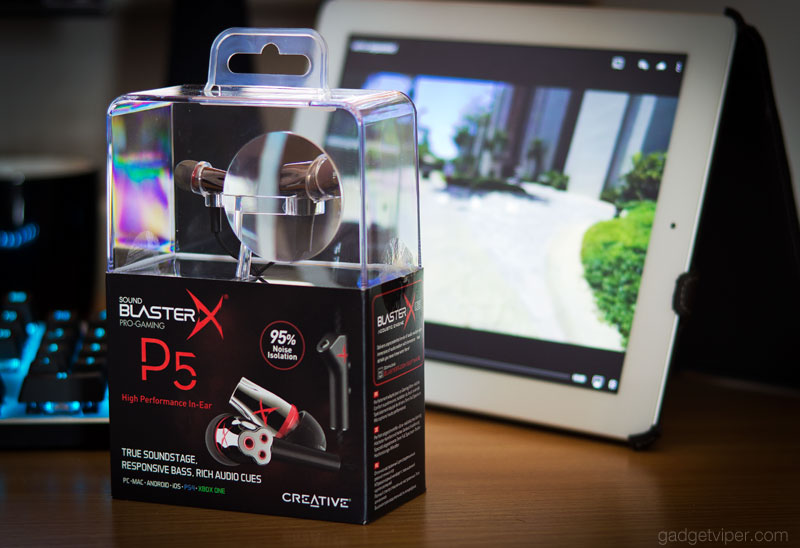 It's clear fronted design features a magnifying lens to give you that all-important close-up shot of the P5 earbuds inside. Over the last week, I've had the box sitting on my desk and I've been admiring them like some sort of treasured ornament.
There are boxes you rip open and discard and then there's some that are too good to throw away. I'm definitely going to need to find a use for this one.
Sound BlasterX P5 Gaming Earbuds – Full Review
How do they look? – Ridiculously sexy, like something that would pop out of Iron Man's shoulder and triple head-shot a bad guy. Perhaps gazing at them through the magnified window this past week has fluffed me up a little, but seriously these look the business.
The Sound BlasterX branding is visible on the top surface leading to the burnt-red coloured neck that tapers and bends slightly to retain the rubber ear-tips. These ear-tips are pretty unique in their design, they feature an internal ribbed spiral that provides an exoskeleton to the soft rubber. This is said to vastly improve the seal and produce up to 95% passive noise isolation. The P5 comes with three ear-tip sizes, so achieving the perfect fit should not be a problem.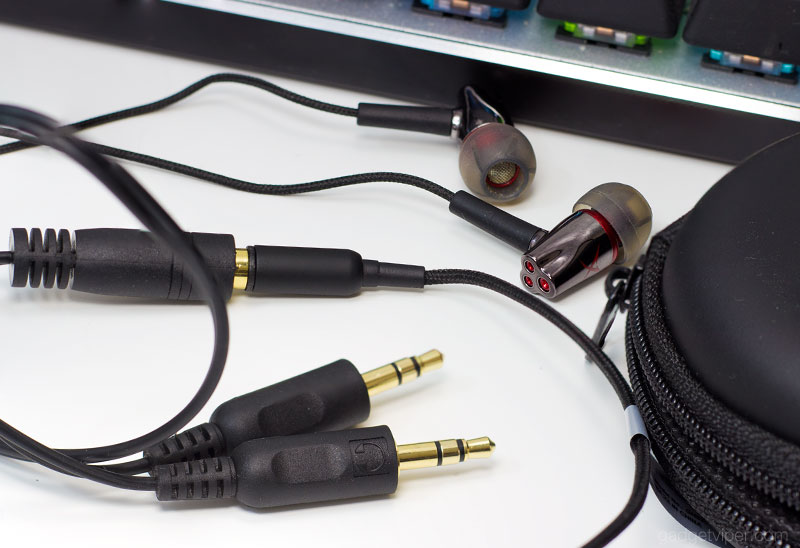 The thin braided cable connects to the earbuds with a thick and durable sleeve. There is an 'L' and 'R' on this sleeve, but in low light, it's very difficult to see them. Once you can remember that the in-line microphone is on the left side, it's no longer an issue.
The microphone unit is well designed and angles nicely towards the mouth. It features a mute toggle switch and a button to provide call and playback functions when the P5 is plugged into a Smartphone.
To use the Sound BlasterX P5 specifically as gaming earphones for the PC and Mac, Creative have included an additional adapter. This splits the connection into 3-pole headphone and mic pins. The adapter is only about 30cm (12 inches) long, which could limit how far from the PC tower you can sit. It's a little strange why Creative hasn't made this accessory longer. They provide a similar item with their Sound BlasterX H5 headphones and it's about 1.5m in length.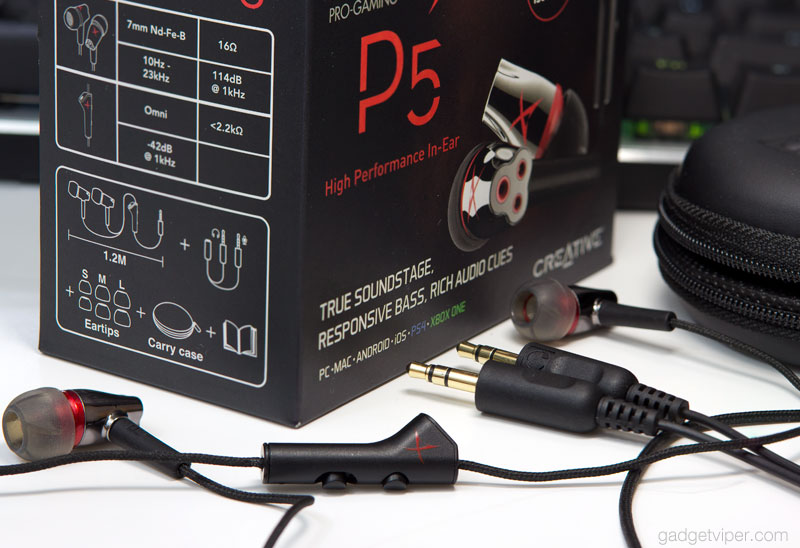 The Sound Blaster P5 earbuds come with a round zipped case. Inside is a mesh pouch to keep the spare ear-tips and plenty of room for the P5's and the splitter cable.
How do they perform? –  I've used the Sound BlasterX P5's on the PC for gaming, the iPad for watching films and on the Smartphone for music.  Firstly, let me say, Creative was not wrong about the noise isolation, these really do block external noise. This feature happens to be a bit of a double edge sword for me. They were amazing to use at the gym! The hideous Cross-Fit 'abuse' music was totally blocked out, even at a pleasant volume. As a downside, however, I did miss a parcel delivery yesterday from not hearing the postman knock….
How do they sound?  – For gaming, they are rock solid. They really do seem to separate individual sounds and detail far better than I've experienced with other headsets. I spent some time testing them on Fallout 4 and was blown away by the quality. 
After switching back and forth between headsets and earphones for comparisons, there is no doubt that these have been tuned for gaming. Explosions are deep, powerful yet realistic and the soundstage makes even the smallest of noises appear clear and detectable. As with all Sound BlasterX devices, Creative offer free additional software to fine tune your preferred audio set up.
I've also been hugely impressed with the P5's for music and films, they really are great all rounders.
How's the Microphone? – Considering the Sound BlasterX P5 has a dangling microphone, it does a good job with both vocal clarity and noise reduction. The default volume level was a little less than my other mic, but after some adjustments, it was perfectly fine.
I hope you found this review useful, if so, please leave a comment or share it socially – Thanks!