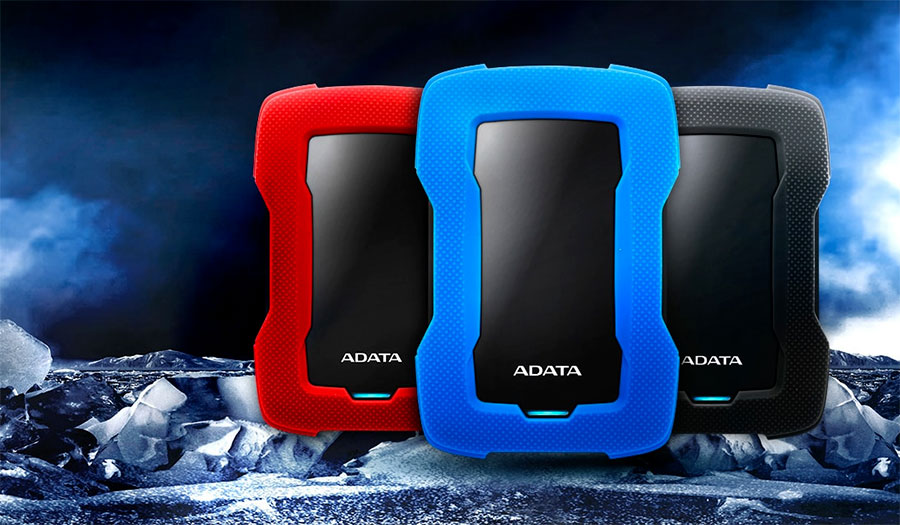 Pros and Cons
+
Very slim design, user-friendly software, good silicone case for protection, reasonably priced.
–
Not keen on the glossy top surface, the USB cable is a little short.
Where to Buy
ADATA HD330 Full Review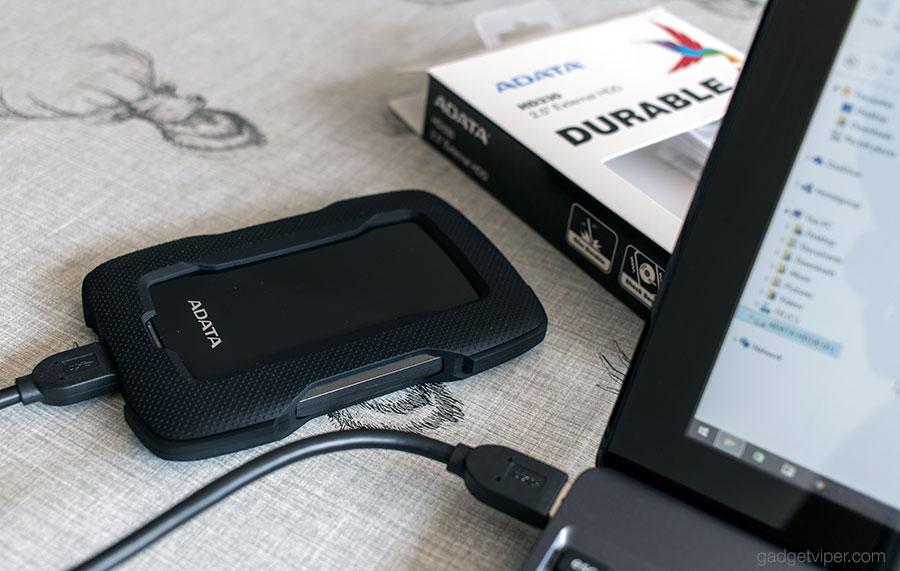 The HD330 comes inside a tidy retail box along with USB 3.1 cable and quick start guide. The cable looks and feels robust, but at only 12 inches, I'd have liked a little more length…
The software makes it easy to backup specific folders, synchronise your data and has a number of useful security features including a 256-bit AES encryption. I won't bore you with all the details, but for those interested, he's a link to the user manual.
The Design and Build Quality
The ADATA HD330 comes in four different capacities and two physical sizes, depending on if you choose the 1/2TB or the 4/5TB drives. Both are impressively compact for an HDD and could definitely be considered as pocket size.
Dimensions (L x W x H)
1/2TB : 132.7 x 88.9 x 16.2mm (5.2 x 3.5 x 0.6 inches)
4/5TB : 132.7 x 89.9 x 23.4mm (4.9 x 3.2 x 0.9 inches)
Weight
1/2TB : 189.8g /6.69oz
4/5TB : 315.6g /11.13oz
The drive has a textured silicone protective case with dense rubber cushions on the corners to absorb impacts. The front has a glossy surface that I'm not a fan of. I always prefer a matt non-shiny finish on my portable devices given the choice. Greasy fingerprints and unwanted reflections are unappealing and easily avoided.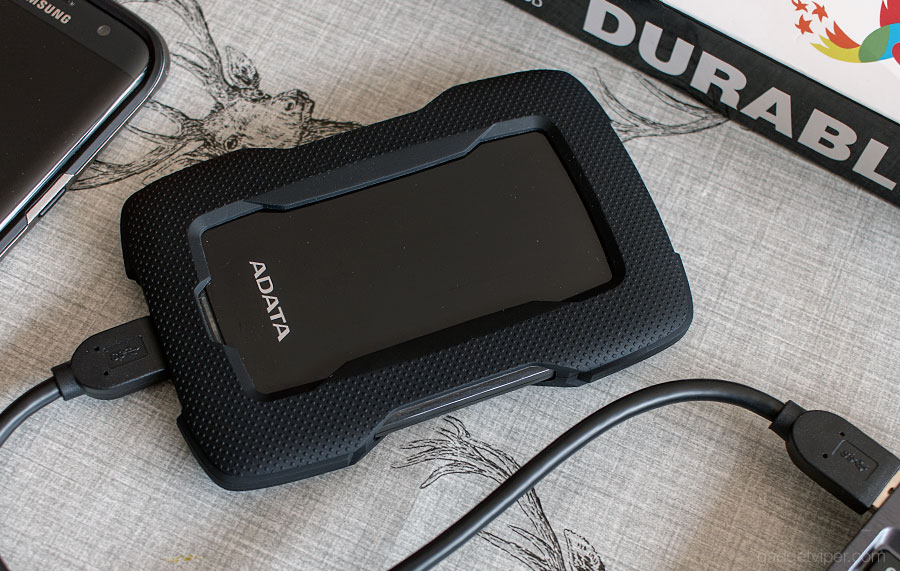 There's a thin LED status indicator below the ADATA logo that will glow blue when on, flash blue when transferring data, flash red when a shock is detected and remain red in the event of an error.
ADATA HD330 Features
The HD330 has a USB 3.1 output and is backwards compatible with USB 2.0 ports. It will work with all versions of Windows going back as far as XP. It's also compatible with Mac OS X 10.6 or later and Linux Kernel 2.6 or later.
ADATA's proprietary shock sensors 
If you've suffered from errors caused by bad sectors, it's possible the hard drive was knocked while saving data. The HD330 has a clever solution to prevent this from happening. With the use of internal shock sensors, the drive will pause activity during excessive motion then automatically resume once it's safe to do so. This could be very useful if you work while travelling.
HD330 Speed / Performance
While the HD330 is not going to compare well against SSD, it does an ok job when tested against other HDD drives in its price bracket. I've currently got a 1TB secondary hard drive in my PC called a Seagate Barracuda. Using CrystalDiskMark software I was able to compare the two, here are the results:

Verdict
The ADATA HD330 is a compact, durable, and cost-effective external storage solution. Its slim design, rugged case, and built-in shock sensors make it ideal for use while travelling. The read/write speeds are above average and while I definitely wouldn't game from this or any other HDD for that matter, it's certainly good enough for backing up files. For those looking for a reliable and rugged external storage solution on a budget, the HD330 is well worth considering.
Where to Buy