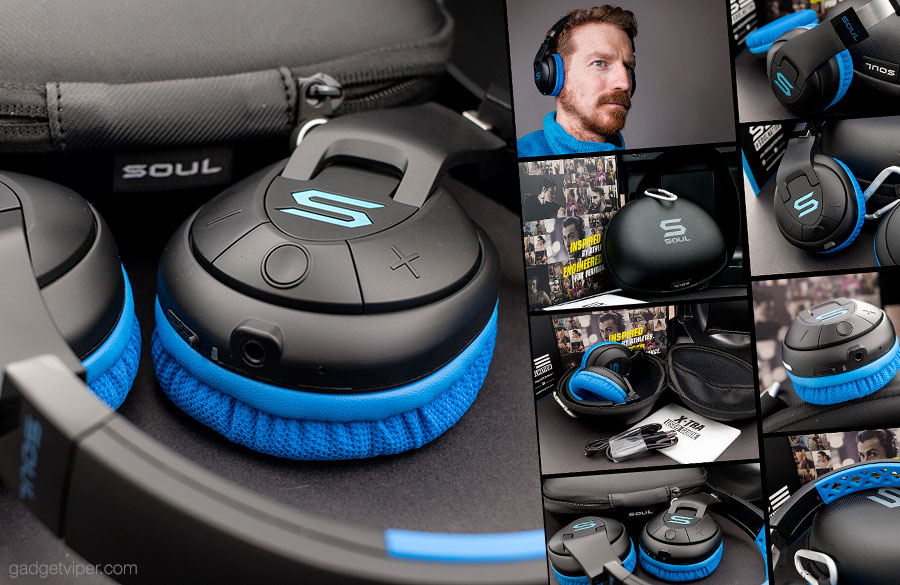 Have you been googling 'Best Wireless Headphones for running' in the hope of finding  'over the ear' headphones for running, instead of 'around the neck' or the 'in-ear' varieties?
I've got some good news, my friend… You've hit the jackpot! This is a genuine hands-on review of an actual set of over-the-ear Bluetooth headphones designed specifically for running and sports activities.
Soul X-Tra Bluetooth Headphones
Truly unique sports headphones that will definitely make you stand out from the crowd – especially when running at night!
The Soul X-TRA headphones won't shake loose, get stinky from sweat, or make your ears feel like they've been probed with a wet finger.
Highlights and Features
Lightweight and Guaranteed to stay on
Advanced HD drivers for high-end sound
24 Hours of music play time
Fast Charging -15 mins provides 2.5hrs
Removable and washable earcups
Breathable headband design
Optional LED lights for running at night
Pros and Cons
+
Quality sound, very secure fit, strong battery life, washable earcups, good manual controls
–
No memory function on the LED backlight when powering the headphones back on.
Where to Buy?
Price updated – 30th of January 2017 at 20:30 GMT
*Product prices and availability are accurate as of the date/time indicated and are subject to change.
For those who are not keen on the blue-black colour scheme, the Soul X-TRA headphones are also
available in black
.
Unboxing the Soul X-TRA Headphones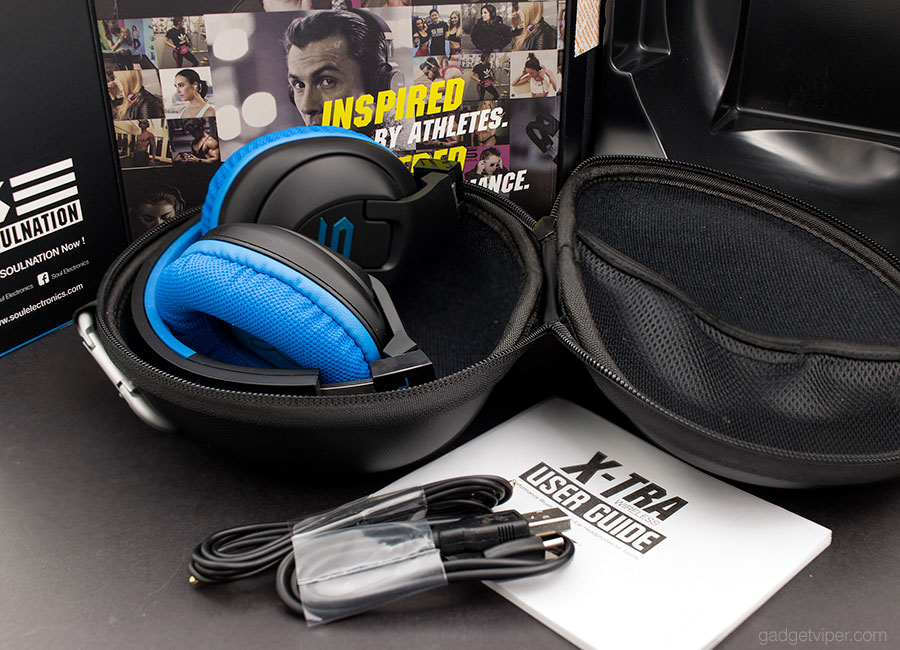 The Soul X-TRA headphones are well presented in an eye-catching retail box. It features a magnetically held lid that opens to reveal a premium quality clam-shaped hard carry case. Along with the case, there's a user manual, USB charging cable, and a 3.5mm audio lead.
Soul X-TRA Headphones – Design and Build Quality
As they're designed specifically for sports, they are made mostly from plastic with the exception of the head-strap adjustment. This makes them fairly lightweight at just under 200g (7oz) – Not bad for a set over-the-ear headphones with a 24-hour battery life.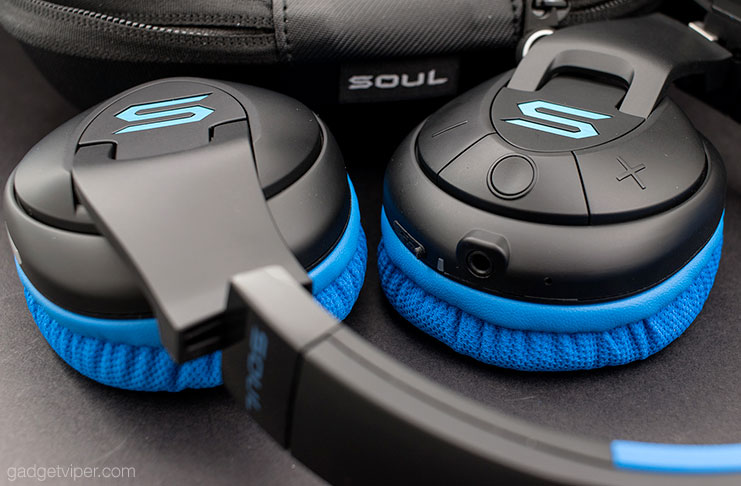 Most lightweight wireless headphones for running, are usually designed to sit on the ears with faux leather ear cushions. This will typically cause ear fatigue over time along with slipping issues as the cups get sweaty. The X-TRA's are different! the padding is covered with a soft breathable material that makes contact around the ears, rather than on them.
Additionally, there is just the right amount of tension on the band, making them ideal for just about any intensive activity.
I've had them on for outdoor runs and during workouts in the gym. They've remained perfectly in place, even when benching on a decline which is typically where I encounter problems.
What's that smell?
Another factor to consider when using wireless headphones for running is the damage caused to the surface of the cups from sweat. It usually leaves salty stains, causes them to perish over time, and they can also end up smelling like a pair of old socks. This is especially true if you leave them damp in your gym bag.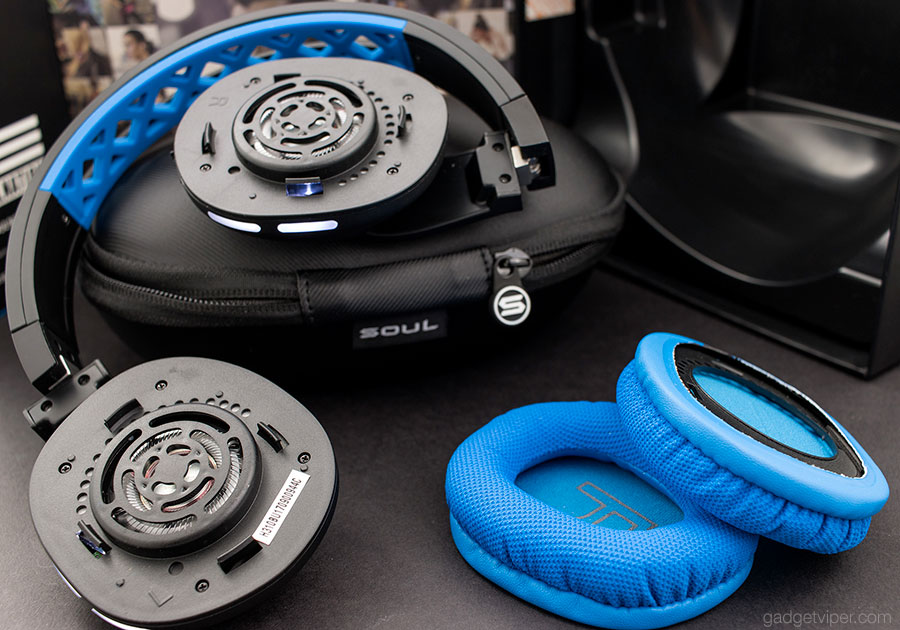 The Soul X-TRA's offer a unique solution to that problem. The padded earcups are removable. Allowing the option to thoroughly wash them without fear of damaging the speaker drivers.
Along with the removable ear-cups, the X-TRA's feature a headband designed for breathability. Rather than a padded surface, there's a soft rubber inner with cutouts for airflow.
As I have a thick mop of hair, I'm unable to gauge how this design would feel on a bare head. – So, if you're follically challenged, there could potentially be a comfort issue here?
Comfort?
For me, the Soul X-TRA's are exceptionally comfortable. I always gravitate towards over-the-ear headphones, especially when I plan to wear them for more than a couple of hours. I've had these on for the best part of the day and they feel great. So, If you're into sports training and don't like wearing earbuds or on-the-ear headphones, these could be ideal.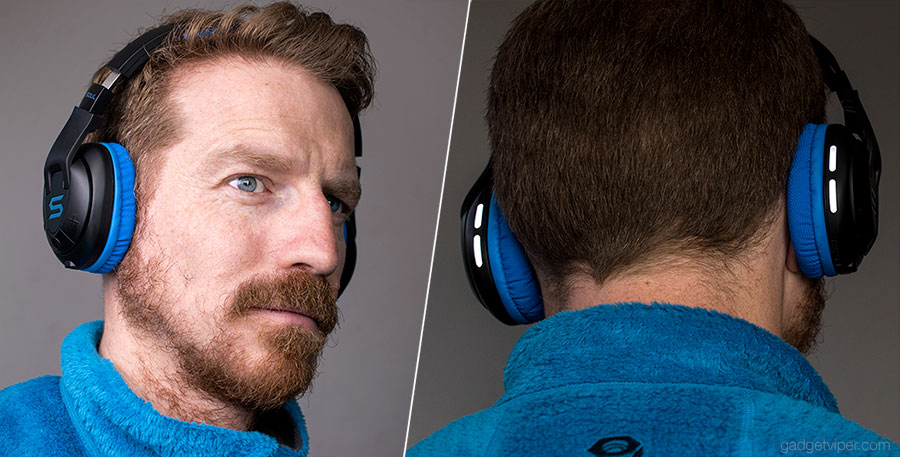 Do you run at night?
If you happen to be one of those people that enjoy running at night, you're going to seriously love these headphones. Personally, I avoid the activity, not because I'm afraid of the dark, I just don't enjoy having to scrape dog muck of my running shoes when I get home.
The Soul X-TRA headphones feature two bright LED lights on the rear of each earcup. You can choose to have them on as solid lights or as flashing lights to add additional visibility.
You can cycle through modes by pressing the '+' and '-' buttons together. Having the lights on will, of course, have an effect the overall battery life.
Technical Details and Specs
Bluetooth 4.0 / Profiles: HSP, HFP, A2DP, AVRCP
Battery Life – Up to 24 hours (with LED lights off)
Standby Time – 20 days
Charge Time: 2-3 Hours for full charge / 15mins fast charge for 2.5 Hours
Bluetooth Range – 10m (33 feet)
Frequency Response: 20-20KHz
Speaker Diameter: 40mm
Soul X-TRA Headphones – Controls and Features
All of the controls and ports are found on the right earpiece. On the bottom is a well-protected charging port, an LED status light, a 3.5mm AUX input and a microphone for handsfree calls.
The '+' and '-' buttons are positioned a good distance apart along the chamfered edge of the earcup. They actually extend all the way up the front and back which makes them very easy to use even while running. A quick press adjusts volume and a longer press will skip tracks.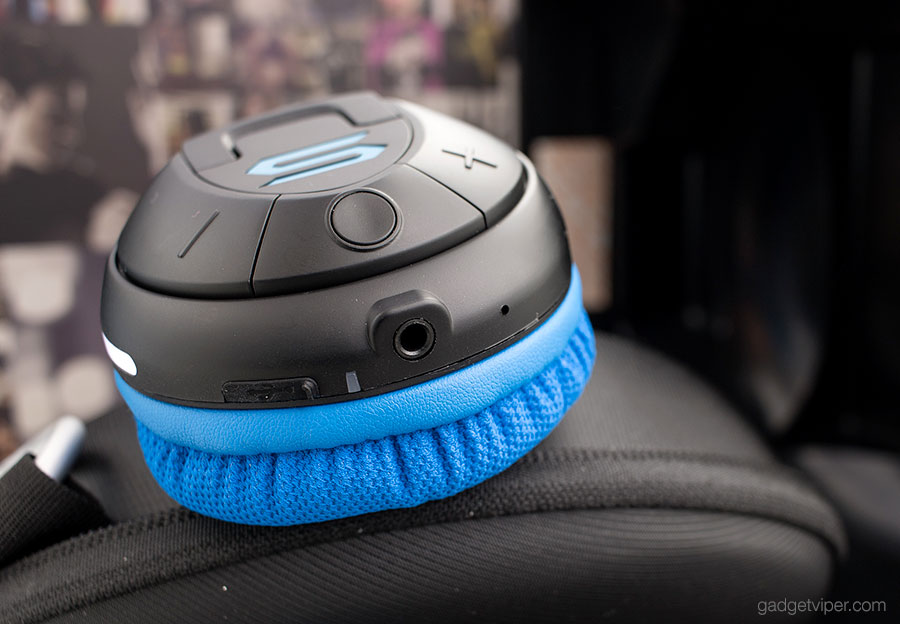 The round multi-function button will play and pause music or control the handsfree calls. Unfortunately, there doesn't seem to be a way of controlling Siri or Google assistant which is a bit of a shame, I'm growing very fond of her these days.
Pairing the Soul X-TRA headphones
They will enter pairing mode automatically when turned on, you just need to look for 'SOUL X-TRA' on your device. Reconnection is super fast and the Bluetooth range and signal quality are both flawless.
Along with the regular pairing mode, the X-TRA's will also take a multipoint connection. This is activated by holding the '+' and power button together until you hear a tone.
It will then connect with two devices at the same time. You can then play music or watch movies from a tablet or laptop while still having your phone connected for incoming calls.
Sound Quality and Performance
Usually, when it comes to wireless headphones for running, the sound is often bass heavy. The X-TRA's aren't. The low-end is present, but it's certainly not in the forefront. If anything, I'd say these are a little on the bright side. You could, of course, tweak your EQ settings if it's not to your taste. I think it's quite refreshing to listen to music as it was actually intended to be heard.
Low-end has a tendency to drown out external noise, this can sometimes be a blessing, especially in a busy gym. When you're running outdoors, however, I think a more natural sound signature helps keep you more aware of your surroundings. These do an ok job when it comes to passive noise reduction. There is just enough breathability on the padding to allow some environmental sounds in. This will hopefully stop you from running in front of a bus. My advice – Stop, Look and Listen 😉
Verdict
The Soul X-TRA's are in my opinion the best over-the-ear wireless headphones for running. They have a really impressive battery life, the large controls are super easy to use on the go, and the rear LED's will keep you visible in low light. If I were to nitpick, I'd have added a memory function to keep the rear lights in the mode they were in when the headphones were last on. Alternatively, I'd have had the lights off by default. I'd also add the Google Assistant/Siri functionality, other than that, these cans are awesome and I highly recommend you check them out.
Price updated – 30th of January 2017 at 20:30 GMT
*Product prices and availability are accurate as of the date/time indicated and are subject to change.
I hope you enjoyed this review, if you did, please leave a comment below or share it socially – Thanks!