X-Shock True Wireless Earphones
Things are finally looking up for True Wireless Earbuds with the release of the Soul Electronics X-Shock Bluetooth Earphones.
Featuring a rock solid connection, extreme weather resistance and a charging station that doubles as a 3000mAH portable phone charger.
Highlights and Features
Compact and lightweight design
Auto on/off and pairing for easy use
Magnetic easy load charging station
Highly water resistant
3.5 hours music per charge
16 full charges from dock (54 Hours)
Dock can portable charge phones
Pros and Cons
+
Super easy to use, very low profile, stable link and connection, awesome charging station, impressive audio quality.
–
No volume control or track skip feature on earbuds.
Where to Buy?
Price updated – 16th of July 2018 at 09:30 GMT
*Product prices and availability are accurate as of the date/time indicated and are subject to change.
The first set of fully wireless earbuds I've tested that have a totally stable Bluetooth connection. No drops in sound!
Unboxing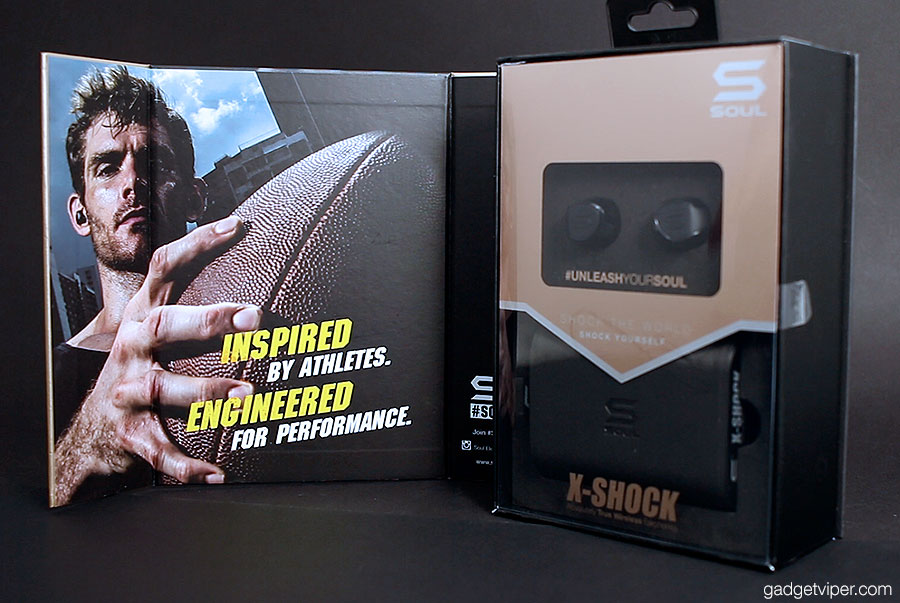 The Soul X-Shock Earphones come inside a top-notch presentation box. Inside, the earbuds are mounted in dense foam along with the charging station. Underneath the foam, you'll find a carabiner, a silky carry case, a spare set of ear tips, a user manual, warranty card and a USB charging cable.
The X-Shock Earbuds
Weighing just 6 grams, the X-Shocks are exceptionally compact and lightweight for a set of fully wireless earbuds. There's a single matte black button on the front with an embossed Soul Electronics logo which contours neatly around the housing.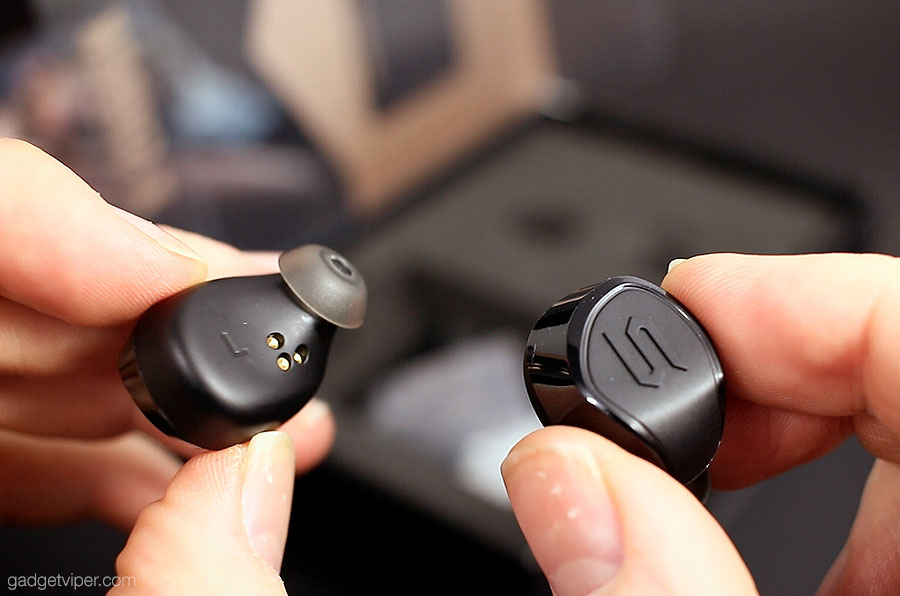 The sides have a smooth glossy surface and the rears are ergonomically shaped to fit within the ears. There are no corners, or edges to cause pressure points and the ear tips are exceptional small compared to most other earphones.
The comfort and fit will no doubt differ from person to person, for me they are spot on. I can work them tightly into my ears for noisy environments or wear them loosely if I need to keep aware of my surroundings. Even with them loosely fitted, I'm unable to shake them free of my ears, making them perfect for sports and activities.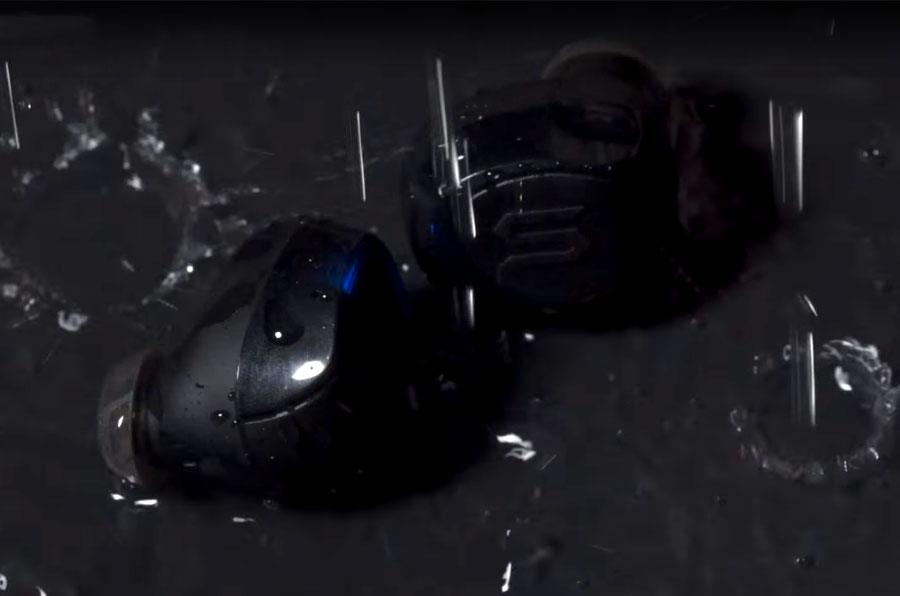 To further enhance their practicality, the X-Shock earphones are fully weather resistant. They are capable of surviving full immersion in water for up to 30 minutes. So if the worst does happen and they drop into a puddle, they should be perfectly fine.
Setup and Ease of Use
The X-Shocks are designed to be amazingly simple to use. They turn on automatically when removed their charging case, automatically link together, and will seek out a Bluetooth device to connect with.
After you're done, you simply pop them back in the charging case. They'll disconnect from your phone, turn off and begin recharging.
The single button on the side will take hands-free calls, play and pause music or activate Siri/Google when held for a second. Unfortunately, there is no manual control for track selection or volume adjustment. That being said, from previous experience, True wireless earphones that have these features are notoriously unstable for some reason.
The biggest stand-out feature for me has been the consistency of the connection. There has not been a single drop of sound and I've clocked up over 20 hours so far.
So, given the choice between having volume and track selection functions with the occasional loss of signal, or a rock solid stable connection, I'd happily choose the latter.
The X-Shock Charging Station
The case is, in my honest opinion, the best on the market. It has an integrated 3000mAh battery that provides 16 full charges. This equates to over 50 hours of music play time before you need to recharge the dock. It also doubles as a portable charger should you need to top up your phone.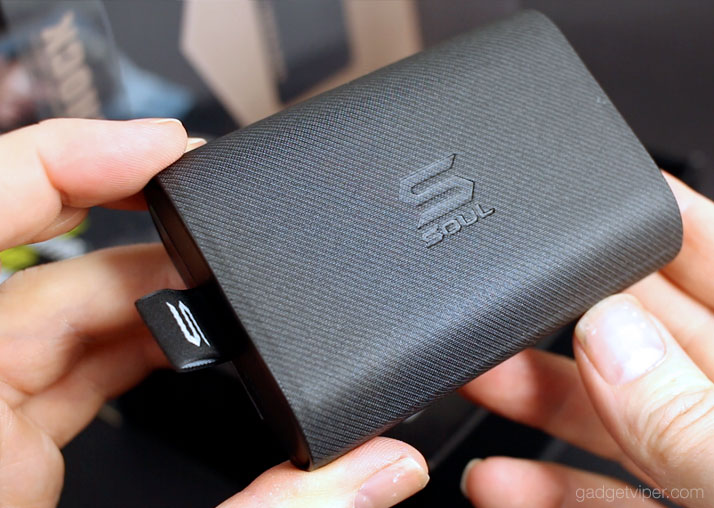 It features a rigid magnetic cover that wraps around the side to protect the earbuds and charging ports. Underneath there's a micro USB input and a regular USB output port along with a battery indicator to let you know how much charge is remaining.
If you've watched my video review, you'll know how easily the earbuds drop into their charging bays. They practically put themselves in.
Most other cases rely on the cover to retain the buds. This one holds them so well that you can shake them with the cover open and they'll still remain in place and continue charging.
Specs
| | | | | |
| --- | --- | --- | --- | --- |
| V4.2 (10m Range) | 3.4 Hours | 54 Hours | 1.5 Hours | 200 Hours |
Sound Quality and Performace
As with most in-ear headphones, the sound quality will depend largely on how well the buds seal inside the ear. If I've got them in tightly, the bass is rich and spacious, highs are crisp and the mids are well balanced. If they're loosely fitted, then the sound is less impactful and a little distant. The same applies to the volume level and passive noise reduction. With a good seal, the volume is adequate enough to block out most of the ambient noise. Without a tight fit, you might find yourself wishing they were a fraction louder.
Verdict
I'm really pleased to have finally found a set of true wireless earphones with a totally stable connection. The added bonus of their ease of use, water resistance and an awesome charging dock set the X-Shocks apart from others in their price range. They are best suited for active people who require total freedom from wires.  If you're into sports training and prefer in-ear headphones, I highly recommend you check these out.
Price updated – 16th of July 2018 at 09:30 GMT
*Product prices and availability are accurate as of the date/time indicated and are subject to change.
I hope you found this review useful if you did please share it socially, leave me a comment, or head over to YouTube and
subscribe
to the channel – Thanks!