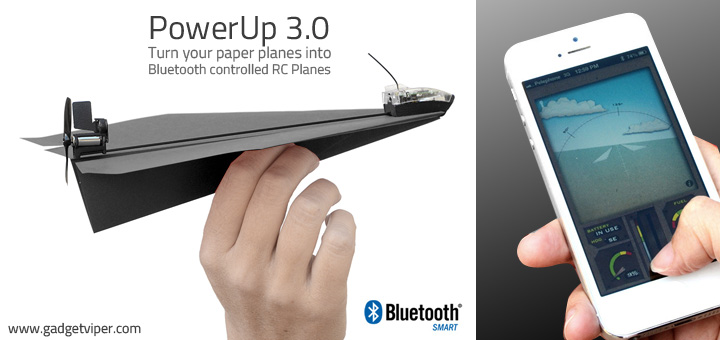 Ever wondered how to make paper airplanes that just keep flying?  Well now you can  (for 10 minutes at least) with the amazing new gadget called the Power Up 3.0 . Not only will it just keep going it can also be controlled with a smartphone app. Giving a whole new meaning to putting  your phone into "Airplane Mode"
PowerUp 3.0 Paper RC plane

Amazon.com
lowest price: $49.99
Price information last updated on 16/10/2015 11:50 GMT
The PowerUp 3.0 is the worlds first conversion kit to transform paper airplanes into rc planes capable of flying to a range of 55 meters (180 feet) while being controlled via bluetooth technology with your smartphone.
PowerUp 3.0 is made from carbon fibre making it pretty much indestructible considering that the impact force of a paper plane is next to nothing.  The biggest danger of collateral damage will more than likely come from having to let your overly excited child handle your brand new iPhone 6 while he or she is staring up at the sky, oblivious of the goal post they are about to collide with.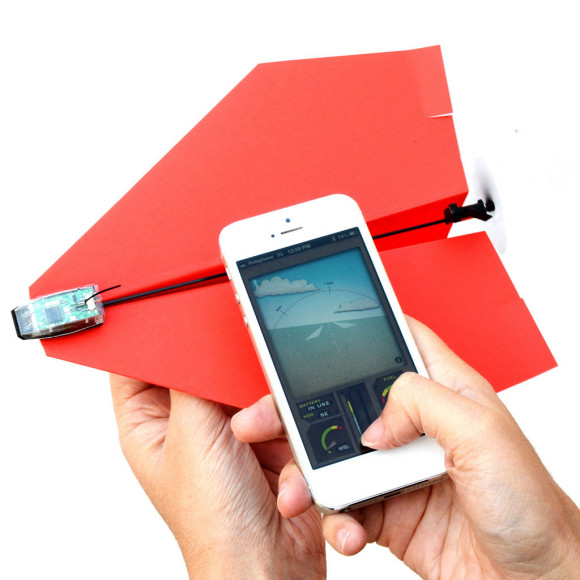 The Power Up 3.0 app is cleverly designed to allow the manoeuvring of the paper aeroplane simply by tilting the phone.  There is a throttle control on the touchscreen to ascend/descend. The app has a beginner and an advanced mode to help you get to grips with the controls.
So how easy is it to fly Power up 3.0 powered paper aeroplanes?
Well, there is definitely a learning curve, but that's half of the fun of it right?  For anyone who remembers mastering the Dodo on GTA III  will remember the utter joy and satisfaction that you feel after you have managed to successfully keep it up for longer than 3 minutes – no pun intended.


If you are wondering how to make paper airplanes that will work with PowerUp 3.0, you can either download proven PDF templates or invent your own just like a modern day Da-Vinci.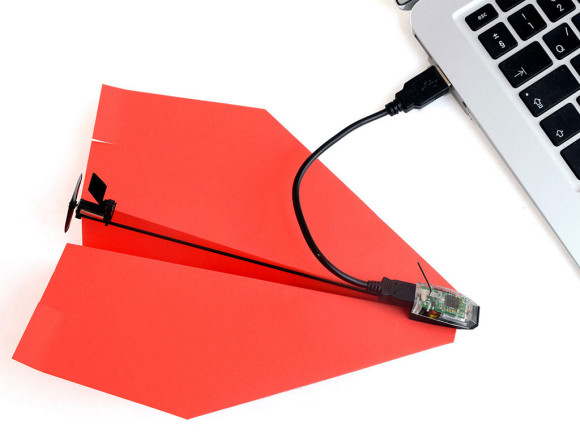 The PowerUp 3.0 comes with a spare propeller, rudder, paper templates, a user guide as well as a Micro USB charging.  With a maximum fly time of 10 minutes, it would probably be worth investing in a portable battery pack in order to recharge it without having to return home.
This little tech gadget could provide hours of outdoor fun for the family, which seems a hard thing to accomplish these days.  Dragging my son away from his console or tablet will be a lot easier with a PowerUp 3.0, and if he is still not interested, well, I might just go play with myself – that's my second unintentional pun
PowerUp 3.0 Paper RC plane

Amazon.com
lowest price: $49.99
Price information last updated on 16/10/2015 11:50 GMT
If you enjoyed this post, please click the social buttons and share it with others.