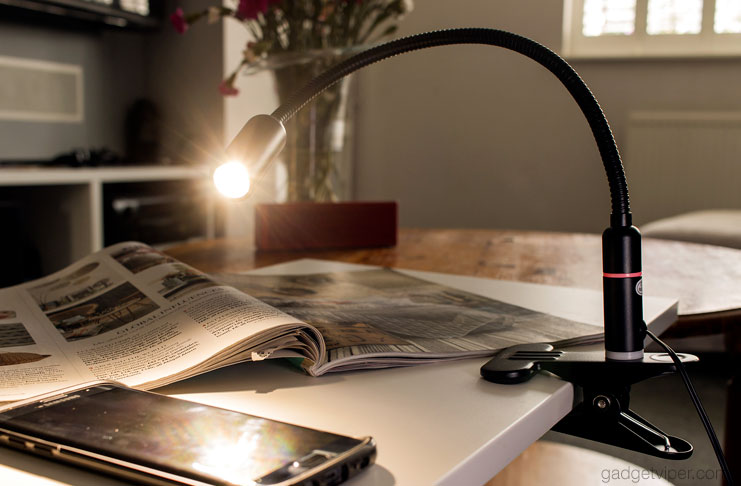 Aglaia LED clamp light – LT-T15
An energy efficient 4W LED clamp light with an adjustable gooseneck. It has a touch sensitive base, three dimmable settings, and a mains power adapter. The Aglaia clip-on lamp features a non-flicker LED ideal for bedside reading when clamped to the headrest of your bed.
Highlights
4W LED with three brightness settings
Gooseneck adjustment (18-inch height)
Strong clamp for desks, shelves or headrests

360°

Touch sensitive control on base of lamp
Additional power off button on cable
Energy efficient mains adapter
Pros and Cons
+
Strong clamp, very energy efficient, good tone on light, gooseneck holds its form well.
–
No memory on brightness setting so you have to cycle through to place into standby.
Where to Buy?
Price updated – 16th of May 2017 at 09:30 GMT
*Product prices and availability are accurate as of the date/time indicated and are subject to change.
If you need more than one lamp, Amazon are offering a further
20% discount
when you buy an additional unit.
I'm a big fan of lighting products with adjustable goosenecks. Those that I've previously owned have been designed to sit directly on the flat surface of a desk. Even with a very weighted base, there always seems to be a tipping point when making adjustments to its position. The Aglaia LED clamp light totally resolves this problem while also saving valuable desk space.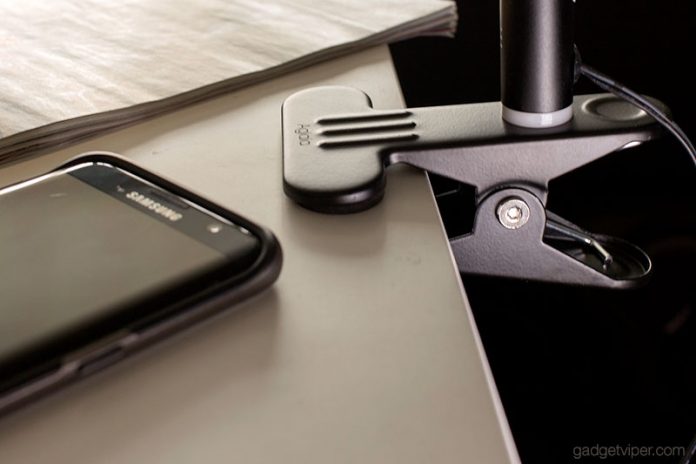 The Clamp
Its robust clamp has soft foam pads to protect surfaces. The grip is substantial enough to allow it to be fitted to a vertical surface such as a headboard without any fear of movement.
The clamp is made from formed steel and has a nice matte black powder coated surface. It will open up to around 50mm (2 inches) if you've got the strength to expand the spring that far.
The Aglaia light unit is fixed to the clamp with a retaining screw. This could offer the opportunity to do away with the clamp and bolt the lamp directly to a flat surface for a more permanent fixing.
The Controls
The base of the unit is 70mm high (3 inches) with a diameter of around 20mm. It features a thin band around its middle that will illuminate red when connected to a power source. While this band is not particularly bright it could potentially bother you if it's directly next to your bed at night.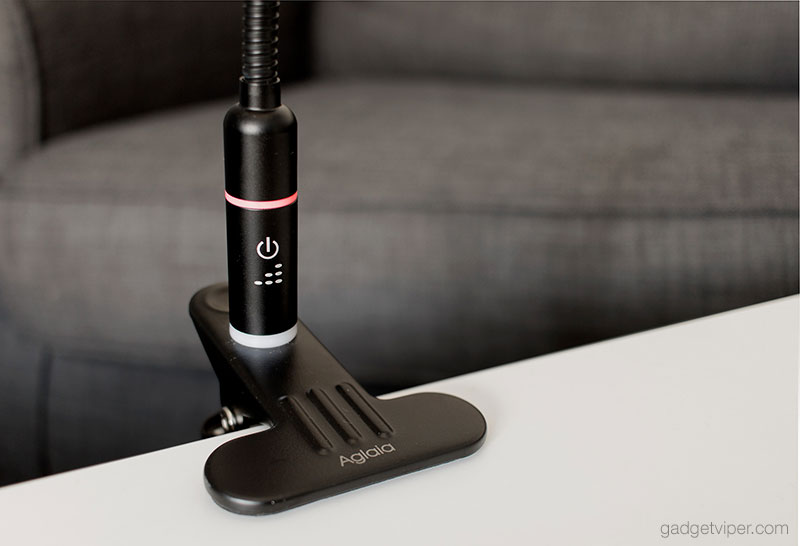 Fortunately, there is a press button on the wire to toggle the power on and off without the need to unplug the unit from the wall.
This is a nice feature for those that like to maximise the energy efficiency of their appliances. Most of the LED clamp lights I've come across are powered by USB.
A USB mains adapter will always draw a charge while connected to a to wall socket even if when the device is off, this one won't.
The Light Modes
The whole base of the Aglaia LED clamp light is touch sensitive. Making contact anywhere between the clamp and the gooseneck will activate the light modes.

There are three brightness settings, low medium and high. The beam is a cool white with a gradual spread and no unpleasant hotspot, ghosting or flickering. It's perfect for reading at night even on the lowest setting.
The Gooseneck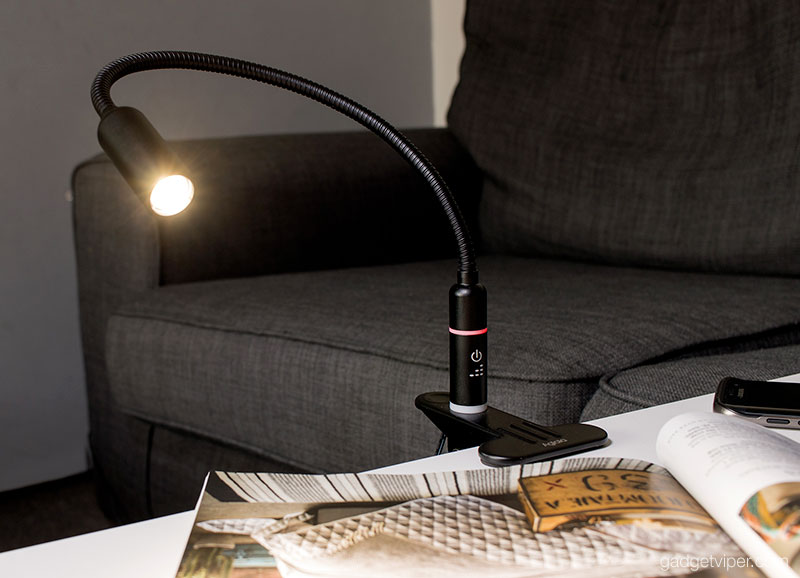 The gooseneck on the Aglaia LED clamp light can be bent and twisted in any direction. It holds position really well and allows you to easily position the beam angle. The neck has an effective bend length of 300mm (12 inches) which is just the right amount in my opinion.

The Lamp Head
The Aglaia gooseneck LED clamp light is a versatile lamp suitable for the desk or by the bedside as a reading light. Its build quality is great and the 4W LED and mains adapter makes it an extremely energy efficient lighting solution.
My eldest son has already claimed it for his bed. He assures me that he'll read every night if I let him have it.  I guess that means I'll need to order another one for myself!
Price updated – 16th of May 2017 at 09:30 GMT
*Product prices and availability are accurate as of the date/time indicated and are subject to change.
I hope you found this review useful, if you did please leave a comment below or share it socially – Thanks.