LifeStraw is one of those rare products that comes along once in a while that simply blows me away.  The winner of Time Magazines Invention of the Year – and for good reason, the LifeStraw can and will save lives and make a huge difference.
With over 780 million people without access to clean water and a huge amount of those being children, products like this literally make me feel proud to be human.

From a personal "privileged life" point of view, the LifeStraw is a must have item for an adventurers backpack.  With a 5-year shelf life, this could possibly be the most important addition to your bushcraft survival gear.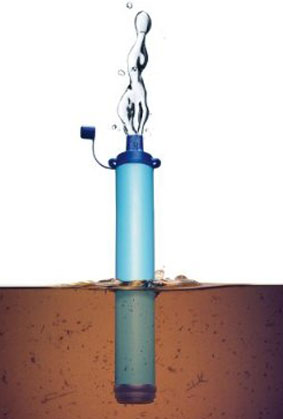 Filters 1000 litres of contaminated water per straw.
Removes  99.9% of water-borne bacteria.
Removes  99.9% of waterborne protozoan parasites.
Reduces water turbidity by filtering particles of 0.2 microns.
The LifeStraw will not remove chemicals, salt, viruses or heavy metals, so it's advisable not to get carried away with where you choose to plunge your straw.  If you happen to pass a public toilet and spot an old bucket of mop water with a dead rat floating in it,  I'd advise that you give that particular water source a miss.  (unless or course you are Bear Grylls, then you can drink the whole bucket using a Mac Donald's straw with a fag butt plugged in one end)
In all seriousness though, this is a kick-ass product and the perfect gift for any survival or bushcraft nut.   With a portion of every sale being donated to humanitarian aid charities, I cannot think of a better product for you to spend your money on.