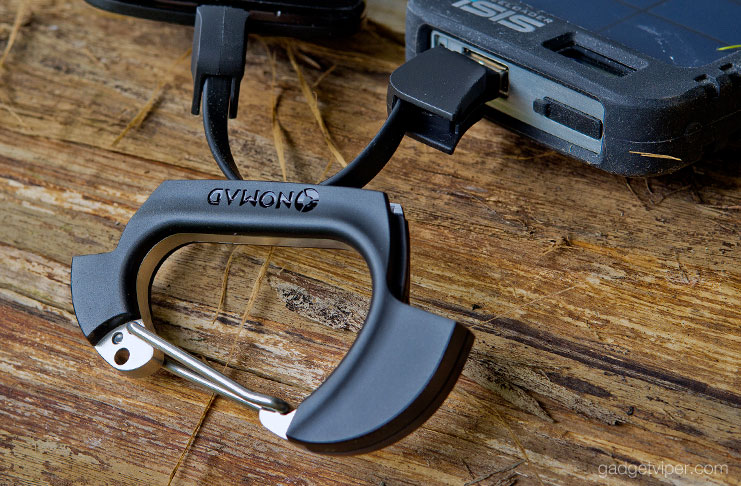 The NomadClip is a unique caribiner with an integrated charge and sync cable. Available with either a micro USB or a lightning connection to suit modern Apple devices. The 2.5 Amp rated cables can provide fast charging and reliable data transfer from portable devices to your PC, Mac or Laptop.
Featuring a corrosion-resistant stainless steel core and Bayer polycarbonate casing, the NomadClip is engineered to last. The carabiner has a sprung steel clip to provide quick and easy attachment and release.
+
Durable polycarbonate and stainless steel construction
–
May be a little bulky for some
Price updated on the 12th July 2016 at 09:30 GMT
*Product prices and availability are accurate as of the date/time indicated and are subject to change.
Using the NomadClip as a keychain instantly resolves the problem of not having a USB cable at hand when you need one.
Intro
The best thing about a carabiner is that it's always exactly where you last clipped it. I wish the same could be said for USB cables. I'm sure some people do a wonderful job of organising theirs. They know which ones transfers data, which ones charge their phones, and those magical ones that do both. In my case, I have absolutely no idea.
Despite having literally dozens of Micro USB cables, (all tangled up together like a plastic snake orgy) there's only one that I'm confident will fast charge and transfer data. And the best thing is, for once, I know exactly where to find it. It's integrated inside the NomadClip and attached to a belt hoop on my jeans. It's a nice feeling to know, that wherever I am, as long as I have my keys, I also have a charging and data transfer solution.
NomadClip – Full Review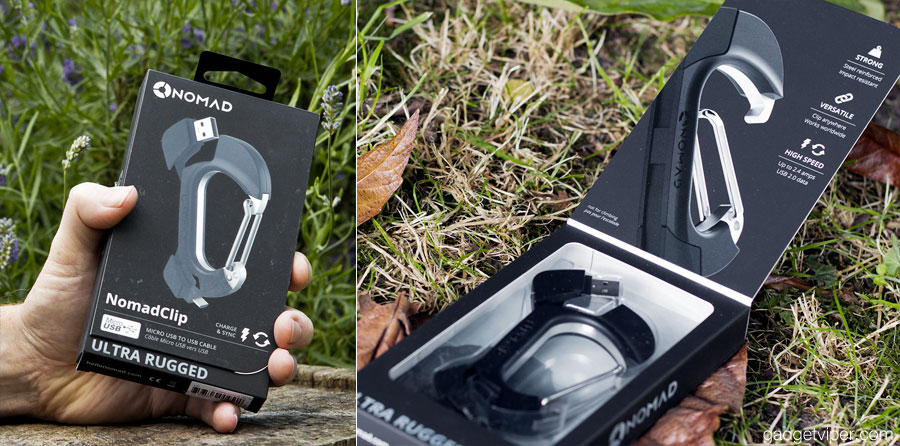 Before taking a look at the product itself, I'd like to tip my hat to Hellonomad for the decent job they've done with the presentation. The retail box has a magnetically retained lid that opens to display the cool looking carabiner inside.
Initially I was surprised by the size of the NomadClip, at 90mm in length, it's certainly bigger than most other keychain carabiners.
After two weeks with the product, I've found its size to be a positive aspect of its design. Given the choice of a more compact version, I'd probably stick with this one.
| | | | |
| --- | --- | --- | --- |
| 90mm (3.5 Inches) | 50mm (1.9 Inches) | 8mm (0.3 Inches) | 50g |
The NomadClip has a 5mm thick internal stainless steel core with a neat satin finish. There are various grades of Stainless Steel, and some aren't quite as 'stainless' as their name suggests. Hellonomad have been testing its quality by leaving it outside near the ocean for the last 8 months – They are happy to report zero signs of corrosion.
The outer surface of the NomadClip is made from an extremely scratch resistant polycarbonate. I really like the detail to it's shape. Its bulging inside edge, glossy logo and well fitting USB's give it a really premium look.
In relation to its capacity to hold weight, I have to admit, I was seriously tempted to string my hammock from it. Fortunately I asked the question first, and was strongly advised against it.  The NomadClip is said to take a load of around 50 Kilos, so I'd have been flat on my butt…. 50 Kilos (100 lbs) is still an impressive weight, and would allow you to make use of the Carabiner to suspend a heavy backpack or piece of hiking equipment off the ground.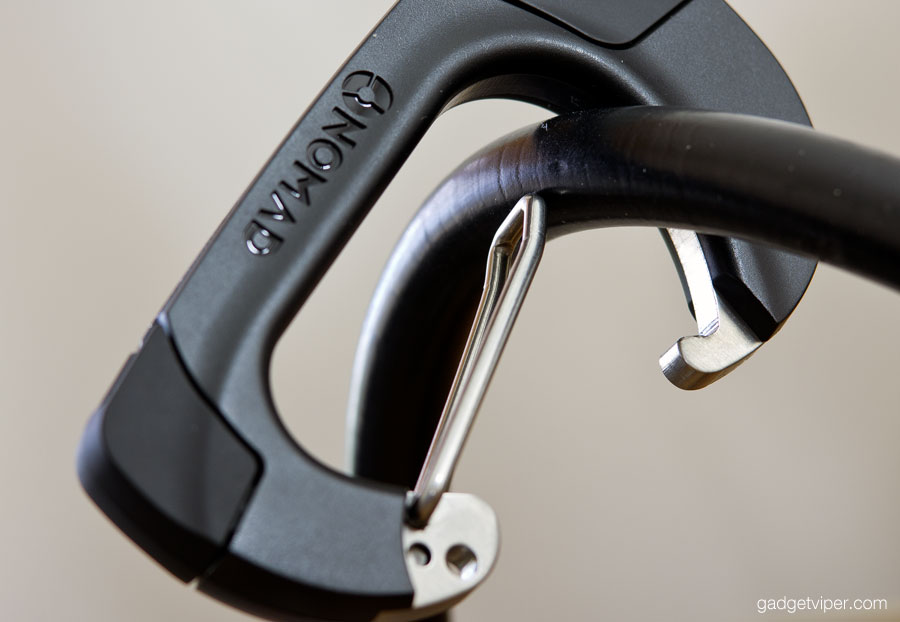 The design of the NomadClip allows for a maximum width of 12mm (half an inch) of thickness to pass through its opening. While the sprung steel mechanism has no locking feature, there is a good amount of tension against the clip. I've used it daily as a keychain for a fortnight and had no problems at all with the security of my keys.
As for charging and syncing data between my phone and PC, it's worked flawlessly. I've charged my phone and tablet using the NomadClip connected to a power adapter, a PC and a high capacity power bank.

The Micro USB version is High Speed 2.5 Amp ready and the Apple Lightning option is MFI certified.
Verdict
The NomadClip is an exceptionally well made product, that not only looks great, but also serves a valuable purpose. There's been many times when I've needed a USB cable and not had one to hand. Often, it's a minor frustration, but on the odd occasion it's caused me to miss opportunities to use my mobile devices. By using the Nomad carabiner as a USB keychain, I'll always be able to charge or transfer data no matter where I am.
Price information last updated on the 12th July 2016 at 09:30 GMT
If you found this review useful, please share it socially or leave a comment below – Thanks!