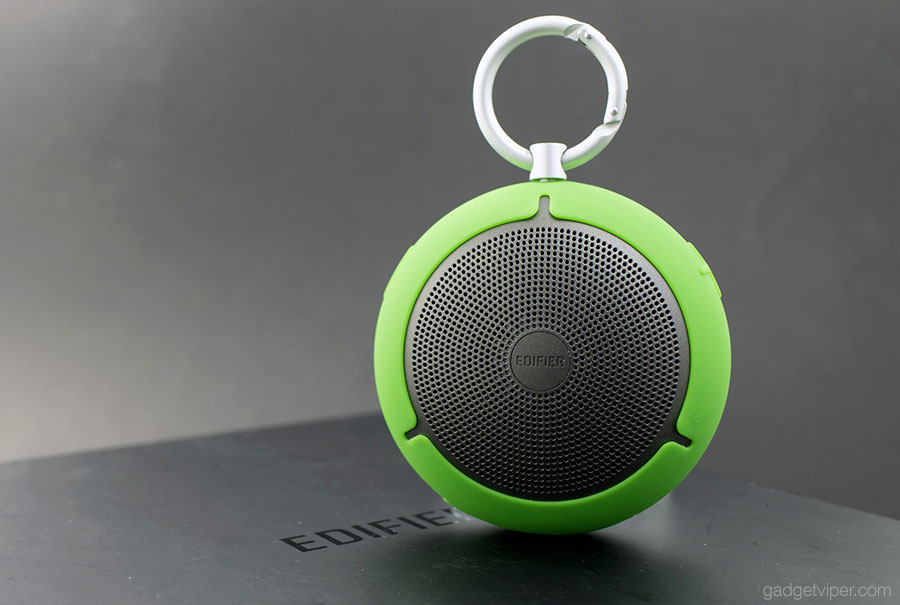 Edifier MP100 Bluetooth Speaker
A palm-sized portable speaker ideal for taking outdoors. The MP100 speaker has a beast of a battery and an impressive audio quality.
Its built-in clip secures it safely to your backpack or belt and the IP54 rating makes it suitable for any weather condition.
Highlights and Features
20 hours battery life
Bluetooth 4.0 and MicroSD Playback
Hands-Free Calls
Dust and splash resistant (IP54 Rated)
Built-in carabiner attachment
Comes in 3 colours – Blue, Green, Yellow
2 Years Warranty
Pros and Cons
+
Awesome battery life, impressive volume and audio quality, auto-off feature, great price.
–
The rubber cover over the ports could be more secure, the audio queues are loud.
Where to Buy?
Price updated – 23rd of January 2017 at 14:30 GMT
*Product prices and availability are accurate as of the date/time indicated and are subject to change.
Bluetooth speakers of this size and weight rarely exceed 10 hours battery. Edifier has doubled it with the
MP100.
Intro
I recently reviewed a set of Edifier Bluetooth headphones, they blew me away! The stand out features were the battery life (over 90 hours) and the audio performance. This little portable speaker is following nicely in their footsteps. So let's take a closer look at the MP100 and find out why I think it's one of the best low cost palm-size portable speaker on the market.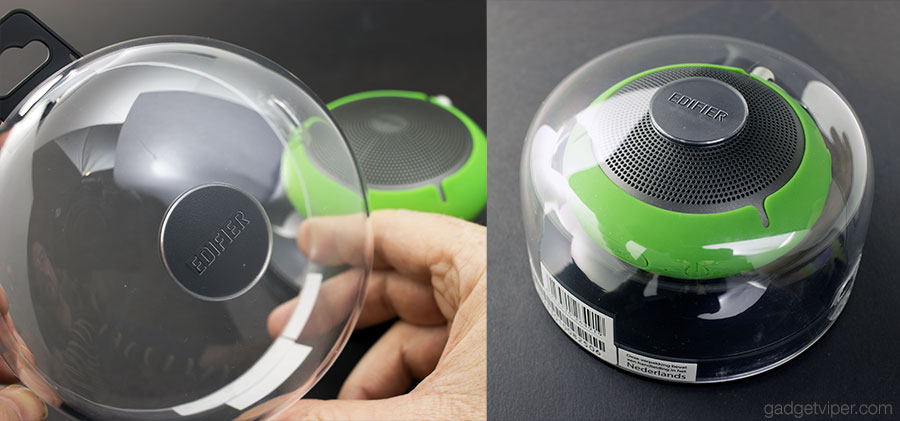 What's in the box?
MP100 – Design and Build Quality
The Edifier MP100 reminds me of a large pocket watch. I love its shape, there's no corners or sharp edges and the grey perforated front looks great against the colourful rubber sides. I have the green version as it matches my Osprey Exos backpack, but it's also available in blue and yellow.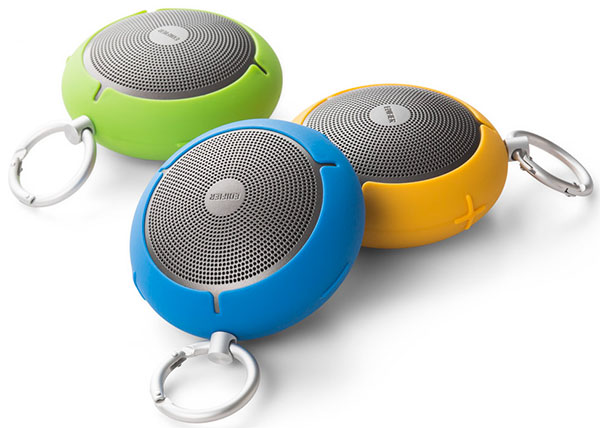 The coloured rubber sleeve wraps over the main body of the speaker to provide protection from the elements. It does disengage fairly easily from the speaker and can be rolled back. This might be useful for cleaning the MP100. It's actually possible to take it off completely if you remove the carabiner ring.
I think Edifier missed a trick here. They should have made the port cover a part of the rubber sleeve instead of independent from it. This would've provided additional protection to the ports and made it fully interchangeable.
I'd have happily paid a little extra for additional skins or bought them separately if the option was made available.
Instead, there is an independent cutout that has the potential to work loose, which might unnecessarily expose the ports underneath.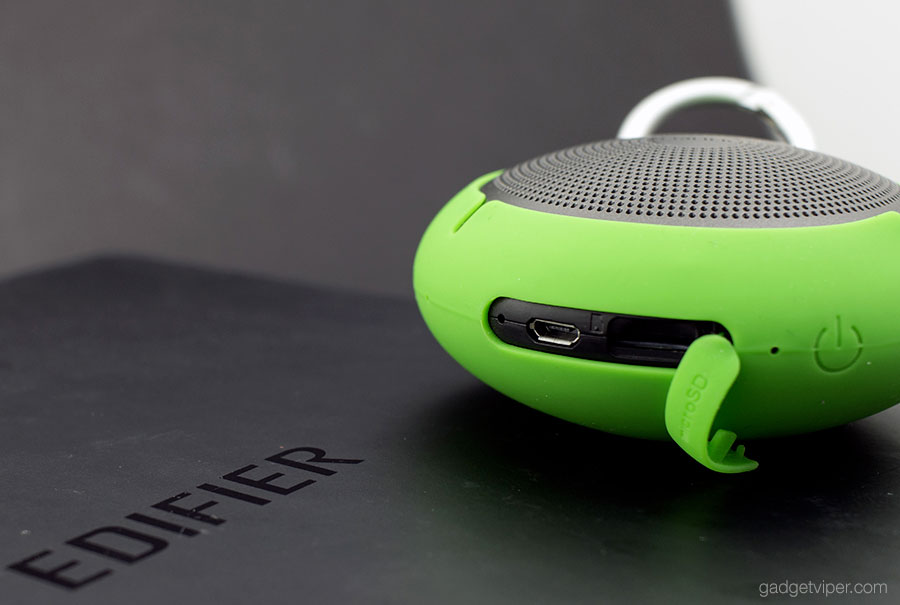 If Edifier is reading this, you guys should consider losing the port flap and the small holes where the LED indicators are (you can clearly see the light through the rubber anyway). You'd have a much more weather resistant product, it would be easier to manufacture and you could offer interchangable skins.
On the rear is a very grippy ring that does an amazing job of keeping it grounded on a flat surface. This eliminates any bouncing or movement of the speaker at high volume. Another clever design feature is the carabiner ring. It has a nylon washer to keep it tight and prevent it from vibrating.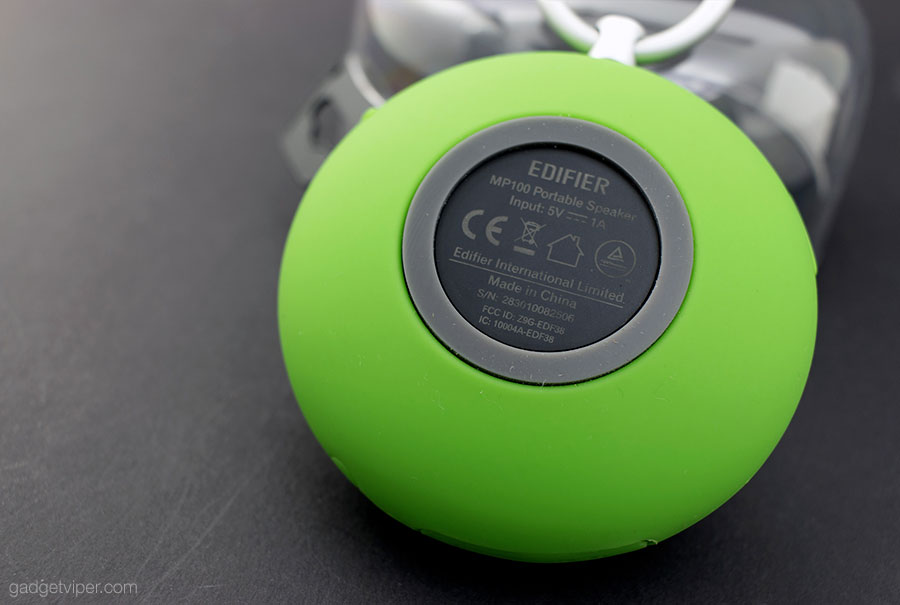 MP100 – Controls and Functions
The power on button is positioned on the bottom. A long press will turn it on and off and a short press will play and pause tracks when listening to music. If a call comes in, a long press will reject the call, a quick press will answer it. During the call, another quick press will end it and a long press will transfer the audio back to your phone.
MP100 – Features and Performance.
When it comes to the features and the performance of the Edifier MP100 portable speaker, there's a lot to love. Firstly the battery life is insane for a speaker of this size and weight. 20 hours is more than double what you'd expect to get. I reviewed a similar Bluetooth speaker a while back that had just 6 hours.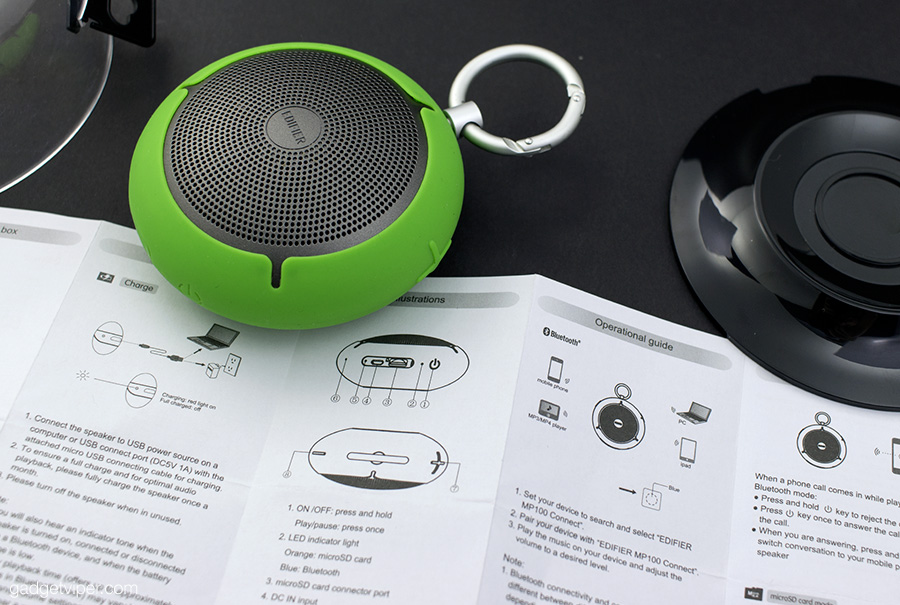 It will automatically search for a Bluetooth connection when switched on. It features Bluetooth version 4.0 and connects really quickly to paired devices.
The connection is good to 10m (33 feet) and the signal has proved consistently reliable.
I'm notorious for forgetting to power off Bluetooth speakers, this isn't a problem with the MP100. If I turn my Bluetooth off or walk out of range, it will enter pairing mode for a few minutes then power off automatically.
It's also got a MicroSD card slot that will take cards up to 32gb in size. This is super handy for saving your phone's battery life.
Nerdy Specs
| | | | | | |
| --- | --- | --- | --- | --- | --- |
| 4.5W | ≧80dBA | 600±50mFFS | 160Hz-14kHz | 1500mAh,3.7V | 87x87x40mm 210g |
Edifier MP100 – Audio Quality
Guys, for a speaker of this size, weight and price, I guarantee you that you'll have no complaints about the sound quality or volume. That's unless you're a bass freak, the low-end is present and tidy enough, but it is a little on the refined side. I don't think that's a bad thing, I'd much prefer a clean sound at high volume than a distorted buzzy overblown bass. The mids and highs are really crisp and well defined. Vocals are super clean for such an affordable speaker. Edifier really does an amazing job with their audio tuning, even on these little portable speakers.
Verdict
If you're looking a good quality palm-sized portable Bluetooth speaker at an affordable price, then this is it. The Edifier MP100 is perfect for taking outdoors on backpacking trips.  It is lightweight, weather resistant and has an insane battery life. At its current price, this thing is an absolute bargain.
Price updated – 23rd of January 2017 at 14:30 GMT
*Product prices and availability are accurate as of the date/time indicated and are subject to change.
I hope you found this review useful if you did, please share it socially and If you have any questions leave me a comment below.