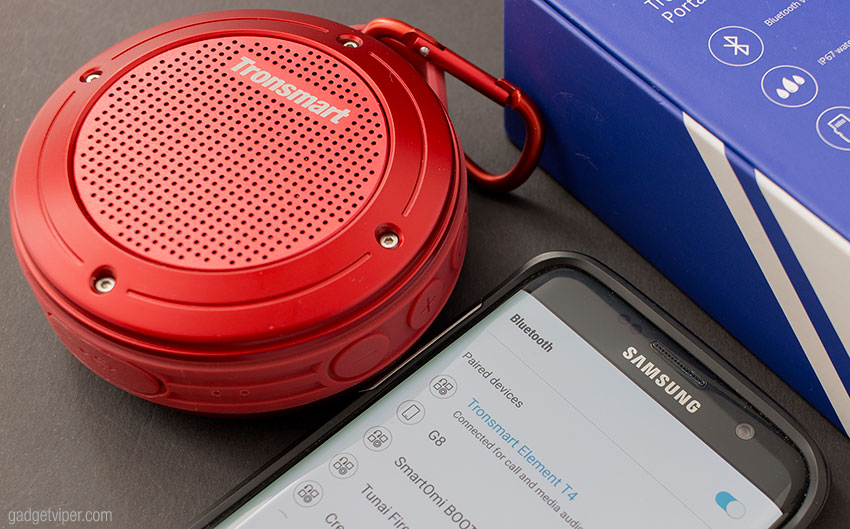 Tronsmart T4 Bluetooth Speaker
Have you been looking for a compact and lightweight portable speaker to take outdoors?
The Tronsmart T4 could be a great choice, it's small yet punchy, fully water resistant and features an impressive battery life. Let's take a closer look, shall we?
Highlights
Bluetooth 4.2 and MicroSD playback
IP67 water and dust resistance

5W speaker driver with DSP 3D

6 hours music play time
Hands-free calling
Lightweight – only 166g (5.8oz)
12-month warranty
Pros and Cons
+
Really great sound quality and volume vs weight ratio, good price, rugged and waterproof, reliable Bluetooth, microSD playback option.
–
Audio notifications are loud, and the speaker may bounce around at full volume on hard surfaces – but there's an easy fix for both (explained in the review)
Where to Buy?
Price updated – 2nd of August 2017 at 14.51 GMT
*Product prices and availability are accurate as of the date/time indicated and are subject to change.
The Tronsmart T4 has one of the best sound to weight ratios I've found on a compact Bluetooth speaker.
Tronsmart T4 – Full Review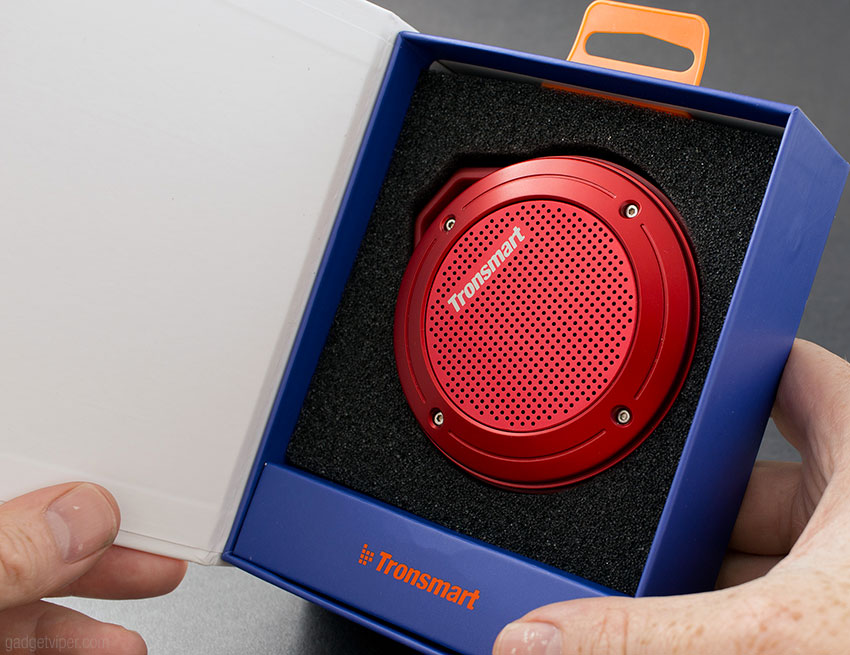 Presented inside a good quality retail box, the Tronsmart Element T4 speaker comes well protected inside a foam cutout. The T4 is available in two colours, a graphite grey and an attractive burnt red.
The Tronsmart T4 appears to be made from a combination of aluminium and rubber. It's shaped like a hockey puck with a diameter of around 90mm (3.5 inches) and a depth of 40mm (1.5 inches). The entire edge including the karabiner loop has a rubber surface with the control buttons underneath to provide protection from the elements.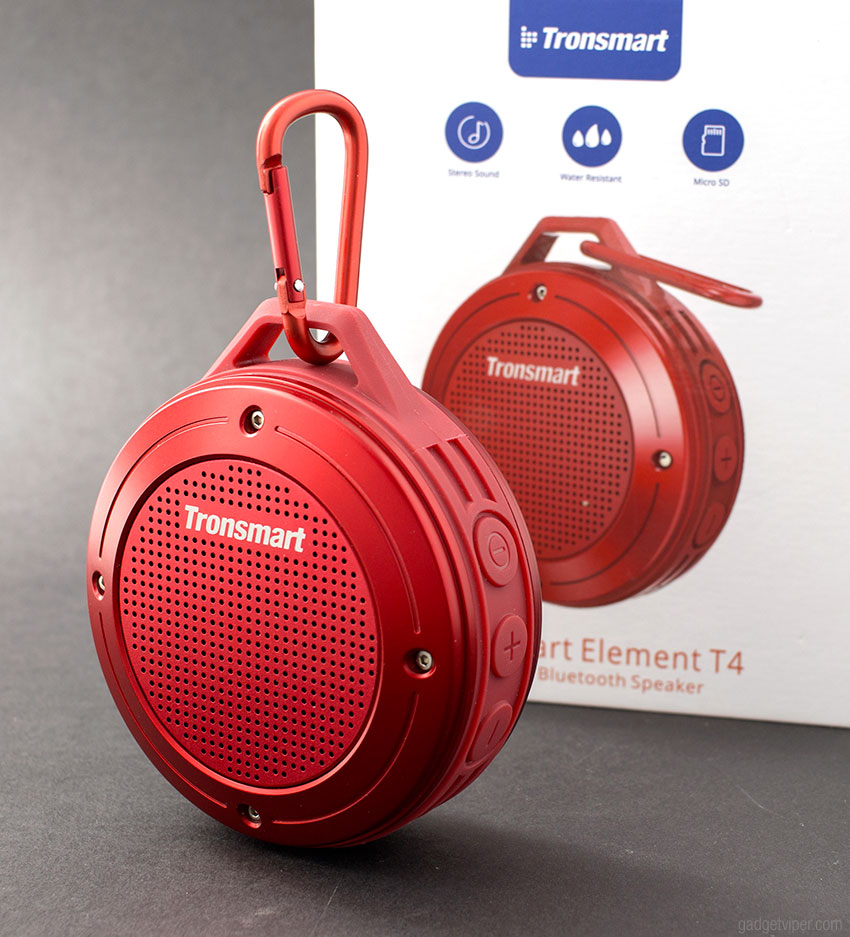 Despite the Tronsmart T4 having just three buttons, they still manage to provide a substantial amount of functions once paired to a Smartphone.
Button Functions
| | | | | | |
| --- | --- | --- | --- | --- | --- |
| Power Button | Power on and Off | Play and Pause | Answer Call | Reject Call | Switch Modes from Bluetooth to MicroSD |
| +/- Buttons | Track skip | Volume Control | | | Remote camera shutter (take pictures on phone) |
Features
On the underside, there are two small LED status indicator lights. It will flash blue while in pairing mode and remain solid once a connection has been established.
A red light will flicker when the battery is low. During charging it will remain a solid red and the light will go out once the speaker is fully charged.
On the bottom of the speaker, there's a protective cover to keep the ports clean and dry. Inside there is a MicroSD card slot and a Micro USB port for charging or for transferring files from a PC or Laptop.
Play Modes
The Tronsmart T4  has a total of three play modes depending on your requirements.
Bluetooth – The T4 runs on Bluetooth version 4.2. This provides an extremely reliable signal and offers the ability to establish a connection with two devices at the same time.
MicroSD – With a MicroSD card fitted, the Tronsmart T4 can play music in the following formats: APE, FLAC, MP3, WMA, and WAV
PC / Laptop Mode – If the speaker is connected to a PC or Laptop via the USB cable it will be detected as an audio device and can be used as a regular PC speaker.
Performance and Sound Quality
Typically the heavier and larger a speaker, the better quality and volume you are likely to achieve. Having a huge portable Bluetooth speaker is far from ideal and totally impractical for most purposes. A choice has to be made on what you're willing to carry. For me it's an easy one, I want the lightest and smallest possible Bluetooth speaker that's still going to offer a substantial upgrade in sound over my phone's in-built audio.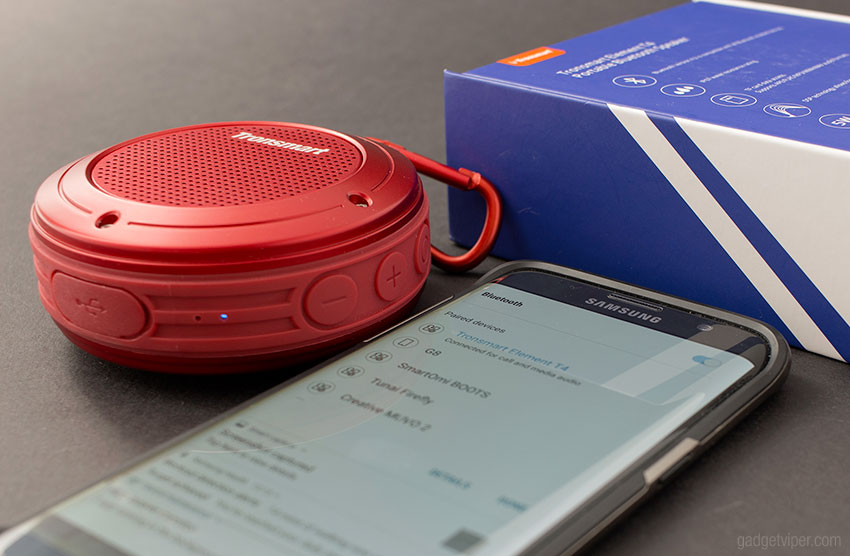 I really think the Tronsmart Element T4 has hit the sweet spot. It pumps out a solid sound that seems to defy its own size and weight. In actual fact, it will literally bounce itself along a table at full volume.
Even the grippy ring of silicone on its underside isn't enough to contain it. I did find a relatively simple solution to prevent this from happening.
I just dampened the rubber ring and pressed it onto the surface of my phone. It will then stick to the glass and the phone will act as additional ballast.
For me, there is just one small niggle with this product and that's the audio notifications during the power on/off and pairing phase. Rather than the volume being a standard moderate level, it seems to be defined by the volume you have the speaker at. This could mean it's way too loud on occasions. I've been using the T4 for almost 2 weeks now and I have learned to place my hand over the driver when I power it on.
| | | | | |
| --- | --- | --- | --- | --- |
| 1.5 Inch + Passive Radiator | DSP Stereo sound effect, NCN digital AMP, Bluetooth 4.2, MicroSD | 5W | 6 Hours | 166g |
Verdict
I can highly recommend the Tronsmart T4 to anyone looking for a lightweight, waterproof outdoor speaker. The build quality is top notch and you'll be amazed at the sound performance for its size. It's seriously versatile and exceptionally good value for money.
Price updated – 2nd of August 2017 at 14.51 GMT
*Product prices and availability are accurate as of the date/time indicated and are subject to change.
I hope you found this review useful, if you did, please leave a comment below or share it socially – Thanks!