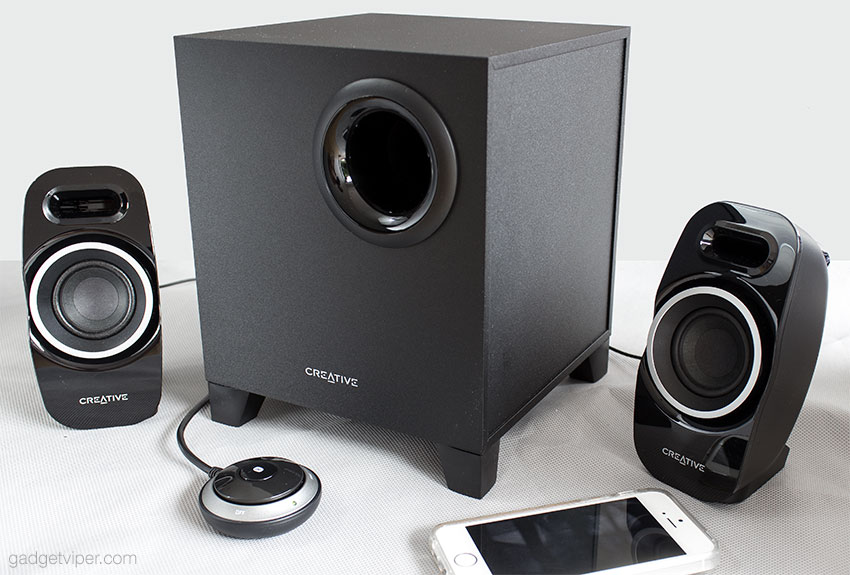 Creative T3250 Wireless Speakers
A compact and bass rich 2.1 PC Speaker System with built-in Wireless Bluetooth connectivity. The Creative T3250 Wireless speakers deliver a big sound, whilst maintaining a small footprint.
Highlights
Aux-in and Bluetooth Wireless connectivity
Bass-rich audio with IFP and DSE technology
Separate On/Off and Volume Control Dial
Stylish satellite speakers and downward sub
Pros and Cons
+
Bluetooth Wireless connectivity, Volume adjustment dial, Good Bass output
–
No manual bass level adjustment
Where to Buy?
Price updated on the 6th July 2017 at 11:30 GMT
*Product prices and availability are accurate as of the date/time indicated and are subject to change.
Ideal for PC gamers looking for a bass-rich and immersive audio experience.
Intro
Testing the Creative T3250 Wireless PC speakers has coincided perfectly with the release of the Battlefield 1 public beta. Over the last few days, my office has been rocked by the sound of booming explosions and gunfire. After a solid 30 hours of gameplay, I'm now tempering my bloodlust with soothing music streamed to the T3250 from my Smartphone.
1
Design and Build Quality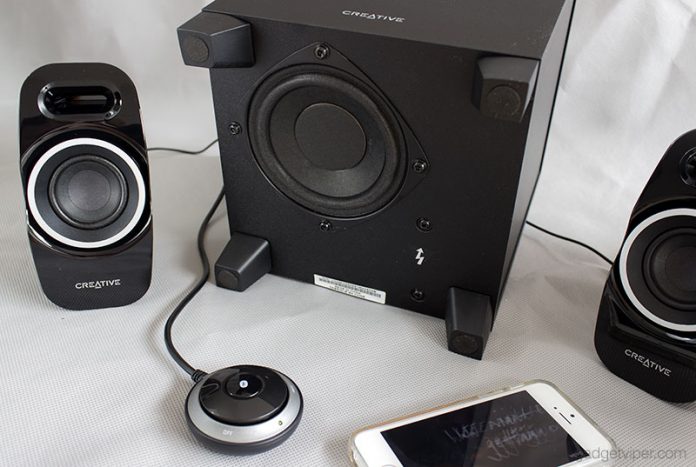 The Creative T3250 Wireless system comprises of two satellite speakers, a downward facing subwoofer and a control pod for on/off, volume and Bluetooth pairing.
The Satellite Speakers
The Satellites are just under six inches tall and three inches wide (150mm x70mm). They feature a glossy black surface with a DSE port at the top, a central two-inch speaker driver and the familiar 'Creative' logo on the base. The driver is mounted on a silver trimmed conical focusing plate, that gives the satellites a pleasant aesthetic and an enhanced sound quality.
The Subwoofer
The Subwoofer features a large glossy reflex port on the front face. It's constructed from a synthetic wood material that feels relatively light yet sturdy. There's just enough weight to prevent the sub from vibrating across the surface of the desk when at full volume.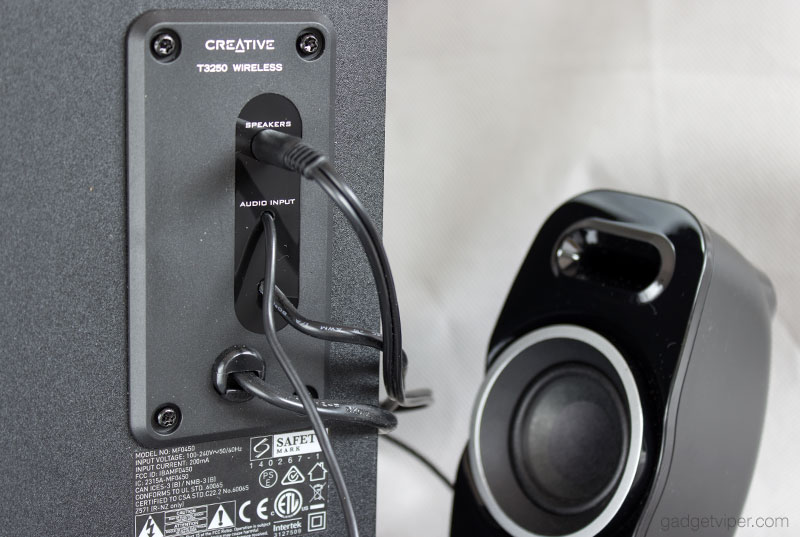 Around the back, there's a standard 3.5mm port for the satellite speakers and a permanently attached audio-in, control pod and power cable. I'd like to have seen independent speaker inputs, rather than a single cable, as this does limit the distance you can separate them from one another.
While there's plenty of cable for a PC setup with the satellites either side of the monitor, if you were intending to use the T3250 more as an independent Bluetooth music system, this could be an issue.
I'd estimate that you could coax the twin cable apart to provide about a metre of distance between the left and right speaker.
The Control Pod
The control pod features a central button for Bluetooth pairing and a top dial that rotates for volume adjustment. Once the dial is turned anti-clockwise far enough, it will click and power off the system.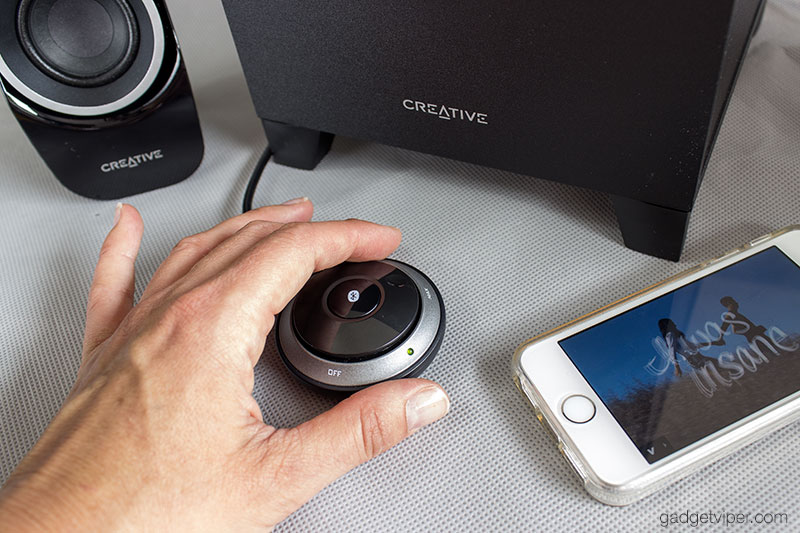 This unit works very well, but in my opinion, does have a couple of flaws in its design. Firstly it's very light, so in order to make volume adjustments, you do need to hold the pod while turning the dial. Had they added a thick metal base with a rubber surface, it would have provided enough weight and grip to solve this issue. Secondly, if you're a little heavy-handed when turning the volume all the way down, you'll power off the device just before you actually click it to the off position. This isn't that big of a deal when you're hardwired to a PC, but if you're streaming wirelessly it will end the Bluetooth connection.
Despite the few issues I've mentioned, my overall opinion on the build quality and design of the Creative T3250 Wireless system is favourable. The downward facing subwoofer driver provides good protection from damage and the compact satellites look great on the desk.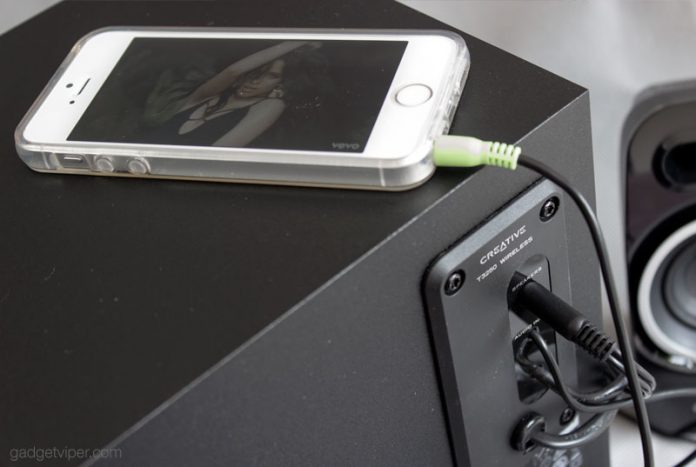 Bluetooth Mode
The Creative T3250 features Bluetooth 3.0 with A2DP profiles and supports the standard SBC streaming codecs. Its unobstructed range holds stable to a distance of 10 metres and  should pair well with all Bluetooth enabled devices. I've streamed music from an iPad, iPhone, Andriod phone and an Amazon tablet without any issues. It retains pairing information from four separate devices in its memory for fast reconnections.
Line / Aux-in connection
The T3250 has a 1.5m long Auxillary cable to connect it to the back of a PC, laptop or mobile device. There is no need for drivers or software, it will simply plug and play when connected.
Power Saving Mode
The speaker enters a power saving mode when there is no Bluetooth connection or any audio signal from the line-in after 15 minutes.
| | | | |
| --- | --- | --- | --- |
| Version 3.0 | 10 Metres) | A2DP | SBC |
While the Creative T3250 has been connected to my PC, I was pleased to see I could establish a simultaneous connection to my Smartphone. This allowed me to keep audio notifications active from the computer while streaming music from my phone.
Creative have made use of two audio technologies on this system. There's an Image focusing plate (IFC) on the Satellites. This is designed to create more focus and a wider acoustic sweet spot. The other technology is the Dual Slot Enclosure (DSE) best explained in this video:
In my opinion, the balance of sound is a little heavy on bass, especially when listening to music. While I think the tuning works really well for gaming, I'd have liked a little less emphasis on the low-end at other times. The volume level is good and big enough for most small to medium sized rooms. There wasn't any noticeable distortion in sound quality even at full volume, however, the bass did seem to overpower the mids a little.
During my mammoth gaming sessions I was totally fine with the sound setup, but when I switched to music, I found it a little less ideal. Perhaps if the subwoofer was under the desk and away from the wall it may be less of an issue.
When considering the overall build quality, features and audio performance of a speaker system, it always has to be gauged by the price. At the current price (especially on Amazon.com) the T3250 is an absolute bargain and worth every penny. The Bluetooth features and pod controller offer versatility beyond most regular PC speakers.
Had there been Bass adjustment on the subwoofer, I'd have happily recommended it to anyone looking for a 2.1 speaker system inside this price range. For immersive gaming, action movies and for bass lovers, I think the T3250 is ideal.  If you're more into classical or acoustic music and prefer a more natural sound, I'd suggest looking for an alternative.
Price updated on the 6th July 2017 at 11:30 GMT
*Product prices and availability are accurate as of the date/time indicated and are subject to change.
Ideal for PC gamers looking for a bass-rich and immersive audio experience.
I hope you found the review helpful, if you did, please leave a comment before or share it socially – Thanks!
An alternative to buying a PC sound system with Bluetooth connectivity would be to look at buying a Bluetooth Audio Receiver that can be plugged in to your exsisting PC speakers. If you'd like to learn more visit our
Best Bluetooth Audio Receiver Reviews
page.