E3360BT Edifier Prisma Encore
A Bluetooth-enabled 2.1 speaker system with a stunning design. The Edifier Prisma Encore features a powerful downward facing 5″ subwoofer, 2 satellites and a wireless remote.
Highlights
Unique and stylish design
Bluetooth 4.0 and AUX connectivity
Wireless remote control
Touch sensitive controls on Subwoofer
Pros and Cons
+
A seriously premium quality sound, unique stylish design,  Bluetooth works great, awesome touch controls
–
No manual bass level adjustment on the Subwoofer.
Where to Buy?
Price updated – 27th of March 2017 at 10:40 GMT
*Product prices and availability are accurate as of the date/time indicated and are subject to change.
The Prisma Encore subwoofer looks like a Star troopers helmet and sounds like the Death Star exploding!
Intro
The Edifier Prisma Encore arrived about three weeks ago. Up until a few days ago it remained sealed inside the box awaiting the test phase of the review. How I wished I'd let this one skip the queue. I don't want to jump the gun here and tell you how great a product it is….. but…… well, it's a great product! It looks great, it sounds great and quite frankly, I love it to bits! [end review]
Just kidding, I've got plenty more to say, just let me turn this volume down a notch so I can hear myself think. In fact, I'm going to turn it off completely. I'm sure that having it on while I write the review is clouding my judgment. I've already packed away my only printer to make space for it on my desk…
Edifier Prisma Encore – Full Review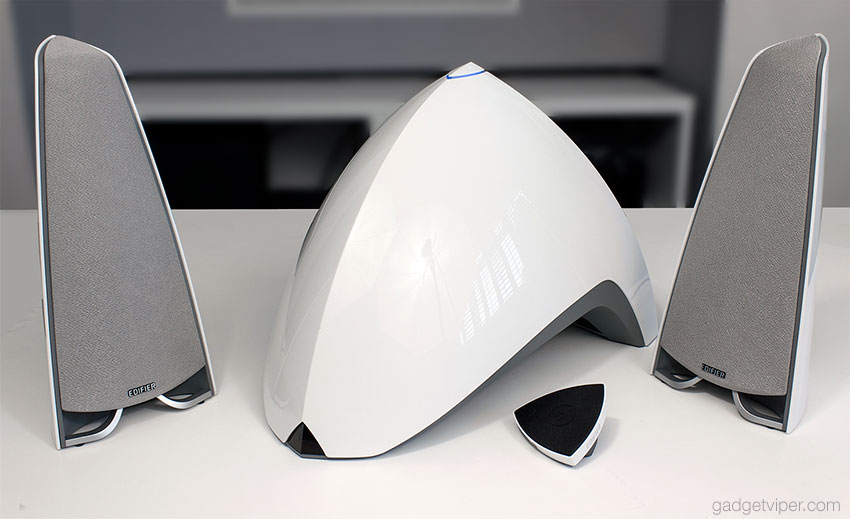 The Edifier Prisma Encore looks like something from a sci-fi movie. Available in either Stormtrooper White or Darth-Vadar Black (I made those colour descriptions up). Both varieties have a highly glossy finish. As you can tell I'm reviewing the white version. Here's a link to the black one, should you wish to compare.
The subwoofer and satellites are trimmed in matte grey and silver to complement the glossy white surface. There is a substantial weight to the speakers and the build quality is top notch.
The grey cloth over the satellite drivers shimmer in silver when they catch the light and contour neatly over the tops.
At this point in a review, I'd normally note the size and width of the speakers. In this case, it's far more simple to make use of Edifier's spec sheet, I'm sure they won't mind.

On the top of the subwoofer is a power button that will glow green or blue when there's a wireless connection. Below the button is a Bluetooth pairing symbol and a plus and minus for volume control and track selection.
This area is touch-sensitive and works flawlessly. I only wish I'd demoed it in the video.
If you place a hand entirely over the symbols, the music will play and pause. If you swipe up from the '-' to the Bluetooth symbol, it will go to the next track or to the previous track when you swipe down. It works so well that you could almost forget that there's also a remote control.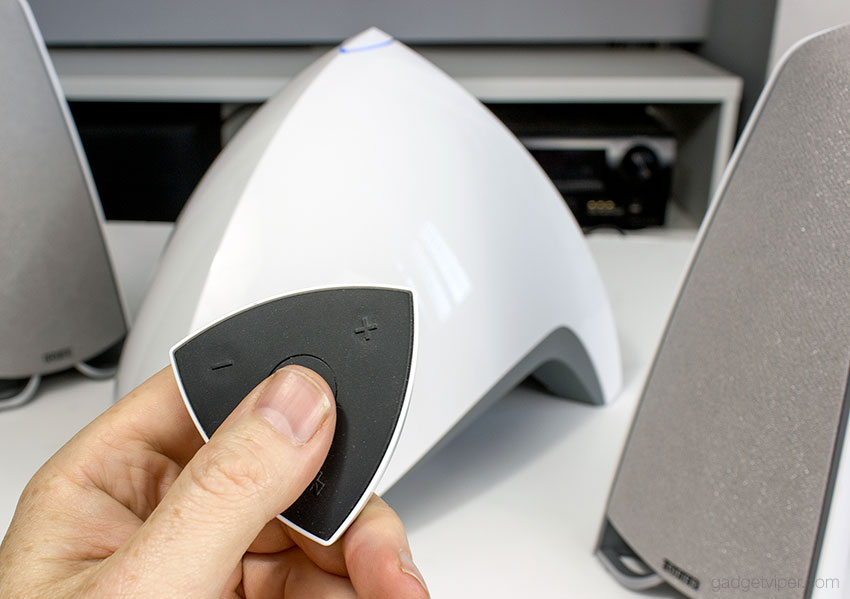 Strangely the remote doesn't have a track selection feature. It has volume adjustment, power on/off and a button to activate Bluetooth. Despite not having a track selection, the shield-shaped controller works well and complements the design of the speakers.
Connectivity
Around the back of the Subwoofer are inputs for the left and right satellites, a DC in and AUX port. The Edifier Prisma Encore comes with a good quality set of RCA and Auxillary cables. Connecting the Prisma to a laptop or PC is as simple as plugging in the cable – (no drivers or setup required).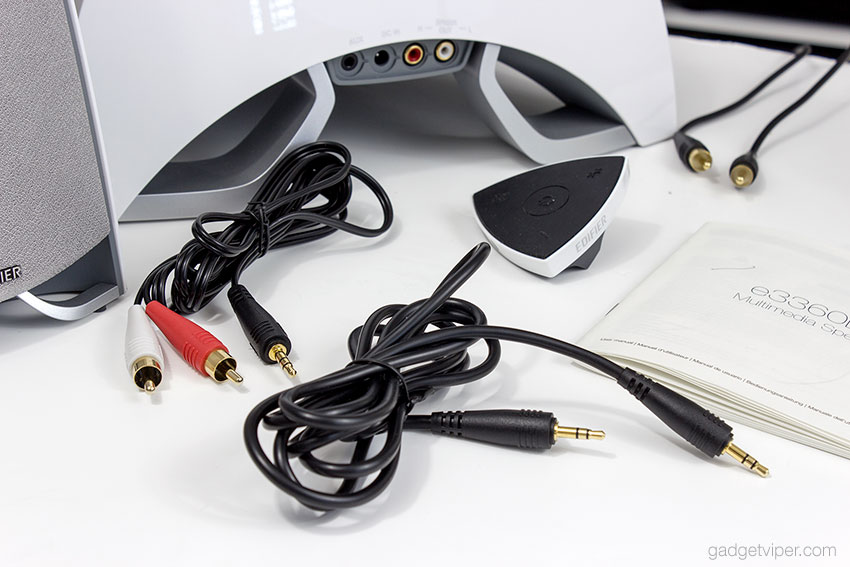 The Bluetooth 4.0 connection on this system is as good as any I've tested. All the components are magnetically shielded to prevent interference and I've not had so much as a millisecond of dropped signal. When a call comes in (assuming your phone is the device streaming music) the music stops during the call and then continues afterward.
Sound Quality
I'm usually a little indecisive when it comes to audio quality, but not on this occasion. This system pumps out ridiculously loud and very impressive sound. The sub is meaty and rich without overpowering the mids and highs. The satellites also hold their own amazingly well. I can honestly say I was seriously impressed by its performance. It's well above what you'd expect for the price tag.

I listened to it for the first time while making the unboxing video and just look at the total excitement on my face… Just in case my ugly mug didn't tell you all you need to know, here are the nerd specs –
Total power output: R/L: RMS 12Wx2, SW: RMS 40Wx1
Distortion: ≤0.5%
SNR: ≥85dBA
Input sensitivity: 500 mV ± 50mV
Bluetooth version: 4.0
R/L: 300 Hz~20kHz SW: 60Hz~130Hz
5″, magnetically shielded, 5Ω
3″ (78mm) Magnetically shielded 5Ω
Φ19mm silk domed, Magnetically shielded, 4Ω
The Prisma Encore has a built-in amplifier system with Digital Signal Processing (DSP) and Dynamic Range Control (DRC) technology. This helps to maintain audio clarity throughout the volume range.
Verdict
You can probably tell how much I like this product. The fact that I've done away with my only printer just to make space for it on my desk should be a bit of a giveaway. As I said in the intro, it looks great, it sounds great and quite frankly I love it to bits!
Price updated – 27th of March 2017 at 10:40 GMT
*Product prices and availability are accurate as of the date/time indicated and are subject to change.
I hope you enjoyed the review if you did please leave a comment below and If you enjoyed the video, please
subscribe
to the channel – Thanks!