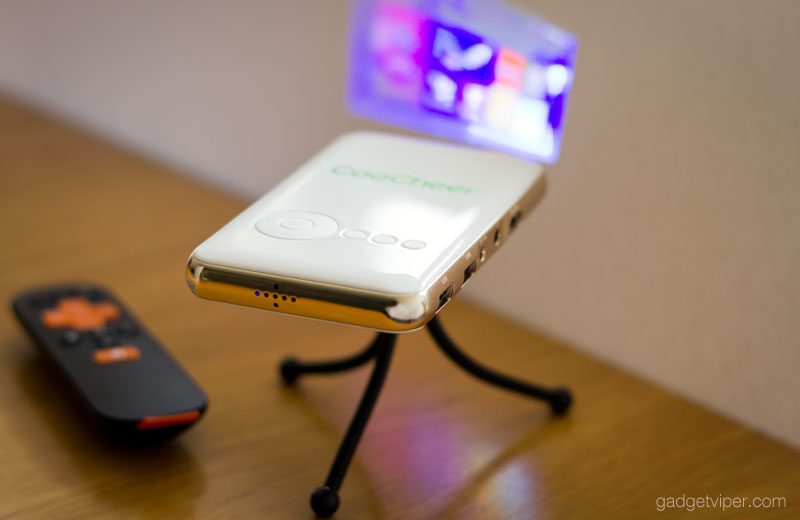 Intro
Testing the CooCheer Mini LED projector has been a real challenge. I've had to spend hours on end laying flat on my back watching films and browsing YouTube. It's been a selfless and tiring task that's required willpower, commitment, and dedication. Yes, I may have drifted off to sleep a few times, but I got there in the end.
The Design and Build Quality
The CooCheer Mini LED projector looks a bit like a bulky smartphone. It measures 8cm x 15cm and is about 1.5cm in thickness. I would definitely consider it to be pocket size, it's also surprisingly lightweight.  Weighing just over 200 grams – impressive considering it has a 5000mAH internal battery.
Despite its plastic construction, the CooChee mini LED projector feels solid. The curved sides and rounded edges make it sturdy and the plastic is thick enough to prevent any flexing.
The Hardware
The CooChee projector has an impressive amount of connection options. There's two USB ports, a MicroSD slot, DC-in, audio and HDMI out.  All the ports, with the exception of the MicroSd card slot, are found on the right-hand side.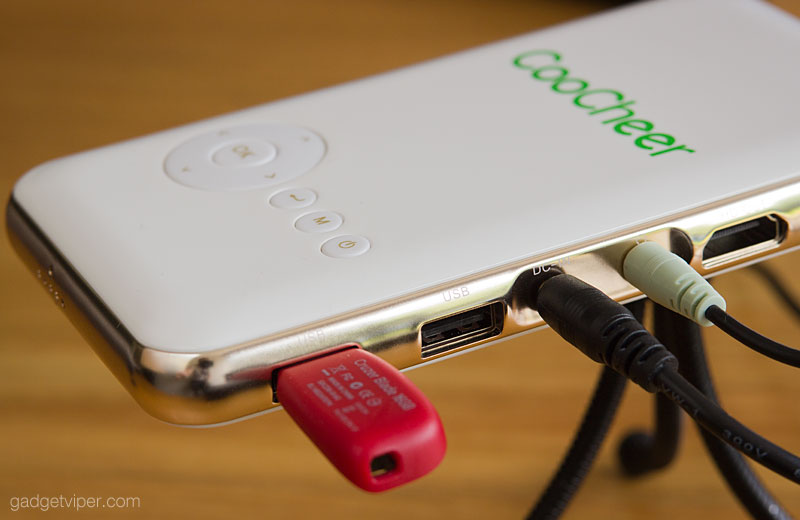 On the left-hand side is a scroll wheel to adjust the focus, a power switch and the TF card slot. The manual control buttons are on the front face and the projector lens is on the top edge alongside the fan vent.
Unfortunately, the cable is only 1 metre in length. A little on the short side for plugging directly into a wall socket when using the projector. On a more positive note, its detachable cable can be plugged directly into a power bank. This is extremely useful when using the projector outdoors or away from a power source.
The Functionality
The CooChee mini LED projector comes with Android 4.4 installed. It's packed full or features and options. When I initially turned the projector on, I attempted to navigate around using the remote control, with limited success. I eventually managed to set the WiFi up and proceeded to access some of the apps. I soon found myself becoming frustrated by how difficult it was to navigate, especially the YouTube app.
When you first enter YouTube from the projector, it does a little tutorial to show you around. It fades out the main app and asks you to click on certain areas, areas you simply can't access with the remote. I struggled in vain for a while and almost gave up, when it finally dawned on me that I could plug a mouse in.
Plugging the mouse in changed everything! –  I highly recommend you do it, especially during the set up.
I put that in bold, just to emphasize how useful a tip that is. Using the Android 4.4 OS on this projector without a mouse is a ball ache to say the least. With it, it's a dream.
Here is a short un-boxing and demonstration video I put together of the CooChee mini LED projector:
Apologies for my presenting skills, I'm new to making videos, so it's a little rough around the edges. You can skip to 6 minutes if you'd like to see the projector working. Please be aware that my camera produced a wavy effect while recording the projection. I guess this has something to do with the frame rate, the actual display was completely stable and clear.
My Verdict
In a low lit environment with the addition of a Bluetooth speaker or a set of headphones, the CooChee Mini LED Projector is an awesome device.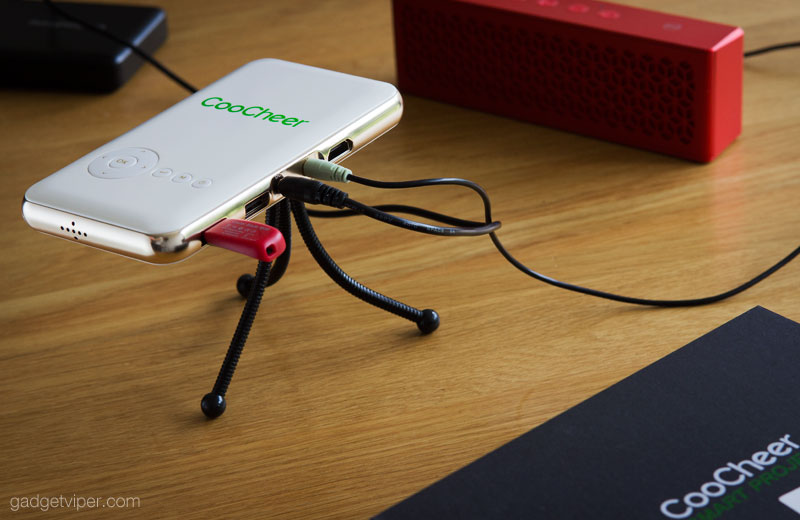 It's not without faults, there's a bit of fan noise and the in-built audio is weak.  But as I never intended to use it without headphones or a Bluetooth speaker, both these issues have not effected my user experience.
With regards to the projection quality, the resolution is not quite 'HD', but it's pretty damn close. I've watched numerous films and have enjoyed them all. The specs state a projection range of between 30 – 120 inches, I would say anything over 70 is pushing its limits. But hey, a 70 inch screen on the ceiling above my bed is plenty big enough for me!
I hope you found this review useful, if so, please leave a comment below or share it socially – Thanks