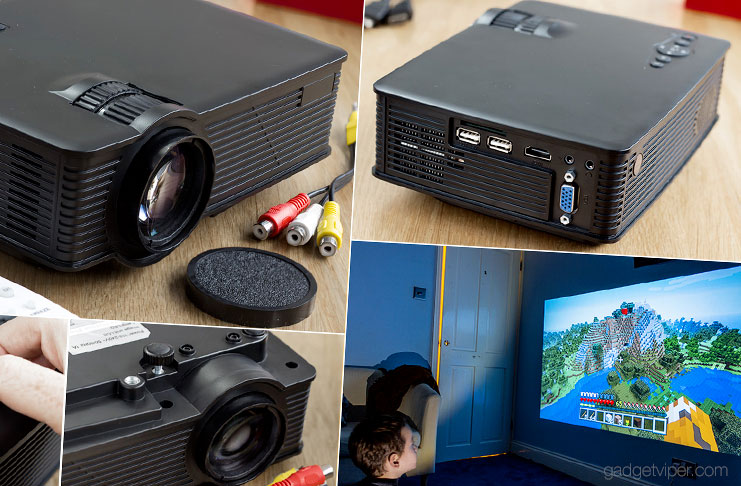 Mpow Mini LED Projector
A lightweight, compact and extremely affordable home cinema solution for watching movies, TV or for big screen console gaming.
The MPOW Home Cinema projector has a bright 1200 lumens LED capable of projecting sharp images up to 120 inches at 800 x 480 resolution.
Highlights
1200 Lumens brightness.
1080p support – 800 x 480 resolution.
USB, SD Card, HDMI and AV/RGA inputs.
Built in 3W speaker and audio output jack.
5V USB charging port for mobile devices.
Easy focusing and keystone correction.
Remote controller and 18-month warranty.
Pros and Cons
+
Lightweight and compact, very affordable, sharp image, good input options.
–
The included HDMI and AV cables are far too short to be useful.
Where to Buy?
Price updated – 27th of March 2017 at 09:30 GMT
*Product prices and availability are accurate as of the date/time indicated and are subject to change.
The Mpow mini projector works great connected to a games console for big screen gaming.
Intro
I don't think I've ever had a review product so intensely road tested as I have this one. The moment I plugged the Mpow Mini projector into the Playstation, both my children practically exploded with excitement. The thought of being confined to a dark room, staring at a wall all day probably doesn't sound that appealing. To them, however, Christmas came early.
I occasionally managed to drag them into daylight and offer them physical activities beyond wiggling their thumbs. This was mostly to relieve the guilt of zombifying my own kids and while I'm unlikely to win the father of the year award, at least I can be confident about the reliability of this product…
Mpow Mini Projector – Design and Build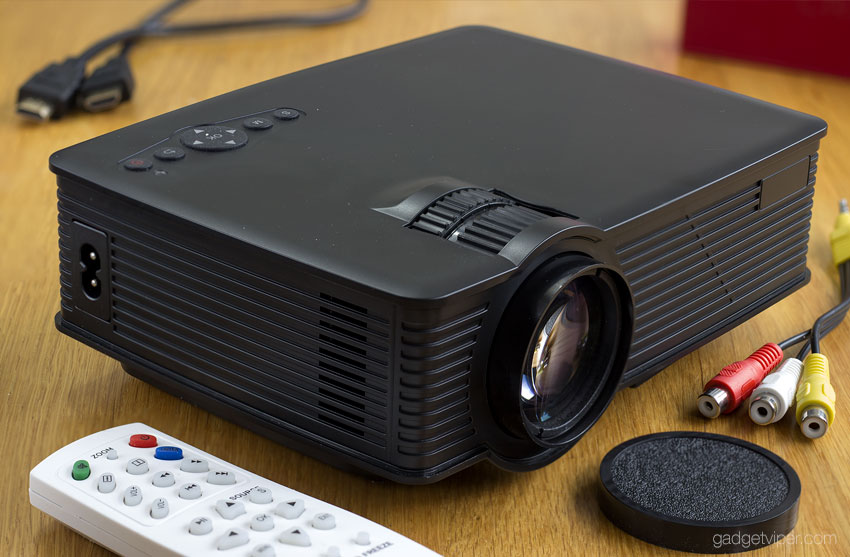 The Mpow Mini projector comes inside a plain box with a good amount of foam protection inside to ensure it arrives safely. Included with the projector is a mains lead, remote, HDMI and AV cables. The power cable's length is adequate, however, the HDMI and AV are both far too short in my opinion. I've got plenty of spares, so it wasn't a real problem for me. However, unless you're planning on sitting the projector directly next to its source, I'd make sure you have alternative cables.
| | | | |
| --- | --- | --- | --- |
| 80mm (3.1 Inches) | 205mm (8 Inches) | 160mm (6.4 Inches) | 940g (2.1lbs) |
It's constructed from a matte black plastic and has a familiar shape to many other compact multimedia projectors. The lens, focusing rings and controls are offset to the left and the sides have a ribbed surface to help with heat dissipation.
There are four rubber feet on the underside for positioning the projector on a flat surface, and an additional adjustment foot located on the front to raise the projected image if required.
Alternatively, there is also a threaded hole for fixing it to a standard tripod mount. I screwed the mini projector to my DLSR Gorillapod and it worked perfectly.
The manual controls on the top of the projector allow you to easily navigate through the on-screen menus and settings.  There are only four modes on the interface – photos, movie, music or text, so it's extremely simple to use. I won't bore you with the ins and outs of the interface, if you'd like more info, here is a picture of the user guide.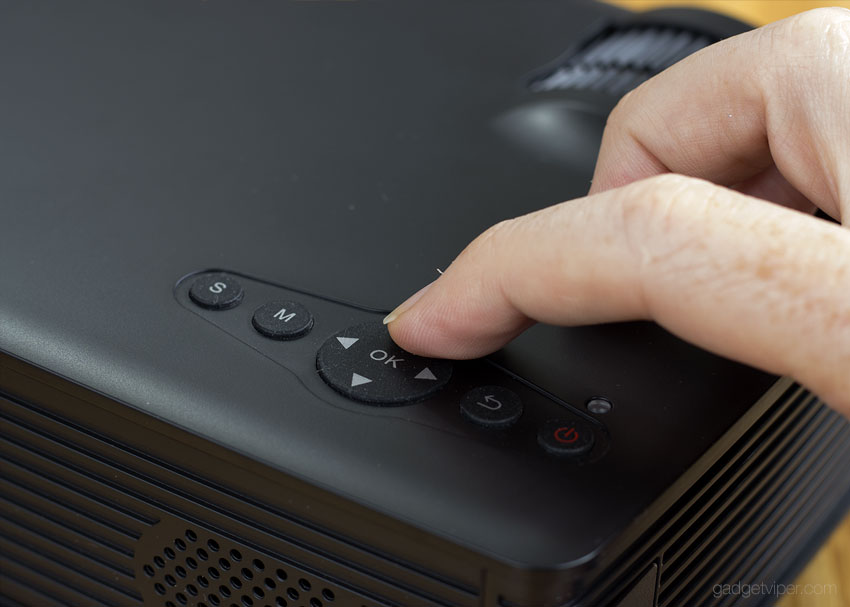 The remote that comes with the Mpow Mini projector works well from a distance and provides some useful shortcuts. As well as the regular movie playback and volume controls, you can also quickly toggle through your input sources.
The blue button allows you to stop projecting the screen without having to power off the device.
The Mpow Mini projector has a lot of options when it comes to input sources. There's an SD card slot, a USB input, AV, VGA and HDMI port. This pretty much covers all connectivity requirements such as PC's, laptops, game consoles, and set-top boxes.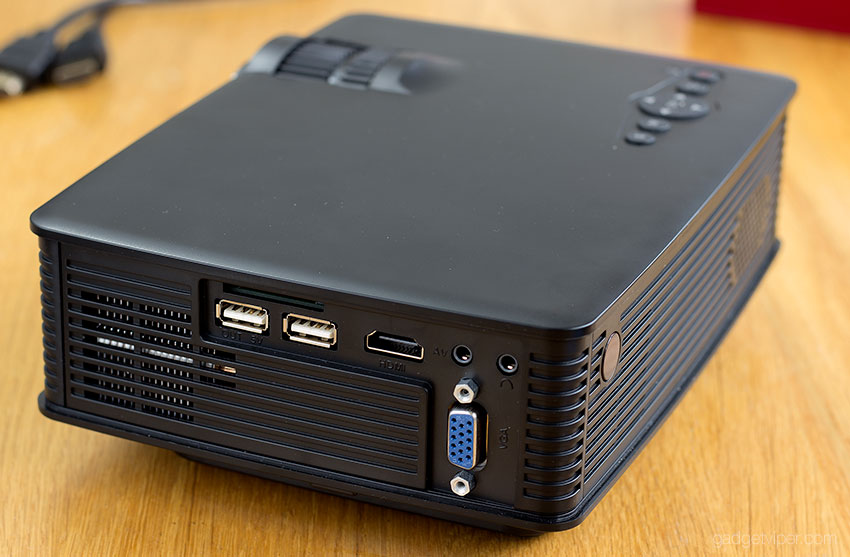 Additionally, along with the inputs, the Mpow also has a 5V USB output for charging mobile devices such as phones, tablets or Bluetooth speakers. This could prove handy if you're using a portable device as your media source. Finally, in the top right is an audio-out/headphone jack. This will give you the option of playing the audio through an external speaker, rather than directly from the projector. While you can get by with the audio, it's certainly not good enough for movies or gaming. I connected a Bluetooth speaker with an AUX cable and powered it from the Mpow's USB charging port.
Picture Quality and Specs
The Mpow mini LED projector puts out an impressive 1200 Lumens and a resolution of 800 x 480dpi. While there are undoubtedly more powerful projectors available, they are all considerably more expensive. In this price bracket, the Mpow does a fantastic job. I was able to project a 90-inch screen on a blue wall in a low lit room and the colours appeared surprisingly bright.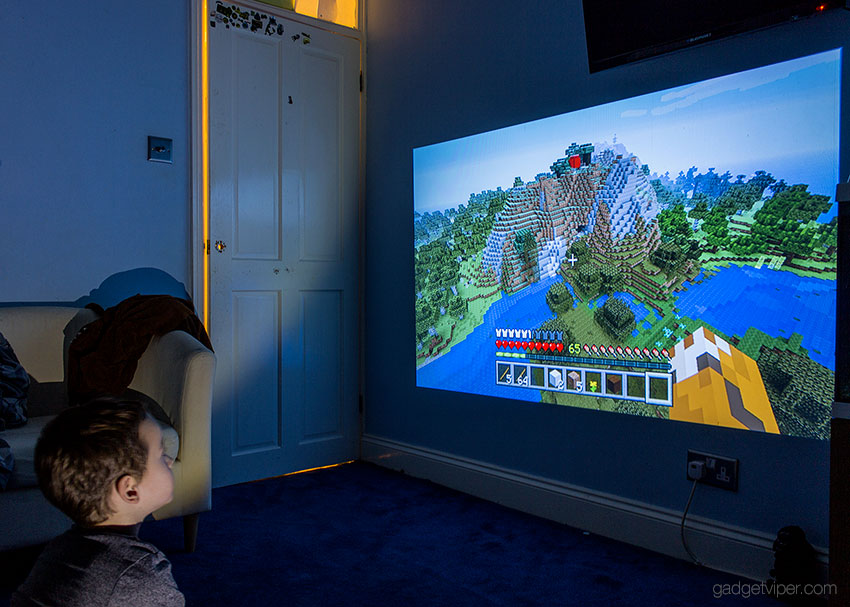 The 800 x 480 resolution means that if you're close to the image, the individual dots will be fairly visible. From a reasonable distance, it isn't an issue at all, not for the kids at least.
Verdict
I've been highly impressed with the performance of the Mpow projector, especially considering it's price. I think it's ideal for console gaming or for projecting music videos at parties, when connected to a portable speaker. The inbuilt audio isn't that great and the short HDMI and AV cables are an annoyance. However, the multiple input options, USB charging and bright LED, certainly make up for it.
The Mpow Mini Projector comes with a 30-day money back guarantee and an 18-month warranty and is available from Amazon Marketplace.
Where to Buy?
Price updated – 27th of March 2017 at 09:30 GMT
*Product prices and availability are accurate as of the date/time indicated and are subject to change.
If you found this review useful, please leave me a comment of share it socially – Thanks!