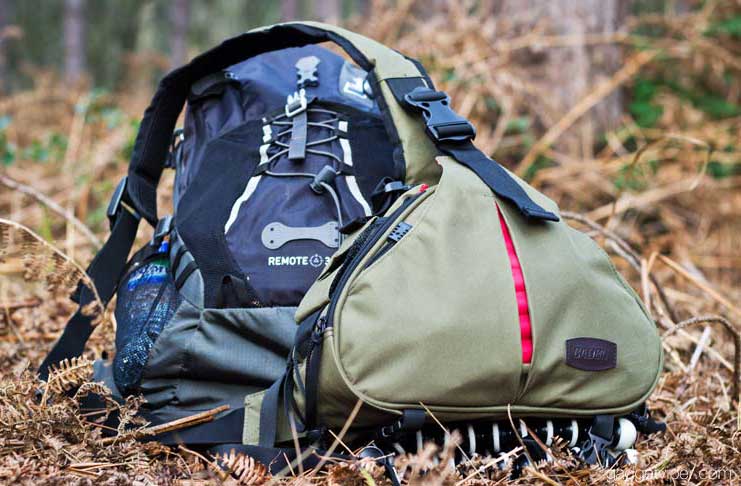 Caden K1 DSLR camera bag
The Caden K1 triangle bag is a great alternative to a camera hiking backpack. Worn over the shoulder, the Caden K1 can be positioned on your back, at your side, or on your front when wearing your hiking backpack.
Features
Comfortable shoulder strap
Adjustable waist strap
Quick release tripod straps
Configurable internal compartments
Waterproof rain cover
Caden K1 DSLR camera bag

Amazon.com
lowest price: $34.99 $21.99
Price information last updated on 13th of Novemeber 2017 at 09:50 GMT
I came across the Caden K1 camera bag about 2 months ago while looking for a solution to carry my DSLR, a spare lens, and a few accessories with me on hiking trips. Previously I'd been using my regular backpack to transport my camera equipment. This became very frustrating at times, so much so that I'd often choose not to pack my camera at all.
As always, you can pretty much guarantee an amazing composition will present itself. The sky will glow in unimaginable tones, god rays will burst through the clouds, lakes, and lochs will turn to glass and Golden Eagles will appear out of nowhere.
It was clear I needed a better alternative, one that had the following features:
A camera bag that could be worn alongside my regular backpack.
Offer a secure means of attaching a lightweight tripod.
Grant me fast access to my camera.
A compact size big enough to hold the DSLR with a lens fitted and have enough space for a secondary lens, some ND and polarising filters, spare batteries and a charger.
It would need to be suitable for bad weather (English weather)
Be durable and offer a good amount of protection without too much compromise on weight.
Be relatively affordable.
After wasting most of my morning on-line searching countless expensive camera backpacks, I eventually stumbled upon the Caden K1Caden K1 and was surprised to find it was far cheaper than I was expecting to pay.
Having used the bag on a couple of hiking weekends and half a dozen day trips to the woods, I couldn't be more pleased with my purchase. Here's why I think the Caden K1 works so well as a DSLR camera bag for hiking:
Worn alongside a regular backpack
The Caden K1 has a triangle bag design with a single shoulder strap and an adjustable waist attachment. I've used this camera bag on trips with a day backpack (30l) as well as a larger hiking bag (65l) and found it has fitted perfectly well with both.
The most comfortable position when hiking with a backpack is to have the bag at the front. If I happen to be out with just the Caden K1 and no other bag (not very often) it can be slid around the waist and worn comfortably on your back while still allowing you to gain access to it quickly by shifting it back to the front.
Due to the design, it's also possible to loosen the waist strap a little and wear the bag on your right hip, allowing you a little more freedom of movement to bend or have a sit-down.
Securely attaching a compact tripod
The Caden K1 has two adjustable straps on the underside of the bag for attaching a tripod. After spending some time fitting and removing the tripod, I began to feel a little unsure about relying on these straps to securely retain it. I felt there could be a small chance of it slipping out from one end.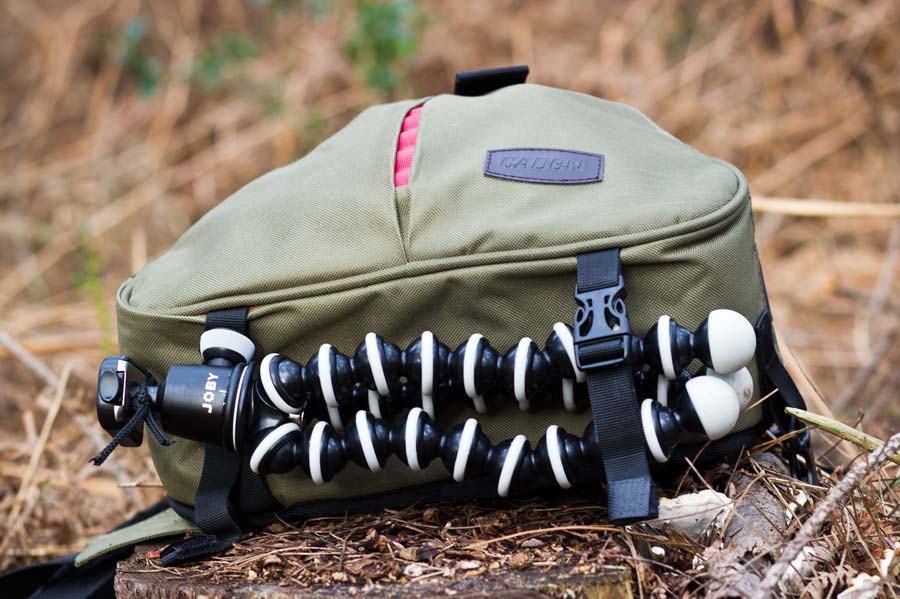 Fortunately there are two cords on each side of the Caden K1Caden K1 with adjustable toggles on. By using a single bottom strap to hold the legs of the tripod and the cord around the head, the tripod is perfectly secure.
This method also allows you to easily remove and reattach the tripodtripod without having to take the bag off your shoulder.
Fast access to my camera
There are three main sections to the Caden K1 camera bag, a zip on the front face for small accessories and two main access points on the sides. Each access point has a zip on each side joined by webbing, which allows a very fast method of opening the bag, even with cold fingers.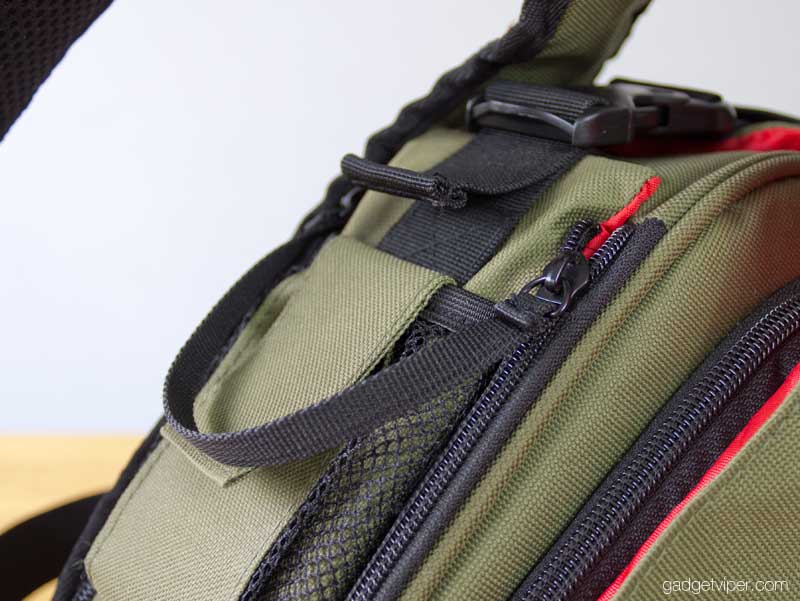 With the side compartment unzipped, the camera is instantly at hand. Due to the triangular design on the Caden K1 and the way it hangs over the shoulder,  the exposed camera is in a very safe position and unlikely to fall.
I can access the camera in a matter of seconds, and return it back safely just as quickly.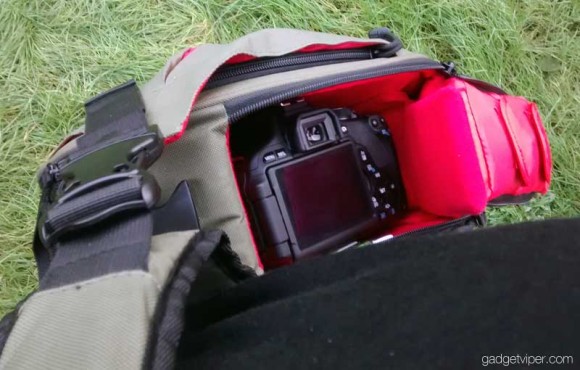 The right size and weight
Most of my hikes involve a fair amount of miles, carrying a DSLR and tripod is always going to put an added strain on you. A couple of Kilos doesn't sound much, but you certainly feel it after 15 miles. For that reason, I typically bring just two lenses on a trip, my prime lens and a secondary longer lens.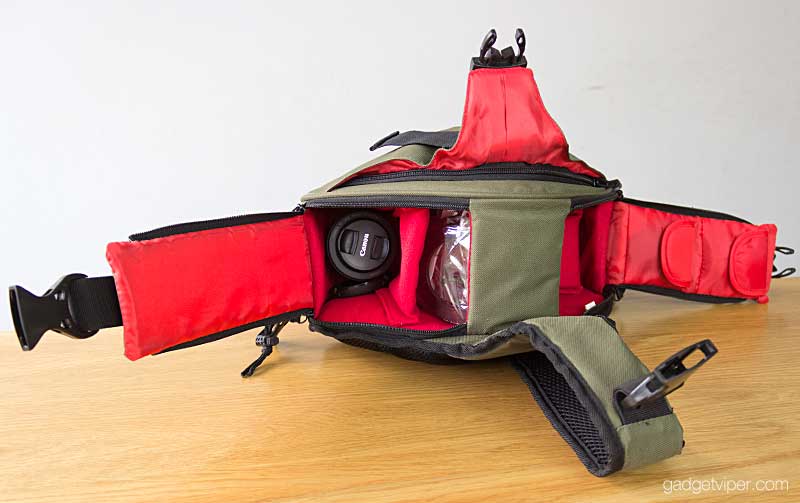 The Caden K1 comes with 3 internal padded separators each retained with Velcro to the sides of the bag. After spending some time moving them around, I found a setup that works perfectly for me. I have room for a long lens in its own compartment, as well as some filters on one side.  My Canon DSLR (with a lens) will fit perfectly on the other side.
The front compartment has enough space for 3 spare batteries in separate pockets, the charger, remote shutter cable and some cleaning items.
The Caden K1Caden K1 camera bag is ideal for my current preferred setup. I'd imagine it would be possible to squeeze an additional lens in but you'd probably need to keep your filters elsewhere.
Durability and weather resistance
As previously mentioned, I've had this camera bag over 8 weeks now and used it frequently in all weathers. The material is thick and durable and there is a good level of padding around the camera.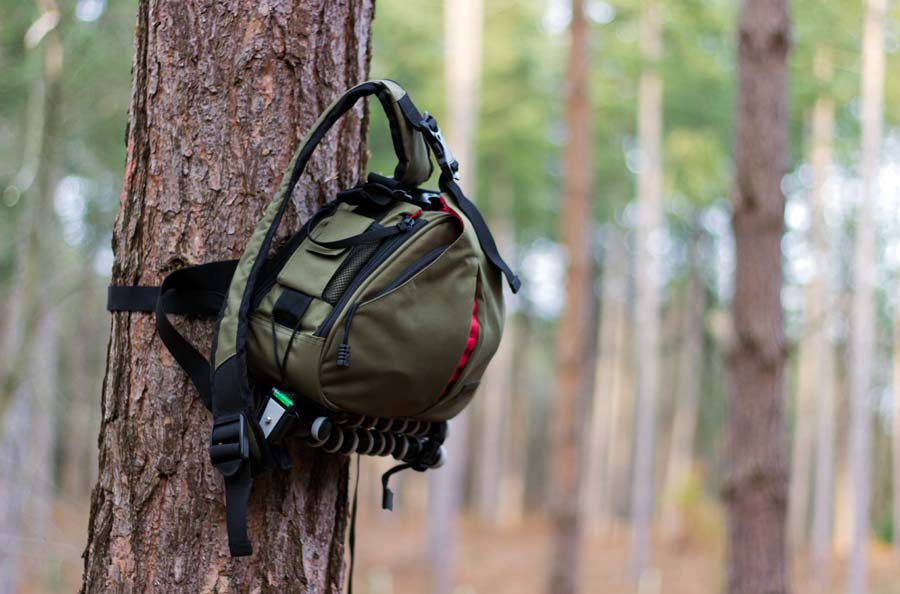 If the weather turns bad there is a rain cover in a pocket on the rear of the bag that can be quickly fitted over the Caden K1. With the tripod attached underneath, the cover may struggle to be stretched over it, I simply tuck it under the tripodtripod instead.
I have been out in heavy rain twice and been extremely pleased with the bags performance.
Value for money
I payed just under £16.00 for the Caden K1Caden K1 with free delivery from Amazon. I admit I was a little dubious about the how good a camera bag would be for such a small price, but on it's arrival I was blown away by how solid and well made it was.
Verdict
If you are looking for a sling-style camera bag that's ideal for hiking with a backpack, then I highly recommend this bag. I'm sure there are far more expensive DSLR bags out there, but for me, the Caden K1 is ideal and I'm sure I'll be using it for many years to come.
Caden K1 DSLR camera bag

Amazon.com
lowest price: $34.99 $21.99
Price information last updated on 13th of Novemeber 2017 at 09:50 GMT