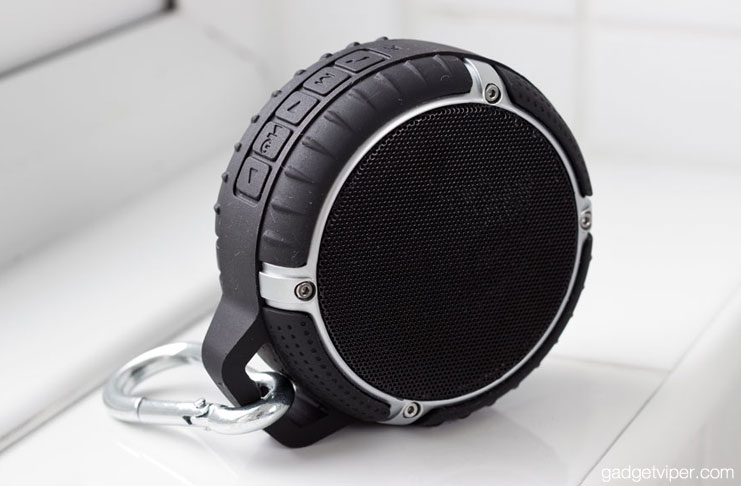 1byOne Waterproof bluetooth shower speaker
A rugged IPX6 rated portable speaker ideal for outdoor activities or as a high quality bluetooth shower speaker. The 1byOne features a powerful 5W speaker and a 1400mAh internal battery for up to 7 hours playback.
Features
Bluetooth 4.0
IPX6 waterproof rating
6-7 hours playback
Hands free calling
Micro SD card playback
USB playback
1byOne bluetooth speaker
Amazon.com
lowest price: $52.99 $29.99
Price information last updated on 26th January 2016 at 09:50GMT
The 1byOne bluetooth speaker initially caught my eye as a good option for taking on weekend backpacking trips. It's rugged design, IPX6 waterproof rating and carabiner attachment are all ideal for outdoor use, especially in British weather. While I most definitely intend to make use of it on my upcoming hiking trips, these unfortunately come too few and far between.

A more frequent activity I do almost on a daily basis is showering. On a bad day my showers are normally quick and regimental, but when I have time on my side, I put my favourite music on and delude myself that I can actually sing.
A few months ago, I  treated myself to a waterproof bluetooth shower speaker. It was the disc shaped brightly coloured one with a suction cup on the back. I liked the idea of being able to select tracks without having to step out of the shower and dry my hands first. Unfortunately the battery life was terrible, the volume was too low and the audio quality was poor.
It wasn't long before I reverted back to using my regular non-waterproof bluetooth speaker at a safe distance from the shower.
During the testing of the 1byOne, I compared the audio quality against this speaker and was extremely impressed with it's fullness of sound. It outperformed the EasyAcc DP100 on the low end and offered a more balanced audio quality.
With my original shower speaker gathering dust in a draw somewhere and the 1byOne outperforming my regular portable bluetooth speaker, I was excited at the thought of regaining control of my shower music again.
Below is a short video I shot to demonstrate some of the features and test it as a waterproof bluetooth shower speaker.
As you can hear from the footage, the 1byOne bluetooth speaker has a good selection of audio notifications and the rubber coated buttons are responsive when pressed.  Along with the regular play/pause, volume/skip and handsfree call button, there's also one marked with "M".  This allows you to toggle between the following play modes:
Bluetooth – Regular bluetooth mode to stream music from any bluetooth enabled device
USB Audio – Allows the speaker to play music from a USB cable when connected to a PC or laptop
Card Play – This mode allows you to play music directly from a MicroSD card that can be inserted into the speaker.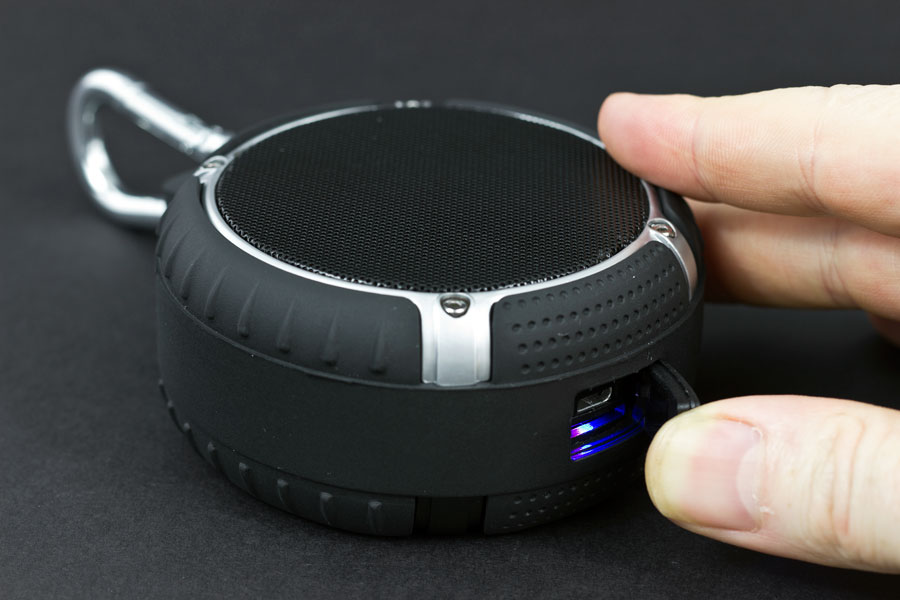 The rubberised cover over the USB and MicroSD slot, in order to provide a watertight seal, is a little fiddly to close. I found the best way was to use my thumbnail to pull the rubber of the surrounding body away from the cover and let it fall back into place.
Verdict
The build quality of the 1byOne bluetooth speaker is great. The combination of shock-resistant matt black rubber on the sides, with the silver trim and black mesh cover, gives it a solid rugged look.
My only issue with the design of this speaker is the size and weight of the carabiner. It's surprisingly heavy duty considering it's purpose. It would make far more sense to have a smaller and lighter aluminium one, instead of chrome plated steel.
The audio quality and battery life is good, with just the right amount of balance between playtime and weight.  Something that I consider very important when taking a Bluetooth speaker on a hiking trip.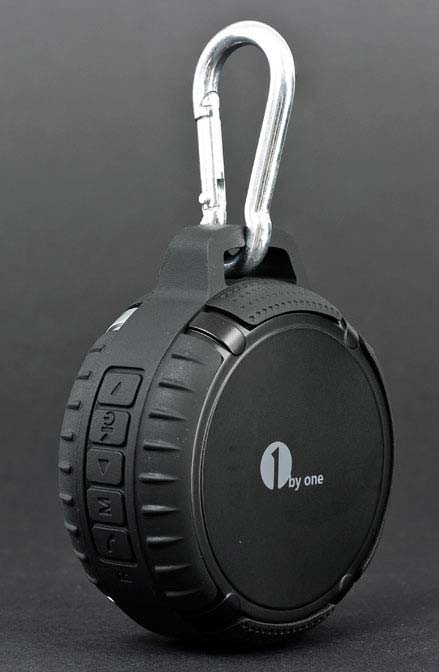 Overall the 1byOne is an impressive and versatile portable audio device for outdoor use or as a high quality waterproof bluetooth shower speaker.
If you found this review useful, please leave a like or share it socially and if you have any questions or comments please leave them below – Thanks!
To view 1byOne's other products, please check out their Amazon store or visit their website.
1byOne bluetooth speaker
Amazon.com
lowest price: $52.99 $29.99
Price information last updated on 26th January 2016 at 09:50GMT