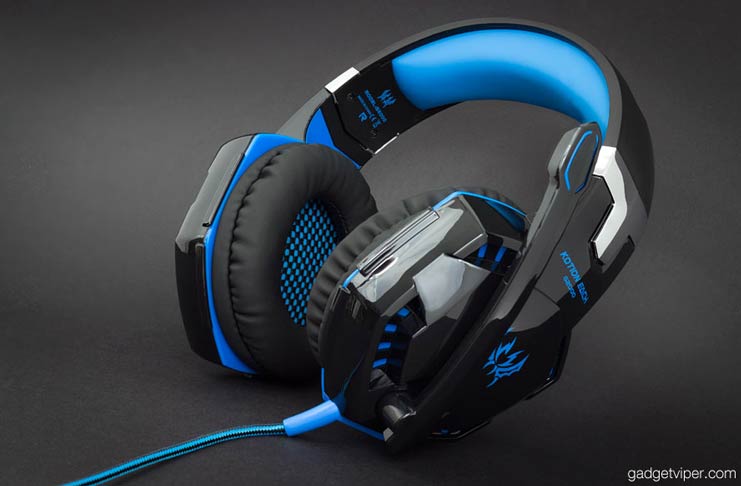 Kotion Each G2000 Headset
An LED backlit gaming headset with high precision 51mm magnetic neodymium drivers, soft leather ear pads and a braided cable fitted with a rotary volume controller.
Features
Soft leather ear pads
LED back lighting
Volume and mic mute control
Gold plated connectors
*Price updated on the 17th of March 2018 at 10.00 GMT
Price and availability are accurate as of the date/time indicated and are subject to change. Any price and availability information displayed on Amazon at the time of purchase will apply to the purchase of this product.
Intro
As a father of 2 sub-teen boys, gaming headsets come and go like shoes in my household. Typically they fail from the cords becoming so badly twisted that they split open and snap. It's also common practice to find them on the floor tangled around the chair. I now make them use their own pocket money to buy replacement headsets in the hope that they might respect them more – unfortunately, this seems to have no effect.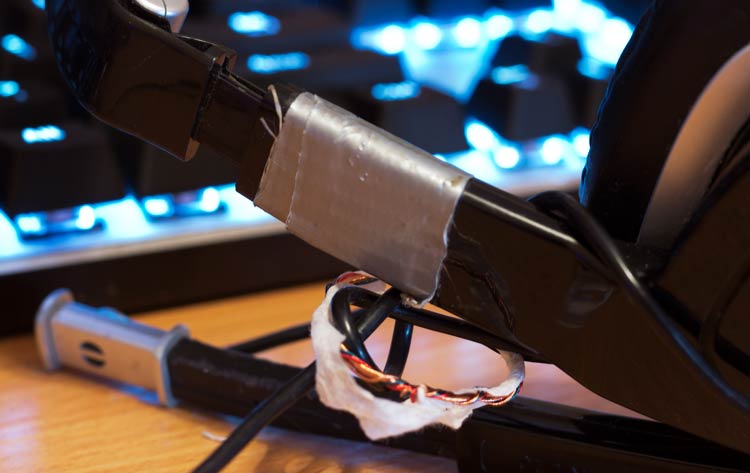 This photo will hopefully demonstrate my point. Not only is the cable wrecked, they also managed to break the arm – which I expertly fixed with duct tape.
Looking at the Kotion Each G2000, I feel there may be a good chance I have found a gaming headset able to withstand them. It's big and solid with wide arms, even at the point of adjustment. I'm also pleased to see a seriously thick braided cable which seems fairly resistant to twisting.
1
Kotion Each G2000 – Design and Build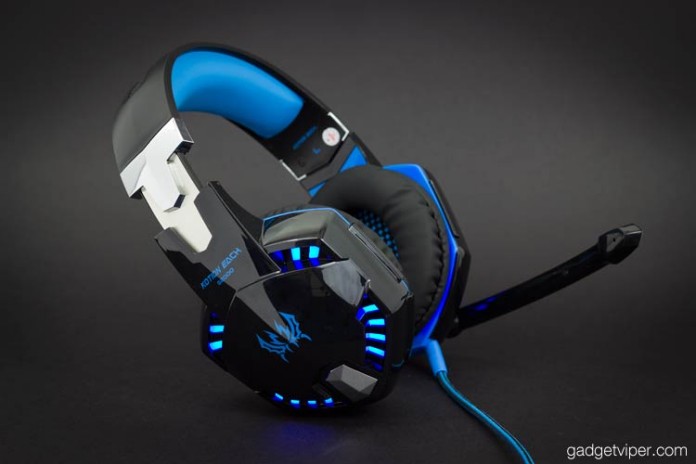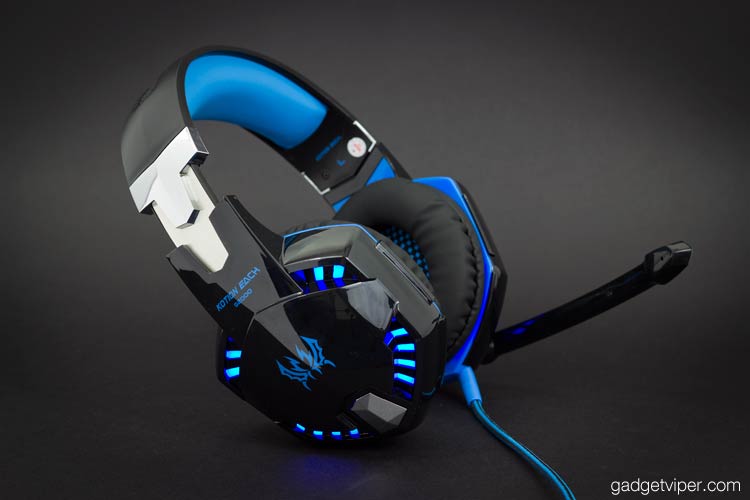 The first point of interest when I took the Each G2000 headset out from the box was its size. The arms are 45mm wide and the shield-shaped ear cups are almost 100mm. Having such large earpieces allows the leather pads to completely cover my ears which I found surprisingly comfortable.  A while ago I reviewed a set of headphones that fully covered my ears in a similar fashion and found they caused my ears to sweat due to a lack of ventilation. The Kotion Each G200 does not seem to not suffer from this problem, I assume this is due to the use of more breathable materials.
There's an ample amount of adjustment on the arms to accommodate a large head and a good tension to retain the headset without it feeling uncomfortable over long periods of use.
I was a little unsure how the Kotion Each G2000 would fit on a child's head considering its size. After testing the fit on my 10 year old (pictured) and his younger brother, I was pleasantly surprised at how well it fitted them both.
I was able to dangle them both by their ankles and vigorously shake them without the headset falling off – Just kidding…
The microphone arm on the Each G2000 is rigid and while it does rotate up and down, it won't pivot in and out towards your face. In its down position, the microphone is about 9cms from your mouth.  I personally think it could have been a little closer. Not only will it make heavy breathing extremely difficult, it's also slightly visible from the corner of your left eye.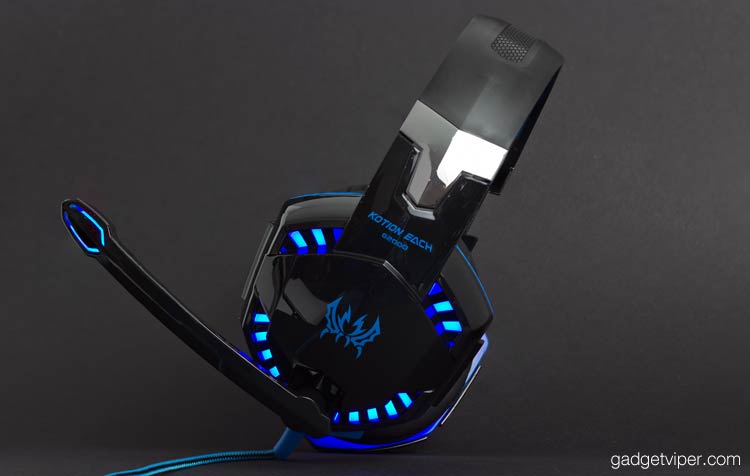 Despite my dislike of the microphone placement, the overall design of the Kotion Each G2000 is good. The combination blue LED lighting, glossy black surfaces and chrome side details make this gaming headset visually appealing. It's soft padded leather ear pads are extremely comfortable and the thick braided cable will hopefully extend it's life, even in the hands of young gamers.
2
Kotion Each G2000 – Features and Specifications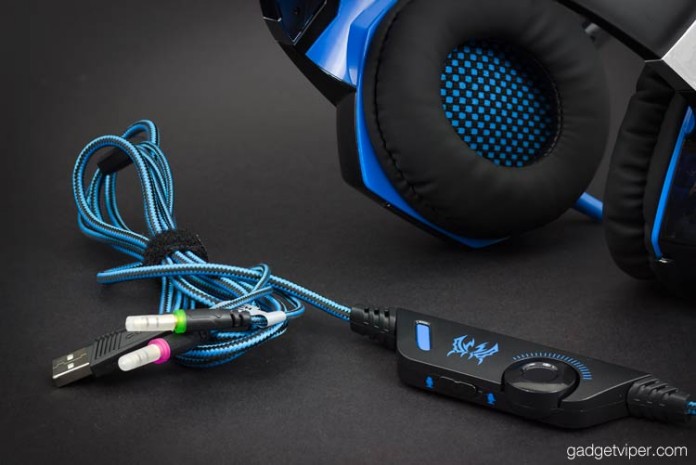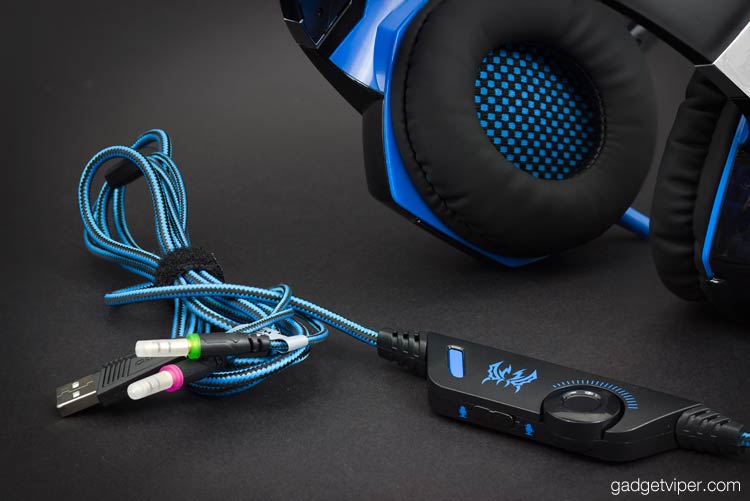 Connections
The connecting cables for the headset consist of two colour coded 3.5mm audio jacks, one for sound and the other for the microphone. There's also a USB connector, this is solely for the LED back-lighting and is optional. While some gaming headsets run from the USB port only, the Each G2000 receives and sends it's audio just from the jacks.
Specifications
Driver diameter: 50mm
Impedance: 32Ohm
Sensitivity: 114dB +/- 3dB
Frequency range: 20-20KHz
Microphone sensitivity: -34dB +/- 3dB
Connections: USB (LED) + 3.5mm stereo
Cable length:  2.2m
Weight: 383g
Having a headset that connects with this method means it requires no driver installation or software and can be used on devices other than a PC or Laptop.  You should be able to use the headset on a PS4 or XBOX One and even an XBOX 360 if you purchase an additional headset adapter.
Audio performance
For a gaming headset in this price bracket, I was highly impressed with the audio quality. Typically most gaming headsets have 40mm drivers, the Kotion Each G2000 has a 51mm magnetic neodymium driver which definitely seems to add some punch. The sound is loud and full, great for gaming as well as listening to music. The volume adjustment wheel on the cable makes it quick and easy to control the sound level during gaming.
Microphone performance
As I previously mentioned, the microphone is positioned a fair distance away from the face. As a result, I found the regular volume to be a little inadequate compared to my previous headset. This is something that can be addressed in the audio setting on your device or within the game /software options. Once I'd increased the mic output on a skype call to a friend, the audio volume and clarity were both fine.
Overall I have been highly impressed with the build, audio quality and comfort of the Each G2000 especially considering it's budget price.  I would have liked to have more control over the position of the microphone and only time will tell how it holds up to punishment from my spawn. Although I wouldn't go as far to say it's in the league of a professional gaming headset, I do think the Each G2000 is ideal for most casual gamers and the younger generation.
*Price updated on the 17th of March 2018 at 10.00 GMT
Price and availability are accurate as of the date/time indicated and are subject to change. Any price and availability information displayed on Amazon at the time of purchase will apply to the purchase of this product.
If you enjoyed this review, please share it socially or leave a comment below –Thanks…