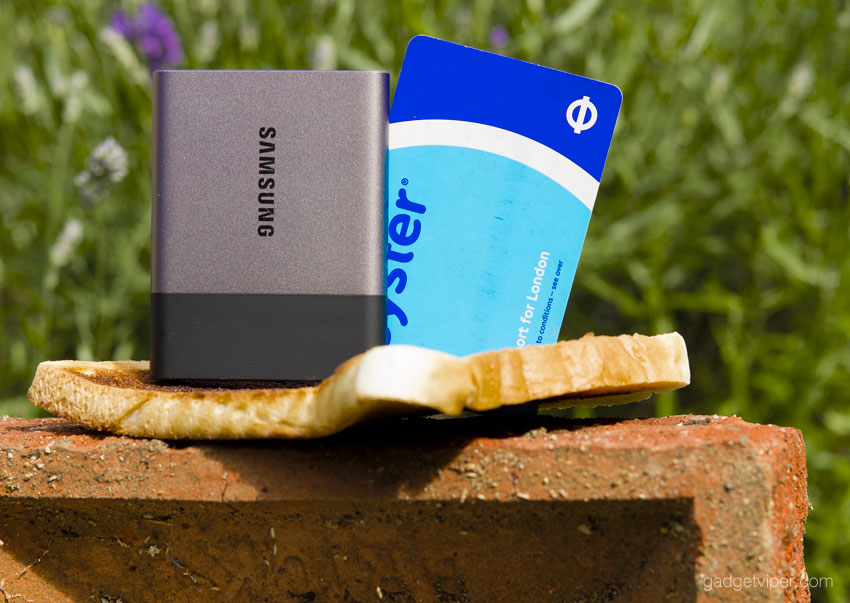 Samsung Portable SSD T3 2TB
A super compact portable 2TB SSD with a shock resistant metal case. Weighing just 50 grams and smaller that a credit card, the Samsung T3 provides huge storage in a tiny package.
The T3 portable SSD offers blistering fast transfer speeds of up to 450MB/sec and the latest Type C USB 3.1 connectivity. Compatible with Windows, Mac and some Android mobile devices.
+
Solid build quality, USB 3.0 works with MacBooks and Type-C mobile devices
–
Fractionally larger than the previous model (The Samsung T1 SSD)
Highlights
2TB of storage (smaller capacities available)
Transfer speeds up to 450MB/sec
AES 256-bit encryption support
Type C USB 3.1 port (USB 2.0 compatible)
3 Year Warranty
Samsung Portable SSD T3 2TB – Buy Online
Before I begin my review of the new Samsung T3 portable SSD, I'd first like to explain the unorthodox 'dry toast on a brick' product shot. There is no deep artistic reasoning behind it unfortunately. The brick's there for height, and the toast allowed me to wedge the Oyster card in to prevent it from blowing over in the wind. I basically just wanted to offer a visual comparison in size between the Samsung T3 SSD and a regular size card.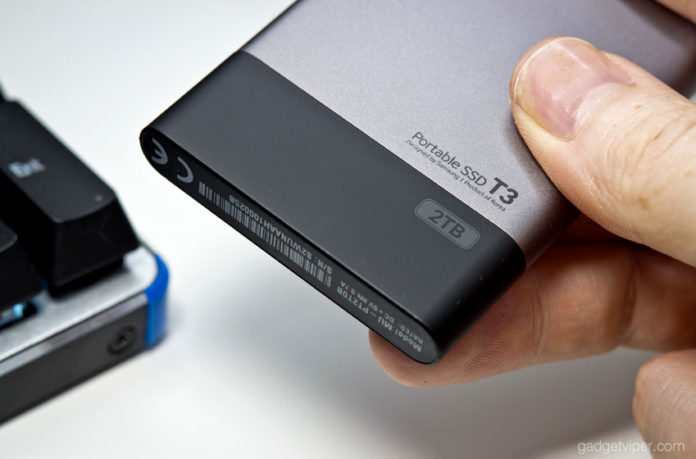 The Samsung T3 measures 7.4 x 5.8 x 1 cm (2.9 x 2.3 x 0.4 inches) and weighs just 50 grams (0.3 ounces). The majority of its construction is made from aluminium, with a nice anodised 'fingerprint friendly' finish. Its base is slightly rubberised to the touch which provides a good point of contact on surfaces.
Its rounded edges are similar in design to their previous portable SSD (T1), but with a flatter profile on the front and back faces.
There is a 3.1 Type-C USB port on the top surface, but no LED power indicator, which was present on their previous model.
The introduction of the Type-C port and the sturdy metal casing is definitely a welcome addition to the design. Samsung suggests it will be fine when dropped from a height of two metres (6.6 Feet). I have no intention of putting that to the test, so I'll take their word for it.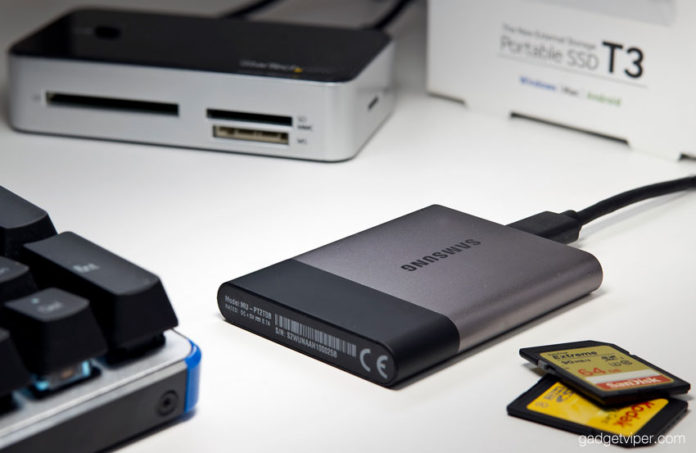 | | |
| --- | --- |
| Capacity | 2TB (optional 250GB, 500GB, 1TB) |
| Size | 74x58x10.5 mm (2.9×2.3×0.4 inches) |
| Sequential speed | Up to 450MBps via USB 3.0 |
| Drive type | mSATA-based portable drive |
| Encryption support | AES 256-bit |
| Interface | USB 3.0 (USB 2.0 compatible) Type-C to Type A |
| Operating system | Windows 7+, Mac OS 10.7+ , Android 4.4+ |
| Security | Optional Password setting |
| Warranty | 3 years |
Stability
The Samsung Portable SSD T3 has an integrated Thermal Guard feature to prevent overheating issues. The metal casing also provides better heat dissipation, compared to Samsung's previous T1 model. Only time will tell as to how reliable the Samsung T3 portable SSD is. One slight worry is that the manufacturer warranty is only three years. Considering Samsung offer 10 years on the 850 pro SSD, this does seem a little stingy.
Compatibility
The T3 is formatted to run on exFAT, which should be compatible with most modern systems. Samsung's Android app should also take care of any incompatibility issues for those looking to use the T3 with a mobile device. If your phone supports a 64gb+ SD card, then you're unlikely to have any problems.
Security and Software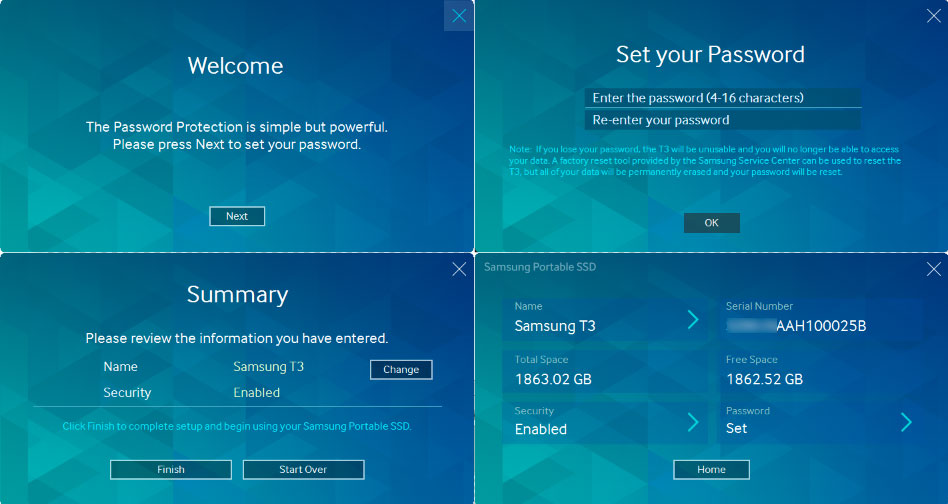 The Samsung T3 portable SSD should auto-run the security software when first connected. If there are any problems, it can be manually downloaded and installed from their site – here.
The password protection is optional and can be easily disabled in the settings. Once set, it's extremely important that you remember the password.
There is no way around the AES 256-bit encryption. The only option is to contact the Samsung Service Centre and request a factory reset. Any files on the T3 SSD would then be lost.
With the security active, each time you connect the T3 you'll see a password window. All of your files and folders will be hidden from view.
The read and write speeds will obviously vary, depending on the power of your device. I tested the performance of the Samsung T3 using my PC which is fairly high spec, but certainly not top end.
These were my results:
| | |
| --- | --- |
| 10.2 gigs of Photos (RAW) | 285mbs Read / 205mbs Write |
| 10.1 gigs of Videos (Various formats) | 355mbs Read / 282mbs Write |
Unfortunately, I don't have a T1 external hard drive to run a comparison with the T3. I do believe that the T1 is said to perform fractionally better. Considering the maximum capacity of the Samsung T1 is 1TB, I think a fractional difference in speed is a fair trade-off for twice the storage.
There is no doubt that the 2tb T3 Samsung portable SSD is out on its own in terms of storage and speed vs size, but this does come at a premium price.
Its build quality, Type-C port and the AES-256 encryption, is a big step up over the previous T1 model.
If speed is more important to you than physical size, check out the 1.9TB SanDisk Extreme 900 Portable SSD. It's the only other device out there that comes close to the T3. Note the difference in weight, It's over four times heavier!  – Just goes to show how groundbreaking the new Samsung portable SSD T3 really is.
I hope you found this review useful, if so, please leave a comment of share it socially – Thanks!