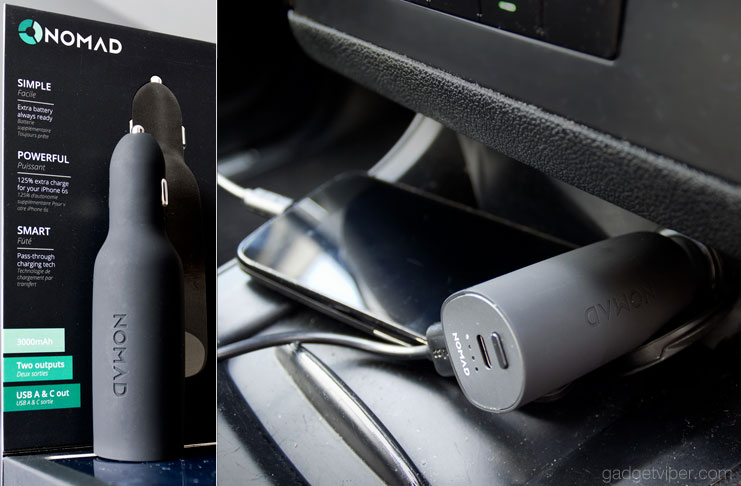 Nomad Roadtrip – USB car charger and power bank
An all in one charging solution for car owners. The Nomad Roadtrip is a USB car charger and a portable external battery.
If your phone needs more juice when your car journey ends, the Nomad can be used as a portable charger, thanks to its integrated 3000mAh battery.
+
2 USB outputs, integrated portable power bank, awesome build quality
–
1.5A Output per port limits charge speed on larger devices (tablets)
Highlights
Type-C USB and Type A USB ports
3000mAh internal battery
3V max output (2 x 1.5A)
Fits standard 12V car socket
Nomad Roadtrip USB car charger – Buy Online
I'm no stranger to USB car chargers or portable power banks, I've been reviewing both for over two years now. The Nomad Roadtrip however, is the first device I've come across that's a combination of both. More often than not, when a product has multiple functions, there's some downside to the consumer experience. Let's find out if the Nomad can bridge the gap between a USB car charger and a portable power bank, without any noticeable pitfalls.
2
Design and Build Quality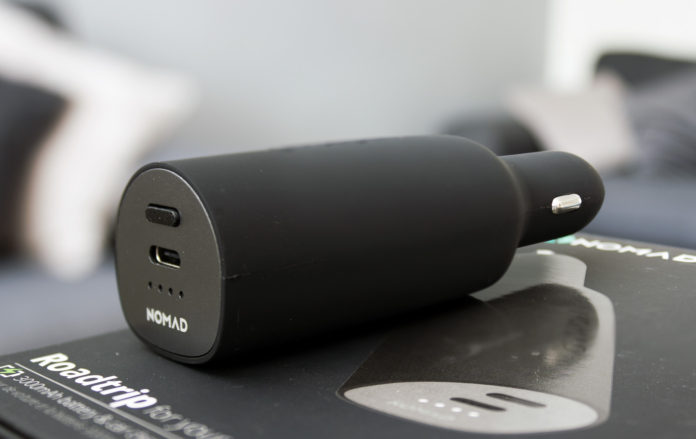 Most charging devices these days arrive in generic looking packaging. I often see very similar products with different brands, that are clearly made by the same OEM manufacturer. In contrast, the Nomad Roadtrip appears to be refreshingly unique and comes in a well presented retail box.
| | |
| --- | --- |
| Size | 31mm (dia.) x 118mm (length) |
| Weight | 220g |
| Materials | anodized aluminium facing, polycarbonate plastic enclosure. |
With the exception of the brushed aluminium top plate, the rest of the device is made from a polycarbonate plastic with a ridiculously glorious finish. I've never described a finish as 'ridiculously glorious' before, but on this occasion I think it's appropriate. My photos really don't give the surface the justice it deserves.
The bottom portion has a standard 12V car socket shape. The body then tapers out to a larger diameter with one flattened side.
This 'D shape' design conveniently stops the Nomad Roadtrip from rolling away when placed on an uneven surface. The flattened face has a letterbox style standard USB charging port positioned near its top edge.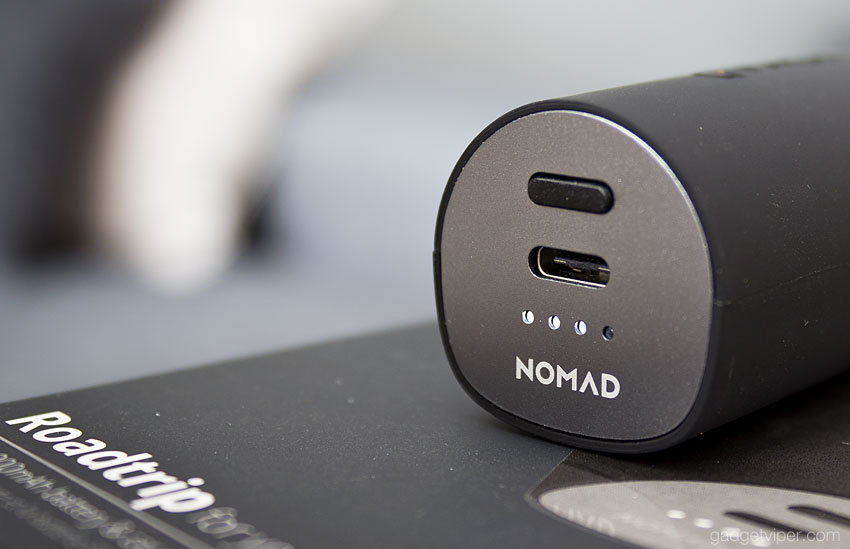 On the top of the charger is a Type-C USB port, a power button and 4 small LEDs to display its remaining charge.
-The overall build quality is awesome. It's rock solid, has really impressive finishes, the button feels responsive and both USB ports are reassuringly snug.
3
Features and Specifications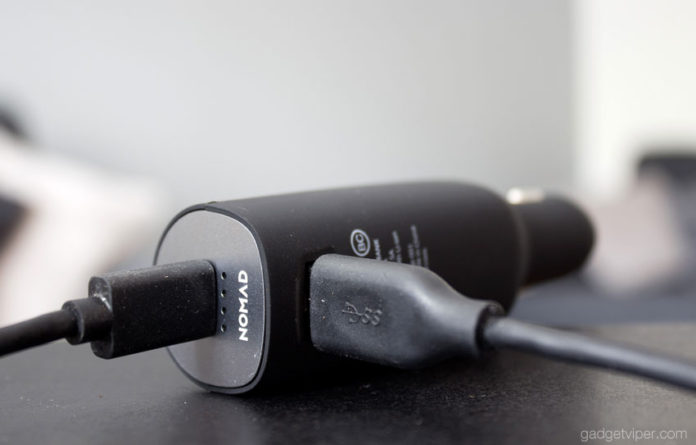 The Nomad Roadtrip has an internal lithium battery with 3000mAh of capacity. It features pass-through charging, which means your phone's battery will take priority and charge first.
| | |
| --- | --- |
| Ports | 1 x USB and 1 x Type C USB |
| Max Output | 3A (2 X 1.5A) |
| Input | 12V 1A (standard Car socket) |
| Capacity | 3000mAh |
| Recharge time | 2 hours |
The two USB ports can be used simultaneously, each will output a maximum of 1.5A. This is perfectly fine for charging two phones at their peak speed. If you're intending to charge a larger device such as a tablet, bear in mind that most require a 2A or more output for optimal charging.
As with all portable phone chargers you'll never get the full 3000mAh of juice out, but you can expect around 2400 to 2500mAh's. This will provide about 1.25 full phone charges.
4
My experience with the Nomad Roadtrip
I've had the device for almost two weeks now and it's proved to be highly effective. On two occasions my phone's battery was below 25% after a short car journey to my local gym. I'd normally just decide to not use the phone as an mp3 player to save the battery life. With the Nomad Roadtrip, it wasn't a problem. I came out of the gym both times with a healthy charge on my phone.
The only 'small' issue I had was with the placement of the Nomad Roadtrip inside my gym shorts….. It's wise to make sure your pocket is positioned on your outer thigh unless you want to draw unwanted attention to your groin…..
For a car owner like me, who often forgets to charge his phone, the Nomad Roadtrip is ridiculously convenient.  Prior to using this device I'd have to remember to charge my small power bank and have it with me.
While you could have an independent USB car charger and power bank for a similar price, I think the idea of combining the two works great. The Nomad Roadtrip really does take the hassle out of portable charging and I can highly recommend it.
For more information on Nomad and their range of charging devices, please visit their website.