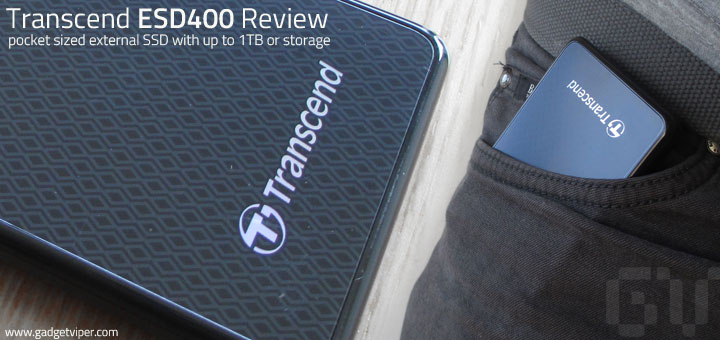 Transcend SSD ESD400
Amazon.com
lowest price: $109.99 $68.49
Price information last updated on the 7th January 2016 at 10:10 GMT
I've been looking forward to getting my hands on the Transcend ESD400 portable solid state external hard drive for a while now.  With 3 different external hard drives and half a dozen USB sticks kicking around, it could be argued that a new addition to my ever growing family of external storage devices is unnecessary.  This would certainly be the case had the new addition been a regular mechanical portable hard drive. The Transcend ESD400 is however a league above in terms of portability and speed and unlike many other external SSD drives the ESD400 is very reasonably priced.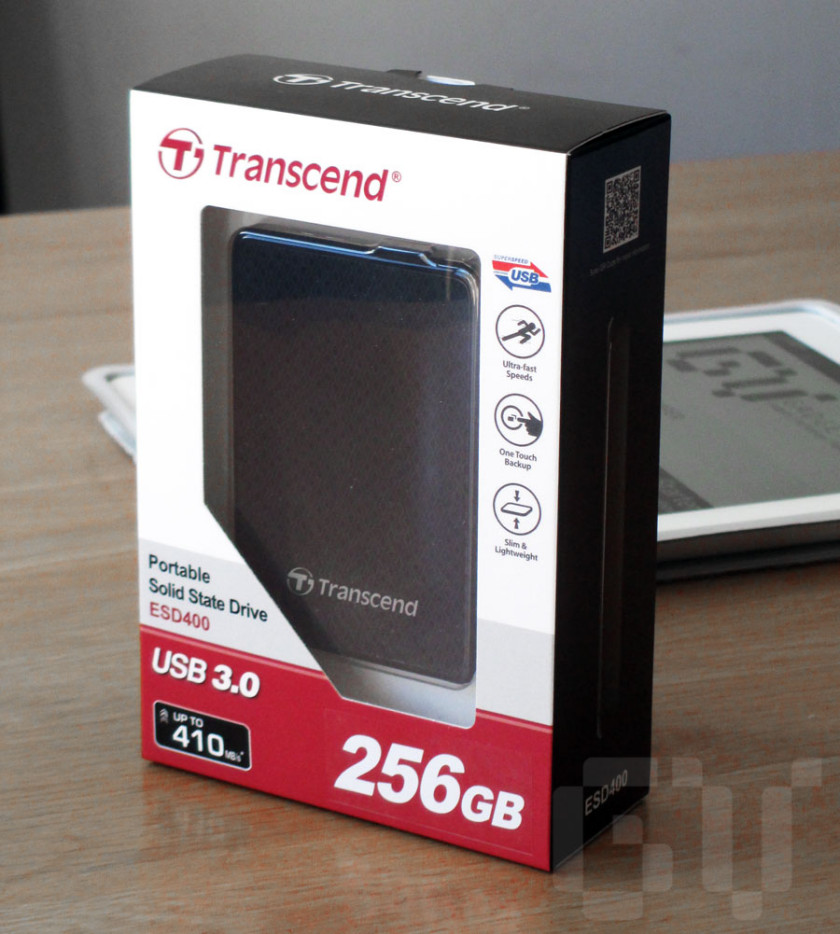 The Transcend ESD400 comes in 4 different capacities – 128GB, 256GB, 512GB and an impressive 1TB version.  All of which have the same physical size, weight and features.
Transcend ESD400 external SSD – unboxing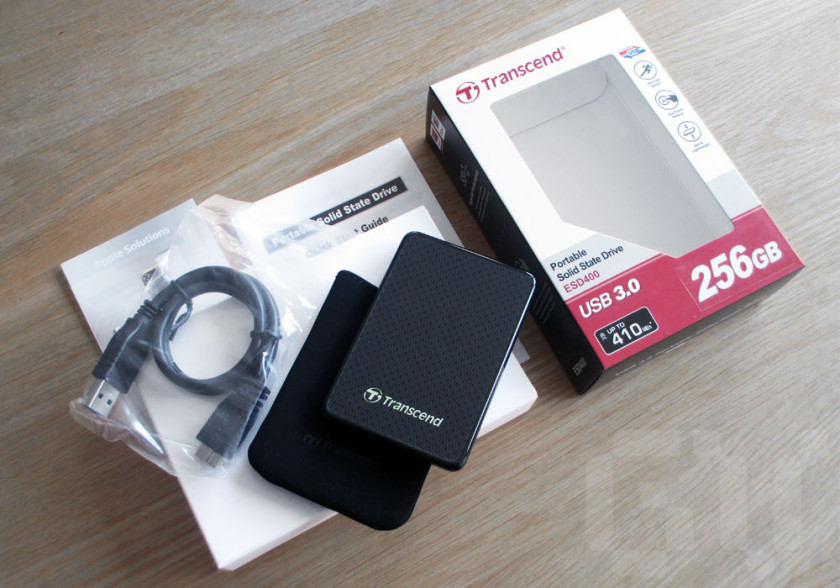 The Transcend SSD comes extremely well packaged, the box contains the external hard drive, a soft well fitting carry pouch,  USB connection cable, a quick start guide and warranty card (2 years).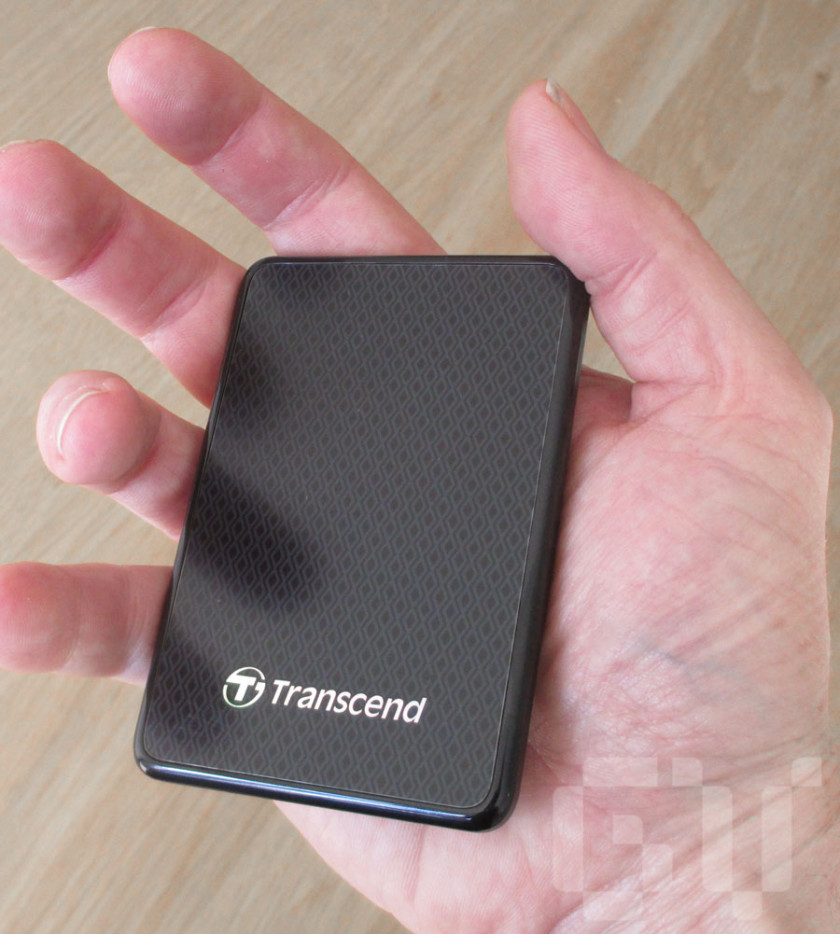 Although I was aware of the ESD400's compact size, I was seriously impressed when I finally had the device in my hands. Trust me when I say I possess fairly petite and delicate hands for a 6 foot tall guy.  And as you can see from my attempts at being a really, really ridiculously good-looking hand model, the ESD400 SSD is tiny.
Many products brag at being "pocket size" especially when it comes to a portable hard drive. The Transcend ESD400 is so compact and light , it would probably go unnoticed in most pockets.
I tested its total weight on my digital kitchen scales at just 1.8oz. (50 grams).  – It should be noted however that was before I added any files onto the drive.   (joke)
Having such a lightweight and compact external storage drive allows me to make use of it in places normally reversed for a USB stick, such as the back of a wall mounted TV, as a media storage device.  Ideal for taking around your friend's pad loaded up with a ton of movies.
Anyway, enough musing, poor jokes and film references, let's take a look at some of the actual features of the Transcend ESD400 SSD.
Transcend ESD400 External SSD – Features.
Read up to 410mb; Write up to 380mb – I tested the actual speed with a relatively small .mp4 file, which would not get those numbers, see below for a details.
SuperSpeed USB 3.0 with UASP and USB 2.0 connections. – The diamond shaped LED indicator light will glow blue for a 3.0 USB connection and green for a 2.0.
One Touch Auto-Backup button – There is a button on the top that you can press to start a back up process if you have the software installed.
Runs extremely cool and silent.
Shock resistant – I imagine it's tiny weight would also help save it from damage if it were accidental dropped.
Available in 128GB, 256GB, 512GB and 1TB.
Compatible with Windows PC's and Macs.
Downloadable elite data management software offers backup, encryption and syncing options.
Transcend ESD400 External SSD – Testing.
There are lots of reviews and speed tests on SSD's online, which are performed using software such as "BlackMagic disc speed test" these will give read and write results similar to those mentioned above.  In my case, I wanted to test the actual write speed on my bog standard ASUS Transformer with a typical MP4 movie file.  I often get frustrated waiting for films to transfer on to USB sticks, and this was one of the main reasons I wanted the ESD400.
USB 3.0 results (blue indicator light on the Transcend SSD)

As you can see from the screenshots above, the Transcend SSD was giving me an average write speed of 100mb's per second (peaking at about 130mb's) compared to a horrendous 4.5mb's from the USB memory stick.  This means I can transfer a 1gig movie file in under 10 seconds using the ESD400 compared to a depressingly slow 3 minutes with a USB stick.
I also performed the same test on a regular USB 2.0 port on my desktop PC and got an average transfer speed of around 40mb's (10 times faster).
Transcend Elite Data Management Software
Transcend's Elite Data Management Software is very clean and user-friendly offering you the option to create scheduled backups or make use of the one-click back up button on the ESD400. There are also encryption/decryption options, syncing and cloud settings. You can learn more about the Transcend software on their website.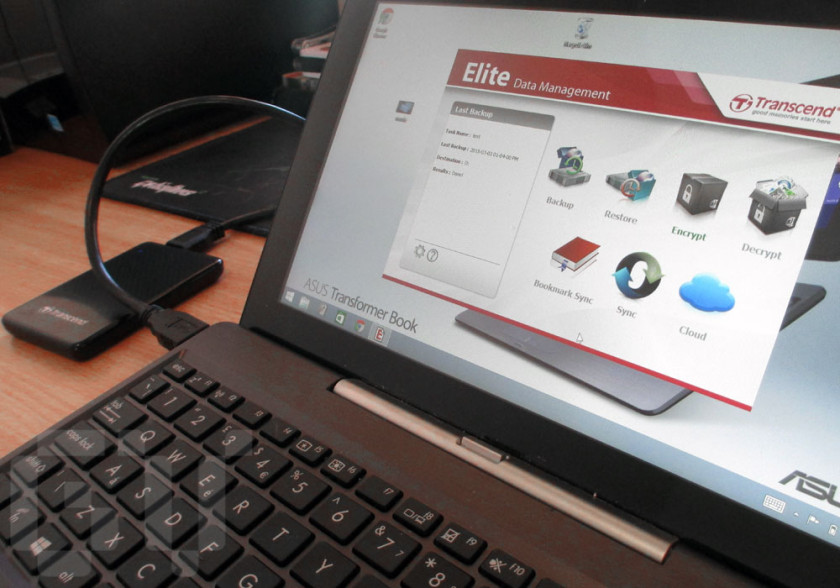 Transcend ESD400 External SSD – Summary
The Transcend ESD400 solid state external hard drive is a great product that balances performance with affordability.  SSD's are typically more expensive than other alternative, however when you consider their portability and insanely fast transfer speeds, I think it's worth paying a little extra.
Transcend SSD ESD400
Amazon.com
lowest price: $109.99 $68.49
Price information last updated on the 7th January 2016 at 10:10 GMT
If you enjoyed this review or found it useful, please leave a comment below or share it socially, cheers.