The Toshiba Canvio 2tb external hard drive is possibly the smallest and most compact 2tb portable hard drive currently available.  A standard size 2tb external hard drive like the Seagate Expansion weighs nearly 4 times more and is almost 4 inches longer than the Toshiba.  So if you are looking for a truly portable external hard drive that's small enough to actually fit in your pocket, the Toshiba Canvio could be ideal.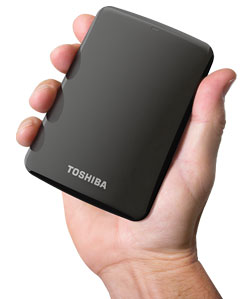 The Toshiba Canvio requires no additional power supply and will connect to your pc, mac or laptop with a USB 3.0 cable. Once connected this compact portable hard drive delivers a bundle of cool features including 10gb of free cloud storage and remote access to your files using any mobile device.
While this USB hard drive is compact enough that you can take it with you, It's just as easy to leave it at home and access it over the internet using your tablet or smartphone. The preloaded software on this Toshiba portable hard drive has some really useful features as well as remote access:
10gb of free cloud storage with remote access
pre-loaded NTI Back-up Now EZ software for file, folder, and full system back-up and recovery.
Tuxera NTFS for Mac driver software
Pogoplug PC for Toshiba
2 years warranty
The physical size of the Toshiba 2tb external hard drive is a real selling point for me,  it does also provide a fairly impressive performance when connected to a USB 3.0 port.  If you don't have a 3.0 USB port, this Toshiba hard drive is also backward compatible with USB 2.0.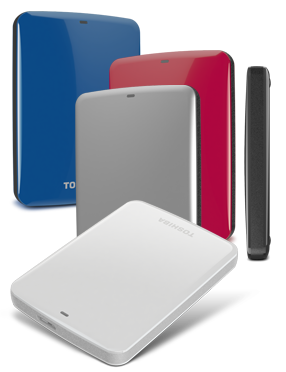 Available in 5 colours and in sizes ranging from 500gb to 2tb the Toshiba USB hard drive will provide a fast, quiet and compact storage solution at a very affordable price.
For more information, customer reviews and to save over 40% on this portable hard drive, visit Amazon.