Edifier M3200BT speakers
Following on from the popular Edifier M3200 multimedia speakers, the M3200BT now offers bluetooth 4.0 and NFC connectivity.
Featuring stylish hourglass satellite speakers, a backlit aluminium volume controller and a powerful sub with bass adjustment.
Features
2.1 sound system with 34W
5½" Subwoofer with bass adjustment
Hourglass satellite speakers
Bluetooth 4.0 and NFC connectivity
Volume controller with halo light
PC, CD and AUX inputs
Headphone port on volume controller
Model: EDIFIER M3200BT
From: Currys
Price: £69.99 £49.99
1
Edifier M3200BT – Design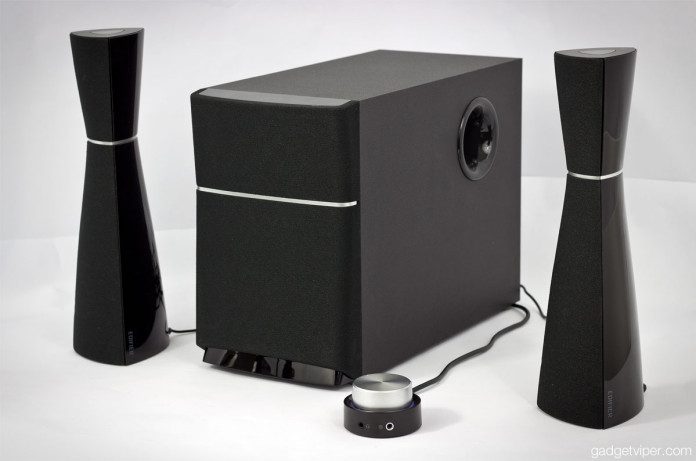 The Edifier M3200BT speaker system is made up of four separate components, comprising of two satellite speakers, a sub and an independent volume adjustment unit.
The three-sided satellite speakers are 11 inches in height and feature a stylish hourglass shape. The front face is covered in a soft thin black cloth, while the curved sides have a high-gloss finish. The bases are weighty enough to provide stability, despite their relatively small footprint and soft pads offer a good point of contact.
Whether or not it's worthy of a spot on your desk is up to personal preference.  In my view, a sub-woofer can quite happily be tucked out of the way under the table. Bass waves are omnidirectional, so unlike mids and highs, a sub will spread sound even if it's down at your feet.
As for the final component of the Edifier M3200BT, there can be absolutely no debate as to where to place it. The halo lit volume adjuster with it's machined aluminium rotary dial, is for me, the highlight of this system. Aside from it providing volume control, a headphone connection and auxiliary port, it also indicates power and connectivity status.
Anyone old enough to remember the 80's will probably have memories of Hi-Fi systems and record players with similar large aluminium dials on.  Cranking up the volume reminds me of being a boy again, toying with my dad's stereo.  Just like then, I was compelled to yank the knob off, only this time I didn't get a clip round the ear for my trouble.
The overall design and build quality of the Edifier M3200BT is impressive and while the sub-woofer may not win any beauty contests, the satellites and the volume unit certainly make up for that.
2
Edifier M3200BT – Features and Sound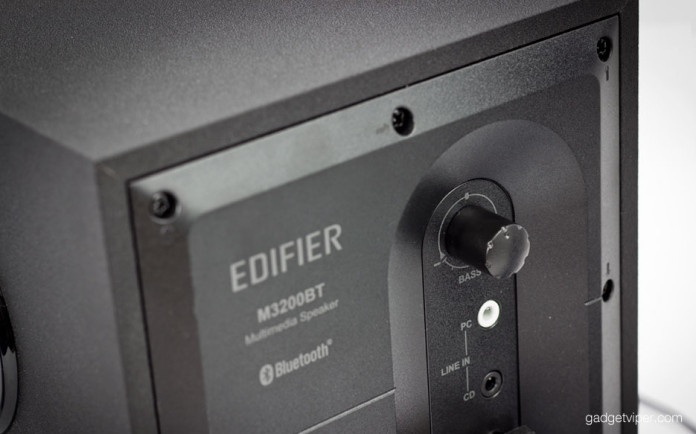 The Bluetooth enabled subwoofer features a bass adjustment dial on the rear of the box. On it's lowest setting the bass is considerably weak and I doubt anyone would choose to have it that low. In contrast, when the bass is set to maximum, it is rich and deep and seems to hold out well at full volume. I won't go as far to say that it's strong enough to vibrate screws loose, but it's more than ample, especially considering the 5½" driver size.  After a week of testing this speaker on a number of devices, I have the bass dial set at around 60%.
Setting up Edifier M3200BT is an absolute breeze. There is a single switch at the rear for mains power and a 3.5mm male to male phono lead to connect to your PC or audio device.
The satellite speakers connect at the rear with regular RCA leads and the volume control connects with what looks like a VGA socket.
Pairing with Bluetooth is simply a matter of selecting the Edifier device from the list of available devices on your smartphone or tablet.  The M3200BT appears to always be in pairing mode, and there is no button to press to establish a connection.
As I demonstrated in the video at the top of this review, the right satellite speaker also has a tap to pair NFC sensor on the top.
The bluetooth connection is strong and reliable even at distances close to 10 metres. There appears to be no noticeable loss of quality when compared to a direct wired connection.
The overall audio performance, considering the size of the speakers and the price bracket, has far exceeded my expectations. The satellites produce a clean and precise sound that balances well with the bass from the sub woofer.
3
Edifier M3200BT – Verdict
I have been greatly impressed with the design, build quality and audio performance of the M3200BT and recommend them to anyone looking for affordable 2.1 multimedia speakers. The addition of bluetooth connectivity sets them apart from many other PC speaker systems. Sometimes it's good to step away from the screen and relax with some music, the Edifier M3200BT's make that possible.
To learn more about Edifier and their range of speakers, please visit their website and if you found this review useful, please share it socially or leave a comment below – Thanks!
Model: EDIFIER M3200BT
From: Currys
Price: £69.99 £49.99