SoundPeats Q29 Bluetooth Earbuds
Tired of the noise caused by the cable on wired earphones as it rubs against your clothing?
SoundPeats offers a totally wire free option with their latest Q29 Bluetooth Earbuds. They're completely untethered from each other and will work independently in Mono or linked together for a high-quality stereo sound.
Highlights
Fully Wireless Bluetooth Earbuds
Upgraded to Bluetooth version 4.2
Lightweight and comfortable (5.3g)
Compact charging dock (3 full charges)
Up to 3 Hours playback (9hrs with dock)
Siri / Ask Google control
Use in Mono or Stereo modes
Handsfree calling with built in mic
Pros and Cons
+
Very impressive audio quality, comfortable, good hands-free calling, compact charging dock, good passive noise reduction, low price
–
Occasional drop in signal when the smartphone is obstructed, slight latency delay when watching a video, no volume control.
Where to Buy?
Price updated – 30th of August 2017 at 09:30 GMT
*Product prices and availability are accurate as of the date/time indicated and are subject to change.
These are the upgraded version of the SoundPeats Q29 Earphones featuring Bluetooth version 4.2
SoundPeats Q29 – Full Review
The Q29 Earphones come inside a very attractive looking retail box. Inside you'll find the charging dock, a user guide, USB cable and three sets of additional earbuds.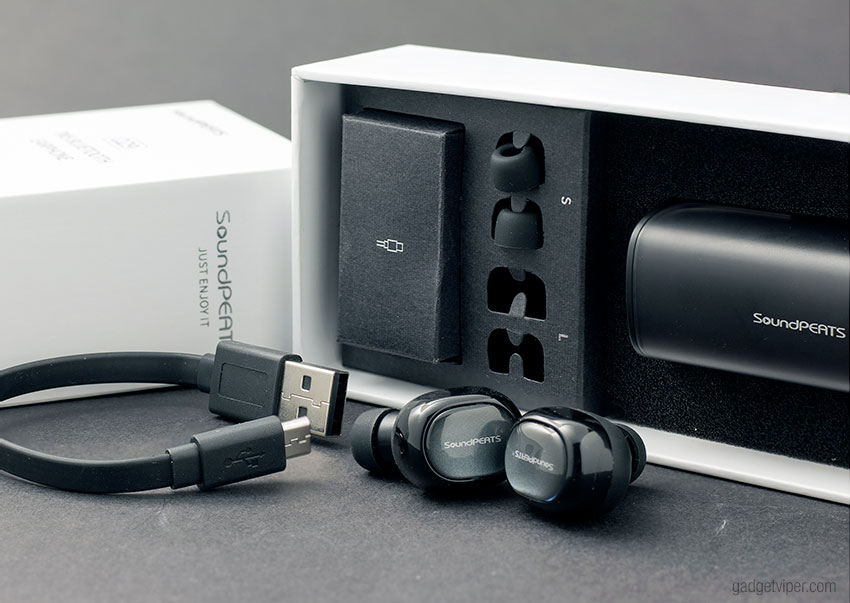 Having a total of four different size ear-tips is extremely useful with wireless earbuds. It's critical for both comfort and the sound quality, that you find the best possible fit. Usually, the pre-fitted tips on earphones are fine for me. On this occasion, however, I needed to use the largest set.
The Q29 Earphones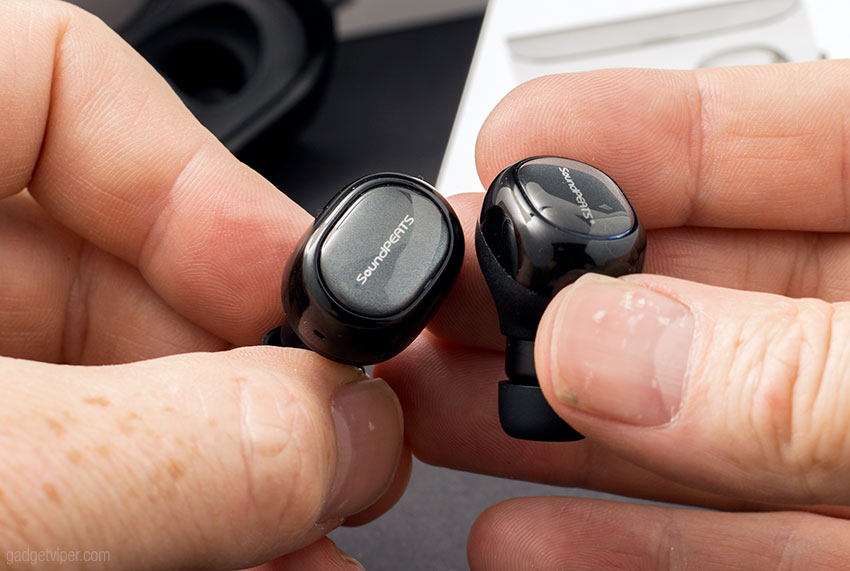 The earbuds are impressively compact and very lightweight at just 5.3g (0.18oz). Each one has a large multi-functional push button which is easy to press.
To wear them snugly, just push them in with the buds facing directly down and twist them a little.
Their rounded shape makes them comfortable in the ears when worn over long periods. They are slightly larger than regular earphones, however, when compared to other totally wire-free earbuds the Q29's are the smallest I've tested.
The Q29 Charging Dock
There are two hollows inside the charging dock that perfectly match the shape of the Soundpeats Q29 earphones. Each recess has two small pins that engage with the contactors on the underside of the earpieces. Unlike some wireless earbuds I've tested in the past, these make a reliable connection without the need to fiddle around with their position.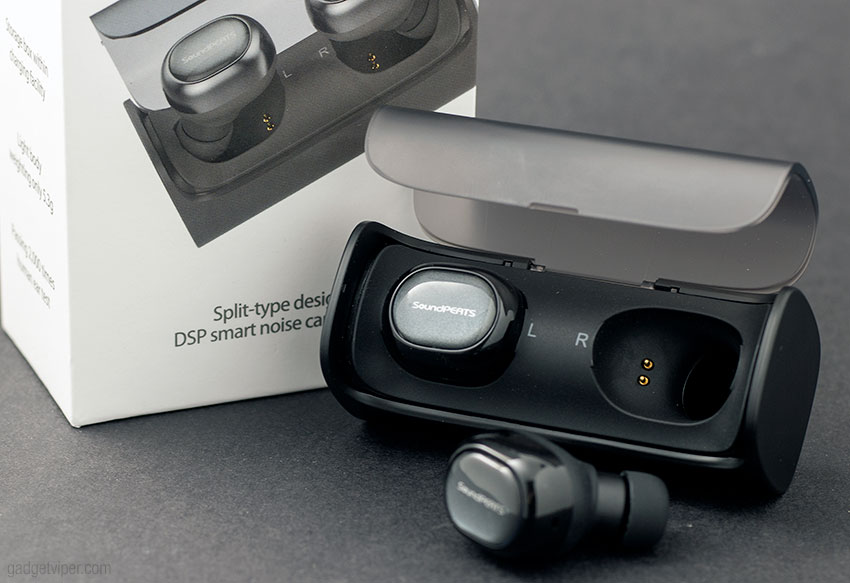 Its compact size means you can easily carry around the dock inside your pocket. This will provide a safe place to store your earphones and will also keep them topped up when not in use. There is a small LED indicator on each earpiece that will glow red while charging which takes around one hour to complete.
The charging dock will provide three full charges to the earbuds before it will need to be recharged again.
To recharge the dock, simply plug the micro USB cable into the rear of the unit and connect it to a USB port on a PC, wall adapter, or portable power bank. The charge is complete when the LED on the rear of the dock turns blue.
Specifications and Features
| | | | | | | |
| --- | --- | --- | --- | --- | --- | --- |
| 4.2 | CSR 63120 | CVC 6.0 | 10m | 3hrs | 1h | 80hrs |
Pairing the Q29 Earphones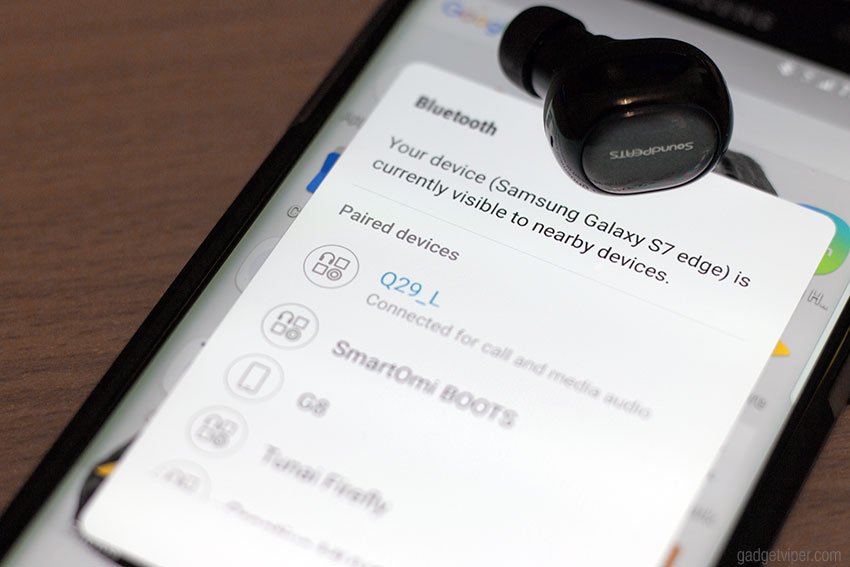 Pick either the left or right earpiece and press the button for five seconds to enter pairing mode.  It will then begin flashing red and white. Q29_L or Q29_R should now appear on your phones list of available devices.  Once selected, it will become the primary earphone. Now just hold the button on the other earbud for a few seconds and it will automatically pair with the first one.
Mono Mode
The SoundPeats Q29 earphones can be used independently from each other. This is useful if you want to make hands-free calls or keep an ear free for hearing surrounding noise.
Stereo Mode
When the Q29's are being used in stereo mode, either button will provide control for music playback, but only the side that you paired first will control hands-free functions. Either button will also power off both sides.
Controls
A single press of the button with play or pause music and a double tap skips to the next track. Unfortunately, there's no volume control or any ability to replay the last track. Both of those functions would need to come from the phone.
The Soundpeats Q29 Earphones are compatible with Siri and Ask Google. You just need to hold the button down for one second on the earpiece that's paired to the phone.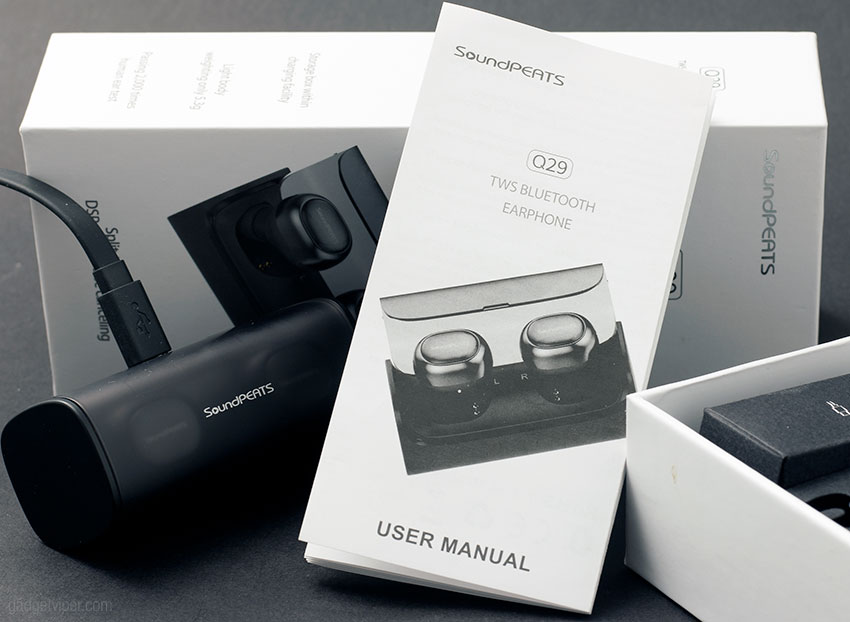 The manual does a great job of explaining all the controls, there's also a troubleshooting guide, which thankfully I've had no reason to use.
Sound Quality
As with all earphones, the sound quality is largely dependant on the fit inside the ear. With the buds that came attached, I was unable to get a good seal and the sound felt distant and lacked richness. After switching over to the larger size, the audio quality was vastly improved as was the level of passive noise reduction.
Assuming you have a good seal, you'll have very little complaints with the sound. It's well balanced with clear mids and highs and a punchy bass level.
Hands-Free Calling
When a call comes in the music will stop and a very romantic sounding ringtone will play from the side paired to your phone. If you press the button once, it will take the call and if you hold the button for one second, it will reject the call. I found the quality of the microphone perfectly good. I've taken a number of calls and had absolutely no complaints about the volume of audio quality.
The Downsides
As with just about every set of fully wireless Bluetooth earphones I've tested, there are occasional drops in connection whenever there's an obstruction between the phone and the earbuds. It's not enough to bug me and it's only for a fraction of a second, but for someone who demands perfection, it might just be enough to become annoying.
I've sat here at my desk listening to music while writing this review and it hasn't missed a beat. Earlier, however, I was jogging around the park with my phone in the pocket of my shorts. I'd say it dropped for a split second at least once on every track.
What else? The playtime was closer to 2.5 hours than the three hours stated in the specifications. This may be largely due to the volume I listen to my music at. If I had it at a moderately low volume perhaps it would last the full three hours.
Verdict
The upgraded Soundpeats Q29 Bluetooth earphones offer good quality sound performance at a very reasonable price. The design is pleasing to the eye, the earbuds are comfortable to wear, and the charging dock is small enough to carry with you. As far as affordable fully wireless earbuds go, these are up there with the best. Just be prepared for the occasional drop in signal if you're using them during activities. For me, it's a small price to pay to get rid of the thudding sound a wire makes as you move around.
Price updated – 30th of August 2017 at 09:30 GMT
*Product prices and availability are accurate as of the date/time indicated and are subject to change.
I hope you found this review useful, if you did, please leave a comment below or share it socially – Thanks!