It's not often that we need to go buy a wall mounted TV bracket, in fact, they will most probably outlast the TV that you fix them.  So, I guess this means you should spend a fair amount of money on a decent bracket, especially if you plan to hang a hugely expensive and heavy plasma or LED TV on it?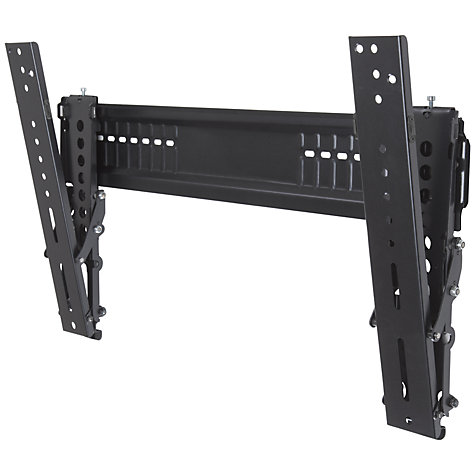 With high end TV wall mounted brackets costing us much as £100.00, surely they must have something special about them to set them apart from more affordable options – Take a look at the AVF TV Bracket here- John Lewis
Suitable for 36″ – 70″ TV's
Maximum TV weight – 55kg's
Tilt function
Beyond the fact that it looks well made and has a very pleasing design, lets face it once you place the TV on it, the bracket is then hidden. There could be a hideous picture of your mother-in-law laser cut into the steel and you would never have to look at it until the day finally comes when you get permission to get that upgraded TV you have been pining over for months.
When you have an item like a TV wall bracket that serves the sole purpose of providing a suitable and reliable fixing for your TV, the only real factors should be:
Will my TV fit on it?
Will the bracket be strong enough to take the weight?
Does it tilt?
How much does it cost?
The AVF model above is currently on sale in John Lewis stores for £99.95, and as their policy is to be never knowingly undersold, this must be a deal right? Well how about you buy a TV bracket that also tilts and supports over 25kg's more  weight (maximum of 75kg's) for only £6.99
Surely a TV bracket for just £6.99 will somehow fail, sending your pride and joy crashing down to the ground?  In actual fact, it will function just as well as the bracket costing an extra £92.00 more, and they will both look identical once a giant flat screen TV is fitted over the top of them.
The TV Bracket below is made by Habitat and available on Amazon
at prices starting at only £5.99 they fit 99% of TV's, will prove equally as easy to install and will work just as well as the AVF model. The only real deciding factor when making your choice between a high-end TV bracket and a more affordable bracket is how much money you have to burn.