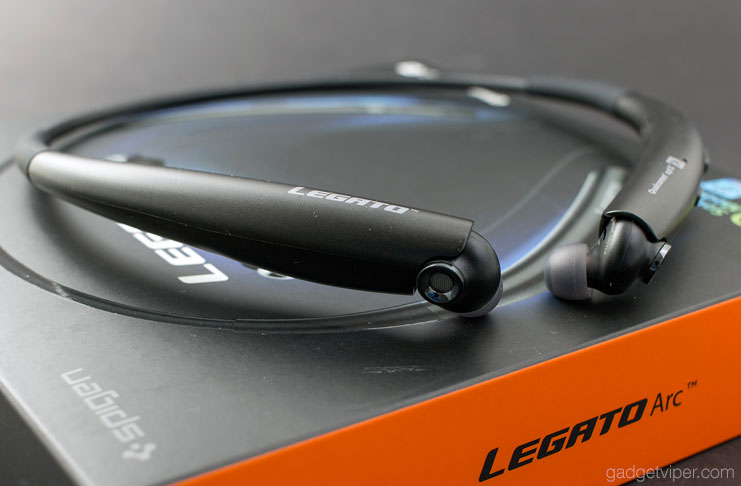 Legato Arc Neckband Headphones
Ultra-lightweight around-the-neck Bluetooth headphones jam-packed full of features.
The Legato Arc's offer HD dynamic sound with three audio settings, auto-retracting earbuds, nanofiber cables, and fast charging technology.
Highlights and Features
Ultra-lightweight earbuds and cables
Bluetooth 4.1 with dual-pairing and apt-X

14mm dynamic drivers and 3 sound modes

Handsfree calling and Siri / Google control
Auto-retracting nanofiber cables.
10-hours music and fast charge technology
Pros and Cons
+
amazingly lightweight earbuds and cables, user-friendly controls, secure and comfortable neckband, auto-retracting earbuds, vocal battery notifications.
–
The nanofiber cables are so thin and light, I have a fear that they could fail – only time will tell (so far so good though)
Where to Buy?
Price updated – 6th of January 2019 at 10:00 GMT
*Product prices and availability are accurate as of the date/time indicated and are subject to change.
Legarto Arc Neckband Headphones – Full Review
I've put my trust in Spigen products for many years now. Every time I get a phone upgrade and I'm looking for a case, they are the first brand I turn to.
It pleases me to see they have ventured into the Bluetooth headphone market. With any luck, they'll maintain an equally high standard –  let's find out!
Unboxing
The Legato Arc's come inside a neat retail box along with a user manual, USB charging cable, and two sets of replacement earbuds. There's no carry case included, but to be fair,  the easiest place to put these when not in use is around the neck.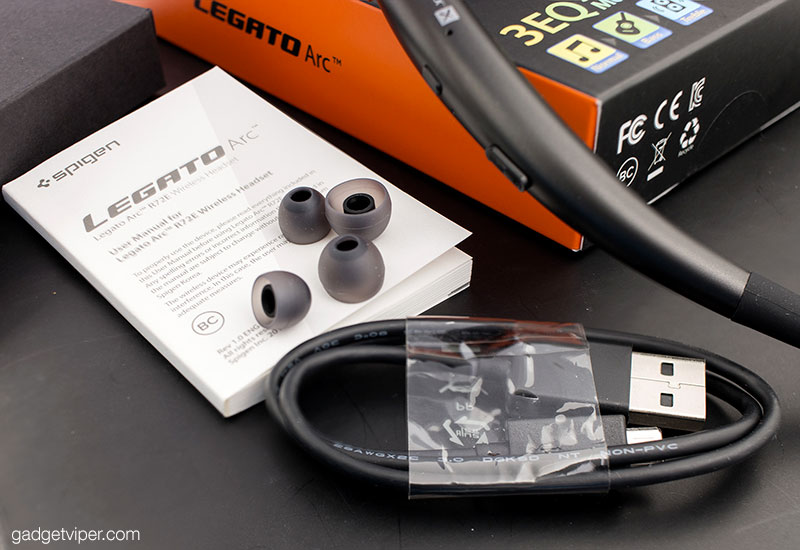 It may just be an age thing (I turn 41 tomorrow) but the user manual has some extremely small print inside. I guess it saves on trees which is a good thing, but if the trend continues, I'll need to invest in a magnifying glass.
Design and Build Quality

The Legato arc headphones feature a memory flex strap that tapers out to about the thickness of a finger and curves downwards to sit naturally against the collarbone. Having worn countless other neckband headphones, these ones are exceptionally comfortable. They are also extremely lightweight, so much so that I'm frequently forgetting I'm even wearing them – Perhaps that's also an age thing…
Retractable Nanofiber Headphone cables
The most impressive design feature from a visual perspective are the ridiculously thin retractable cables. They are so thin you could probably thread them through the eye of a needle. I must admit, it does have me a little worried about their durability. Spigen say they are extremely strong due to a Kevlar core, but only time will tell, I guess.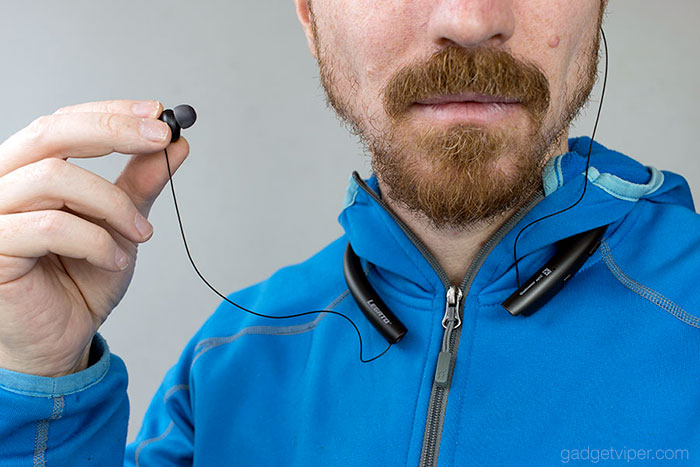 The upside of having a nanofiber cable is that there's hardly any weight to tug against the earbuds and far less noise from contact against clothing. This is enhanced even further by the auto retracting cord. You can pull it out to the desired length and then slowly let it return until it reaches a stopping point. This ensures you have just the right amount of slack. To release it, you just need to pull it out again and let it retract at speed, it will then nest back into the neckband.
The Controls
All the controls and the micro USB charging ports are found on the left arm. The port is positioned on the inside edge and is well protected with a close-fitting cover.
On the outer edge, there's a multi-function button that will power on, play/pause music, access Siri/Google and toggle the 3 sound modes.
There's also a really well-designed toggle for volume and track selection. A quick flick of the toggle will adjust the volume level and a longer slide will skip tracks.
The two controls are set far enough apart to avoid any confusion when manually controlling the headphones and the single slider works way better than having two independent buttons.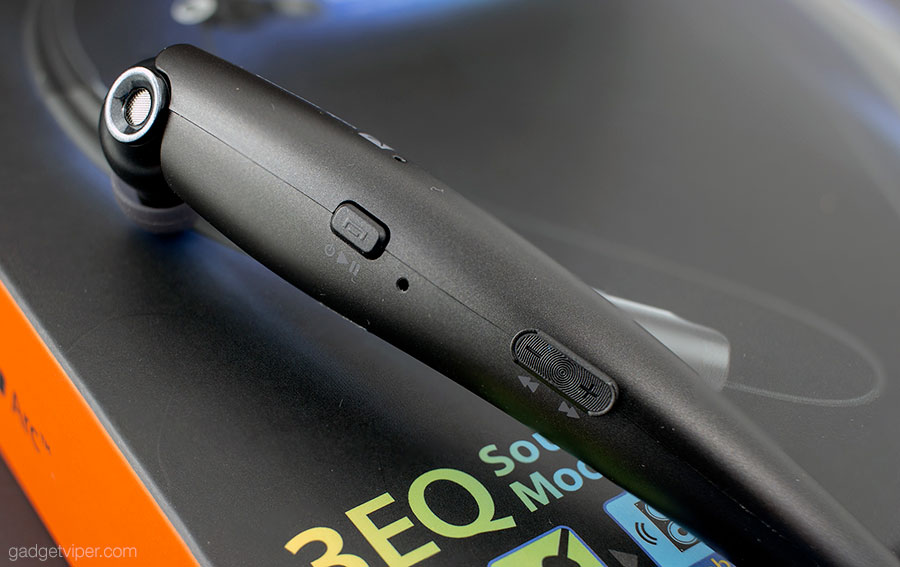 Features and Specifications
The Legato Arc R72E neckband headphones have a decent battery life of up to 10 hours depending on your listening volume. They will take 2 hours to fully charge, but will also fast charge over 5 minutes to provide an hour of playtime.
| | | | | |
| --- | --- | --- | --- | --- |
| V4.1 with apt-X (10m Range) | 10 Hours | 10 Hours | 2 Hours | 600 Hours |
What I really like about these, which I've not encountered on most other neckband headphones, is the vocal notification of the remaining battery level. Whenever you turn them on, you hear their battery status. You can also press the volume down slider with the music paused for an update.
There are a ton of handsfree features for when you're using them to make and receive calls. I won't bore you with all the controls, but I will say that they work just as well as the LG Tones and the call quality is great.
Sound and Performance
The Legato Arc's feature a 14mm dynamic driver along with Qualcomm apt-X audio codecs. They produce a good sound quality and are reasonably loud. These headphones come with 3 equalizer modes, There's the default soundstage, one which favours the high-end and another that's more bass driven. To toggle between modes you just double tap the multi-functional button.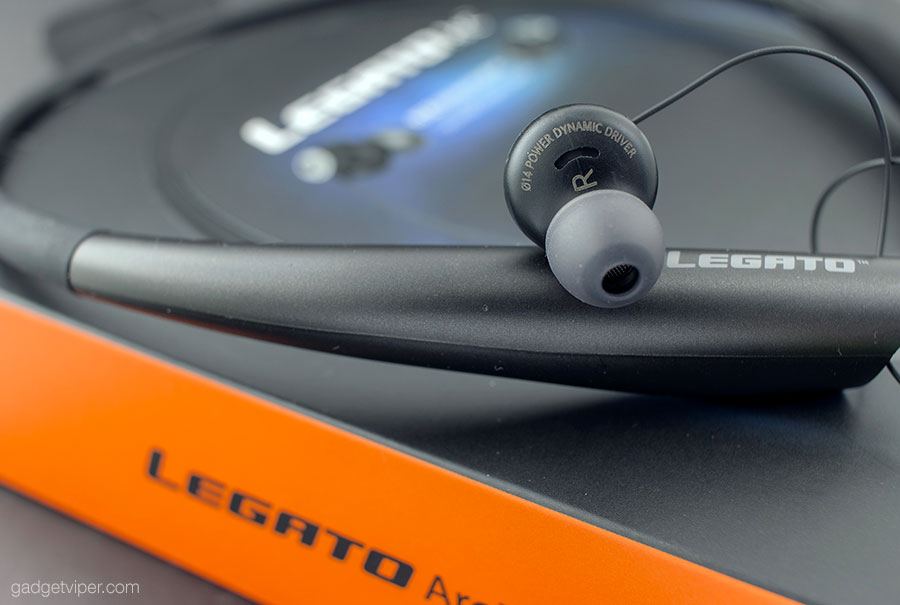 The earbuds appear to be open backed, which means there will be a fair amount of external noise at low volume levels. This may not suit everyone's tastes, for me, however, it's ideal. I prefer to keep some awareness of my surroundings.
Verdict
For a first attempt, I think Spigen have done an amazing job. The Legato Arc Neckband headphones are easily on par with most LG Tone models. As long as the ultra-thin nanofiber cables remain intact, then these are definitely worth the price tag – (I'll update this review if I run into any troubles)
Here's an update: I've been using these neckband headphones everyday and it's been 5-months since writing this review. I'm happy to report they are working great!
Price updated – 6th of January 2019 at 10:00 GMT
*Product prices and availability are accurate as of the date/time indicated and are subject to change.
I hope you found this review helpful. If you did, please share it socially or leave me a comment below – Thanks!