STM Radial 15″ Laptop Bag
Designed to carry and protect your laptop, tablet, and mobile devices. The STM Radial features the SlingTech system – A padded section suspended from the base of the bag.
Highlights
Durable water resistant fabric
Quick-cam strap adjustment
SlingTech and CableReady technology
Lifetime warranty
Pros and Cons
+
Great build quality, padded and suspended laptop section, water resistant material
–
Not as affordable as some other similar laptop bags
Where to Buy?
Price updated – 26th September 2016 at 15:30 GMT
*Product prices and availability are accurate as of the date/time indicated and are subject to change.
The CableReady system makes this bag ideal for charging mobile devices with an external powerbank.
Full Review
The STM Radial laptop bag is designed to comfortably fit a 15″ laptop with ample space for additional mobile devices. The weather resistant outer material feels extremely durable and comes in a range of three colours: black, steel and Moroccan Blue.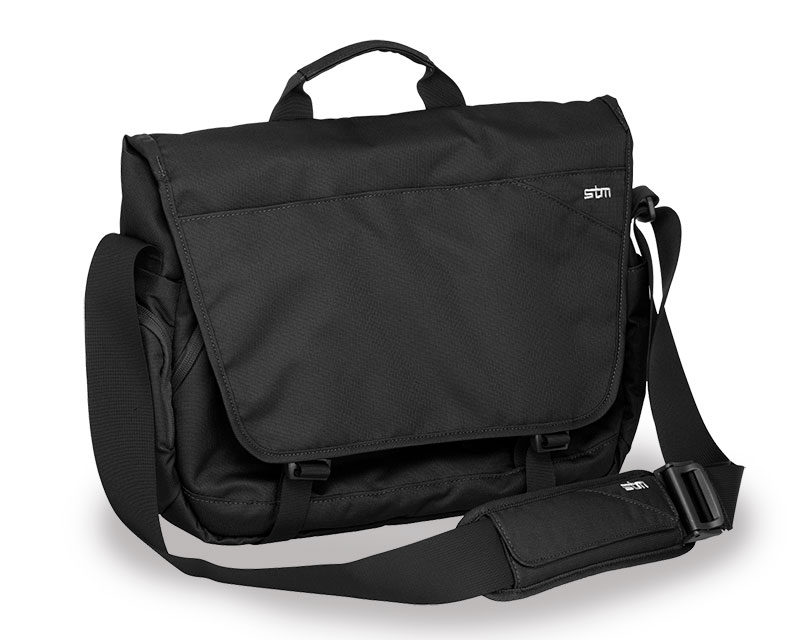 | | | | | |
| --- | --- | --- | --- | --- |
| 300D Water-Resistant | 200D Poly | 10L | 23.5 x 33.5 x 3 cm | 0.9kg (1.98lbs) |
There's a good sized zipped pocket on the front, two side pockets, and a pouch on the rear for reading material. Stitched to the rear compartment is a length of webbing designed to slip conveniently over your wheeled luggage handle.
The STM Radial messenger bag can be carried like a briefcase with the top handle, or more comfortably on the shoulders or across the body. The main strap features a removable shoulder pad with a non-slip inner surface.
Within the bag, there's a huge number of compartments, pouches, and sections – almost too many to count. Really handy for organisation, but possibly a few more than you'd actually need.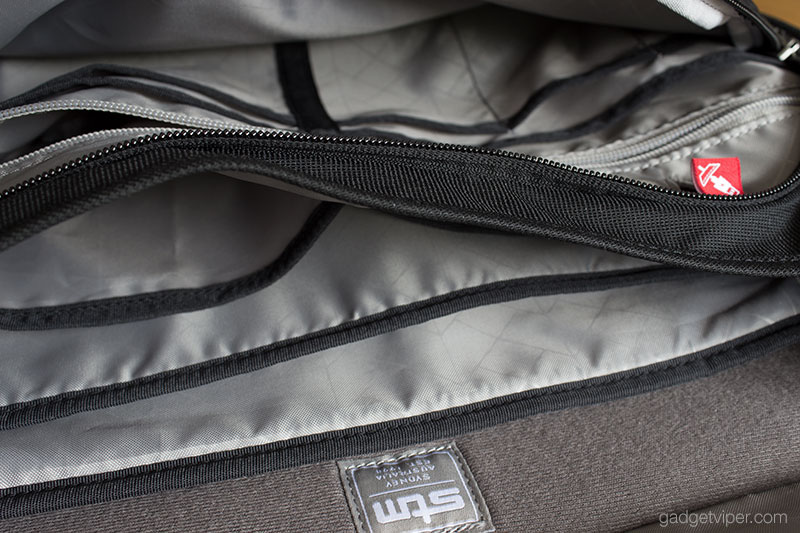 All the internal sections are lined in a light grey material and stitched with a neat black trim. The main laptop compartment has a soft padded surface on all four sides. This section is suspended in a sling to protect your laptop or tablet from damage.

Within the side and front pockets are cable routing ports. These are designed to pass a USB or Apple lightning cable through into different sections of the bag.
The side pocket is large enough to hold a mid-size portable charger.  Alternatively, if you have a high capacity power bank, this can be stored in the front section.
The combination of the SlingTech and CableReady features make this bag ideal for anyone travelling with a laptop and tablet. There's enough room inside for a large set of headphones and an additional layer of clothing.
Verdict
The STM Radial laptop messenger bag may not be the cheapest option for those on a budget but it's well worth the money in my opinion. The build quality is great, it's comfortable to wear and if you were to accidentally drop it, the SlingTech system could save you from a huge repair bill.
Price updated – 21th September 2016 at 15:30 GMT
*Product prices and availability are accurate as of the date/time indicated and are subject to change.
About STM
As a company that's built its reputation on being an innovator in its field, STM Brands is now making its mark as a pioneer in marketing and promotion too. The Australian-based designer and producer of inventive bags, cases, and tech accessories has unveiled its use of augmented reality (AR) at the Consumer Electronics Show (CES) in Las Vegas.
At the world's preeminent exhibition of new products and technologies, STM Brands has showcased the latest products from the parent company's two arms, STM Goods and Element Case. They'll use groundbreaking technology to give consumers an entirely new way to explore the features and benefits of their backpacks and mobile phone cases.