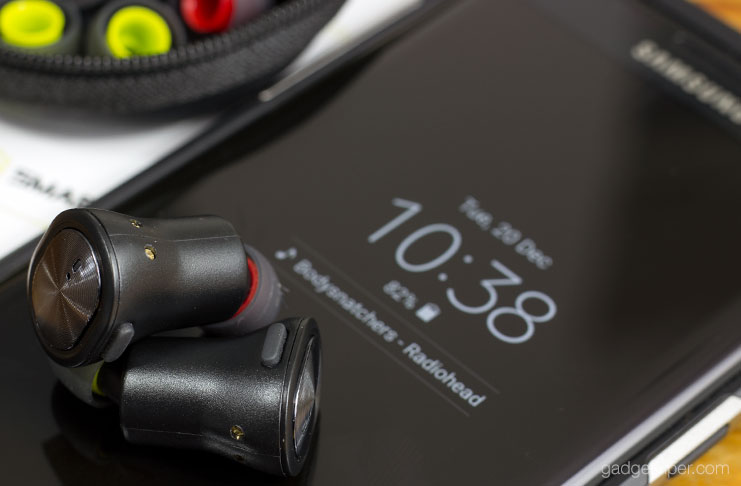 SmartOmi Boots – Wireless Earbuds
Fully Wireless Bluetooth earphones with over 5 hours playtime per charge. The SmartOmi Boots can be paired together for music or used as two independent Bluetooth headsets for hands-free calling.
Highlights
Wireless Bluetooth 4.1 + EDR
Over 5 hours music or talk time
2 Hours charge time, 200 hours standby
Can be used as independent headsets
Auto-Off feature (After 5 minutes)
Pros and Cons
+
Totally Wireless, Good battery life, reliable connection, Each earpiece can work independently, really good value for money.
–
They stick out slightly further than some other Earbuds when worn – (picture at bottom of review)
USE COUPON CODE WR2SC3TD TO SAVE A FURTHER 15%
Where to Buy?
Price updated – 26th of December 2016 at 15:30 GMT
*Product prices and availability are accurate as of the date/time indicated and are subject to change.
SmartOmi Boots offer a reliable and completely wire-free Bluetooth connection at an affordable price.
Intro
I lost some confidence in affordable fully wireless Bluetooth earbuds after reviewing a budget set from a different brand. Not only did I find them unreliable, the battery life was pretty terrible too. These SmartOmi Bluetooth earbuds were either going to restore my faith in the technology or shatter it completely.
After 3 weeks and over 15 hours of testing, I'm happy to declare that it is possible to find a decent pair of fully wireless earphones without having to spend a small fortune. So if you're looking for a set, the SmartOmi Boots might just be what you're looking for – let's find out why.
SmartOmi Boots – Full Review
The SmartOmi Bluetooth earbuds arrived in a no-thrills box. This type of packaging seems to be fairly standard these days with products sold solely online.
The SmartOmi Bluetooth earbuds feel slightly heavier than the last set I reviewed, but that's certainly not a bad thing. The construction is considerably more robust and the added weight somehow makes them feel more secure. The colour coded eartips make identification simple and the oval design is easy to position correctly inside the ear. The fit was so good, I had no need to use the included ear hooks.
Each bud features a large play/pause button on the face and a side button for volume control and track selection. The left earpiece reduces the volume or selects the previous track when the button is held. The right side increases the volume level or skips to the next song.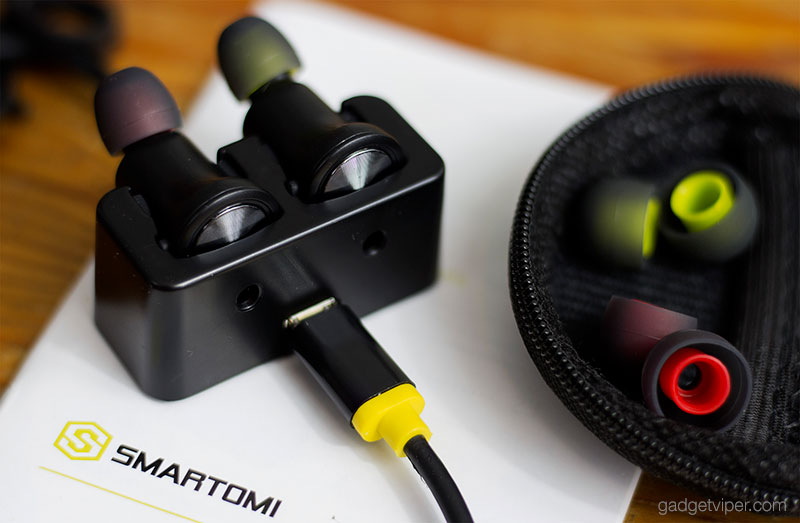 The USB charging cable is relatively short measuring around 12 inches in length.  Its bright yellow detailing makes it easily identifiable and it fits well inside the carry case along with the buds and charging dock.
The Charging Cradle
Unlike some charging docks, this one doesn't have an internal battery to allow you to recharge the Bluetooth earbuds when away from a power source. I thought I might miss the utility, but it hasn't been a problem at all.
A charge of 2 hours provides between 5 and 6 hours of music. I've found this to be more than enough to last me a few gym sessions.
By carrying the charging dock inside the carry case, I can easily top them up on the way home using an in-car charger or by connecting it to a portable power bank.
Bluetooth Pairing and Linking the Earbuds
A single SmartOmi Boot can be paired and used on its own. This is really handy for making calls while still keeping an ear free for your surroundings. The main button will activate Siri or Google with a double tap. You can then use voice dialing to call a contact or even compose a text message without picking up your phone.
I have been toying with the handsfree features with the SmartOmi Boots paired to my Galaxy S7 Edge. I've been really amazed at how well it functions both for calls and for selecting tracks from music apps.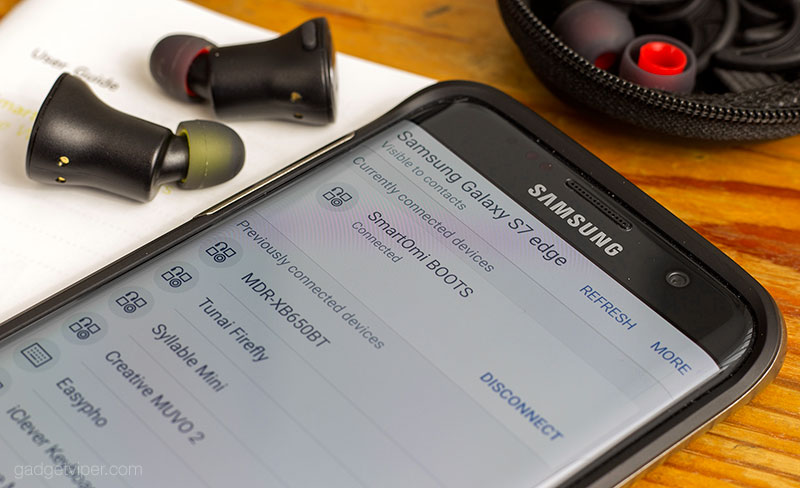 To introduce the other earpiece, you simply need to turn it on and it will seek out and pair with the host automatically. Either the left or right side can be used as the host, depending on which is paired to your mobile device first. The second side will take the role of 'guest'.
The ability for each earpiece to act as the host has a really useful and unexpected side feature. By factory resetting the SmartOmi Boots, you can then pair each side to its own mobile device. This effectively gives you two independent headsets for the price of one.
Performance
Usually, when talking about the performance of a set of Bluetooth headphones, it's mostly based on sound quality and battery life. In the case of independent Wireless earbuds, I've found that one of the most important factors is the reliability of the link between the left and right earpieces. The SmartOmi Boots excel here, they've proved extremely consistent with practically no drops during an entire 5 hours of music.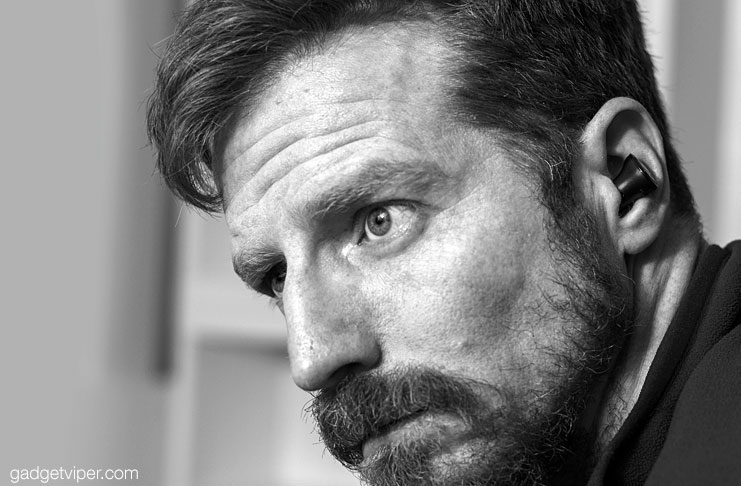 On the subject of audio quality, these earbuds surpassed my expectations. There's a good balance of sound, it's rich, loud and distortion free at full volume. The microphone also works well for handsfree. I've made more than a dozen calls during testing and haven't been asked once to speak up or repeat myself. Usually, if the quality is poor, it isn't long before I get told about it.
A tiny bump in the road
On one occasion during the testing of these Bluetooth earphones, I experienced some sort of software failure. I think it might have happened while pairing the guest earpiece as the host was playing music.
As soon as I returned them to the charging dock, they reset and continued to function as normal.
In SmartOmi's defence, it does state in the manual not to use the host while linking the other earbud. Fifty reviews ago, I wouldn't have even bothered to mention it. These days, however, I'm far more critical of the smaller things.
Verdict
I've tested a few sets of Bluetooth earbuds that have absolutely no wires and these are the best ones I've come across for under $75.00. The audio quality is solid and the 5-hour battery life far exceeds the others. The link between the left and right ear is stable and they're just as comfortable to wear as regular in-ear headphones.
USE COUPON CODE WR2SC3TD TO SAVE A FURTHER 15%
Price updated – 26th of December 2016 at 15:30 GMT
*Product prices and availability are accurate as of the date/time indicated and are subject to change.
I hope you found this review useful, if you did, please leave a comment or share it socially with the links below – Thanks!
To see the complete range of SmartOmi Audio Products, please visit their website.