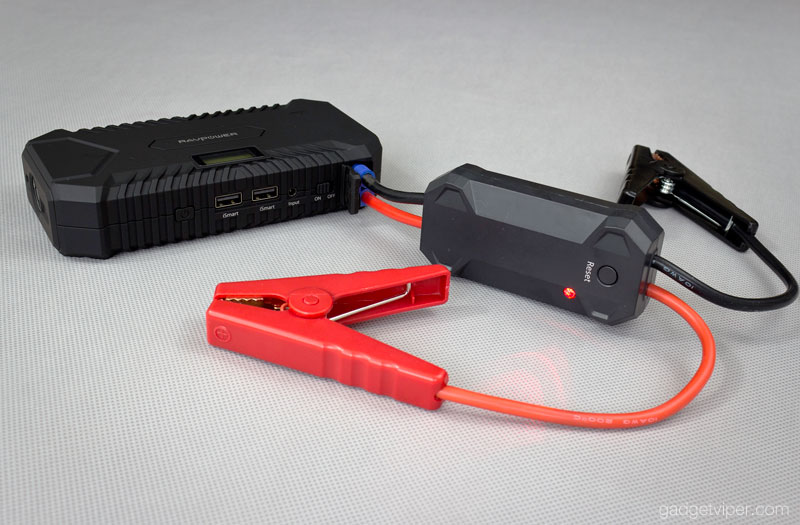 RP-PB048 RAVPower Car Jump Starter
A highly portable jump starter designed to be robust and safe to use. The RAVPower RP-PB048 features a bright display and LED status indicator light that ensures the clamps are connected correctly.
It comes complete with a canvas case, wall adapter, car charger and two USB cables for charging mobile devices.
+
Robust design, Good safety features
–
Standby time yet to be tested
Highlights
Up to 20 Jump starts from fully charged
550A peak can start engines up to 5L
14000mAh battery (5 phone charges)
2 iSmart USB charging ports
Multiple safety features
Built in LED torch with emergency strobe
RAVPower portable jump starter
Amazon
price: $159.99 $49.99*
Price updated on the 21st of June 2017 at 10:10 GMT
*Product prices and availability are accurate as of the date/time indicated and are subject to change.
Intro
Testing a portable jump starter requires a car with a flat battery. It would be easy to skip that part, but I like to be thorough. My poor beat up old Honda Accord is currently looking so sorry for herself.  Her fading full beams and filthy bodywork make me feel a little ashamed. I'll give her a wash after I've jumped her back to life – that's a promise.
Design and Build
The RAVPower portable jump starter and accessories are neatly contained inside a heavy duty canvas case. Each item is conveniently retained in its own sleeve or elasticated strap.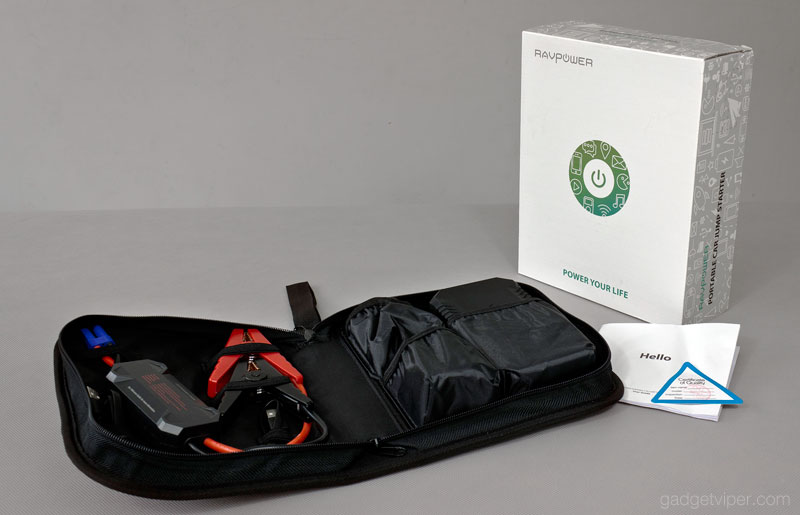 These items include a set of jumper cables, a 15V wall charger, an in-car charger, two USB cables and a user guide.  All the accessories are well made and of a high quality.
The USB charging cables are branded and feature flat anti-tangle leads. It's always good to see non-generic components included with a charging device.
The jump starter measures 17cm x 8cm x 3cm and weighs 460 grams. Its matte black body has chamfered corners and a ribbed design that's very easy to hold.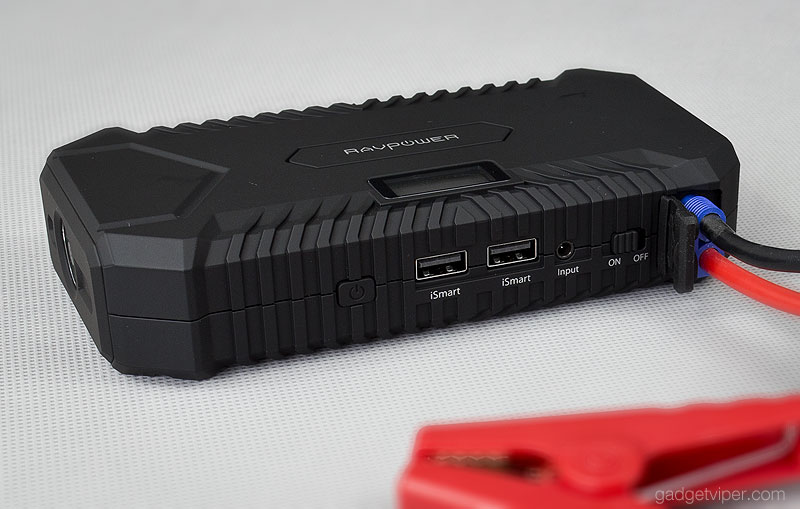 All of the controls and ports are positioned on the front edge. There's a power button, two USB iSmart charging ports, DC in, an on/off switch and a protected output for the jumper cables.
On the top surface is a small LED display to show the remaining power and its current charging mode. When a device is initially connected it will glow bright blue and fade to grey after a few seconds.
It came out of its box with 100% charge – A positive sign that the standby time on this device is going to be good.
The red and black jumper cables are easily identifiable and there's good tension on the clamps. The teeth open to about 40mm, which should accommodate most battery terminals.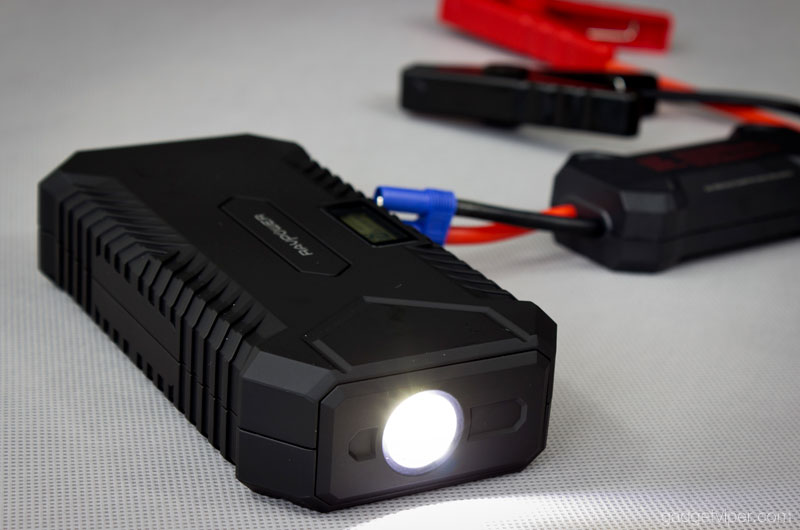 As with most portable jump starters, the RAVPower RP-PB048 has a bright LED flashlight. It's activated by holding down the power button for 3 seconds. You can then cycle through the solid beam, S.O.S or Strobe modes with further presses of the button.
Features and Spec
The RAVpower portable jump starter puts out an impressive 550A of peak current. This is said to be enough to start a 5L engine. The instruction guide suggests that you make sure the unit has a minimum charge of 60% when jumping a vehicle. With a 14000mAh storage capacity, it should provide you with a substantially long standby time. This is an important consideration when choosing a jump starter. From previous experience with RAVPower external batteries, they have always performed exceptionally well.  I'll update this review with standby results in the coming months
Safety Features
The safety features present on the RAVPower RP-PB048 are as good as you're likely to find on a portable car starter. These include short circuit, low voltage, reverse charging, reverse polarity and temperature protection. Each state is identified by the LED indicator on the jumper cables.
Specs
Battery capacity:14000mAh
Max USB output: 4.2A (2x 2.1A)
Starting Current: 280A
Peak Current: 550A
Recharge time: 4 hours
Operating temp. : -20C to 60C (-4F – 140F)
This information is conveniently printed on the back of the unit and is also well detailed in the user guide.
The USB ports on the RAVPower portable jump starter are both 2.1A with iSmart technology. With a combined max output of 4.2A, it will simultaneously charge two devices at the maximum speed possible.
The 1400mAh capacity rechargeable battery will provide approximately 5 phone charges or fully charge an iPad.
Testing
With the old girl's battery fully depleted, it was time to give it a test.  I could have been lazy and told you guys how flawlessly it worked, but instead, I decided to film it:
Verdict
Hopefully, the video demo speaks for itself.  The RAVPower RP-PB048 is a top quality portable jump starter. Its build quality is solid and it worked perfectly. I can't think of a more useful device to keep in the glove box of your car.
RAVPower portable jump starter
Amazon
price: $159.99 $49.99*
Price updated on the 21st of June 2017 at 10:10 GMT
*Product prices and availability are accurate as of the date/time indicated and are subject to change.
Over the last couple of years I've reviewed six portable car jump starters. If you'd like to see the one I rate as the best of them all
click here
.