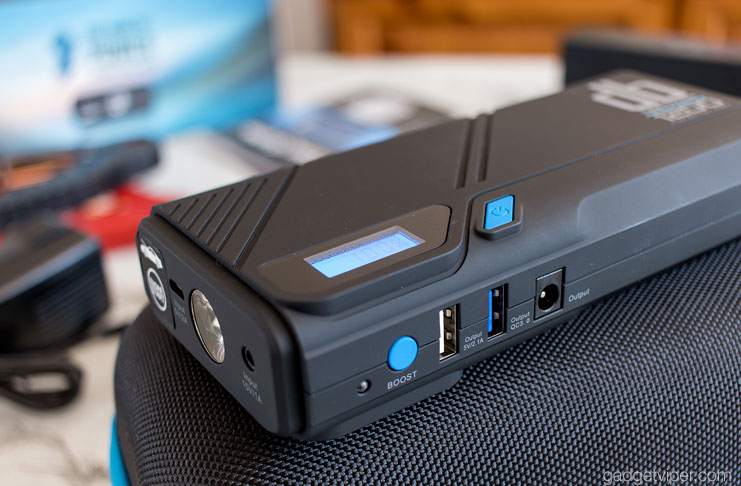 DBPower 1200A Car Jump Starter
The DBPower has multiple charging options including the capacity to add power to your car battery from the cigarette lighter socket!
After reviewing six other compact jump starters I've finally got my hands on one that has everything I'm looking for. – read more
Highlights
Compact and lightweight 12V Jump Starter
1200A peak (6.5l petrol, 5.2l Diesel engines)
Jump start up to 20 times per charge
Built-in Quick Charge 3.0 Portable Charger
Charges car battery via cigarette lighter
Bright LED Torch with SOS and Strobe
3 Year Warranty and fast customer support
Pros and Cons
+
Great build quality, multiple charging options, Qualcomm QC3.0 compatible, very compact
–
Manual override mode could potentially be activated by mistake.
Where to Buy?
Price updated – 15th May 2018 at 10:00 GMT
*Product prices and availability are accurate as of the date/time indicated and are subject to change.
The
DBPower 1200A
jump starter is a must-have multi-functional car gadget that could really get you out of trouble
DBPower 1200A Peak Jump Starter – Full Review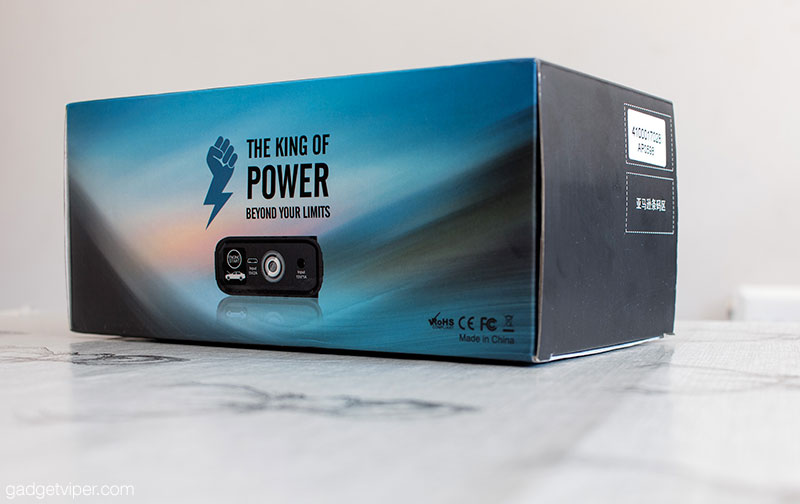 Unboxing
The DBPower 1200A Peak car jump starter comes inside an attractive retail box. On its side is a fist-shaped lightning bolt logo and the words "THE KING OF POWER – Beyond Your Limits" – Sounds like a challenge!
Inside the box is a rigid carry case which features a central zip that opens the case into two halves. The top section contains all the accessories which are neatly retained behind a mesh pocket. The jump starter unit is fitted tightly inside a moulded section underneath a padded flap. The case measures 23x12x10cms (9x5x4 inches) so it should fit comfortably inside a car glovebox.

What's included?
The DBPower No.1 jump starter comes with a wall adapter, 12V in-car charger cable, a 12V in-car charging lead, a Micro USB cable, user guide, and a set of jump leads.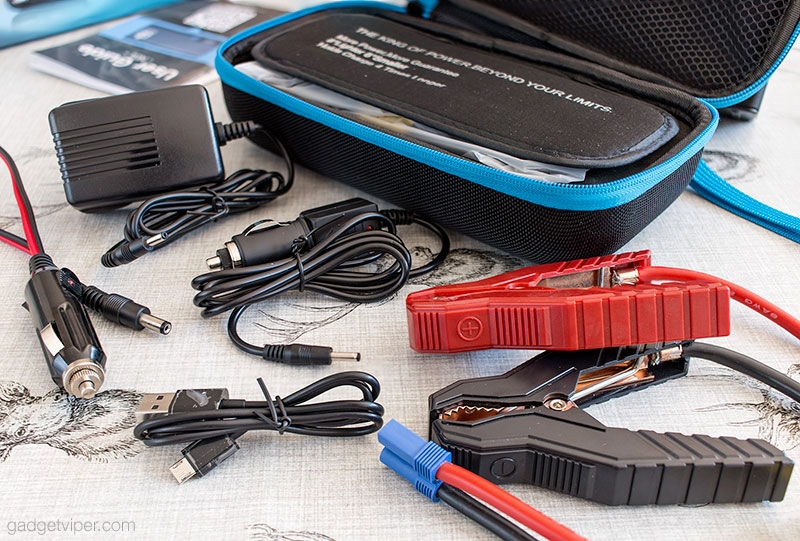 Having tested half a dozen other compact jump starters, I can confidently say that the jumper leads that come with this product are as good as you'll get.
They're very heavy duty with an impressively robust build quality. The copper plated crocodile clips open up to 3.5cm (1.4 Inches) and the tension is rock solid.
The Jump Starting Unit
Measuring just 18cm long, 8cm wide and 3.5cm deep, (7x3x1.4 Inches)  the DBPower is exceptionally compact. Its housing is made from a durable matte plastic that has an almost rubber-like texture that seems very resistant to marks and scratches.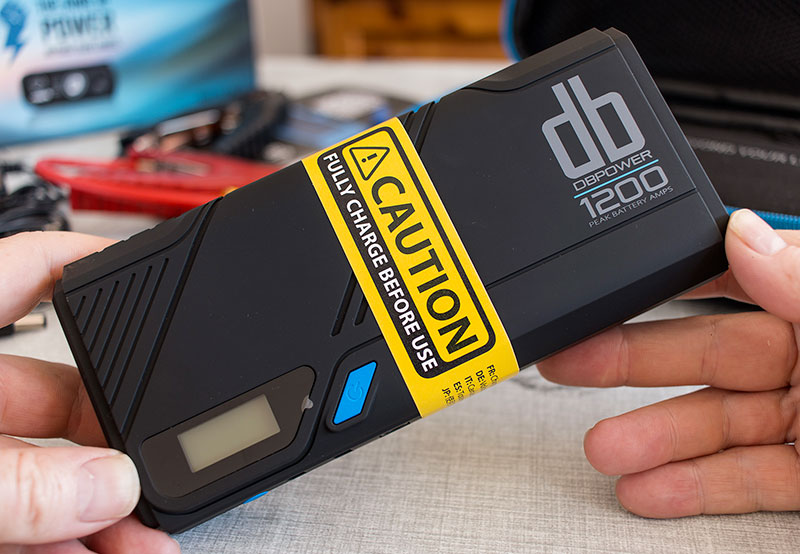 As with all products containing lithium batteries, it's always advisable to fully charge the unit before first use. Fortunately, it was already on 100% straight out the box which suggests it has a good standby time. This is an essential feature when it comes to portable jump starters.
On the top surface, there's a power button and a digital display that shows the remaining charge. A long-press of this button will activate the bright LED Torch on the side of the unit.
Further presses will cycle through the S.O.S and Strobe light modes, should you need to attract attention in an emergency.
Portable Charging Mobile Devices
On the front of the unit are two USB outputs. There's a regular port with a 2.1A max output and another that's Qualcomm Quick Charge 3.0 compatible. This is a great additional feature for anyone with QC2.0 / QC3.0 compatible phone. With the included micro USB cable, I was able to fast charge my Galaxy S7 Edge at its maximum speed.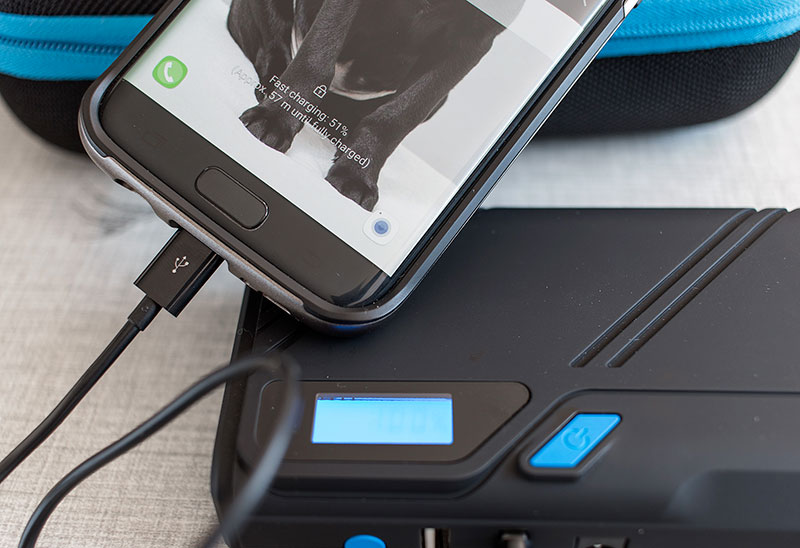 Unique Portable Jump Starter Features
A Quick Charge 3.0 port on a jump starter is a pretty unique feature, however, there's a couple more worth mentioning. Directly next to the QC3.0 port is an additional output that allows you to send a charge from your vehicle's cigarette lighter socket, directly into the car's battery.
Having it connected for between 5 to 10 minutes could restore just enough juice to get it started without even having to pop the bonnet. Although this method is not considered the best option, it could be great for anyone who's nervous about car engines.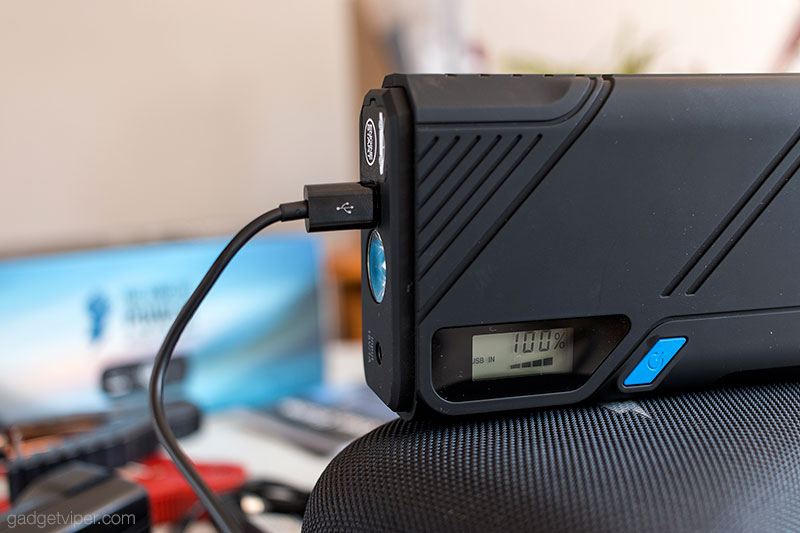 Lastly, I'd like to draw attention to the multiple recharge options. Most of the Portable car jump starters I've tested have had a single method (usually a wall adapter). The DBPower Jump Starter has three options. There's a mains adapter, a 12V In-car adapter that plugs into the cigarette lighter, and it will also charge from a USB port. Having the capacity to recharge it in your car is a great way of keeping the battery topped up over time.
Jump Starting your Car
This DBPower jump starter has a huge peak output of 1200A. That's enough to start petrol engines up to 6.5 litres and Diesel engines up to 5.2 litres. The manual does a great job of explaining the method. It also comes with a quick start guide with additional tips and best practices.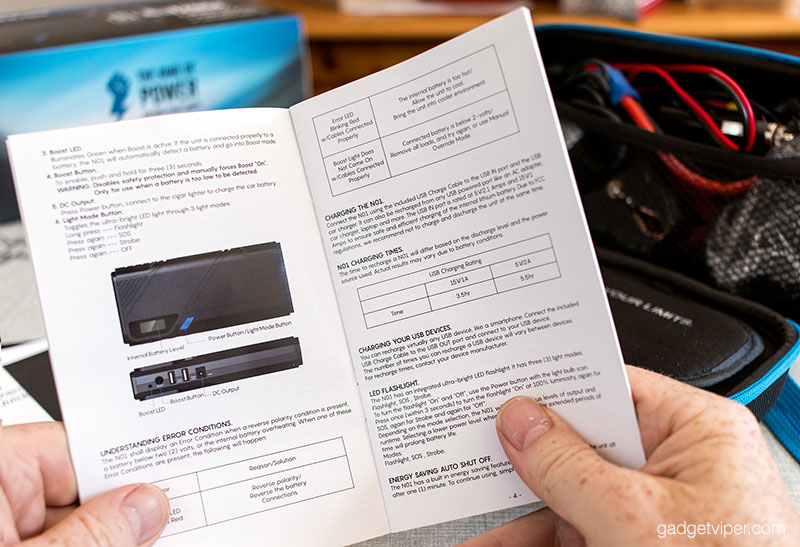 The process couldn't be more simple and there are numerous safety measures to protect you, the device and your vehicle. The jump leads can only be fitted to the unit one way due to the shape of the connector.
Once connected, the red and black clamps can be attached to your battery terminals. If all's well, you'll get a green light once you press the boost button on the unit.  This means the device has detected a good connection to a suitable battery.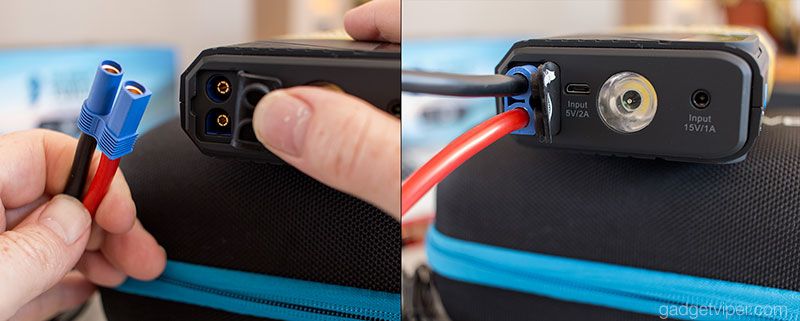 It's now ready to go and your car should fire up immediately when you turn the key. If it doesn't, try waiting a minute or so before attempting it again.
Safety Features
Should there be a solid red light, there's a good chance you've just clamped the red positive lead to the negative of your battery. In which case, you seriously need to get your eyes tested!
Should the car struggle to start and you are using the jump starter multiple times, you may see a flashing red light. If there is still a decent amount of power left in the device, it probably means the internal battery is getting too hot.  You'll have to disconnect the jump starter and wait until it has cooled off before trying again.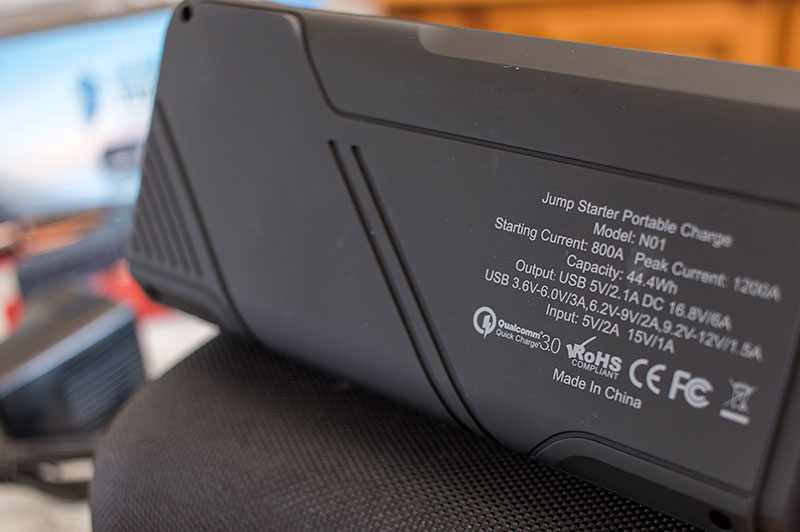 | | | | | |
| --- | --- | --- | --- | --- |
| 1200A | 44.4Wh | 3.5hr (15V/1A) 5.5hr (5V.2A) | 20 | -20C to +50C |
Manual Override – To Be Used With Caution!
The DBPower car jump starter has a manual override mode that can be activated by holding down the boost button for 3 seconds. This overrides all the safety features and should only be used if you're 100% sure it's connected correctly.
I'm guessing the reason for this feature is to bypass the battery check and allow you to fire up and engine without a connected battery. It's obviously important that you take care and ensure the clamps don't touch otherwise you'll be seeing a fist-shaped lightning bolt for real!
While I can see the usefulness of this feature, I think it might have been wise to add a warning message on the device about the bypass or extend the time needed to activate the mode.
Verdict
The No.1 DBPower is the best compact car jump starter I've reviewed to date and by a good margin. It's huge 1200A peak output, multiple recharge options and the quick charge 3.0 port are all great features. More notably, its capacity to feed power to the car battery directly from the cigarette lighter. This makes it the perfect car gadget for those who really don't want to get their hands dirty.
The DBPower jump starter is compact enough to fit in most glove boxes and its build quality is good enough for it to be used on a regular basis inside a garage or workshop. It may not be the cheapest jump starter on the market, but I think it's worth every penny and I can highly recommend it.
Price updated – 15th May 2018 at 10:00 GMT
*Product prices and availability are accurate as of the date/time indicated and are subject to change.
I hope you found this review useful, if you did please leave a comment below or share it socially – Thanks!