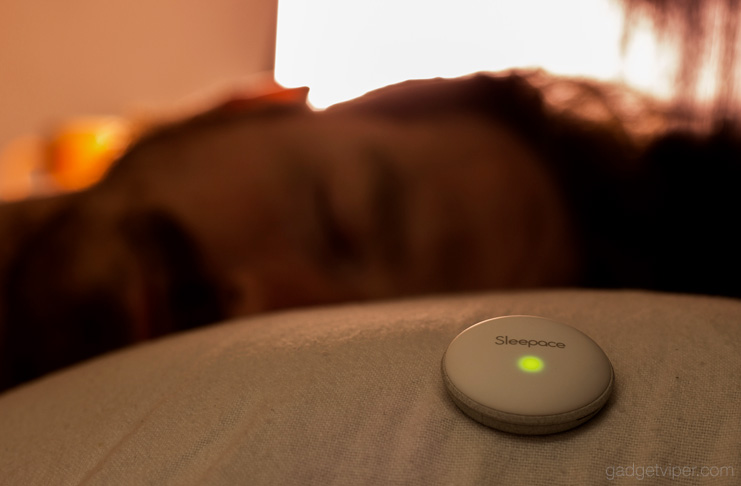 Sleep Dot – Mini Sleep Tracker
A pebble sized sleep tracker that monitors sleep cycles and body movement. Unlike other sleep trackers, the Sleep Dot doesn't need to be worn. It simply attaches to your pillow case and syncs to the Smartphone Sleepace App.
Highlights
Syncs to Smartphones with Bluetooth 4.0
Compatible with Android and Apple devices
3-6 months battery life (CR2032)
Can be used with the Sleepace Nox lamp.
Simple magnetic attachemnt
Pros and Cons
+
No need to wear the device to track your sleep, high-quality app, good battery life.
–
Magnetic attachment can be occasionally dislodged, bed partners can also cause inaccuracy.
Where to Buy?
Price updated – 4th of November 2016 at 10:30 GMT
*Product prices and availability are accurate as of the date/time indicated and are subject to change.
If you have a significant other, who goes to sleep before you, make sure they keep on their own side of the bed.
Sleep Dot – Full Review
Intro
Six months ago I reviewed the Sleepace Nox, a bedside lamp and wake-up light, alarm clock. I'm still using it today and love it to bits. However, to make full use of the Nox, you're required to keep your phone on and beside you while sleeping. With the introduction of the Sleep Dot, you can totally do away with the phone during the night. So for those looking for a complete sleep system, I highly recommend you check out the Sleepace Nox as a partner to the Dot. Now that I've finished plugging my favorite wake-up light, let's take a closer look at the Sleep Dot.
The Product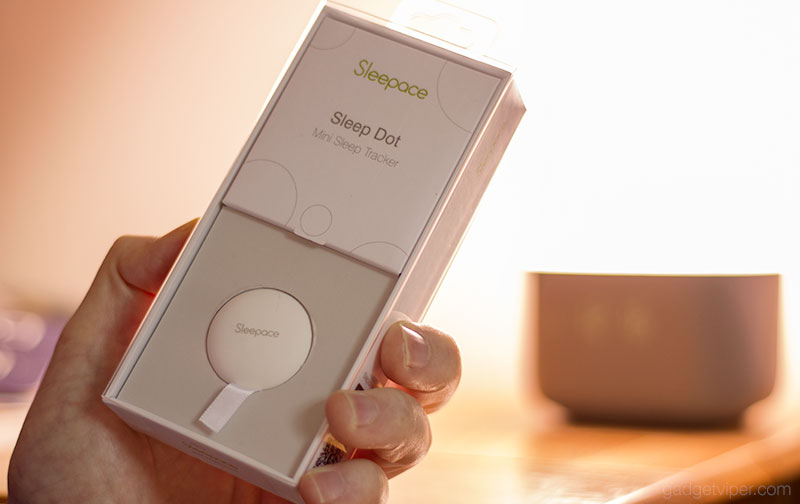 The Sleep Dot comes inside a good quality retail box, along with a quick setup guide in various languages. There's also a CR2032 button battery included, which is said to last over 3 months.
The product consists of two components. The main device, which has a matte white finish on the front, and a peppered grey on the sides and back.
The concaved rear of the Sleep Dot houses a strong magnet. This attracts the saucer shaped retainer, allowing easy attachment to a pillow.
Sleepace has included a little guitar pick shaped piece of plastic to pop off the back and install the battery. Once fitted, a green led light will begin flashing on the front. This means it's ready to be paired with your phone using the Sleepace app.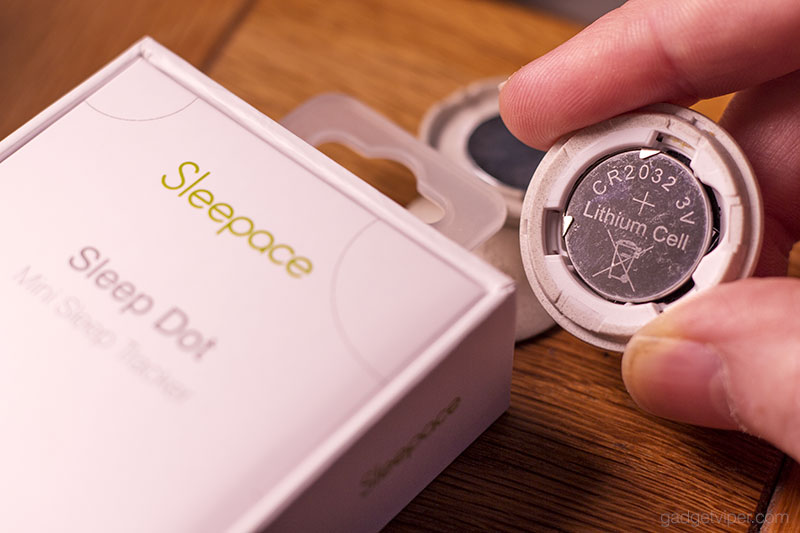 Before using it for the first time, you'll need to download the app on your phone and register an account. Once complete, the Sleep Dot will appear in the devices list and pair up with your phone.
You could also have multiple Sleep Dots paired to a single phone, if you were interested in tracking the sleep patterns of family members –  I'm thinking this might be a great way of making sure my boys are getting enough sleep.
Using the product.
I've had the Dot tracking my sleep every night for the last week. On the first night, I clipped the Sleep Dot to my pillow on the side I typically face. This wasn't ideal as I often rest my arm in that general area. I awoke to find the Dot had been knocked off during the night. Since relocating it to the other side, this hasn't happened and the data collected seems to be very accurate.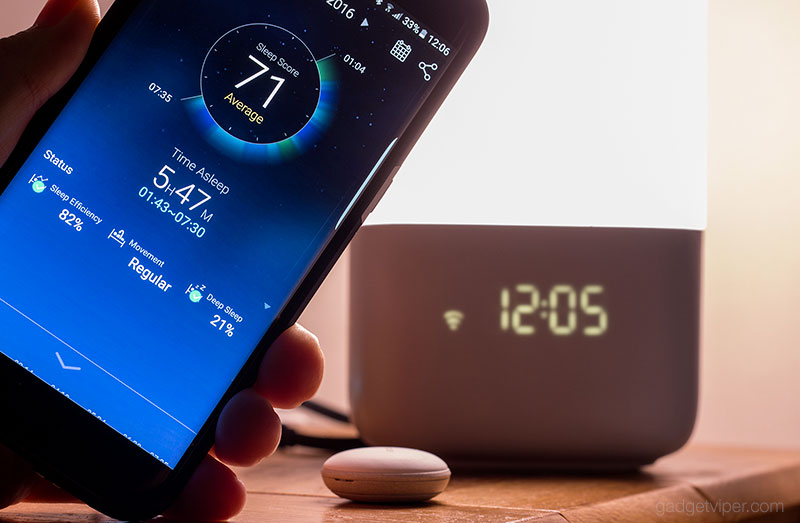 The Sleepace app is extremely user-friendly and well put together. It displays your results with easy to understand charts and offers explanations and suggestions to further improve your sleep quality.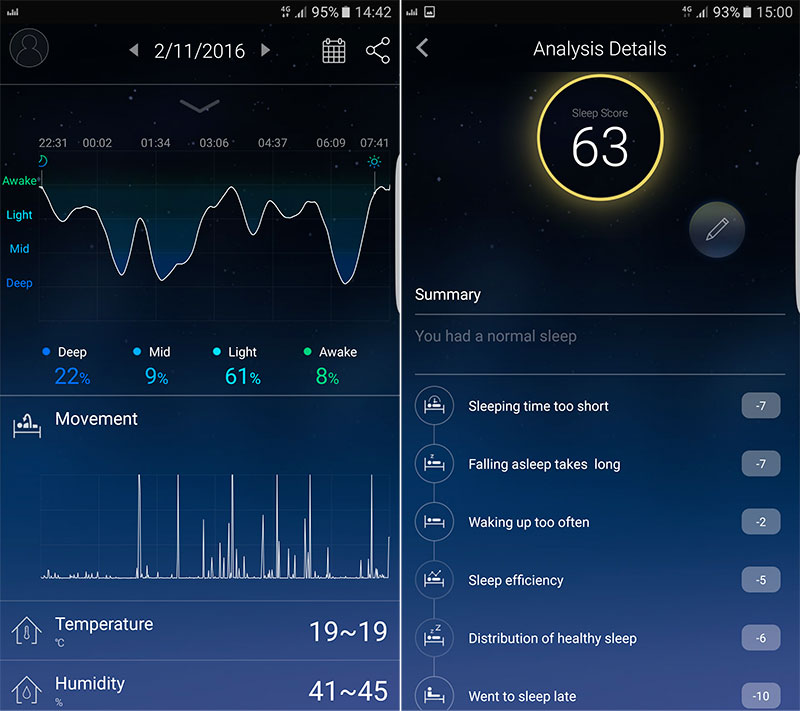 On the Analysis page, Sleepace scores individual areas of your sleep to generate an overall score for the night. Each item can then be clicked on, to read useful suggestions and tips to help correct any bad habits.
On the weekend, I decided to have a massive lay-in. I expected Sleepace to score me highly for those glorious 10 hours of slumber. However, I actually lost points for oversleeping, seems I can't win!
Verdict
The Sleep Dot is a great way of tracking your sleep patterns without the need for wearables. Its small size makes it very user-friendly and the long battery life takes the hassle out of recharging the product.
Owning the Nox lamp for the last six months has allowed me to see a succession of updates to the Sleepace App and to the firmware of the product. As is stands, I think it's the best sleep-aid software platform I've used and I'm confident there will be even more improvements to come.
For anyone considering buying the Sleep Dot, I'd highly recommend you also check out the Nox wake up light, as they really do work well together.
Price updated – 4th of November 2016 at 10:30 GMT
*Product prices and availability are accurate as of the date/time indicated and are subject to change.
I hope you found this review useful, if you did, please leave a comment below or share it socially – Thanks!