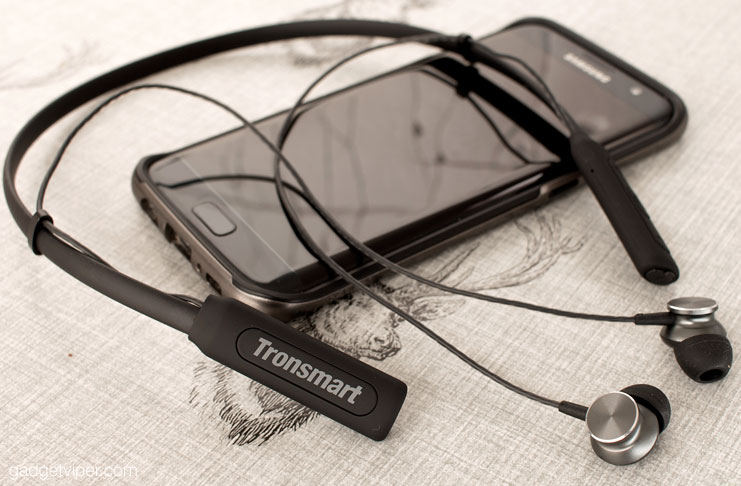 Encore S2 Neckband Headphones
A set of affordable Bluetooth earphones designed to rest around the neck. Featuring a flexible neckband that's lightweight and comfortable to wear. These sweatproof headphones are ideal for training at the gym, running and outdoor activities.
Highlights
Bluetooth 4.1 connectivity
12-hour music playtime.
Neckband headphones design
Digital Signal Processing (DSP)
IPX34 rated water resistance
Good passive noise reduction
Pros and Cons
+
Lightweight neckband headphones, ideal for sports and fitness training, impressive sound, pairs quickly, really comfortable in the ears, good value for money
–
Maximum volume is limited to the phone's current setting (not sure if this is a negative though), There's a slight accent on the vocal notifications.
Where to Buy?
Price updated – 21st of Jan 2019 at 9:30 GMT
*Product prices and availability are accurate as of the date/time indicated and are subject to change.
These Bluetooth neckband headphones are perfect for the gym sessions and outdoor sports activities.
The benefit of wearing headphones that rest around the neck are most notable when you're active. Running or training with regular wired earphones causes noise to transfer up the cable to the ear. Whilst wearing regular headphones stops this, they can often become stifling at times especially when you've got a sweat on.
A couple of years ago I put together a list of the best Bluetooth neckband headphones and I've been a fan of the design ever since. Having tested a fair number of neckband headphones from previous reviews, I know just what to look for, so let's see how these Tronsmart Encore S2's perform.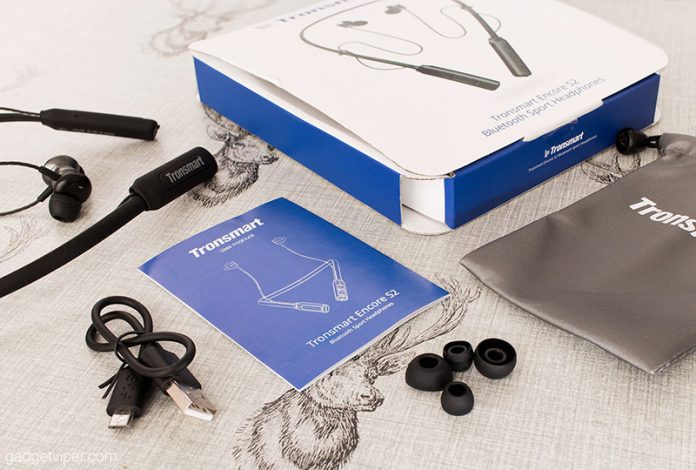 The Tronsmart Encore S2 Bluetooth neckband headphones come with a good quality user manual, spare earbuds, and a micro USB charging cable. The cable is relatively short at around 10 inches. I'd normally moan about the length, but when it comes to neckband headphones, dinky cables are preferred. They can be easily stored in the drawstring pouch and the unit is light enough that it can dangle from a charging port if needed.
Charging the Headphones.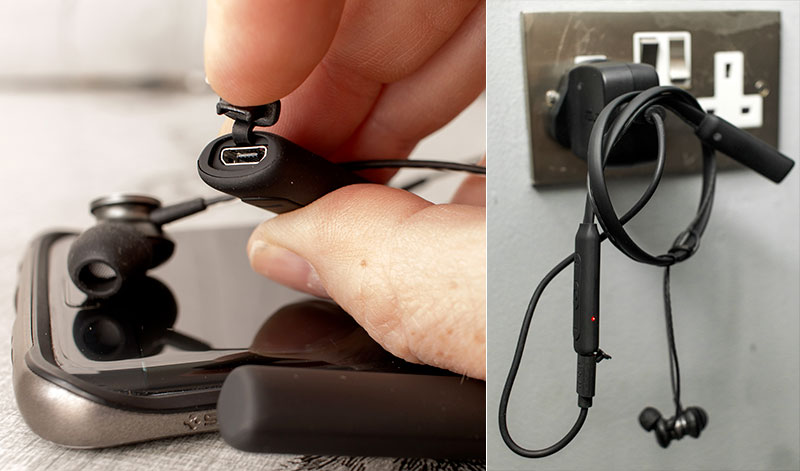 As always, it's good to fully charge a portable device before first use. The Encore S2's should only take around 1.5 to 2 hours for a full charge. It took a fraction of that time on its initial charge which suggests it has a good standby capacity, or perhaps it was fresh from the factory. The charging port is on the end of the left side and is well protected by a cover.
There is a small LED indicator light that glows red during charging and turns blue when complete. This light will also flash red when the battery level is low or blue when paired to your phone.
Bluetooth Pairing and Range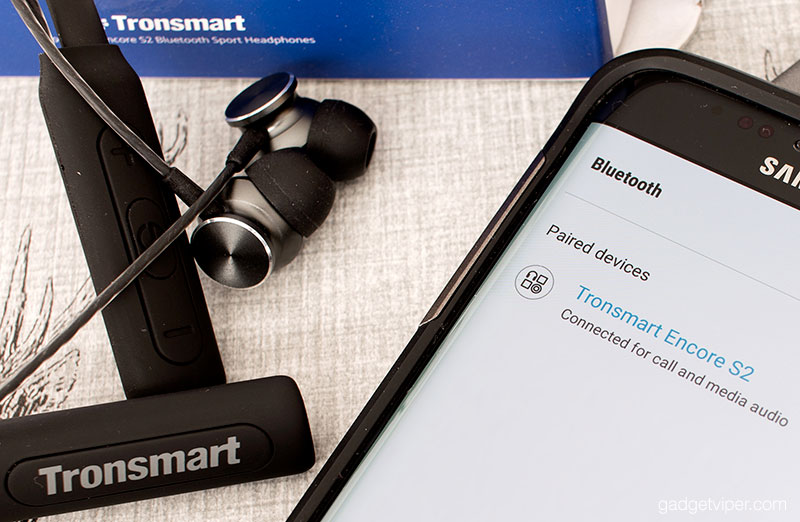 To initially Bluetooth pair the Encore S2 you need to hold the power button down for 5 seconds. When you see the indicator light flash red and blue it's ready to connect. I paired the headphones with an S7 Edge, iPhone, an iPad and the kids Amazon Fire Tablet. All of them quickly discovered the device and paired successfully.
Once your devices are paired the Encore neckband headphones will remember them and reconnect almost instantly when powered on. Featuring Bluetooth version 4.1 the range is stable up to 10m (33 feet) unobstructed. I've been using these headphones mostly with my Galaxy S7 Edge and I've experienced absolutely no problems with signal drops of interference.
Features and Functions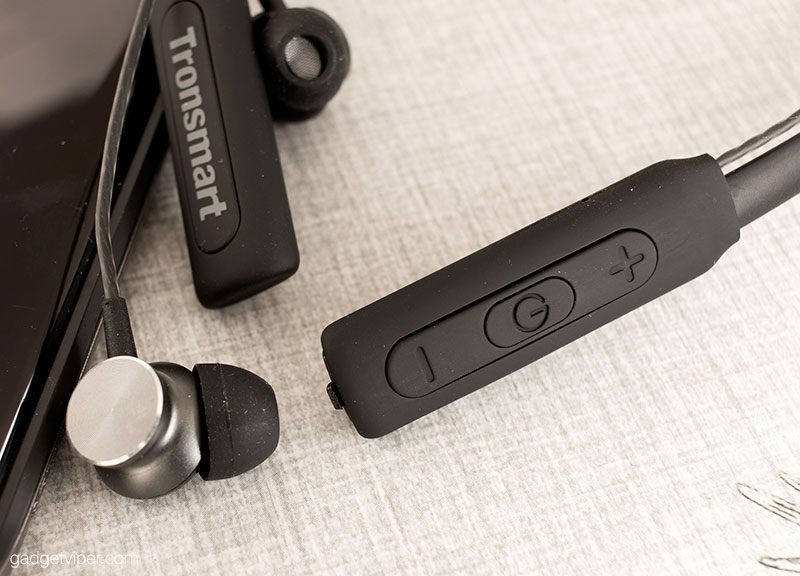 The controls are positioned on the left of the neckband. The central button is multifunctional, it will power the device on, pair, play and pause music, activate Google or Siri vocal command and manage hands-free calls. Either side of the main button are the volume up and down controls which also skips tracks on a long press. The controls work really well, the buttons feel tactile and pleasurable to use.
Comfort and Design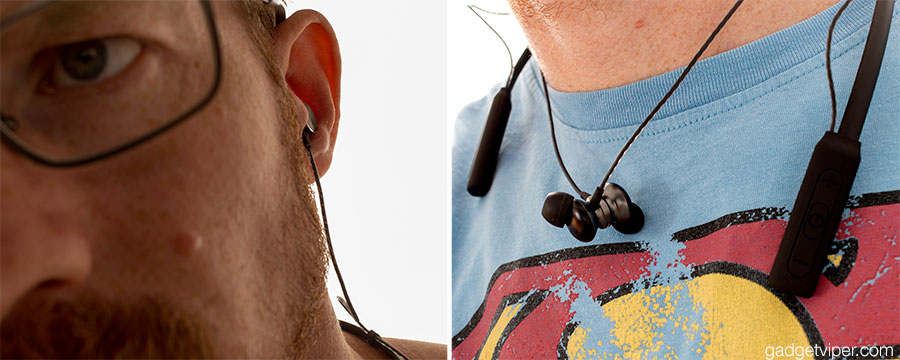 As with most neckband headphones, the Encore S2's are designed to rest around the neck. This model has an added feature of magnetized earpieces the cleverly snap together when not in use. Not only does it make it far less likely for the headphones to fall from your neck it also prevents the cables from tangling.
The entire headphones including the neckband weigh just 23 grams and are barely noticeable when worn. The flexible arms have a pleasant rubbery surface with a matte finish that's easy to keep clean. Possibly my favourite design feature is the size and shape of the earpieces. They are amazingly comfortable to wear and fit so close in the ear that I can side lay on a pillow without discomfort.
Sound Quality and Specs
| | | | |
| --- | --- | --- | --- |
| V4.1 | A2DP, AVRCP, HSP, HFP | 12 Hours playtime | 1.5 – 2 Hours |
With a fairly low price tag, I was fully expected the audio quality to be average at best. I was wrong, these produce a very clean and well-balanced sound. There is a decent level of bass and the mids and highs are perfectly acceptable. considering these headphones are geared towards sports and activities, I have no complaints at all regarding the audio performance.
The well-fitting earbuds provide a good amount of passive noise reduction and the DSP technology provides a clear hands-free call experience. My only niggle (and it's a tiny one) are the vocal notifications. They have a slight accent on all prompts other than the power on the notification. 
I've been super impressed with the Tronsmart S2's. I've got two or three other sets of Bluetooth neckband headphones that cost twice as much and these really are just as good if not better. The earpieces are amazingly comfortable, the sound quality is solid and the Bluetooth is reliable. I can highly recommend these to anyone looking for a budget set of around the neck headphones for sports activities.
Price updated – 21st of Jan 2019 at 9:30 GMT
*Product prices and availability are accurate as of the date/time indicated and are subject to change.
I hope you found this review useful if you did please leave me a comment or share it socially – Thanks.
For more information on Tronsmart visit their website or find their products on Amazon