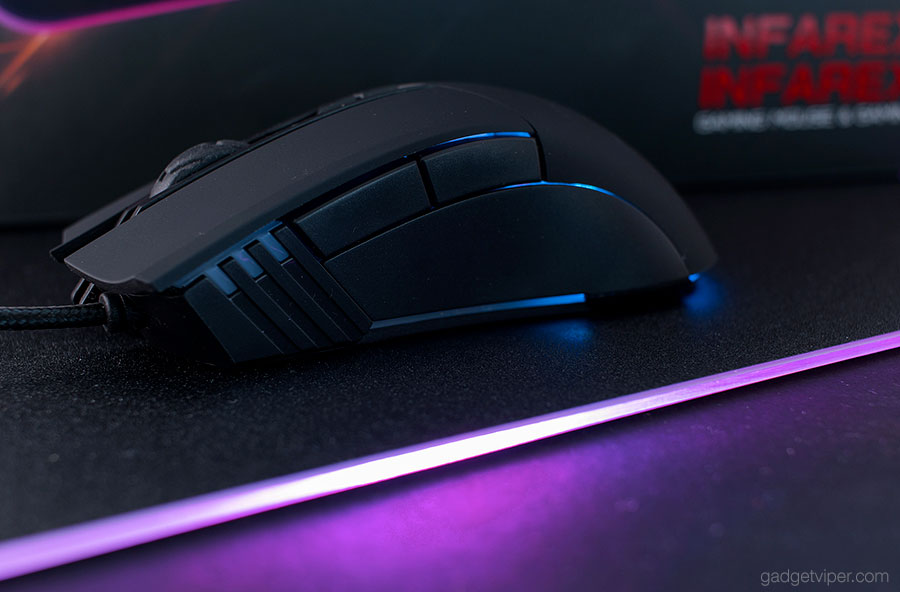 XPG Infarex M10 / R10 Mouse + Pad
A super affordable wired gaming mouse and mousepad bundle featuring RGB backlighting. Ideal for those looking for a decent budget solution to add some bling to their PC setup.
Highlights and Features
RGB lighting on mat and mouse
Hard micro-texture pad surface
6 static colours or 3 rainbow modes
Braided cables on mouse and mousepad
Pros and Cons
+
Great price, quick manual dpi adjustment on mouse, touch control on mousepad for lighting modes
–
Side buttons on M10 mouse are a little spongy, no software to control RGB on mouse
Where to Buy?
Price updated – 26th of February 2018 at 16:30 GMT
*Product prices and availability are accurate as of the date/time indicated and are subject to change.
The Infarex R10 Mousepad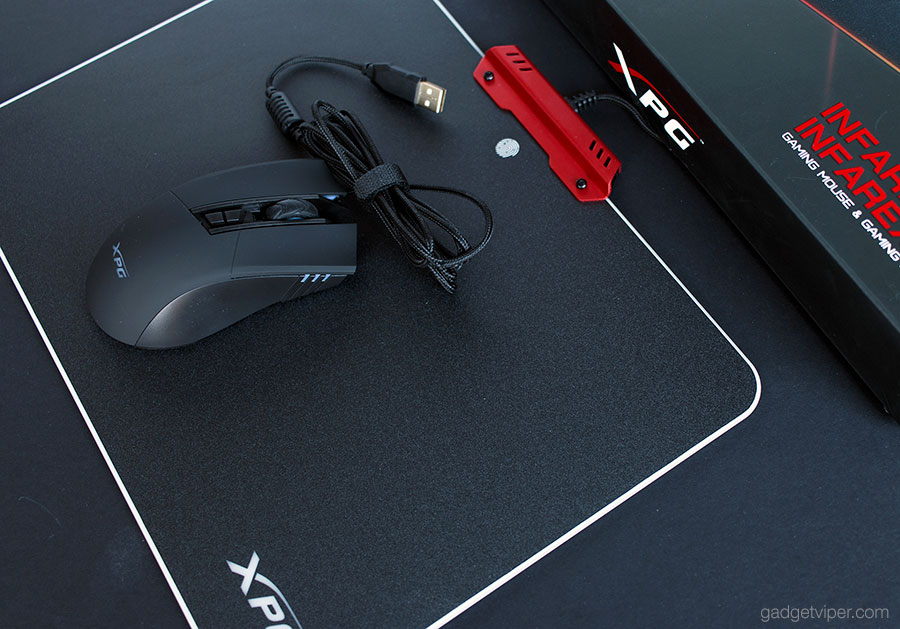 The R10 mousepad is made from a scratch resistant PVC with a slightly textured black surface. It measures 350mm x 250mm and has a thickness of just over 3mm. There's an XPG logo on the bottom right and a burnt red anodized aluminium plate on the top.
Slightly below this is a neat looking fingerprint detail. When I showed a friend the mousepad, his first comment was "wow, is that a fingerprint sensor to unlock your pc!" it's not, unfortunately, but wouldn't that have been a cool feature?
It's actually a touch-sensitive zone that allows you to toggle through the colour modes.
There are a total of 6 solid colours to choose from, 2 rainbow effect modes and a slow gradual colour changing mode. There is no RGB brightness setting on the mat, so in daylight you might feel it's lacking a little in intensity. I actually think it's just right, It's not often I use my PC in a brightly lit room, especially when gaming. In low light, the brightness is just enough to look good without distracting you from that all-important kill shot.
Using the Infarex R10 Mousepad
This is the first gaming pad I've used with a hard surface and I've been pleasantly surprised with the user experience. I can, however, see a potential issue when Summertime comes around. I imagine a bare sweaty wrist against the hard edge of the mat may prove uncomfortable during long gaming sessions.
If this is the case, I sacrifice the aesthetic look of the R10 backlit mousepad for the luxury of my old trusty WarPad –  even if it does looks like a giant carpet tile.
Its underside has non-slip rubber corners and a central rubber to prevent it from moving on the table surface.
There is one design flaw with the Infarex R10 mousepad that I've noticed. Fortunately, there's a fairly easy workaround to solve it. Take a look at the picture below and you'll notice something is not quite as it should be.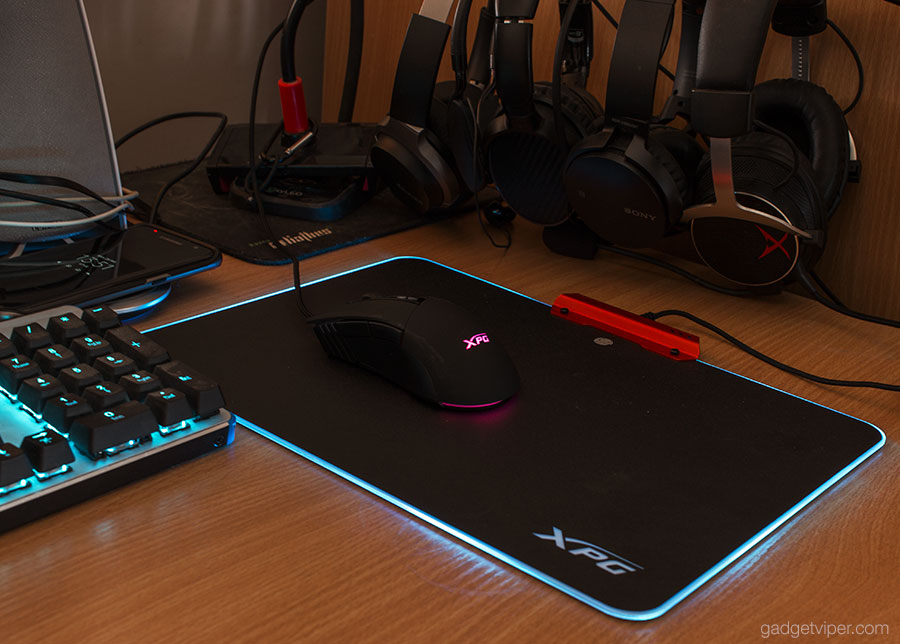 No, not the ridiculous amount of headphones in the background, I'm talking about the orientation of the R10 mousepad. I did this to stop the mouse cable from coming into contact with the aluminium housing whilst gaming. It really should have been offset to one side to avoid this from happening.
The Infarex M10 Gaming Mouse
So, onto the mouse. For a low-cost gaming mouse, I think XPG have produced a decent looking product. Its clean claw-grip design reminds me of my Razer gaming mouse, especially around the palm. There is a nice matte surface over the top and a good amount of separation between the left and right buttons. The two main buttons are comfortable to use and are pleasantly responsive. It comes with a good quality braided cable (as does the R10 mousepad) which has a generous length of over 1.7m.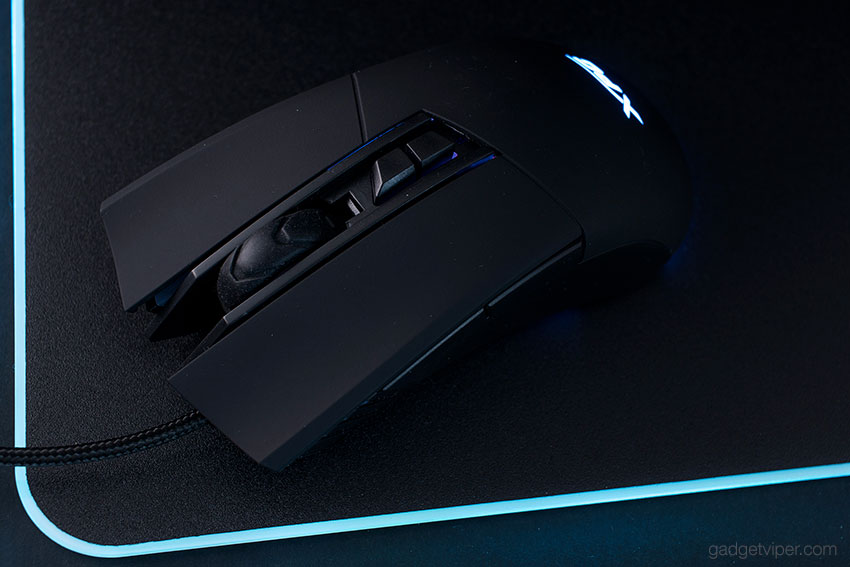 The scroll wheel has a nice rubber coating and will click down when pressed. It rotates well enough, although I'd personally prefer a little more feedback on the scroll increments than it offers me.
Below the wheel, there are two DPI adjustment buttons. These allow you to adjust your settings from 800 up to 3200. There are four values in total (800,1600,2400,3200) which should cater for most gaming styles.
These buttons, as well as the two side buttons, are in my opinion a little on the spongey side. If my gaming style relied heavily on them, I'd be displeased by their lack of precision.
That being said, the Infarex M10 is a low-cost gaming mouse, not a pro-gaming mouse, so it would be unfair of me to be overly critical here.
Unless I'm mistaken, there doesn't appear to be any software for the mouse. Whilst I'm fine with this in regards to the configuration of the buttons, I would have liked some control of the RGB lighting.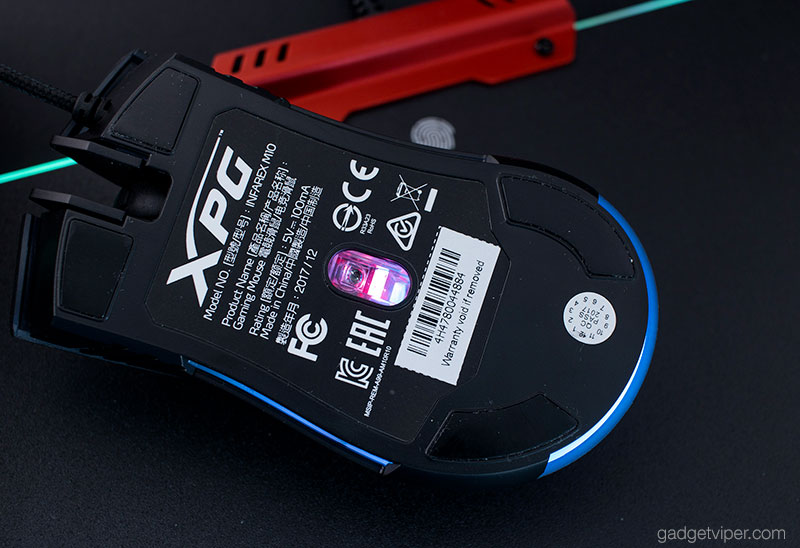 By default, it will cycle slowly through colours, each one lasting for around 6 seconds. I would have liked the option to have a static colour. If it turns out I'm just being dim and there is a way of achieving this, I'll be sure to update the review.
Using the Infarex M10 gaming mouse
I've spent almost a week with the M10 mouse and used it a fair amount over that time. I found it just as comfortable to use as my Razer. While I wouldn't consider replacing the Razer indefinitely, the M10 has been a more than adequate alternative at a fraction of the cost.
Verdict
I think the Infarex M10 gaming mouse and R10 mousepad bundle offers really good value for money. I dig the look of the backlit pad (even with it orientated sideways to avoid the cable snagging on the housing). As for the mouse, it's comfortable to use, has a clean look and a decent build quality for the price. The spongey side buttons and lack of RGB control aren't ideal, but they're certainly not deal breakers considering the price tag.
If you're a casual gamer with a small budget who's looking for a decent quality gaming mouse and pad, then this bundle could be ideal for you. The more serious gamers out there might want to dig a little deeper into their pockets for a more expensive option.
Price updated – 26th of February 2018 at 16:30 GMT
*Product prices and availability are accurate as of the date/time indicated and are subject to change.
I hope you found this review useful if you did, please share it socially or leave a comment below – Thanks!