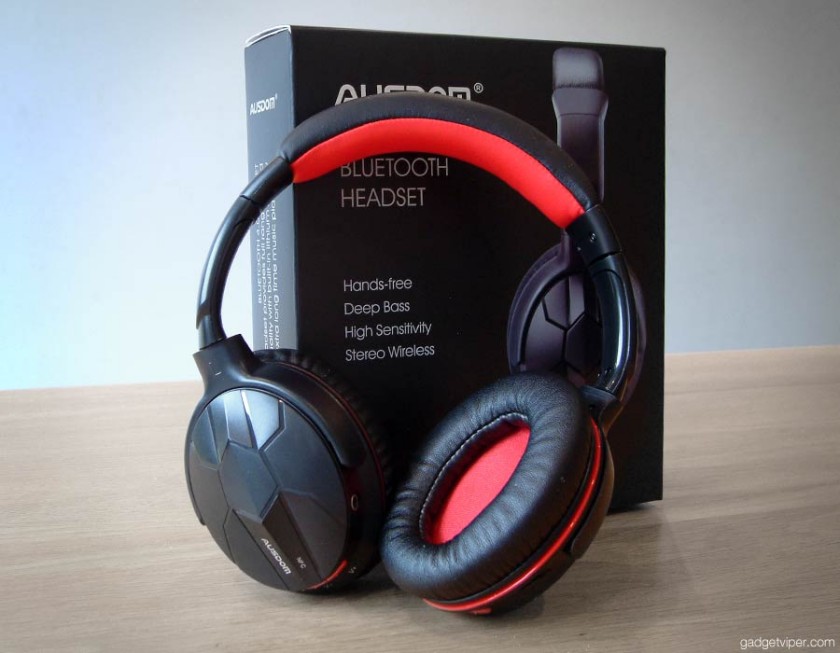 Ausdom M04 Bluetooth Headphones
A review of the upgraded Ausdom M04 bluetooth headphones.
Featuring NFC pairing, bluetooth 4.0 connectivity and an improved battery life of 18 hours talk time and music playback.
Contents
Ausdom M04S Wireless Stereo Headphones
USB Charging Cable
3.5 mm Audio cable (4feet/ 1.2m)
User manual (English, German, Spanish and French)
Ausdom M04S
Amazon.com
lowest price: $59.99 $42.99
Price information last updated on 27/12/2015 10:25 GMT
The Ausdom M04 bluetooth headphones arrived in well presented box not often seen with headphones in this price bracket. Great if you are buying these as a gift for someone. First impressions count and that includes the packaging the product comes in.
Inside the box there's a user manual, a USB charging cable and a 1.2m long audio cable for connecting the M04 headphones to non-bluetooth devices. There is no carry case with these headphones, but that's pretty standard these days. There are plenty of universal headphone cases out there that are relatively cheap and at least it gives you the chance to choose a type best suited to your requirements should you need one.
Features
Connectivity – Bluetooth 4.0 and optional wired connection with an 3.5mm audio jack. Bluetooth 4.0
Battery Life – 18 hours of music playback / Talk Time.
Charging Time – 2 hours from mains adapter or 3 hours from a USB port.
Bluetooth Range – 10M / 25 feet.
Pairing – easy bluetooth pairing and NFC compatibility.
Playback controls – Volume, track selection and play/pause .
Calls – answer / reject and redial last number with the power button.
Folding Ear Cups – For easy storage.
Weight – 210 grams.  > More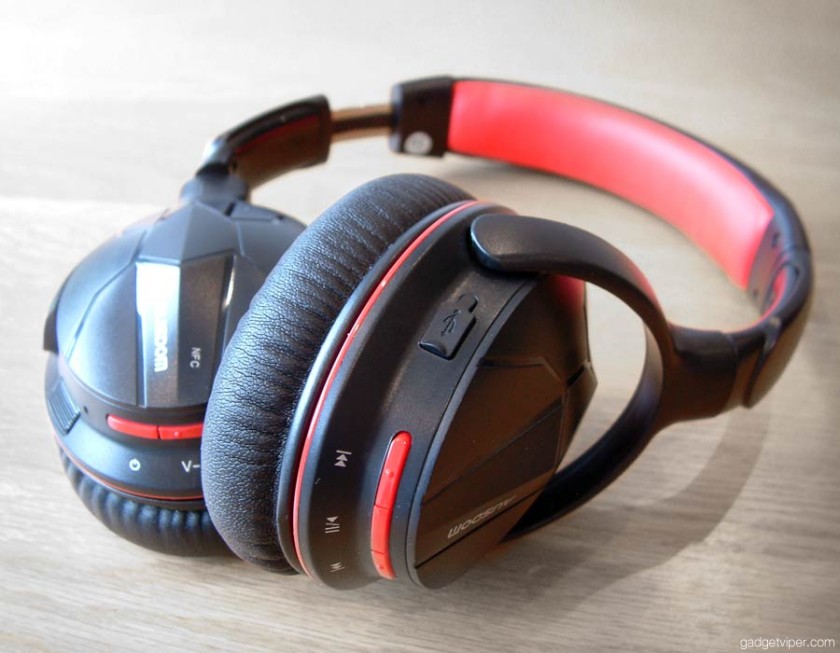 Ausdom M04 headphones – Build Quality
The Ausdom M04 headphones are made from a combination of plastic and synthetic leather.  The ear cups are matte black with a kind of turtle shell detail on the outer edges.  The headphones, which pitch and swivel for comfort and storage seem well made and fairly robust in their design. There is a good amount of vertical adjustment on the arms and once adjusted the tension feels secure and unlikely to move of its own accord.
Both sides of the Ausdom M04 headphones have control buttons. The right side features the track selection and play/pause functions as well as a protected micro USB charging port.  On the left are the volume controls, a power/pairing button and the inbuilt microphone for bluetooth calls.
Having controls on both sides is a nice feature, you are far less likely to press the wrong button. The power/pairing button also lacks a little raised bump as the other buttons do. Once you are aware of this, it's easy to avoid turning the headphones off unintentionally.
Ausdom M04 headphones – Comfort
These may not be the most visually impressive bluetooth headphones on the market, but when it comes to comfort they are most definitely up there with the best.  Both the ear pads and the headband are extremely soft and padded.  I've had them on all day without any discomfort to my ears.  The padding is so soft, it will actually accommodate the arms of my spectacles without any problems.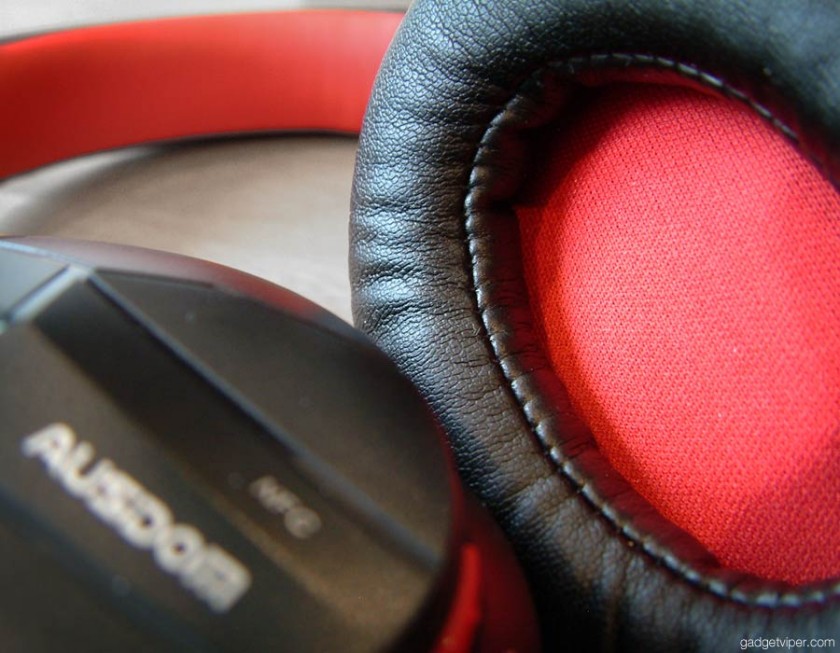 The ear pads make a very complete seal over the ears, which does help isolate outside noise sources.  Over time I did begin to notice my ears were feeling a little warmer than usual due to the lack of ventilation, but not enough to cause me any discomfort.  Whether or not this is the case on a hot summers day is yet to be seen, I'm in the UK so they don't happen that often –  I'll keep you posted.
Ausdom M04S
Amazon.com
lowest price: $59.99 $45.99
Price information last updated on 22/10/2015 09:40 GMT
[/CBC]
Ausdom M04 headphones – Audio Performance
I was equally impressed by the sound quality of these headphones as I was their comfort.  The features stated "Deep Bass and High Sensitivity" and I can confirm that both statements are true, for a set of headphones in this price range, the Ausdom M04's are seriously impressive.
I have compared these with my set of Philips Fidelio M2BT bluetooth headphones which are over 5 times more expensive and far less comfortable over long periods.  The difference in sound quality is slight, the M2BT's sound a little crisper at the high-end.  Generally speaking, the Ausdom M04 headphones perform way better than you would expect for a set of bluetooth headphones for under  $55.00.
The volume is loud, probably louder than they need to be in fact, and the audio remains clean and distortion free even at the maximum level.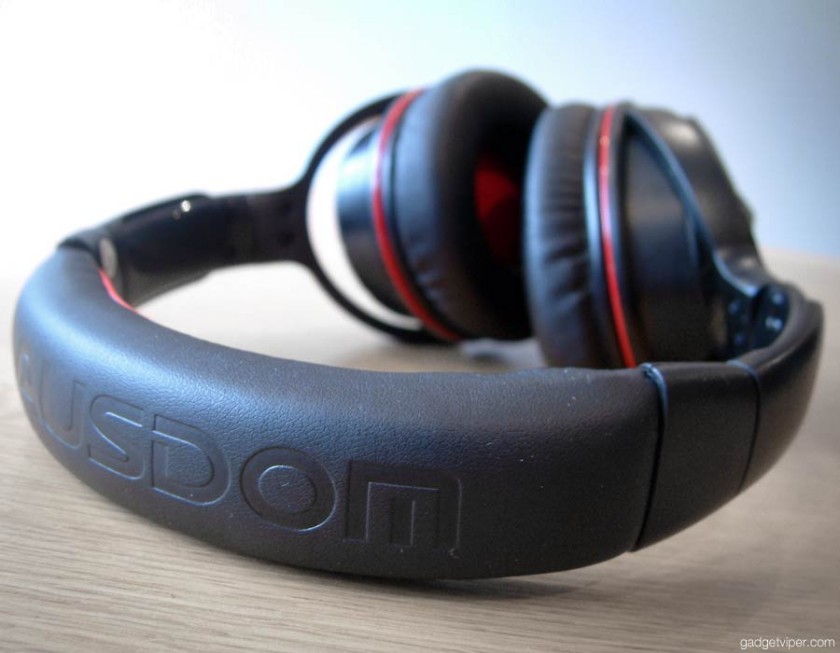 Ausdom M04 headphones – Verdict
The Ausdom M04 bluetooth headphones performed exceptionally well. I've been testing these now for a few days and the battery just keeps on going.  I have been a little sloppy with keeping an accurate time scale, but I have no doubts that the 18 hours is easily achievable.  I like the fact I can see the the remaining battery life displayed next to the bluetooth symbol on my device thanks to the bluetooth 4.0 connectivity on this upgraded M04S model.
The microphone for taking hands free calls works well, the volume level is good and the double tap redial function is also a handy feature to have.
The combination of amazing comfort, good audio quality, an optional wired connection and a very impressive battery life make the Ausdom M04 headphones an absolute bargain at only $54.99 – I can highly recommend these to anyone looking for bluetooth headphones in this price range.
To buy the Ausdom M04S upgraded bluetooth headphones visit Amazon.com or for more information about Ausdom products, visit their website.
Ausdom M04S
Amazon.com
lowest price: $59.99 $42.99
Price information last updated on 27/12/2015 10:25 GMT