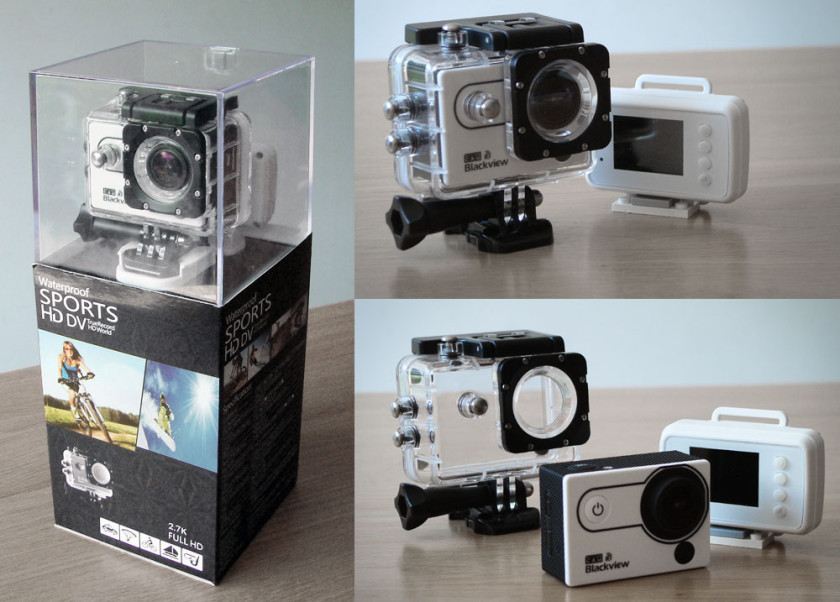 BlackView Hero 2 Action Camera

An in-depth review of the BlackView Hero 2.  A full HD action camera with an impressive 2560×1080 resolution, WiFi RF viewfinder, LCD screen, waterproof housing and a huge bundle of accessories.
View the product page for a full list of specifications and technical information.
Included with the camera
Waterproof housing
Open housing with attachment clip
RF WiFi viewfinder with strap
5V/1A Adaptor and USB charging cable
Lithium Battery (1050mAh)
A huge bundle of accessories (see photo below)
Buy Online
– updated 28.12.15
BlackView 2

lowest price: $115.36
GearBest.com
BlackView Hero 2 Review – Design and Build.
The BlackView Hero 2 action camera arrived in a retail display box with the camera, housing and RF viewfinder all visible within a clear plastic container. This had me wondering what I'd actually find within the box itself. To my surprise it was literally jammed full of accessories. Many other action cams require you to spend more on additional camera mounting equipment, so this was great to see.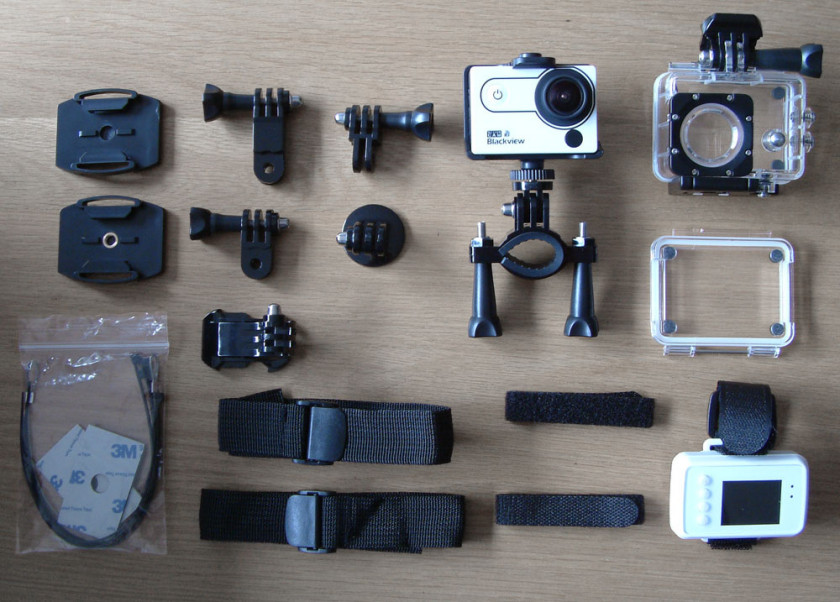 Measuring just 6cm x 4cm x 3cm and weighing only 180 grams, the BlackView Hero 2 is one of the smallest action cams on the market.  It has a typical box shape design with textured black plastic sides and a white front face.  There is a round power button on the front and an action button on the top.
On one side of the BlackView Hero 2 is a Micro SD slot which will take a 64gb card. There is also mini HDMI output and the Micro USB port for charging and transferring files. On the opposite side are two mode / menu buttons.
There is a very basic battery cover on the base which unclips to access the rechargeable 1050mAh lithium battery.  Although the battery is also pretty basic, it's very small and very cheap at only $4.00, ideal if you need to buy spares.
On the rear is a 2 inch LCD screen which can be used to frame your shot.  Alternatively you can switch it to RF mode and divert the display via WiFi to the viewfinder. This can be used to remote access the camera features, start and stop recording or take a photo.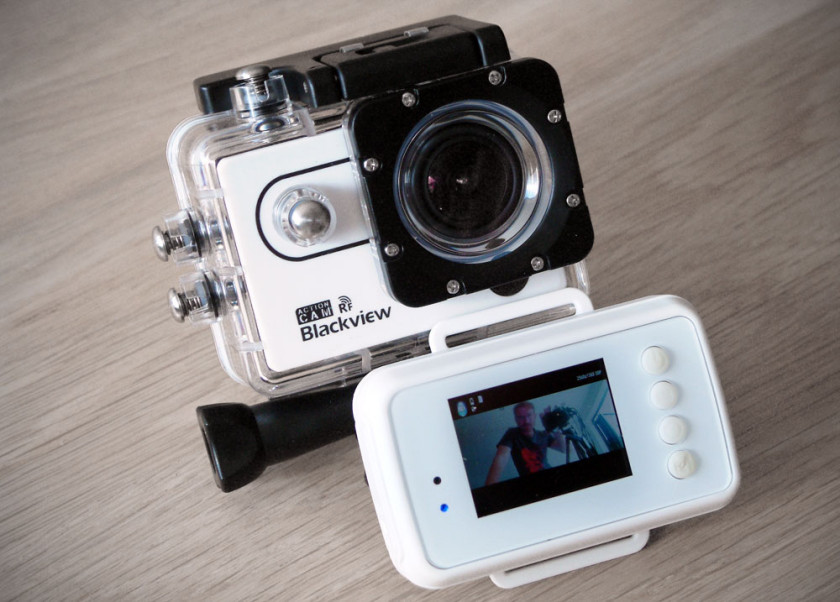 I wasn't overly impressed with the general build quality and finishing of the unit or the viewfinder.  While this isn't a major issue, as the camera is protected inside the housing during the majority of it's use.  It's definitely worth noting, especially if you are expecting the BlackView Hero 2 to be a Go-Pro quality clone.
In contrast, the waterproof housing appears to be very rugged and durable. Fully waterproof to a depth of 30m, shockproof and resistant to high and low temperatures. The case comes with an additional back section with vented sides to allow audio recording.  This can be easily interchanged depending on your requirements.
Buy Online
– updated 02.10.15
BlackView 2

lowest price: $99.99
GearBest.com
The open housing features standard sized threaded holes top and bottom to attach the mounting accessories from above or below, should you wish to suspend the camera. There is also an additional bulldog style clip that can be slid on to the housing to attach the camera to surfaces such as clothing or straps.
With the vast array of attachments, straps and camera housing options I was able to mount this action camera on just about any surface. I spent some time trying different combinations of brackets and fittings and found it easy to position and adjust the camera to any angle I needed.
BlackView Hero 2 Review – Features and Performance.
The BlackView Hero 2 has very simplistic software which allows you to cycle through Video, Camera and Playback modes. Each of which have a sub-menu to allow you to select your preferred video and picture formats:
Video (Formats)

2560 x 1080 30fps
2304 x 1296 30fps
1920 x 1080 45fps
1920 x 1080 30fps
1280 x 720 60fps
Camera (Still Shots)

16m 5312 x 2988 pixels
13m 4800 x 2700 pixels
9m 4000 x 2250 pixels
4m 2688 x 1512 pixels
General Settings

RF mode (WiFi viewfinder)
Format / Delete
Auto Power off timer
Date Display
View files / Playback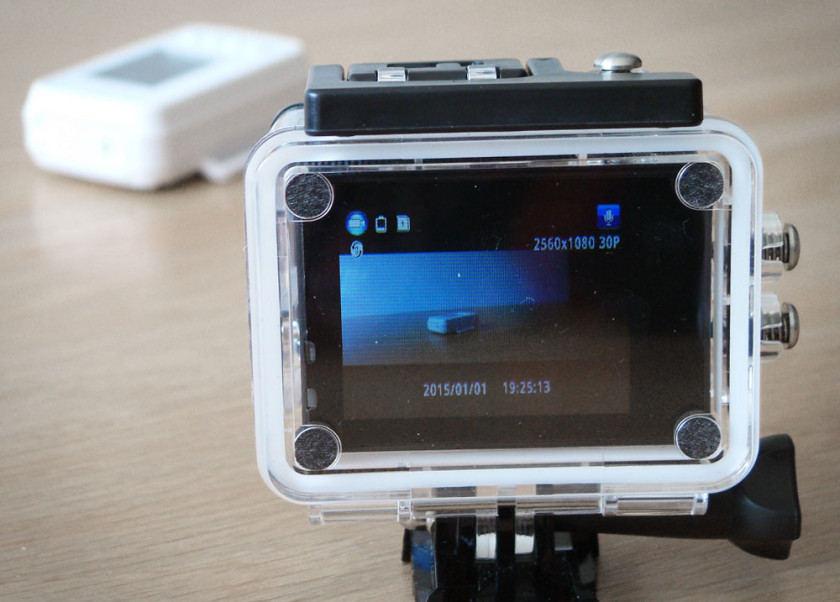 The BlackView website does seems to list additional features such as camera burst mode and automatic picture orientation. These are not present on this particular camera and are presumably going to be introduced after a firmware update.
I tested the BlackView Hero 2 action camera with a short trip to a nearby woodland with my two boys.  I recorded footage at 2560×1080 (30fps) and found the camera very easy to use, especially with it switched to RF mode.
During the test I had the camera mounted on a hiking pole inside the protective housing fitted with the vented rear panel to allow audio recording.  The battery life was good and the RF WiFi features worked perfectly.  I was eager to get home and watch the footage back.
On my return, I plugged the USB cable into the PC and downloaded the mp4 video files without any problems. I opened it with a VLC player and began viewing the footage.  The picture quality was absolutely fine, far better infact than most other budget action cameras I've tested.
The audio quality however, was sub-par at best. I had hoped it was something to do with the vented camera housing restricting the microphone, but after further testing without the housing, the audio was still muffled and muted.  If I had to guess why, I'd say that the small holes next to the menu buttons are not in-line with the actual microphone.
Here is the footage I took without any alterations to the sound volume, quality or noise levels:
I could easily improve the audio by increasing the volume level while reducing the noise with video editing software, but I imagine the quality of the sound would still be somewhat muffled, which is a real shame.
My Verdict
The BlackView Hero 2 action camera has some great features. The combination of the High Res video, LCD screen, WiFi viewfinder and the huge bundle of additional accessories make it good value for money at it's current price tag.
The weak audio may be a deal breaker for anyone who needs a decent level of sound quality, which I fear no amount of post production can fix. Hopefully BlackView can address this somehow in by relocating the perforations directly over the microphone or with a firmware update.
Buy Online
– updated 28.12.15
BlackView 2

lowest price: $115.36
GearBest.com
---
Many thanks to
shenzhen DOME
for providing the sample for review.  I've had a lot of fun testing the BlackView Action Camera and I look forward to trying it out on my next diving trip.
If you found this review useful please share it socially with the button below or leave a comment
here
–
Thanks!
---