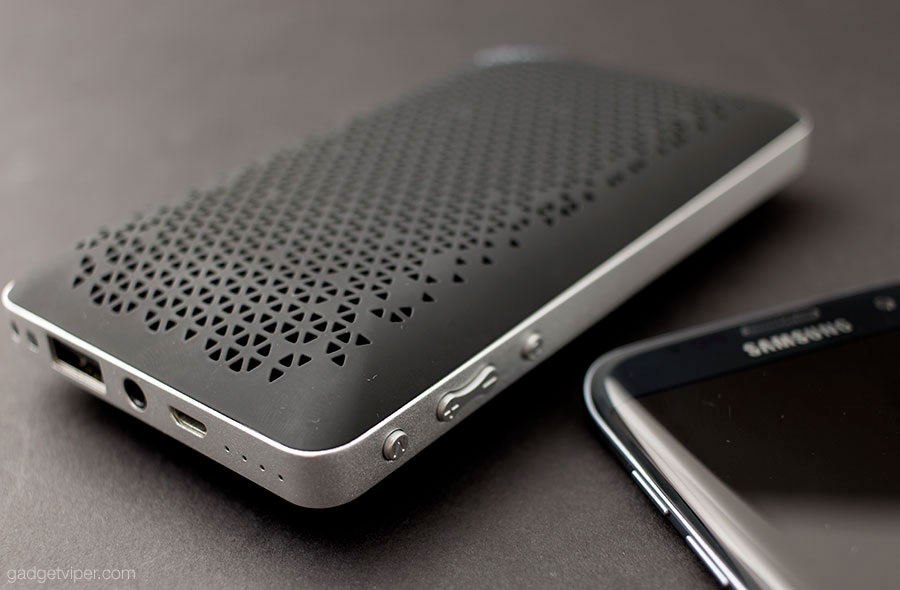 Aukey SK-A2 Speaker / Charger
A pocket-size Bluetooth speaker with a built-in power bank for charging your phone.
The Aukey SK-A2 features two speaker drivers and a passive bass radiator with a playtime of up to 6 hours. It's also capable of topping up your Smartphone thanks to its 2200mAh battery.
Highlights and Features
Bluetooth 4.2 and AUX mode
6 Hours or Music, 2.5h charge time
Rechargeable 2200mAh Power Bank
2×3.5W N

eodymium 

Drivers (7W)
Lightweight and compact (225g/8oz)
Handsfree calling
24 Month Warranty
Pros and Cons
+
Lightweight and compact, reliable Bluetooth connection, useful for topping up phone battery, comes with a lanyard, strong mids and a good volume.
–
Noisy audio notifications, 1A max output not as fast as some chargers.
Where to Buy?
Price updated – 25th of Septemeber 2017 at 11:30 GMT
*Product prices and availability are accurate as of the date/time indicated and are subject to change.
The Aukey SK-A2 provides a useful 50% of additional battery life to my Galaxy S7 Edge.
AUKEY SK-A2 – Full Review
The Aukey SK-A2 comes in a plain box along with a user manual, USB charging lead, AUX cable and a lanyard. There's also a warranty card with an impressive 24-months manufactures guarantee.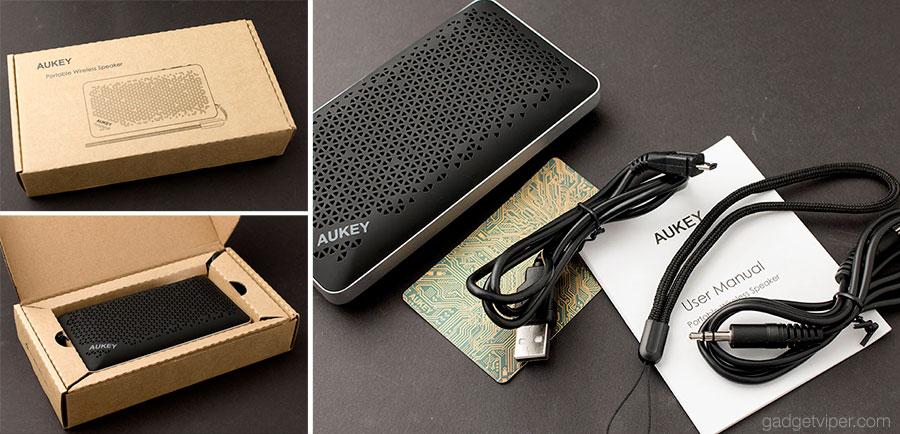 Design and Build Quality
The unit measures 140x76x25mm (5.5″x3″x1″) and weighs just 225g (8oz). Its length and width are smaller than my phone and it's about as thick as my wallet, so it's certainly pocket-friendly.
All the ports are conveniently located on the top of the device. This makes it ideal for charging a phone from a pocket. There's a single USB output, a 3.5mm AUX output and a Micro USB input for recharging the device. Alongside the charging port are four small white LED lights that indicate the remaining battery life.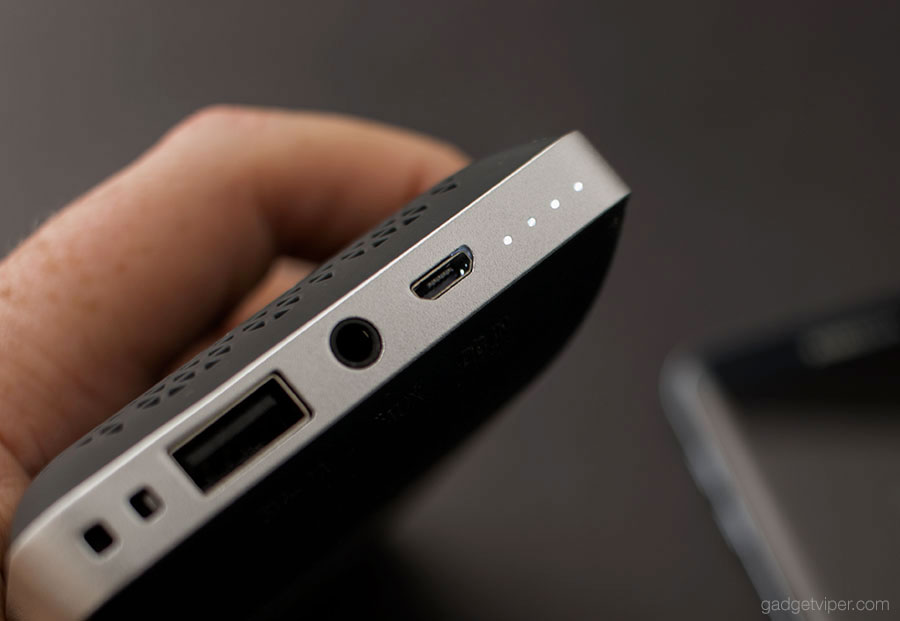 Using the AUKEY SK-A2 as a power bank
It outputs at 1A which makes it perfectly safe for charging just about any mobile device. Most modern Smartphones will happily draw more current than 1A, so it won't recharge quite as fast as some other power banks, but it's ideal for topping up your phone in a pinch.
The SK-A2 has a 2200mAh internal battery, this will effectively provide around 1800mAh of power. I get between 40-50% of a charge on my S7 Edge which has a 3600mAh battery capacity.
Having tested dozens of power banks over the years, this is a pretty respectable efficiency rate, especially for a hybrid device like this one.
Using the AUKEY SK-A2 as a Portable Speaker
The Aukey SK-A2 can either be used as a wireless speaker when paired with your phone via Bluetooth or as a wired speaker using the phono lead.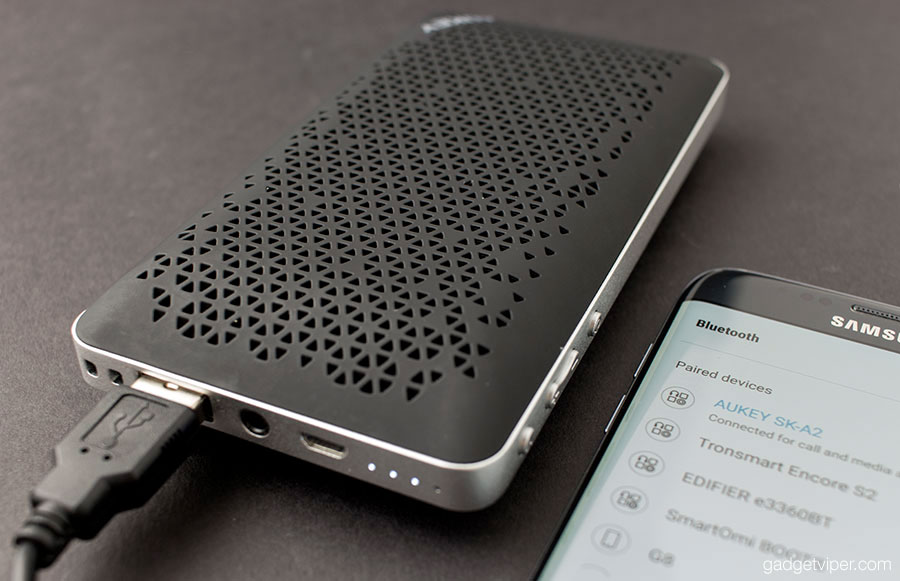 It pairs extremely quickly with its Bluetooth 4.2 version and keeps an impressively reliable connection to a range of 10m (33 feet). Once connected via Bluetooth there is a small blue light that flashes inside the mesh. If you plug in the phono lead, it will glow a solid red and automatically switch to AUX mode.
Sound Quality and Performance
The AUKEY SK-A2 has two 3.5″ Neodymium speaker drivers and a passive bass radiator. This combination puts out a very decent volume that holds together well. The mids are the strongest with very clear vocals. The highs are present, but not as crisp as some of the other compact speakers I've tested. While there is some bass, it's not as full as I'd like. That being said, for its size and price range, I really can't judge it too harshly.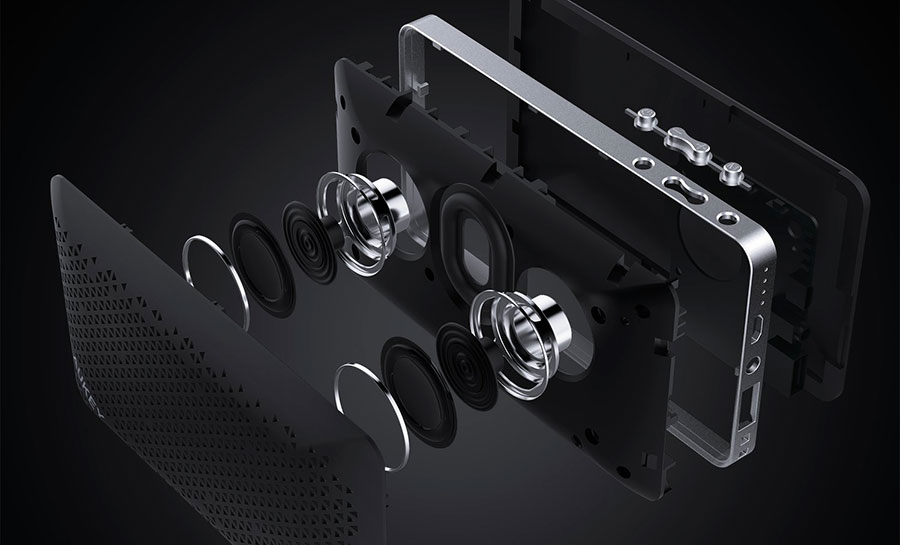 Handsfree call quality is acceptable, the microphone works well at an arm's length. I've taken a few calls through the speaker without having any complaints or requests to speak up.
Verdict
The Aukey SK-A2 is undoubtedly good value for money and ideal for anyone looking for a lightweight pocket-sized portable speaker on a budget. The added benefit of using the device as a phone charger makes it really handy for those that struggle to get through a full day on a single phone charge.
Price updated – 25th of Septemeber 2017 at 11:30 GMT
*Product prices and availability are accurate as of the date/time indicated and are subject to change.
I hope you found this review useful if you did please leave a comment below or share it socially – Thanks!
If you'd like to see more products from AUKEY, check out their Amazon store or visit their Website.