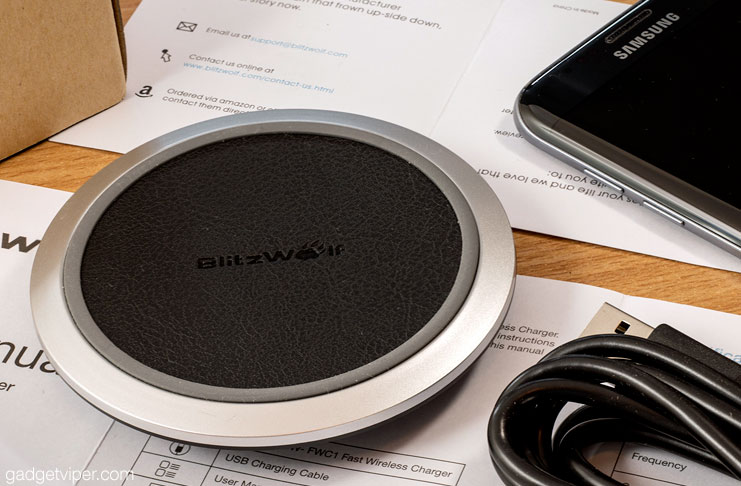 BlitzWolf Fast Qi Charging Pad
The BW-FWC1 is a lightweight wireless charging pad with fast charge technology. Featuring built-in safety measures to protect your smartphone and a gentle blue glowing ring on the base indicate the charging status.
Highlights
Standard Wireless Charging or Fast Charge with QC2.0 / QC3.0 compatible devices.
Works with phones in cases (10mm).
Unobtrusive blue ring on the underside.
18-Month Warranty.
Pros and Cons
+
Compact and Lightweight, compatible with QC2.0 and QC.30 smartphones, gentle glow on base
–
Doesn't come with a wall adaptor.
Where to Buy?
Price updated – 18th of October 2017 at 18:00 GMT
*Product prices and availability are accurate as of the date/time indicated and are subject to change.
Intro
5 years ago the Lumia 920 was released, the first phone to include Qi wireless technology. Most smartphone manufacturers followed suit with the exception of Apple, who are typically reluctant to use other companies technology. Last month, however, Apple finally woke up and decided to implement it in their new iPhone 8, 8 Plus and the iPhone X. This will no doubt propel wireless charging to the next level, especially with Apple's plans to develop it further with 'Airpower'. A new technology based on the Qi standards, but with the added benefit of charging multiple devices simultaneously.
In the meantime, the best and fastest Wireless Qi Charging pads are those that adopt Qualcomm's Quick Charge technology.  The BlitzWolf BW-FWC1 is a good example, so let's take a closer look.
Design and Build Quality
The BW-FWC1 comes in a plain box along the user manual, an 18-month warranty and a good quality USB cable. Its design is very similar to that of a drinks coaster. A disc-shaped pad with a 90mm diameter and a depth of 15mm.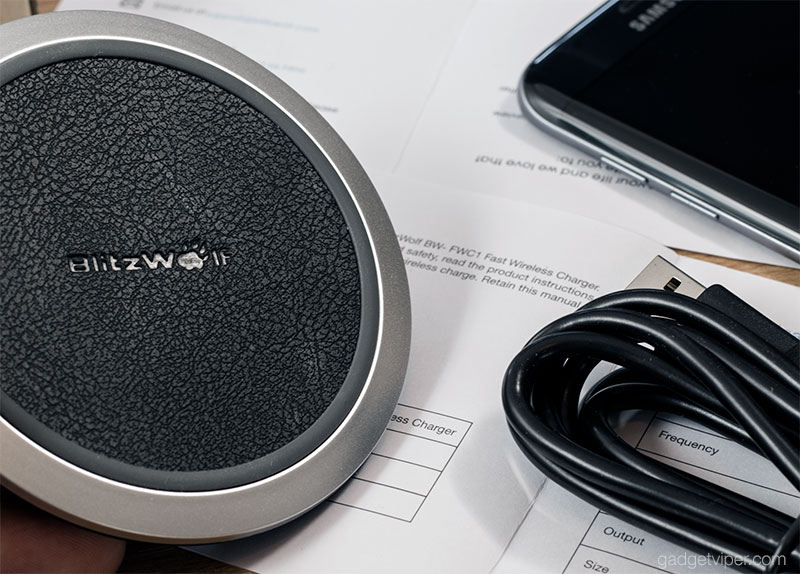 The top surface has a black leatherette finish, surrounded by a silver tapered edge trimmed with a grey silicone ring.
The underside has a rubber base that grips well to flat surfaces. On the top edge is a single micro USB input to attach the included cable.
What's missing is a mains adapter to plug the Qi charging pad to a wall socket. This isn't a huge problem as it will happily work from just about any USB wall adapter.
An important thing to remember for those of us with Qualcomm Quick Charge compatible phones, you'll need an adapter or USB charging station with QC 2.0 or QC 3.0 technology. Without one, the Qi charging pad will work, but you'll miss out on the speed bonus.
Nerd Specs
| | | | | |
| --- | --- | --- | --- | --- |
| DC5V, 2.0A DC9V, 1.8A | 5V, 0.5~ 1.0A, 9V, 1.3A | ≤10mm | 110-205KHZ | ≥72% |
Using the BlitzWolf Qi Charging Pad
Once the USB cable is connected, it's just a matter of placing your phone on the pad. I tested it with my Samsung Galaxy S7 Edge inside a Spigen case and it worked flawlessly.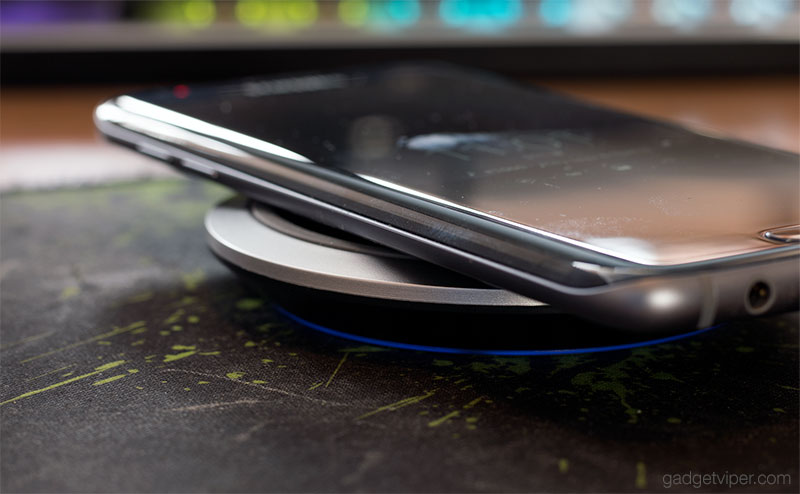 The moment wireless charging begins, the base of the BlitzWolf charger will light up with a gentle blue light. The amount of illumination is just right in my opinion. Bright enough to notice during daylight, but not too bright that it will bother you at night.
I tested the charging speeds with the Qi charging pad connected to a Qualcomm port and a regular port on my charging station and the speed improved by around 40%.
Verdict
I can highly recommend the BlitzWolf BW-FWC1 wireless Qi charging pad. It's great value for money and performs well. If you've got a smartphone that's compatible with wireless charging and haven't already made use of the technology, this device would be an ideal choice.
Price updated – 18th of October 2017 at 18:00 GMT
*Product prices and availability are accurate as of the date/time indicated and are subject to change.
I hope you found this review useful. If you did, please share it socially and leave a comment below if you have any questions about the device.