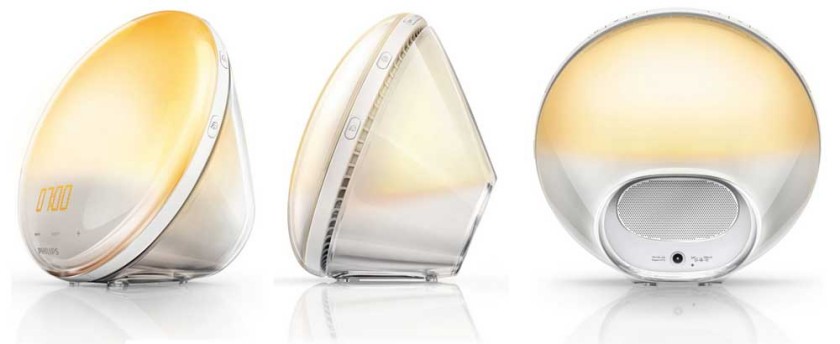 HF350 Philips Wake Up Light
The Philips HF3520 dawn simulator alarm clock is a wake up light featuring colour changing LED lights that replicate the changing tones of the sunrise.
Independently tested and clinically proven to help improve your mood and energy levels as well as your general waking experience.
Dawn simulator light that changes from red to yellow


5 nature sounds or FM radio

Sunset function to help aid going to sleep

20 different light intensities – ideal as a bedside reading lamp
2 separate alarm clock set times.
HF350 Philips Wake Up Light – Buy Online
HF3520 Wake Up Light
Amazon.com
best price: $169.99 $137.99
Price information last updated on the 25th of October 2016 at 10:50 GMT
For those that have already used a natural light alarm clock will already be familiar with their benefits. A regular alarm clock, even when the sound starts low and builds can often shock your body out of sleep. This can have a measurable effect on your mood and energy levels. Alternatively a gradual light alarm clock will bring you gently to a place where the sound will not jolt you. This is especially useful in winter months when it's still dark in the early hours.
There are many different types of natural light alarm clocks available, but only a few that have the dawn simulator color changing feature, of those I've tested, the Philips HF3520 wake up light is by far the best.
Philips HF3520 dawn simulator alarm clock – Design
The HF350 Philips Wake up light is very similar in shape and design to the rest of their natural light alarm clock range.
The front of the clock has a touch sensitive display that you can use to adjust it's setting as well as physical buttons positioned around the rim of the clock. The sides of the HF3520 taper down to an oval shaped perforated speaker cover which is neatly recessed into the rear.
For an alarm clock with so many features and settings, the HF3520 is exceptionally simplistic in its design.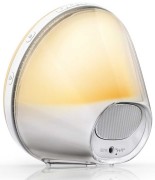 Philips HF3520 dawn simulator alarm clock – Features
Dawn Simulator, Sunset and Sunrise settings – The Philips HF3520 features color changing LED lights that go from red to orange to yellow or back the other way, should you wish to use the alarm clock as a night light that will gradually darken like a sunset.  Both the sunset and sunrise features can be set to a specific time preference.

Intuitive dimming display – This is a really clever feature, the brightness will automatically adapt depending on the natural light in the room
Tap to snooze function – No need to hunt for the snooze button, the Philips HF3520 is touch sensitive no matter where you make contact.  The snooze can be used twice and has a 9 minute interval.
Natural Sounds or FM Radio – The HF3520 comes with 5 natural sounds which will gradually increase in volume once the dawn simulator has reached its brightest setting. The maximum volume can be set and will increase gradually over 90 seconds.  The sounds include song birds, gentle piano music, the ocean, a zen garden and the sounds of a forest.  The FM radio is also a nice feature, but I'd never use it just because you cannot be sure what's going to play. It doesn't matter how amazing this Philips wake up light is, if you are woken by a Justin Bieber track it's not going to be a pleasurable experience.
Adjustable Reading Lamp – With over 20 different light intensity levels the HF3520 makes a very practical bedside reading lamp.
For a comparison table to compare the Philips HF3520 dawn simulator alarm clock to their other wake up light models click here.
Philips HF3520 dawn simulator alarm clock – Price and Availability
The Philips HF3520 dawn simulator alarm clock is available to buy on Amazon.com from $139.99.
HF3520 Wake Up Light
Amazon.com
best price: $169.99 $137.99
Price information last updated on the 25th of October 2016 at 10:50 GMT