The 3Doodler 2.0 price and functionality has remained the same, yet the latest model is now 75% smaller and half the weight of the original 3D pen.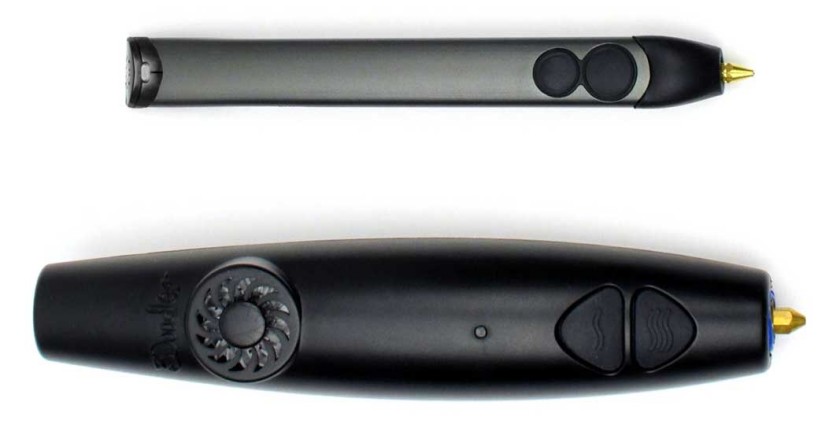 3Doodler 2.0 Design
The 3Doodler 2.0 has a slim anodized body which houses the re-designed feeding system. Compared to the original 3Doodler the new model is a fraction of the size and is now as easy to hold and use as a regular marker pen.
The 3Doodler 2.0 has an improved nozzle, duel speed controls, a new feeding system and an enhanced fan to cool the plastic quicker.
3Doodler 2.0 Functions
3Doodler 2.0 allows you to draw in the air by extruding a heated plastic line that cools almost instantly when it leaves the tip on the 3D pen. You can also draw over a template or stencil and then lift it off the page as a solid model. An amazing way to accurately test and visualise a structure from scaled elevation drawings or to simply have fun with art projects.
3Doodler 2.0 Features
75% smaller than the original 3Doodler 3D pen.
Weighs just 50 grams which is half the weight of the previous model
No computer software required or any real technical knowledge
Uses incredibly strong and flexible ABS plastic or PLA filament
Dual speed control and a double click function to create a continuous flow.
Quieter and more efficient fan.
Far better power consumption, the 3Doodler 2.0 is twice as efficient as the original model.
Comes with power supply and 2 packs of filament. Each pack has 25 strands each capable of producing 3.5m
You can now get an accessory called the Jetpack, which is a portable battery pack so you don't need to plug the 3Doodler into the mains.
3Doodler 2.0 Price and Availability
The 3Doodler 2.0 price is the same as the original model at £99.00 with free delivery in the UK from Firebox.com.