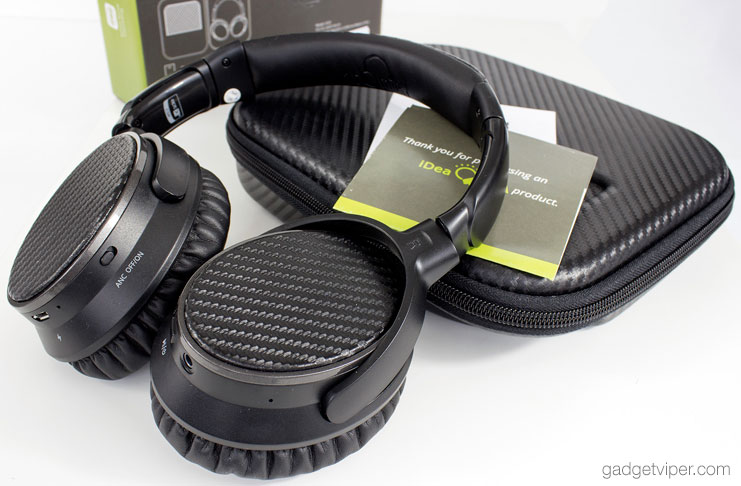 AtomicX V201 Bluetooth Headphones
Lightweight and comfortable over the ear Bluetooth headphones with Active Noise Cancelling technology.
The AtomicX V201 headphones feature Bluetooth 4.1+EDR and AptX codecs for CD quality wireless audio streaming.
Highlights
Active Noise Cancelling Technology
20 Hours battery with ANC active
AptX Codecs and Bluetooth 4.1+EDR
Over-the-Ear design for comfort
Lightweight and foldable for storage
Comes inside hard case

AUX cable, USB and Aviation Plug
Pros and Cons
+
comfortable over long periods, good battery life, reliable Bluetooth signal, affordable
–
No Auto-off switch for the Active Noise Cancelling – Easy to forget to turn off.
Where to Buy?
Price updated – 29th of June 2017 at 09:30 GMT
*Product prices and availability are accurate as of the date/time indicated and are subject to change.
An affordable alternative to the Bose Quiet Comfort 35 Bluetooth Headphones.
AtomicX V201 Headphones – Full Review
What do I look for in a good set of Bluetooth Headphones these days? Comfort, sound quality, battery life and a design that's not so 'in your face' with over the top branding and logos. The AtomicX V201 Headphones fit almost as neatly into my like-list as they do in the carry case the come in. Let's take a closer look…
Design and Build Quality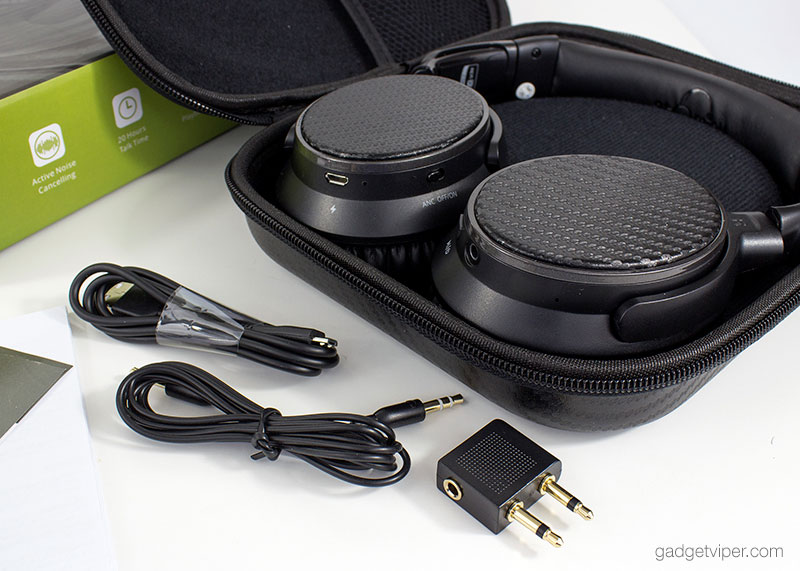 I was very pleased to see these headphones arrive inside a top quality semi-rigid hard case. More often than not, you'll get a draw-string pouch which offers very little in the way of protection.
The case has carbon fiber surface to match the headphones and a zipped closure. Inside is a mesh pocket to keep the USB charging cable, AUX lead, and Aviation adapter.
Along with the headphones and accessories, there's also a 1-year warranty card and a user manual in multiple languages. The instructions are well written and are easy to follow.
The V201's are surprisingly light (210g) and compact considering they are designed to fit fully over the ears. Thier subtle design is not too dissimilar from the Bose Quiet Comfort 35's. I wouldn't go as far to say they are intentionally copying their look. The crossed-hatch finish on the earcups and straps do help to differentiate them. Had the surface been a plain matte black, you could quite easily stick a Bose badge on them and fool most people from a distance.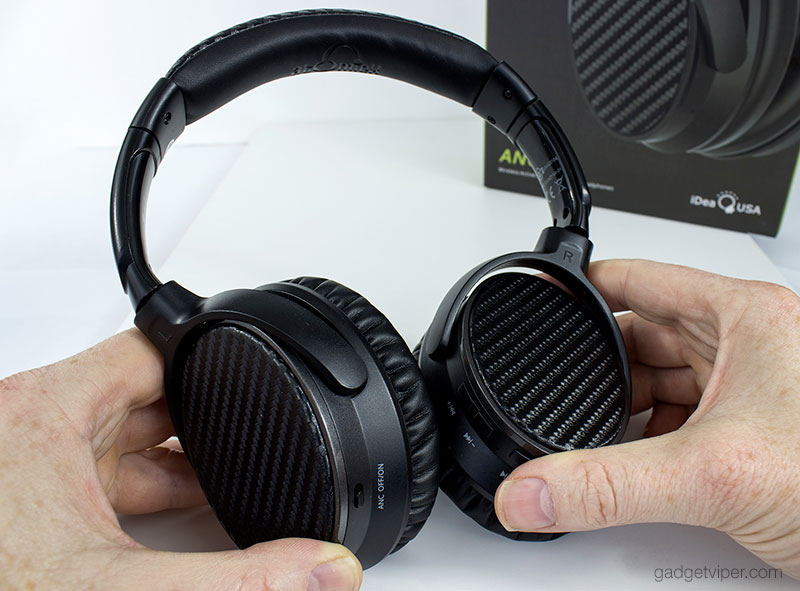 I really like the lack of visible branding on these headphones with just the AtomicX logo on the underside of the padding. I'm not saying that because I think to see the brand name would cheapen the look. I personally think all logos should be more subtle even on big-name headphones *cough Beats
Durability
When I first started getting headphones to review I was fearful of truly stressing them to properly test their build quality. These days it's a different story. I even complete the photography first, just in case I snap a set.
Fortunately, there was no need for me to go fetch the duct tape from the draw. Despite the AtomicX V201 headphones feeling lightweight, they were able to take a substantial amount of force in all directions.
I also stretched the head strap wide enough to fit over a prize-winning Pumpkin / Donald Trump's head – well almost...
Comfort
I would easily rate these as one of the most comfortable sets of headphones I've worn in recent months. I had these on for the best part of eight hours yesterday without any discomfort. I think over-the-ear headphones are perfect for wearing over long periods of time.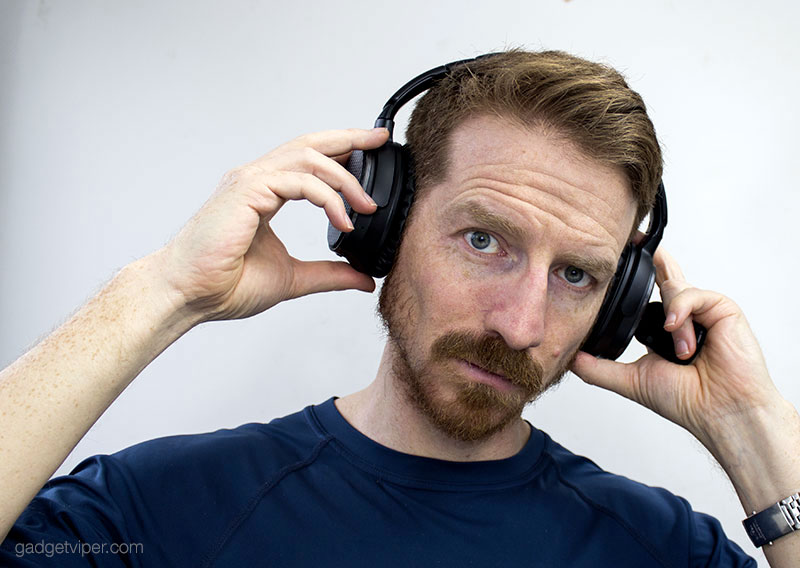 Specifications
Bluetooth:  Version 4.1+EDR with apt-X
Profiles: A2DP / AVR CP / HSP / HFP
Range: 10m (unobstructed)
Battery Life: 25 hours / 20 Hours with ANC on
Standby Time: 250 Hours
Noise Level: 20db
Speaker Diameter: 40mm
Speaker Impedance: 32ohm
Driver Sensitivity(S.P.L): 103±3dB
Frequency Response: 20Hz—20KHz
Bluetooth Performance
The V201's paired easily with all the Bluetooth enable devices I tested it with. The range was good and the connection seemed reliably with no drops outs.
Strangely, there's a male voice for audio notifications on these headphones. Not that I'm sexist or anything, but given the choice, I'd much prefer a female voice. – unless it's my mother's.
Audio Quality
The AtomicX V201 headphones produce a well-balanced and natural sound. The aptX codecs ensure there is very little if any loss in quality when listening via Bluetooth. I couldn't detect any difference when switching to a wired connection using the included audio cable.
The volume is good, I could hear no distortion, and it has just the right amount of bass to compliment the mids and highs. It's worth noting that there is a slight difference to the soundstage when the ANC is activated. The bass drops a little and the audio feels a little more distant. It's a small price to pay for ridding yourself of annoying environmental noise.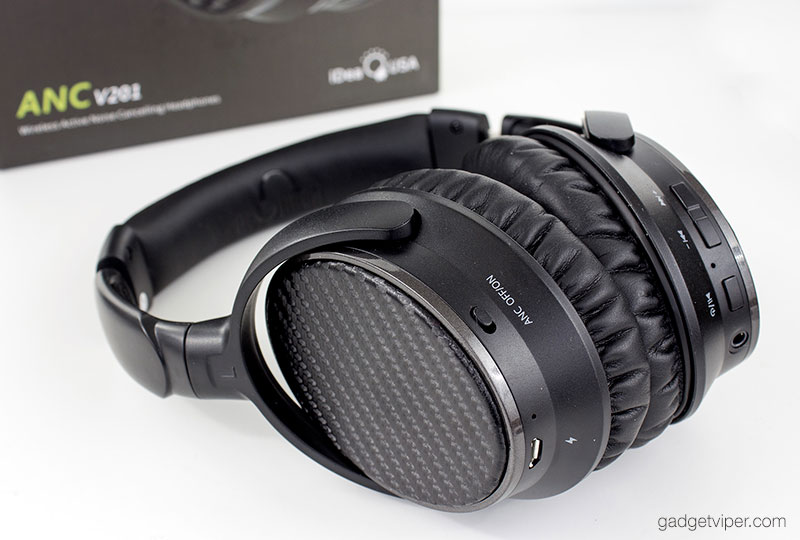 Active Noise Cancelling
The active noise cancelling does a great job of cutting out certain sounds. My loud PC fans become practically silent when it's on, as does my fridge freezer. Any low and consistent ambient noise like the sounds of an engine are reduced significantly.
The ANC is controlled by flipping a switch on the left earcup, a solid blue light will then remain on. While this light is fairly visible, I've still managed to forget to turn it off after putting the headphones down. I think it's a shame that the ANC doesn't automatically power down to conserve the battery life.
Verdict
The AtomicX V201 Bluetooth headphones have far exceeded my expectations. Along with the ANC, they have an impressive 20 hours battery and a consistent AptX Bluetooth connection. They're light and very comfortable to wear over long periods. These headphones are great value for money and if you're budget fits, I highly recommend you check them out.
Price updated – 29th of June 2017 at 09:30 GMT
*Product prices and availability are accurate as of the date/time indicated and are subject to change.
If you found this review useful, please leave a comment below or share it socially – Thanks!