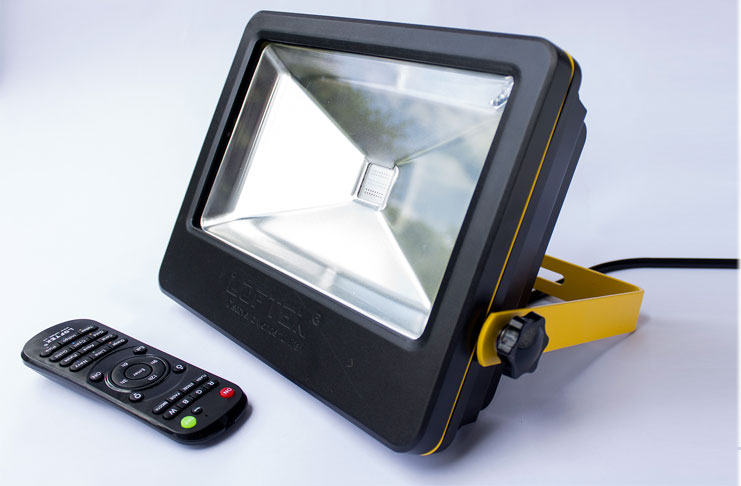 A review of the new Loftek 50W LED Floodlight, an IP66 rated outdoor LED. Featuring remote controlled timer, color, brightness and light-transition modes.
+
Solid build quality with good heat dissipation. Nice remote controller.
–
Relatively short power cable will need extending for outdoor use.
Price updated on the 3rd of May 2017 at 10:10 GMT
*Product prices and availability are accurate as of the date/time indicated and are subject to change.
Its high efficiency and great heat dissipation make this LED light just as good for indoor use.
1
Design and Build Quality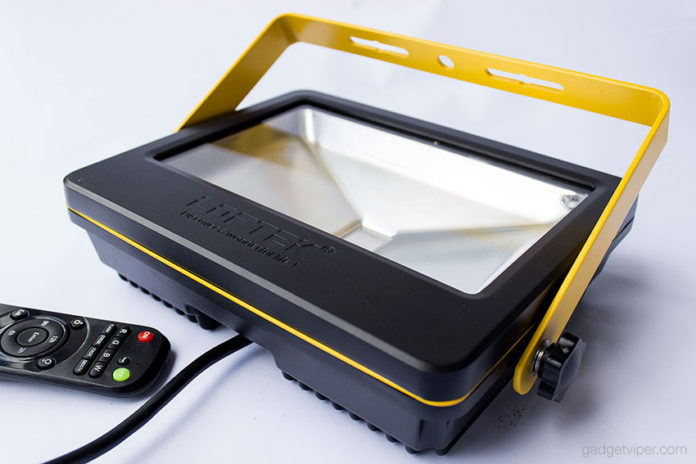 I've reviewed numerous LED lights over the last two years. From previous experience, I have learned to expect a relatively lightweight and plastic-made product. The Loftek 50W LED floodlight certainly doesn't fit that description at all. Its thick die-cast aluminium casing and tempered glass lens put this product squarely in the 'heavy duty' category.
The Loftek floodlight is fitted with an adjustable stand that can also be used as a mounting bracket. It features tightening cogs on each side to securely position the flood light at the desired angle.
| | | | |
| --- | --- | --- | --- |
| 9.8 inches | 7.9 inches | 2.76 inches | 6lbs |
The overall design and build quality is great. It's been vibration, impact and temperature tested and comes with an IP66 rating. This means it's fully dust proof and capable of withstanding a high powered jet of water from any angle.
My only minor dislike is the length of the power lead, at only 4 feet, it's a bit short. Understandable though, as for the majority of outdoor uses, you'd need an additional outdoor extension cable anyway. Had the cable been a few feet longer, I'd have found it more practical for indoor use, without the need for an extension lead.
The Loftek 50W LED floodlight is controlled via the remote unit that comes included. The remote is very responsive even when it's not directly pointed towards the light. It's also very well laid out and simple to use.
There are four main color modes at the top (red, green, blue and white) with four color transition modes directly below.
In the middle, there are brightness and timer settings. The floodlight can be programmed to automatically switch off after 3, 6, 9 or 12 hours.
At the bottom of the remote control are 12 additional color options to choose from.
| | | | | |
| --- | --- | --- | --- | --- |
| 50 Watts | AC 85V-265V | 50,000 Hours | 120° | 6-8m |
The Loftek 50W LED floodlight is exceptionally bright. If you look directly at it, you're likely to be seeing spots for some time. The huge range of colors and its six brightness levels makes this LED light hugely versatile for multiple environments.
The above video is a quick demonstration of the light cycling through its colors on the smooth setting. Ignore the wave moving up the wall, that's generated by my DSLR camera. I'll get around to googling the reason why –  I'm guessing it has something to do with the frame rate.
The remote's ease of use and the multiple options on the Loftek LED have really impressed me. I especially like how the device remembers your last color and brightness settings when you turn the light back on.
The Loftek 50W LED floodlight is a versatile lighting solution that's built to last. Its heavy duty build quality and IP66 rating make it ideal for outdoor use in any condition. I've been very surprised by how little heat is generated by this light. I've had it on the brightest setting for hours now and it's still barely warm to the touch. For this reason, I'd also highly recommend it for indoor uses too. whether it's for backlighting, parties or general DIY projects, this light could be just what you're looking for.
Price information last updated on the 3rd of May 2017 at 10:10 GMT
If you enjoyed the review or found it useful, please share it socially or leave a comment below – Thanks!