Chipolo Classic Bluetooth Tracker
Tired of hunting for your keys or smartphone? The Chipolo Classic Bluetooth tracker offers a practical solution to both problems.
If you've misplaced your phone, you can double tap the Chipolo to make it ring and if you've lost your keys, you can use your phone to track them down.
Highlights and Features
92db loud melody
Replacable battery that lasts 9-months
Bluetooth Range up to 60m (200 feet)
Chipolo phone app with GPS map
Share your device with other phones
Community tracking for lost items
Track your phone with the Chipolo Website
Pros and Cons
+
Small and light, replaceable battery, very user-friendly app, can use multiple Chipolo's at the same time, you can track a lost phone through the Chipolo website.
–
Not waterproof (see the
Chipolo Plus
 which is IPX5) The effectiveness of the community tracking depends on the popularity of the product.
Where to Buy
*Price updated on the 19th of March 2018 at 10.00 GMT
Price and availability are accurate as of the date/time indicated and are subject to change. Any price and availability information displayed on Amazon at the time of purchase will apply to the purchase of this product.
Chipolo Classic – Full Review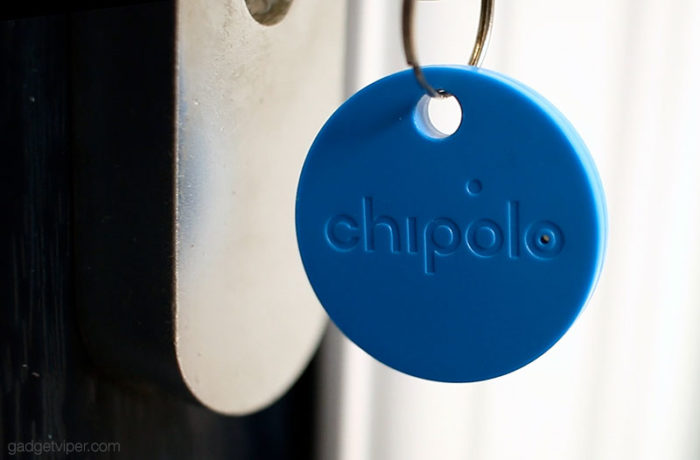 It's been three weeks since I set up my first Chipolo and in that time I've used it fairly frequently. Mostly for testing out the device for review purposes, however, on two separate occasions, I had a genuine need to locate my keys and my phone. I quickly found both! The keys,  I'd stupidly left dangling in the front door lock and my phone was tucked down the side of the sofa. Both times I was left feeling rather gleeful at how easy the task was. – I just hope the Chipolo doesn't cause me to be even more complacent than I already am!
2
The Chipolo Classic – Build Quality and Design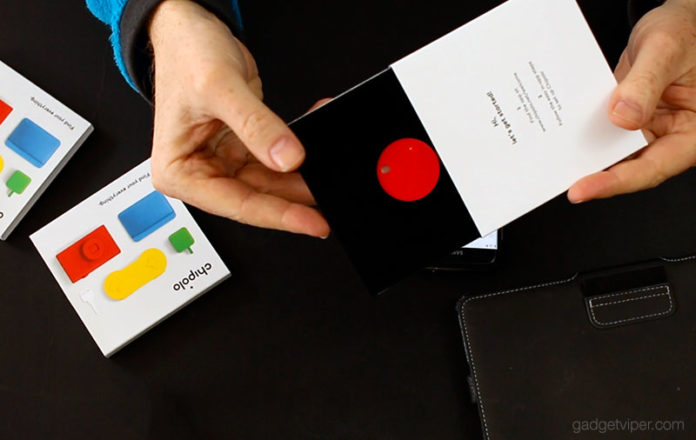 The Chipolo Classic comes in a compact retail box with the unit set inside closed-cell foam for protection. It measures 35mm in diameter (1.38 inches), has a thickness of 5mm (0.2 inches) and weighs around 5 grams.
There is a 5mm hole through the top to attach it to a keychain and its minimalist coin-like design features the Chipolo logo etched across the centre. The plastic surface has a matte finish which seems fairly resistant to surface scratches.
The Chipolo is available in a range of colours depending on your preference. They're also in black or white if you prefer a more subtle look.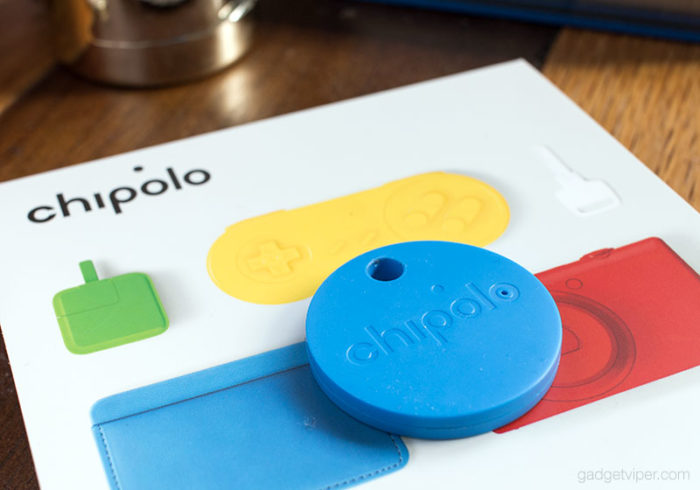 The Chipolo Classic takes a CR2025 button battery which can easily be replaced by separating the housing using your fingernail. They do offer a model called the Chipolo Plus which is a fully sealed unit. It requires a full replacement once the battery is depleted, but does benefit from an IPX5 water resistance rating. Despite Chipolo offering a 50% discount on replacement units, it will be considerably more costly than using the Chipolo Classic and switching the battery yourself.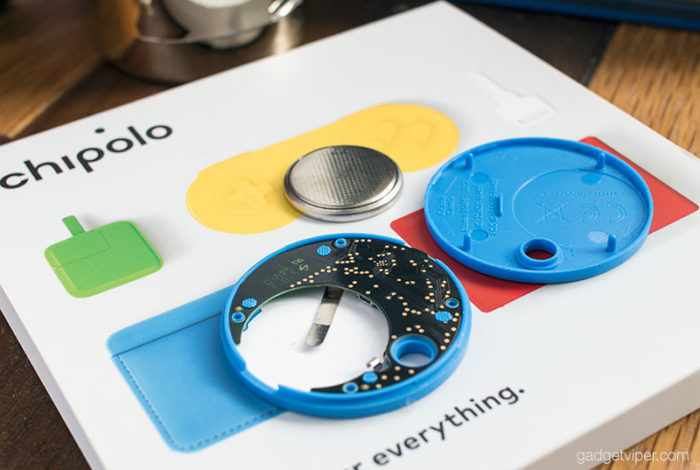 The battery is already inside the unit when it arrives and there appears to be no plastic pull tab to prevent contact with the battery. I assume they ship in an off-state and don't begin tracking until the first press of the button.
3
Setting up the Chipolo Classic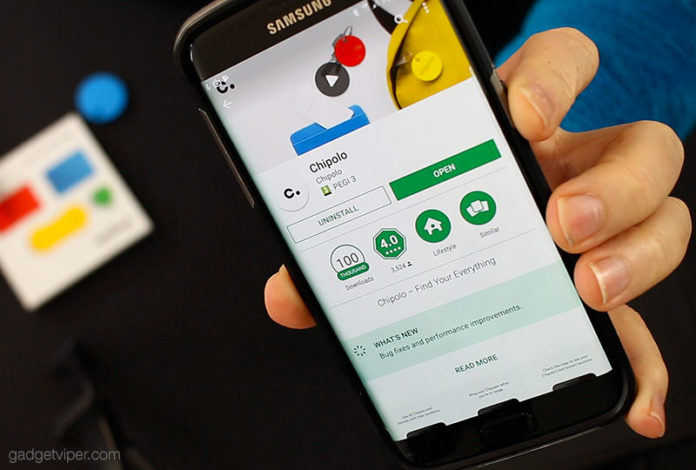 To set it up, you first need to download the Smartphone app on either Google Play or the App Store, just search for 'Chipolo'. The App is amazingly simple to use and extremely well designed. It will guide you easily through the process. This involves turning on the Bluetooth and allowing the app to stay active in the background.  Once that's done, you simply squeeze the Chipolo until you hear a tone and wait for the phone to connect to it.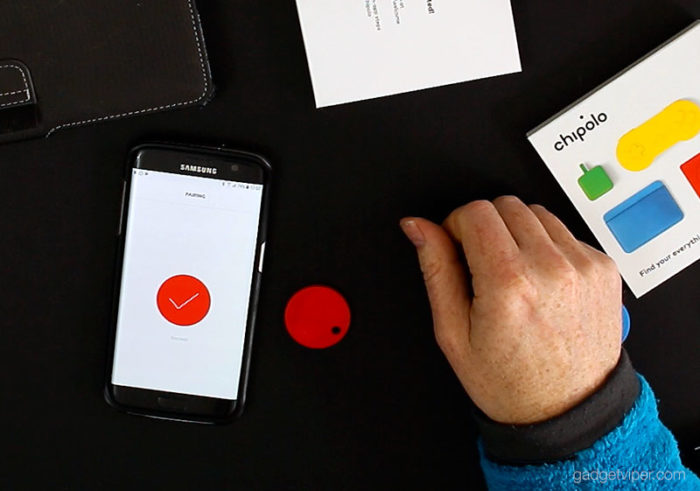 If you haven't already watched my YouTube video review, here's a link to the part where I connect it.
After pairing, you'll be able to give it a name and assign it to a role (eg. Keys, Luggage, Bike). You can then repeat this process if you have more than one Chipolo. The app will manage multiple units and list them and also display their locations on a map view.
4
Finding the Chipolo Classic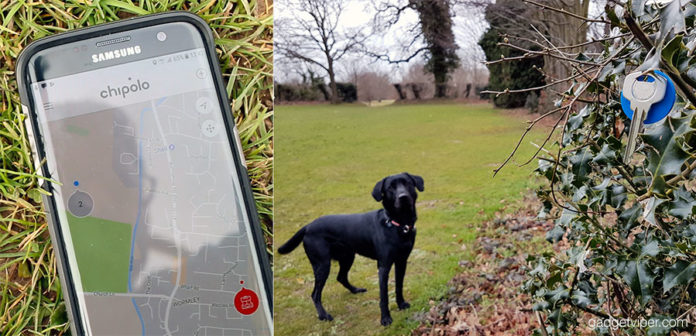 When the Chipolo Bluetooth tracker is within range, you'll be able to use the app to start the audio tone by clicking 'ring to find'. It's 92db which is loud enough to hear from a good distance in a relatively quiet environment. If, however, you're outdoors with the wind against you, you'll need to be a lot closer. Compared to other popular Bluetooth Trackers like the Tile or the TrackR the Chipolo's volume is good. During testing, I found that I needed to be within about 15m while outdoors before I could hear it. My dog (Baxter) heard it from almost three times that distance!
What if it's out of range?
When the Chipolo is out of range the map will show you the last known position. You can then return there and hopefully, it will reestablish a connection and allow you to ring it.
What if it's been moved from the last known location?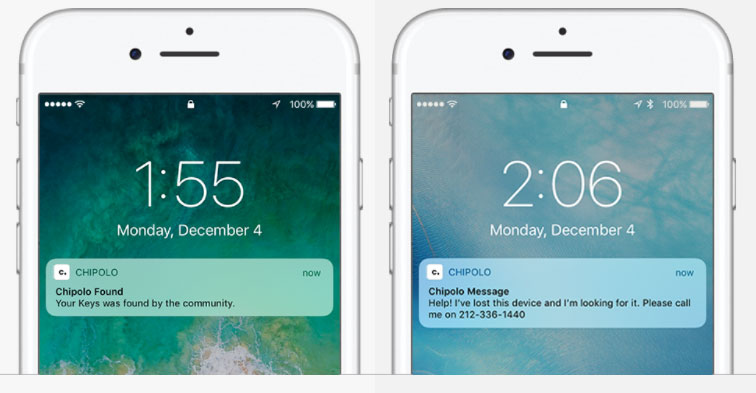 There is still hope, you can mark the item as lost in the app. From then on, if another Chipolo user comes within range it will ping it on the map with an updated location and notify your phone.
5
Using the Chipolo to find your Phone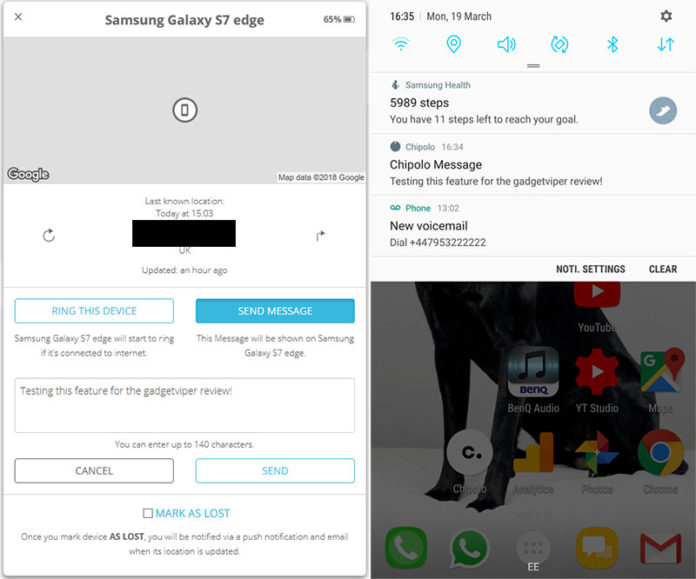 When in range, you can simply double press the Chipolo Classic to make your phone ring. If you're out of range and you've lost your phone you can log in to the Chipolo website using the email and password you set up the account with. You'll then be able to track your phone, make it ring and send a custom notification message. – As far as I know, this is a unique feature that only Chipolo provide.
6
Additional Chipolo Features
Selfie mode – Inside the app you can access your phone's camera, then use the Chipolo as a remote to take long distance selfie shots.
Sharing – Individual Chipolo's that are added to your phone can be shared with family and friends devices.
Chipolo Labs – By tapping three times over the serial number inside the customize menu, you'll gain access to additional features. These include 'in range' and 'out of range' audio notifications.
The Chipolo certainly has some stiff competition in the Bluetooth tracker market with the likes of the Tile and the TrackR. That said, I think the Chipolo Classic stands its ground with its features, especially when it comes to locating your phone. I like its simplistic design, the app is clean and very functional and the website tracking is a huge bonus. Its replaceable battery gives the Chipolo Classic longevity and affordability that most other trackers can't.
I will continue to use the Chipolo tracker long after this review is posted and I'll update it with more information on its durability and effectiveness over time. But as of now, I think its an impressive device and worth the price tag.
Where to Buy
*Price updated on the 19th of March 2018 at 10.00 GMT
Price and availability are accurate as of the date/time indicated and are subject to change. Any price and availability information displayed on Amazon at the time of purchase will apply to the purchase of this product.
I hope you found this review useful, if you did, please share it socially or leave a comment below – Thanks!