BenQ TreVolo S Electrostatic Speaker
The Worlds smallest Electrostatic speaker featuring Bluetooth, DAC and Auxilly playback.
A stylish portable speaker utilizing electrostatic speaker technology. The BenQ Trevolo S offers a new level of detail with a non-distorted 3D sound and Duo mode to link speakers together.
Highlights and Features
Folding Electrostatic speaker panels
Bluetooth 4.2 with multi-connectivity
USB DAC connection for PC's and Laptops
18 Hour battery life, charges with USB
Has a Smartphone app to control speaker
Can be linked with another Trevolo S
Comes with Power adapter and carry pouch
Pros and Cons
+
Very clear highs and mids, really impressive vocal clarity, stylish design, practically no distortion, good battery life, comes with a phone app
–
Light on the low-end, no apt-X, has a smaller sweet spot compared to a conventional speaker, not that loud, no hands-free calling functionality
Where to Buy?
Price updated – 7th of March 2018 at 16:30 GMT
*Product prices and availability are accurate as of the date/time indicated and are subject to change.
The TreVolo S is the Worlds smallest electrostatic speaker, it does have a slightly bigger brother you can
see it here
.
The TreVolo S – Full Review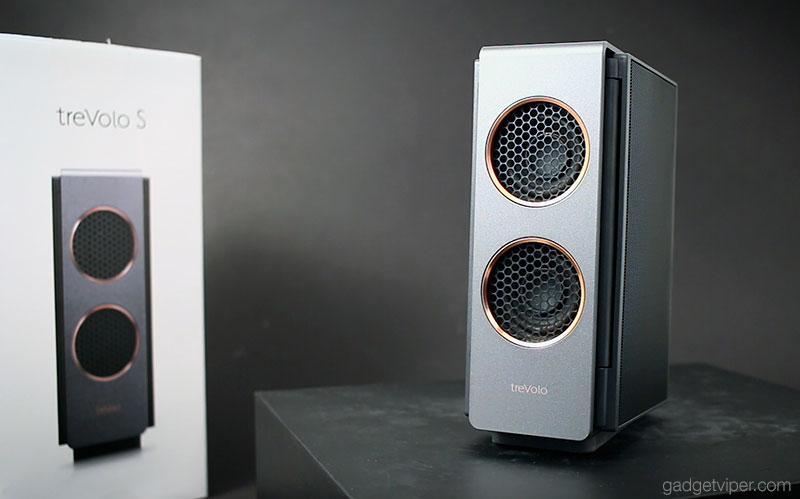 The TreVolo S comes inside a tidy looking retail box. Inside there's a user manual, a power adapter, and a carry pouch. The unit measures 63x96x157mm and weighs 1kg, which to my knowledge is the smallest electrostatic speaker currently on the market. In fact, I believe BenQ is the only company that make portable electrostatic speakers. They do offer a big brother to the TreVolo S which is called the TreVolo, so I'm guessing the 'S' stands for small.
Design and Build Quality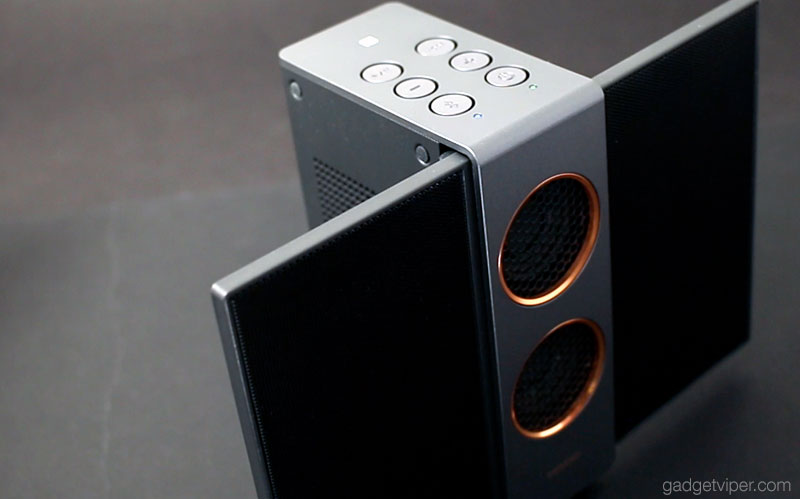 With 1000's of portable Bluetooth speakers on the market, it's becoming a challenge for manufacturers to come up with a truly unique design. The TreVolo S certainly achieves this with its folding electrostatic speaker panels. With them closed, the speaker's width is reduced from 212mm to just 63mm. This is a great design feature for space-saving, storage, and portability when not in use. The electrostatic panels measure just 5mm in thickness and are well protected on the front and back by a finely perforated metal grill.
In contrast, the two front-facing 12W sub-woofers have a far coarser perforation and look really stylish set inside copper coloured bezels.
The combination of black grills, the graphite grey body and copper detailing give the TreVolo S speaker a premium look.
Behind the electrostatic speaker panels are two passive bass radiators, one on each side. On the rear of the speaker are two ports, a micro USB and a 3.5mm audio input. The mains adapter that comes with the TreVolo S connects via the Micro USB port. This port will also make a DAC connection to a PC, Mac or Laptop.
Control Buttons on the TreVolo S
The buttons, NFC pairing zone and indicator lights are all positioned on the top of the speaker. There are six buttons in total these include a power on/off, volume control, pairing, play/pause and a mode button to toggle the 3D sound.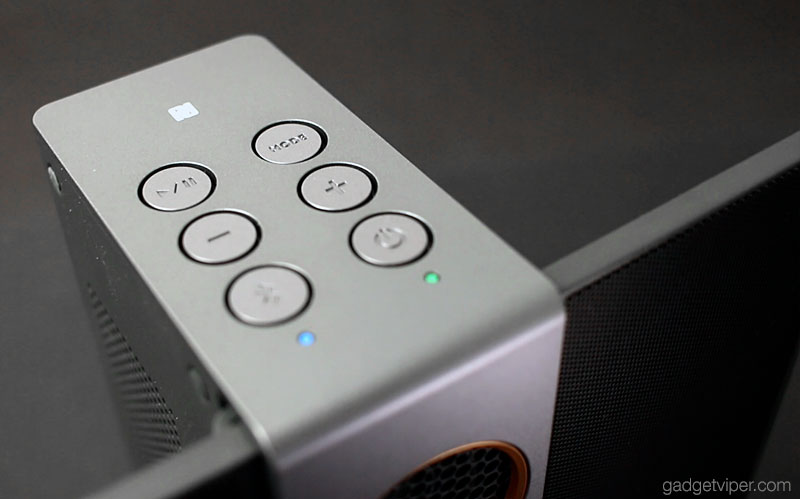 Usually, when there are no independent buttons to skip tracks, most Bluetooth speakers will provide this function by long pressing the volume controls. The TreVolo S strangely requires you to press the play/pause and the '+' or '-' volume button together to play the next or previous songs. It works well enough, so I have no complaints –  other than it not being mentioned anywhere in the user manual.
The buttons are pleasant enough to use and I like how they sit slightly below the top surface of the speaker. This allows you to easily place your smartphone down to quickly NFC pair.
Alternatively, those without NFC on their devices can hold the Bluetooth button for 3 seconds to make the TreVolo S enter pairing mode.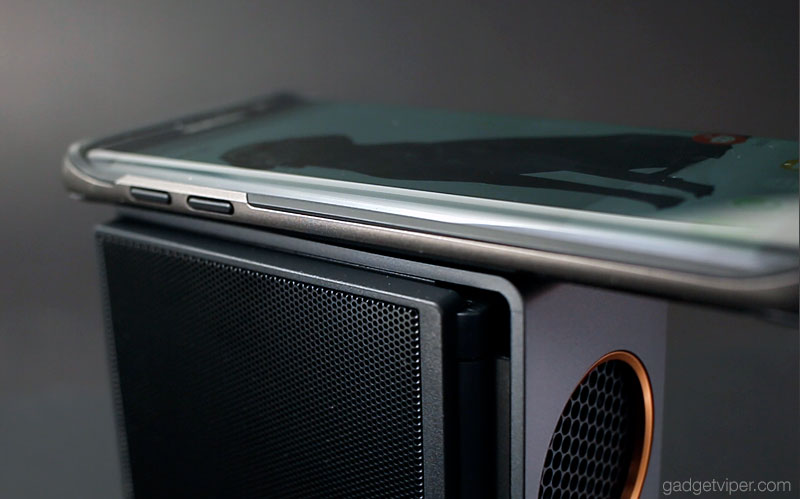 Specs
| | | | | | |
| --- | --- | --- | --- | --- | --- |
| v4.2 Profiles: HSP, HFP, A2DP, AVRCP | 10m (33 Feet) | Up to 18 Hours | DC 5V 2A | Bluetooth, 3.5mm, USB DAC | 60Hz -20KHz |
TreVolo S Features
Auto Pairing – When you power the TreVolo it will automatically enter pairing mode and attempt to reconnect to previously paired devices.
Auto-off – If you turn off the Bluetooth on your phone or go outside of its range, the TreVolo S will wait a few minutes and then Auto Power off to save the battery.
Duo Mode – If you can afford to buy two units, the TreVolo S will link together in either party mode or as a left and right speaker

BenQ Smartphone App – The app allows you to see the remaining battery level, toggle on and off the 3D Sound mode and set up the Duo mode. It also includes an electronic user manual – if you've misplaced the paper version. – Link to the app.
USB DAC Playback – You can connect the TreVolo S to a PC, Mac or Laptop via the MicroUSB port on the rear.  It will then act as a speaker for your device. You can also connect a second speaker in Duo mode. The USB connection is the optimal method for lossless music files. The digital transmission ensures the best quality possible for files such as .flac .wav .alac or .aiff.
If you're using the TreVolo S as a PC speaker, you may find that it will automatically power off if there is no audio coming from the computer. I reached out to BenQ regarding this and they sent me a Firmware update to fix it. If your TreVolo is running on the old firmware and you'd like the file, leave me a comment below and I'll send it to you.
3.5mm wired connection – Should you wish to use a device without Bluetooth, the TreVolo S can be connected with a standard phono cable plugged into the rear.
TreVolo S – Sound Quality and Performance
There are two play modes available, normal and 3D mode. Both produce a very natural sound, however, I think the normal mode lacks punch. This is the default mode when you turn the speaker on.  I doubt many people would favour it over the 3D mode. – I've spent over 50 hours with the TreVolo S and I'd say 49 of those were spent with the 3D sound activated.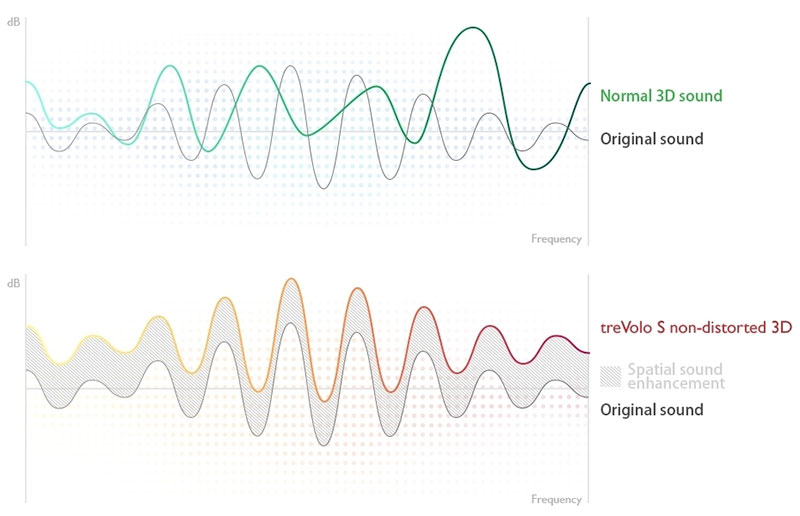 Unlike most Bluetooth speakers with a boost function, the TreVolo S retains the original sound but enhances its spaciousness. Electrostatic speakers are said to produce 10 times less distortion than conventional speakers. – Although I'm not sure how accurate that fact is.
The speaker is at its best at around 80% volume with the 3D mode on. With that said, it does remain practically distortion-free even at full volume and holds together really well at  low levels.
The Good
The highs and mids are exceptionally good. Vocals are very clean and detailed. If you're inside the sweet spot you'll be extremely pleased with the clarity.
The Bad
The TreVolo S is not particularly loud for a speaker of its size and weight. The Low-end, while pleasant, does lack richness. 
Getting the most out of the TreVolo S
Electrostatic speakers are not like the regular cone-shaped varieties. A conventional speaker will disperse the sound out of the front at a wider angle. In contrast, an electrostatic speaker will send the sound out of the front and the back in more of a beam.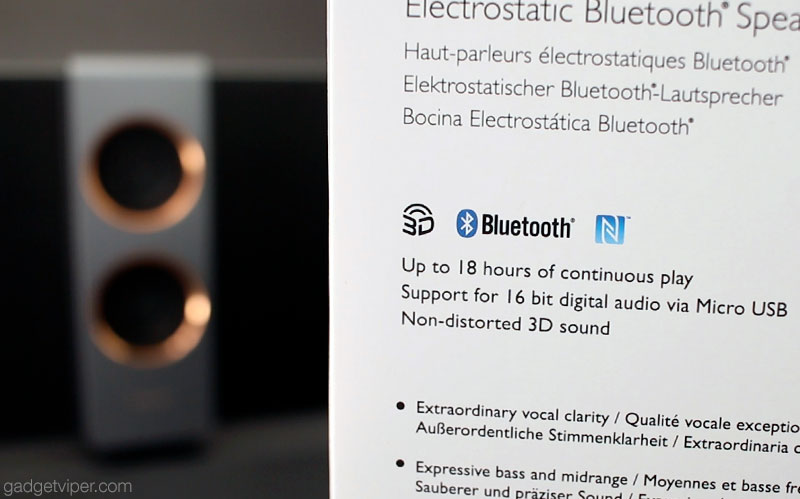 For this reason, the placement of the speaker has a noticeable effect on the soundstage. If you'd like to raise the low-end you can move the speaker slightly closer to a rear wall. It's also important that the panels are facing towards you whenever possible. – Both horizontally and vertically.
Verdict
BenQ is breaking new ground by introducing electrostatic technology into portable speakers and I think they are really on to something. The concept of folding panels could definitely work, especially if they can make the sweet spot larger. I can imagine a future model with curved panels or even double panels on each side to spread the sound out more.
As for this model, there is a lot to like. The stylish looks, impressive battery life and the audio clarity from the mids and highs certainly set it apart from most portable speakers. Of course, it won't please everyone, I can imagine those that like high volume and big basslines feeling a little underwhelmed. That said if you're looking for a unique speaker to listen to at a moderate volume, that will compliment vocals and instrumentals, the TreVolo S could be an ideal choice.
Price updated – 7th of March 2018 at 16:30 GMT
*Product prices and availability are accurate as of the date/time indicated and are subject to change.
If you found this review useful, please share it socially and if you enjoyed our video, please
subscribe
to the YouTube channel – Thanks!