Pros and Cons
+
Good build quality, low price, easy to use, surprisingly clear record quality and volume level
–
Where to Buy
Intro
I've been making YouTube videos now for well over a year. In that time, the one thing I have struggled with the most is the audio quality. Until now, I've been using a relatively cheap Rode Video Mic Go plugged into my DSLR. The vast majority of my audio is narrated over B-Roll, so it seems like a logical solution to use a USB condenser microphone connected directly to my PC – It's just a shame it took me so long to figure that out!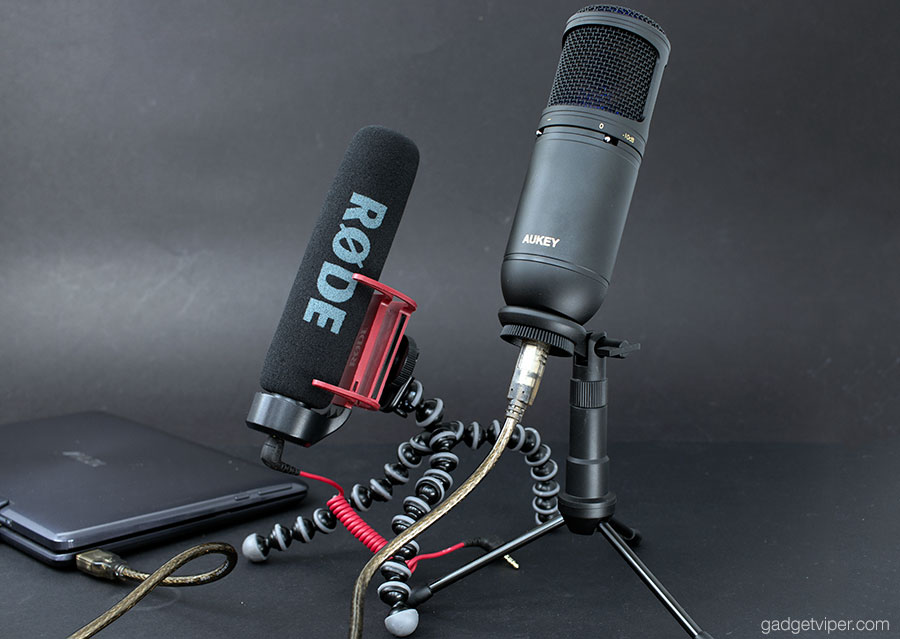 Further down this review, I'll upload some un-edited sample audio using the Rode VMGO and this Aukey USB Condenser Microphone, so you can compare the difference.
AUKEY MI-U2 – Full Review
Unboxing
The microphone and accessories come in a relatively plain box. All AUKEY products are packaged this way. Probably because they only sell products on Amazon so have no need to spend money on fancy retail packaging to catch the eyes of passing consumers. It's what's inside that counts – right?
Design and Build Quality
All the components are machined from Aluminium to a very high standard. The matte black anodised surfaces on the microphone, tripod, and mount are flawless. Even under close inspection, I cannot find a single blemish or tatty area to remark upon.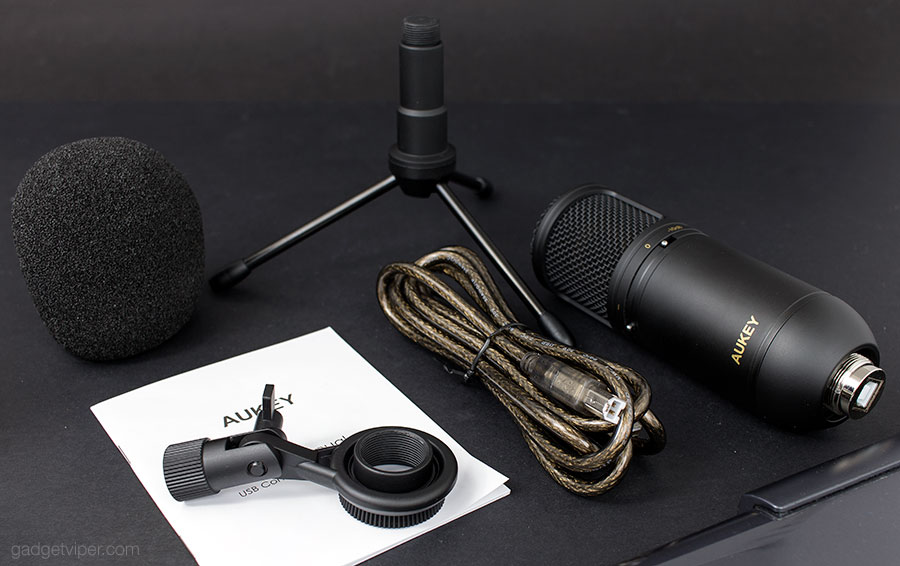 The protective metal mesh feels very robust and the low-cut and PAD switches toggle on and off nicely. The USB cable is long and thick with good quality connections. The only component that I'd have liked different is the windshield sponge that fits over the microphone.
It fits well and will obviously reduce noise if you happen to be blowing directly into the microphone. That said, I'd have preferred a pop screen, mainly for aesthetic reasons. This is because the AUKEY MI-U2 Condenser microphone illuminates blue when connected.
Although not totally essential, I would have liked to see either a power on/off button or a mute button on the microphone. There are times, especially if you're on a skype call when this comes in handy. It is pretty easy to pull the USB cable out from the bottom, but that's by no means an ideal solution.
Specifications
Type: Condenser capsule (with 14mm diaphragm)
Polar Pattern: Cardioid
Frequency Response: 30Hz-18kHz
Sensitivity: -36dB ±2dB (0dB = 1V/Pa at 1kHz)
Max Sound Pressure Level: 130dB (at 1kHz ≤ 1% THD)
Signal-to-Noise Ratio: 89dBA
Dynamic Range: ≥90dB
Equivalent Noise Level: 15dBA
Impedance: 16 ohms
Sampling Rate: 48kHz
Bit Rate: 16bit
Total Harmonic Distortion: 0.009%
Power Supply: DC 5V USB
Output Power: 130mW
Interface: USB-B
Compatibility: Windows, Mac OS X, iOS
Cable Length: 1.8m / 5.9′
Dimensions: 51 x 158mm (2.01″ x 6.2)
Setting up the AUKEY MI-U2
This is really going to be a short section! The AUKEY MI-U2 has an inbuilt soundcard so no additional software or drivers are required. It will automatically install itself when connected to your PC or laptop and be ready to use.

It's also compatible with Apple systems as well as iPads. – If you intend to use the microphone with an iPad you'll need to purchase a connection kit.
Sound Quality and Performance.
Here is a comparison of raw audio recorded from three different sources.
H5 Sound BlasterX Gaming headset – (with the boom slightly away from my mouth)
The RODE VMGO Shotgun Microphone – (From a distance of 10 inches)
The Aukey MI-U2 Condenser Microphone – (From a distance of 10 inches)
As you can probably tell, there's a significant improvement in the sound quality and record volume when using the AUKEY MI-U2.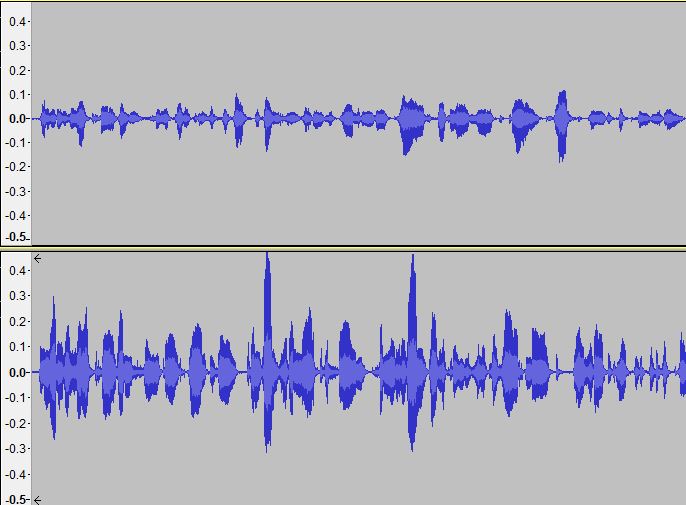 The screenshot above shows the recording of the RODE shotgun microphone at the top and the AUKEY Condenser microphone at the bottom. You can clearly see the difference in levels.
The Low Cut Switch
To test the low cut switch I played 80hz bass from my PC speakers and toggled the Low Cut switch on and off. While there was a difference, it wasn't that noticeable, I was hoping for a little more.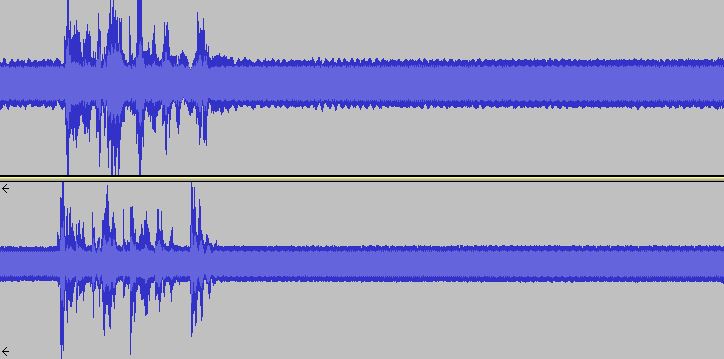 The PAD switch
If you're recording a loud musical instrument or you happen to be shouting into the microphone, this switch will allow you to drop 10dB's off the volume and prevent the audio from clipping.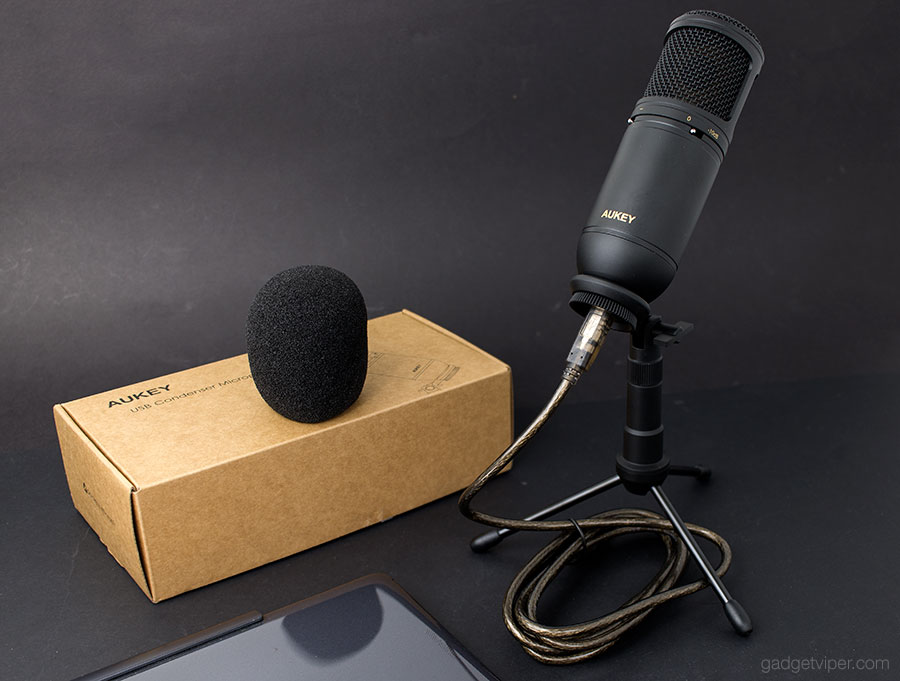 Verdict
The AUKEY MI-U2 has a great build quality with all its components made from aluminium and finished to a high standard. It's simple to set up and easily good enough to use for podcasting and YouTube voice overs. I would have liked a mute button for Skype calls and perhaps slightly more impact from the low-cut switch. Despite that, I think it's an absolute bargain and I highly recommend it to anyone looking for an affordable USB condenser microphone.