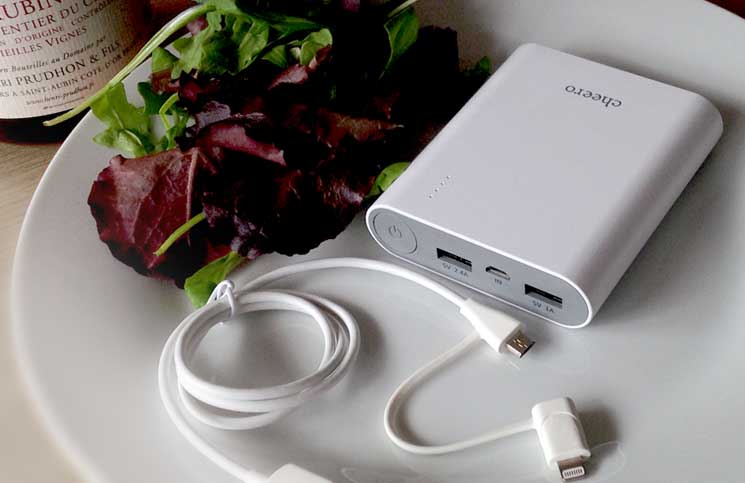 *Price last updated on the 10th July 2016 at 9:20 GMT
Intro
It was a real treat for me to review the Cheero Power Plus 3 portable power bank.  It's not like I haven't done power bank reviews before. This time however, it feels like I'm tasting a Kobe beef steak as opposed to a piece of rump. Apologies to any vegetarians out there, but I think the metaphor works.  Considering that the Cheero Power Plus 3 and a cut of Kobe Beef are both fine Japanese exports.
For those of you who are confused with the comparison, please do not attempt to eat the Cheero power bank as you would a Kobe Steak. The build quality is so solid, you are likely to break all your teeth in the process!
Ok, this may be the first time any technology review blog has ever compared a tech product to a cut of meat.  I should actually be comparing the Cheero Power Plus 3 to the Xiaomi Power bank 10400mAh which is a far move rational thing to do.
The 13400mAh Cheero Power Plus 3 compared to the Xiaomi 10400mAh
Back when I reviewed the Xiaomi power bank, I was impressed by its clean simplistic design. The Cheero Power Plus 3 is remarkably similar, both products would look perfectly at home on the shelf of an Apple store.
What impressed me most about the Xiaomi Power Bank other than it's clean looks was the ridiculously cheap price tag. It was however missing pretty important features such as a secondary charging port. Any portable phone charger that has over a 10000mAh capacity needs to have at least 2 outputs.
Xiaomi is undoubtedly China's leading brand of portable phone charges, just as Cheero is Japan's most popular, with a 30% share of the total market.  While Xiaomi have focussed on price, Cheero have clearly put their energy into maximising the quality of their chargers.
Cheero Power Plus 3 – Design
As mentioned above the Cheero Power Plus 3 looks a lot like the Mi Power Bank by Xiaomi. It's relatively stumpy with rounded sides and a flat base and top.  This is definitely my favourite design for a phone charger, it's simplistic yet functional.  You can stand the Cheero power bank up vertical on your desk and have easy access to the USB ports and the power button.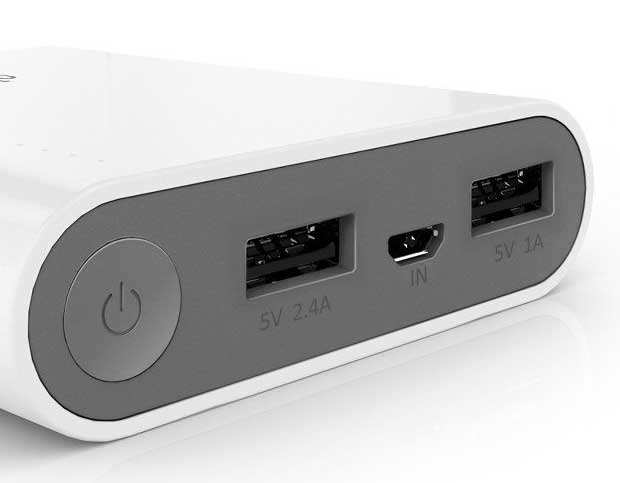 There are 2 USB output ports and a micro USB for recharging the power bank. These ports are like no others I've tested on any device. As soon as you plug a charging cable in, you will understand what I mean. The  fit is so solid and precise you could probably hang off the lead without it dislodging from the port.
The power button, which activates the charge to your device and also displays the LED indicator lights, feels impressively sturdy and responsive.
The Cheero Power Plus 3 is not the most compact or lightweight power bank I have tested, but in terms of build quality it's a serious step up over the others.
Cheero Power Plus 3 – Features
Battery Capacity – 13400mAh  – Up to 5 full phone charges.
Powered by high grade Panasonic Lithium ion batteries.
Automatic shut down to prevent overcharging.
Recharge time – 8 Hours from a 2A AC adapter.
Weight and size- 245g – 92 x 80 x23mm.
2 USB outputs – DC 5V/1A and DC 5V/2.4A.
Comes with a Micro USB charging cable and user manual.
An additional

2ft Dual (Lightning and Micro USB)  *subject to the first 3000 unit sold.
Cheero Power Plus 3 – Performance
Most of the power banks I've tested, even the ones that have felt fairly solid have always produced a fair amount of heat during the charge, some more than others.  The Cheero Power Plus 3 generates barely any external heat, which is a testament to it's build quality. It remains so cool to touch that I actually had to turn the iPad display on just to see if it was still charging.
As I'm sure most people will know, the maximum capacity of a Power Bank is not the actual amount of juice it will output. The percentage various from model to model, I've seen good ratio's from both Anker and RAVPower chargers in the past. The Cheero Power Plus 3 has to date proved to be the most impressive. This may be due it's 13400mAh capacity being a bit more than the standard 10000mAh power banks.  Either way, it's currently my most efficient charger and will certainly be my number one choice for any trips I plan to take in the near future.
Cheero Power Plus 3 – Where to buy?
---
US Customers
To buy the Cheero Power Plus 3 Power bank in the US, visit the Amazon.com product page.
UK and Overseas Customers
As the Cheero power bank is not currently available direct from the UK, you will also need to purchase it from Amazon.com.
-In order to do so, select the "Other Sellers on Amazon" from the right hand side of the product page, then select the Cheero official seller for outside the US.  There is an additional $5.00 for postage, but it's well worth it.
*Price last updated on the 10th July 2016 at 9:20 GMT
---
The Cheero Power Plus 3 has an impressive 13400mAh which should be ample for most portable charging requirements. If however, you have a long trip planned or lots of devices to keep topped up, then take a look at the 'Best Power Bank 20000mAh or more' list by clicking here. All the portable chargers featured in the list have a minimum capacity of 20000mAh and are capable of charging most phones over 10 times.
If you enjoyed this review or found it useful, please share it with your friends using the social media buttons below or leave a comment, Thanks!