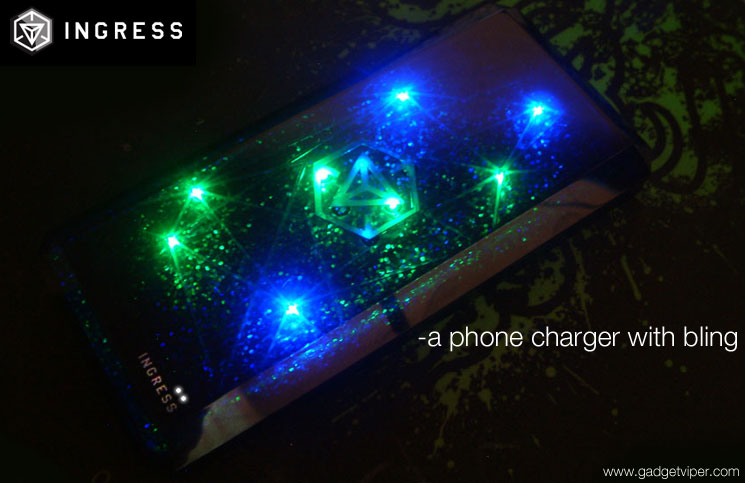 The Cheero Ingress Power cube is unlike any other battery pack I have reviewed. With futuristic bevelled edges and a pulsing LED display lighting up the black glossy front.  Official licensed by Niantic Labs (Google), this high capacity power bank also doubles as a piece of advanced technology for Ingress Agent around the world.
Ingress PowerCube
Amazon.com
lowest price: $99.99 $29.00
Price information last updated on the 21st of June 2016 at 16:15 GMT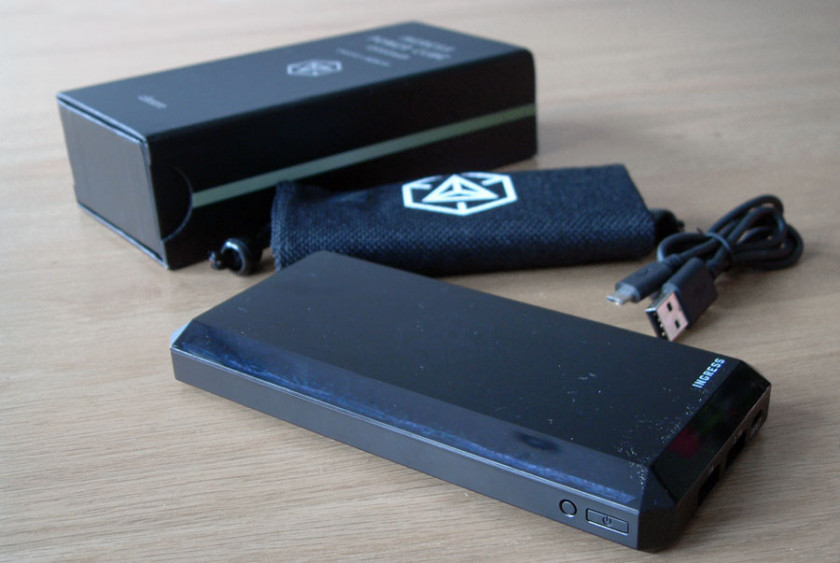 For those who are unaware of Ingress, it's actually a geo-based GPS game that uses a smartphone app to guide you to real world locations which you capture and defend against the opposite faction.  Having an external power source for you phone is a pretty essential piece of kit for any Ingress gamer. And for those of us that don't play, but who like their tech devices to turn heads, the Cheero Ingress power cube will certainly stand out from the crowd.
For those interested in learning more about Ingress, watch this video:
Cheero Ingress Power Cube – Design and Build Quality.
The Ingress Power Cube is made by a company called Cheero.  The leading manufacturer of portable phone charges and power banks in Japan. Having recently reviewed their latest battery pack, the Cheero Power Plus 3, I am in no doubt about the build quality of their products.
The Power bank comes in a very sturdy matt black presentation box accompanied by a draw string canvas carry pouch and a micro USB charging cable.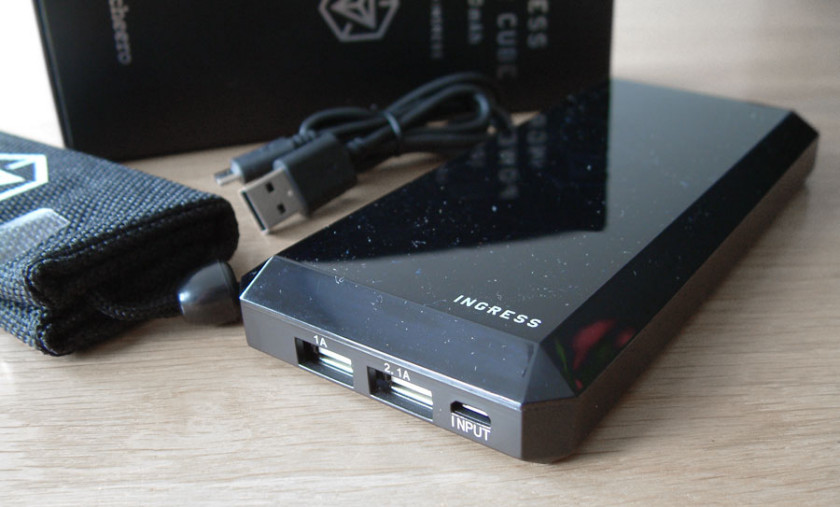 The Ingress power bank feels solid and weighty in the hand, it's front features a glossy glass like appearance with large bevels on the sides and corners. The back has a really pleasant matt black texture with the Ingress logo embedded into the case.
On the base of the power bank are 2 charging ports and a micro USB input for recharging. A standard 1A output for phones and the other a 2.1A for larger devices such as tablets. On side are 2 additional buttons, with initiate the charging, display the remaining charge left in the device and also allow you to cycle through the 6 varieties of lighting modes.
Ingress PowerCube
Amazon.com
lowest price: $99.99 $49.00
Price information last updated on the 28th of March 2016 at 11:15 GMT
Cheero Ingress Power Cube – Features.
Capacity – 12000mAh – Roughly 4 full phone charges
Output – USB 1:  1A / 5V  USB 2: 2.1A / 5V
Size – 156.5mm×72mm×19mm
Weight – 275grams
Protection features – Auto shut down on overcharging, over-discharging, overheating or short-circuit

6 various lighting patterns which can be cycled through using the buttons on side

Re-charge time – Approx 7 hours from mains adapter.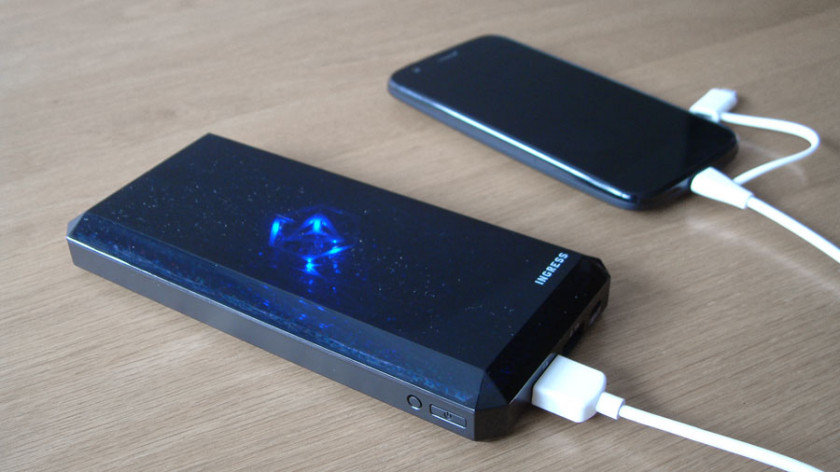 The Ingress themed lighting display begins when you start charging a device. It can either be limited to the central Ingress logo,  across the whole surface or switched off entirely.  There are 3 colours, blue for the resistance faction, green for the enlightened or a white which I'm guessing is for when a portal is neutral.
The colours can be individually selected if you wish to keep your ingress power bank set on your particular faction's colour, or the pulsing light show can cycle through all 3.
The Cheero power cube's display has obviously be designed to appeal to Ingress gamers, it does however look equally impressive to non ingress agents, especially when its dark.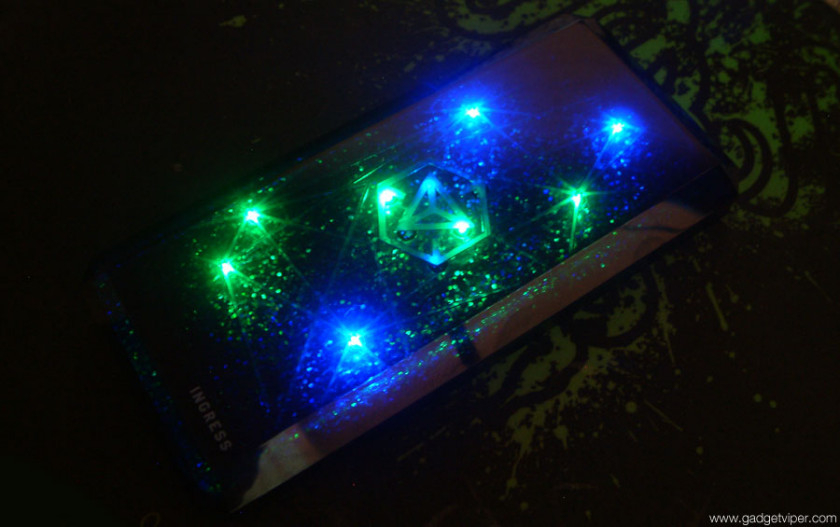 Cheero Ingress Power Cube – Where to buy?
US Customers
The Cheero Ingress power cube is available to buy online on Amazon.com.
There's also almost one hundred 5 star customer reviews to read, with further information on the power bank from the prospective of actual Ingress field agents.
UK and Overseas Customers
As the Ingress power bank is not currently available direct from the UK, you will also need to purchase it from Amazon.com.
In order to do so, select the "Other Sellers on Amazon" from the right hand side of the product page, then select the Cheero official seller for outside the US.
Ingress PowerCube
Amazon.com
lowest price: $99.99 $29.00
Price information last updated on the 21st of June 2016 at 16:15 GMT
Need more Juice?
The Ingress Power Cube has an impressive 12000mAh which should provide enough juice for most active agents. If however, you have a long trip planned or lots of devices to keep topped up, then take a look at the 'Best 2000mAh Power Bank reviews'. All the portable chargers featured in the list have a minimum capacity of 20000mAh and are capable of charging most phones over 10 times.